Chinas Vision für die nächsten 30 Jahre
SHANGHAI – Alle fünf Jahre beruft die Kommunistische Partei Chinas einen Nationalkongress ein, auf dem zwei wichtige Entscheidungen getroffen werden: wer China im Laufe der nächsten fünf Jahre führen wird und welchem Entwicklungspfad diese Führung folgen wird. Der jüngst zu Ende gegangene 19. Nationalkongress der KPCh tat all dies und mehr.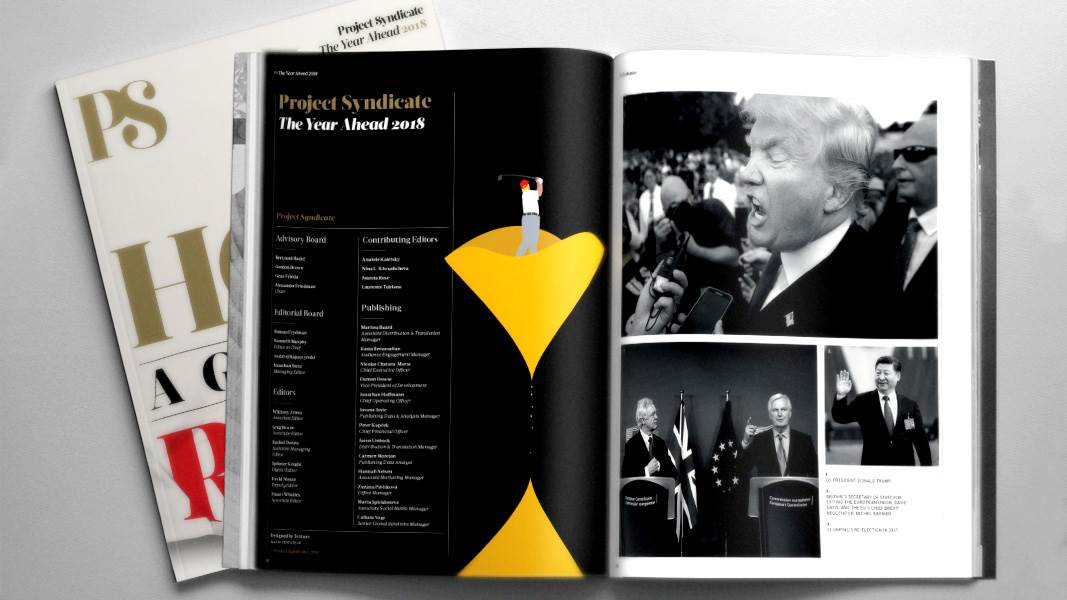 The Year Ahead 2018
The world's leading thinkers and policymakers examine what's come apart in the past year, and anticipate what will define the year ahead.
Über die Auswahl des nächsten Ständigen Ausschusses des Politbüros hinaus wählte der 19. Parteikongress Präsident Xi Jinping erneut zum Vorsitzenden der KPCh und fügte seine gleichnamige Ideologie – "Xi Jinpings Gedankengut" – der Charta der Partei hinzu. Der Kongress legte zudem eine Blaupause für die künftige Entwicklung des Landes bis 2050 vor, die die Veränderungen widerspiegelt, die Wirtschaftsreformen und Öffnung China gebracht haben.
Auf dem 13. Nationalkongress der KPCh im Oktober 1987 hatte die damalige chinesische Führung erklärt, dass die "wesentlichen Widersprüche", vor denen das Land stünde, die zwischen "den zunehmenden materiellen und kulturellen Bedürfnissen der Menschen und der Rückständigkeit der gesellschaftlichen Produktion" seien. Anders ausgedrückt: Die zentrale Herausforderung bestand in der Produktion von ausreichend Lebensmitteln, Kleidung und Büchern für alle Chinesen.
Dreißig Jahre später ist der große Widerspruch, vor dem China steht, der zwischen dem "zunehmenden Bedürfnis nach einem höheren Lebensstandard und den durch eine unzureichende und unausgewogene wirtschaftliche Entwicklung bedingten Beschränkungen". In seiner Rede an den 19. Parteikongress erklärte Xi, dass, weil China inzwischen die grundlegenden Bedürfnisse seiner Bevölkerung erfüllen könne, das Ziel nun die Verbesserung der Lebensqualität sein sollte.
Vor diesem Hintergrund steckte der 19. Kongress eine neue Strategie ab, die auf den vom 18. Kongress übernommenen "zwei Jahrhundertzielen" beruht. Das erste Jahrhundertziel ist der Aufbau einer "moderat wohlhabenden Gesellschaft" (xiao-kang) bis 2021, wenn sich die Gründung der KPCh zum einhundertsten Mal jährt. Der Schlüssel hier besteht darin, einen breit angelegten Wohlstand sicherzustellen, bei dem die Armut nahezu beseitigt ist.
Das zweite Jahrhundertziel besteht in der Umgestaltung Chinas in eine "voll entwickelte, fortschrittliche Nation" bis 2049, 100 Jahre nach der Gründung der Volksrepublik. Die vom Kongress bestätigte Vision sieht vor, dass China eine wohlhabende, zivilisierte, harmonische und moderne sozialistische Gesellschaft mit einer starken und verantwortungsvollen Führung sein soll. Ein derartiges China wäre eine führende Weltmacht, die unter den hochentwickelten Volkswirtschaften einen hohen Rang einnähme.
Der 19. Parteikongress trug erheblich dazu bei, den Weg zwischen diesen beiden Zielen abzustecken, und erklärte, dass Chinas erster Schritt nach Umsetzung des ersten Ziels darin bestünde, die chinesische Gesellschaft bis 2035 zu modernisieren. Ein solches modernes China wäre weltweit führend im Bereich der Innovation, hätte eine saubere Umwelt, eine große Mittelschicht und würde zwischen Stadt und Land eine sehr viel geringere Kluft beim Wachstum, bei den öffentlichen Dienstleistungen und beim Lebensstandard aufweisen.
Diese Ziele zu erreichen, erfordert zunächst einmal, dass die chinesische Führung versteht, wo innerhalb des Entwicklungsprozesses China steht. In diesem Sinne ist es vielversprechend, dass Chinas Führung auf dem letzten Kongress eingestanden, dass China sich noch in der Primärphase des Sozialismus befindet und dort auch bleiben wird. China muss daher die Entwicklung an die erste Stelle setzen, mit der Erwartung, dass das Wirtschaftswachstum die Probleme des Landes lösen wird.
Angesichts dieser Lage hat Chinas oberste Führung versprochen, dass sie weiterhin Strukturreformen umsetzen und die wirtschaftliche Liberalisierung vorantreiben würde. Dies baut auf einer von der dritten Plenartagung des 18. Zentralkomitees der KPCh 2013 verabschiedeten Entschließung auf, dem Markt die "entscheidende Rolle" bei der Ressourcenallokation zu überlassen.
Wie der 19. Parteikongress anerkannt hat, wird die Erfüllung dieser Zusagen erfordern, dass China das Recht an Privateigentum und das Unternehmertum schützt. Die Bedeutung dieses Punktes wird durch die Tatsache unterstrichen, dass der private Sektor mehr als 60% zum chinesischen BIP, 50% zum Steueraufkommen des Landes, 70% seiner technologischen Innovationen und Produktinnovationen und 80% seiner Arbeitsplätze beisteuert, obwohl auf ihn weniger als 40% der Eingangsleistungen entfallen.
Was die Liberalisierung angeht, so bekennt sich China zur Umsetzung von Maßnahmen, um seine Märkte weiter für den Handel und für ausländische Investitionen zu öffnen und zugleich die legitimen Rechte und Interessen ausländischer Investoren zu schützen. Im Rahmen dieser Bemühungen autorisiert die Regierung weitere Freihandelszonen und erkundet die Möglichkeit von Freihäfen an ausgewählten Standorten.
Die Annahme ist, dass China auf gutem Wege ist, sein Ziel, bis 2035 eine einkommensstarke Volkswirtschaft zu werden, zu erreichen. Doch muss es dafür in den nächsten 15-20 Jahren ein Produktivitätswachstum von mindestens 5% jährlich erreichen – ein Ergebnis, das von einer Zunahme der Urbanisierung und einem sich vertiefenden technologischen Fortschritt abhängt.
Der Schlüssel zum Erfolg wird eine chinesische Führung sein, die sich in wirksamer Weise an sich wandelnde interne und externe Umstände anpasst und die während der letzten Jahrzehnte aufgelaufenen Risiken steuert. Sie muss beispielsweise die zunehmende Einkommensungleichheit bekämpfen, die überwiegend durch die enorme Diskrepanz zwischen ländlichen und städtischen Einkommen angetrieben wird, obwohl auch das Einkommensgefälle bei der städtischen Bevölkerung zunimmt. Im Jahr 2014 betrug das Prokopfeinkommen der obersten 5% der Haushalte 53.300 CN¥ (8.024 USD) und dass der ärmsten 5% lediglich 1.600 CN¥.
Laut Daten des China Household Finance Survey stieg Chinas Gini-Koeffizient – die gängigste Messgröße für Ungleichheit – von 0,283 im Jahr 1983 auf 0,491 im Jahr 2008 und erreichte in den Jahren 2010 und 2012 Höchststände von 0,61 und 0,60 (was viel höher ist als die offiziellen Zahlen von 0,481 bzw. 0,474). Obwohl der Gini-Koeffizient 2016 wieder auf 0,465 gefallen ist, übersteigt dies trotzdem die Spanne von 0,24-0,36 der bedeutenden entwickelten Länder.
China hat es zudem mit einem zunehmenden Vermögensgefälle zu tun. In den Jahren 1988 und 1995 lag Chinas Gini-Koeffizient für das Haushaltsvermögen bei lediglich 0,34 bzw. 0,4. Doch dieser Wert hat zugenommen und erreichte 2010 seinen Höchststand von 0,739. Im Jahr 2014 besaßen die ärmsten 25% der Haushalte weniger als 2% des Gesamtvermögens des Landes, während das reichste Prozent der Haushalte ein Drittel besaß.
Falls China es nicht schafft, die Ungleichheit einzudämmen, könnte sein langfristiges Wachstum leiden. Doch mit einer klaren Blaupause für die weitere Entwicklung und einem starken Präsidenten, dessen politischer Einfluss weitere Reformen so gut wie garantiert, könnte China in einer guten Ausgangsposition sein, um die Herausforderungen, vor denen es steht, zu bewältigen und seinen beispiellosen wirtschaftlichen Erfolg aufrechtzuerhalten.
Doch selbst wenn China seine Ziele für 2050 erreicht, ist die Herausforderung damit noch nicht vorbei, da sich die chinesische Führung dann mit einer alternden Bevölkerung auseinandersetzen muss. Im Jahre 2050 werden laut der Fassung des Jahres 2017 des UN-Berichts zur weltweiten Bevölkerungsentwicklung (World Population Prospects) 36,5% der chinesischen Bevölkerung mehr als 60 Jahre alt sein. Das mittlere Alter könnte dann bis zu 49,6 Jahre betragen, was dem Japans (53,3 Jahre) ähnelt und höher ist als in Schweden, dem Vereinigten Königreich, der Europäischen Union insgesamt und den USA. Dies macht es umso wichtiger für die chinesische Führung, die richtigen Entscheidungen zu treffen und ihr Land bis 2050 auf eine stabile Grundlage zu stellen.
Aus dem Englischen von Jan Doolan