Добиться максимума от соглашения о Брексите
ПАРИЖ – 8 декабря Великобритания и 27 стран Евросоюза договорились о ключевых аспектах соглашения о разводе в рамках Брексита, тем самым, открыв путь к принятому 15 декабря решению начать новую главу в ведущихся переговорах: она будет посвящена будущему отношений Британии и ЕС, а также условиям переходного этапа. Это хорошая новость, в первую очередь потому, что удалось избежать худшего варианта – жёсткого Брексита. Впрочем, впереди предстоит ещё больше трудностей.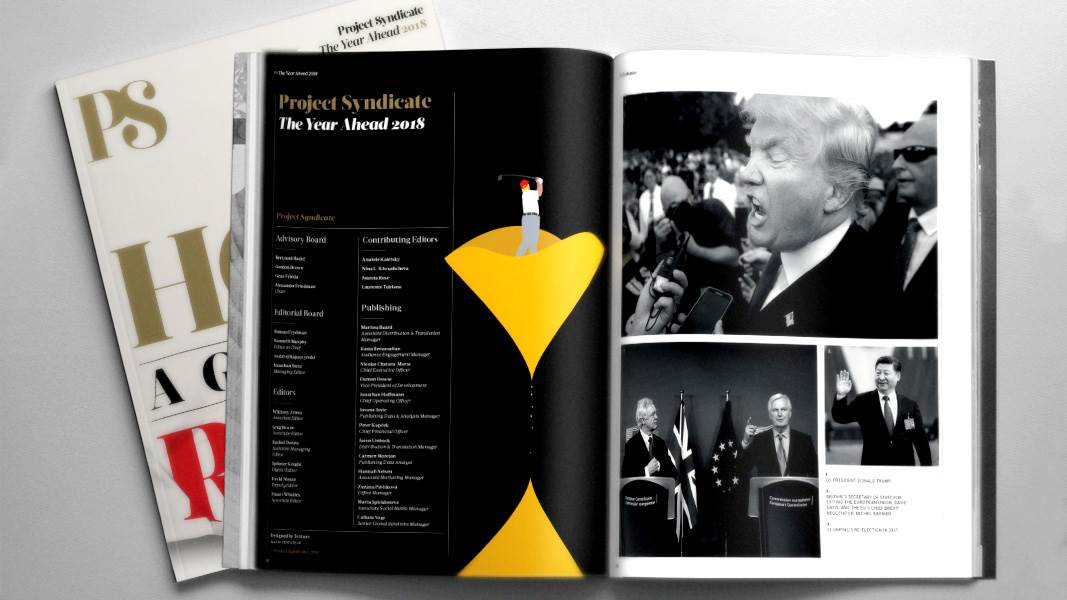 The Year Ahead 2018
The world's leading thinkers and policymakers examine what's come apart in the past year, and anticipate what will define the year ahead.
Долгое время казалось, что Европа слепо идёт к жёсткому Брекситу. Правящая в Британии Консервативная партия глубоко расколота, а Евросоюз явно не готов действовать стратегически, поэтому вероятность такого крайнего сценария – выход Британии без соглашения – выглядела высокой.
Тем не менее, Великобритания пошла, в конце концов, на критические уступки, что позволило продвинуться вперёд на переговорах. Британия согласилась заплатить своим партнёрам по ЕС намного больше, чем было объявлено изначально. Кроме того, она обязалась не устанавливать жёсткую границу между Северной Ирландией (часть Великобритании) и Республикой Ирландия (часть ЕС), хотя Северная Ирландия сохранит при этом полный доступ к британскому рынку.
Данное соглашение стало горькой пилюлей для тех, кто агитировал выйти из ЕС, чтобы сэкономить деньги для Национальной службы здравоохранения Великобритании. Им будет трудно признаться избирателям, что урегулирование обязательств страны перед ЕС обойдётся каждому взрослому британцу в 1000 евро ($1189), а может быть и дороже. А крайне правым «ленинцам» наших дней, которые надеялись с помощью Брексита завершить реализацию политической программы, начатой премьер-министром Маргарет Тэтчер, будет трудно примирить концепцию дерегулированной Британии с сохранением гармонизации режима регулирования на территории Северной Ирландии и ЕС.
Впрочем, факт в том, что жёсткий Брексит обойдётся Британии и ЕС намного дороже с точки зрения числа рабочих мест и уровня процветания. Уже одна только угроза возможности жёсткого Брексита начала наносит урон: частные компании приостановили инвестиции. Политические последствия жёсткого Брексита также были бы весьма печальны. Британия и Евросоюз могли бы потерять значительную часть своего глобального влияния, причём как раз в тот момент, когда непредсказуемая администрация США пытается разрушить существующий международный порядок, а напористое китайское руководство решило воспользоваться этими американскими попытками ради собственной выгоды.
Если бы Британия не начала действовать, чтобы предотвратить подобный сценарий, она потеряла бы больше остальных, поскольку в итоге страна попала бы в зависимость от разваливающейся системы многосторонней торговли, которая должна была обеспечивать ей доступ к внешним рынкам. В любом случае, география имеет значение, поэтому ЕС останется для Британии основным рынком. А поскольку размер тоже имеет значение, Британия будет и дальше зависеть от регулирования в ЕС, особенно в сфере услуг.
Впрочем, предотвращение жёсткого Брексита – это только первый шаг. Теперь стоит другой вопрос: о каких будущих отношения смогут договориться обе стороны. Ответ на него далеко не очевиден.
Что касается Британии, то здесь просто поражает полное отсутствие чётких представлений о будущем отношений Британии и ЕС. Сентябрьская речь премьер-министра Терезы Мэй во Флоренции остаётся наиболее содержательной попыткой изложения этих представлений, однако в этой речи многие важные вопросы так и остались без ответа. Поражение, которое потерпела законодательная инициатива правительства Мэй в британской Палате общин 13 декабря, показывает, что британские власти по-прежнему слишком расколоты, чтобы согласовать единую программу Брексита.
Что же касается ЕС, то здесь также не наблюдается особого концептуализма. Благодаря новому соглашению, Мишель Барнье, возглавляющий переговоры от имени ЕС, добился тактической победы. Тем не менее, модель будущего партнёрства по-прежнему отсутствует. Рекомендации для переговоров о Брексите, принятые в апреле главами государств и правительств стран ЕС, такой модели явно не содержат. Вместо этого, были проведены «красные линии» и подчеркнута «неразрывность четырёх свобод» (свободное перемещение товаров, услуг, капитала и рабочей силы), лежащих в основе европейского общего рынка. Декларация, принятая 15 декабря, не сильно выходит за эти рамки.
Переговорная позиция ЕС до сих пор определяется главным образом страхом, что слишком благоприятное для Британии соглашение создаст стимулы для других стран последовать её примеру. Из-за этой оборонительной тактики, а также из-за отсутствия политического консенсуса наиболее предпочтительным вариантом стало сохранение статус-кво.
Политические гуру сосредоточились на сравнении «канадского варианта» (соглашение о свободной торговле товарами) с «норвежским» (членство в общем рынке на правах «младшего»). Однако оба этих варианта не подходят для партнёрства Британии и ЕС. Канадский вариант не решает ни одной из фундаментальных проблем, связанных с торговлей услугами, а это критический недостаток: Великобритания является крупнейшим поставщиком услуг, а их предоставление требует комплексного регулирования. Тем временем, норвежский вариант предполагает простое игнорирование проблемы: Британия должно будет пассивно соглашаться с любым экономическими законами, принятыми в ЕС.
В опубликованной в 2016 году статье мои коллеги и я доказывали, что Евросоюз должен воспринимать Брексит как шанс выработать новую модель партнёрства со странами, которые хотят иметь сильные связи с ЕС в сферах экономики и безопасности, но без политической интеграции. Мы писали, что в нынешнее время, когда стимулы к расширению исчерпаны, Евросоюзу надо работать над диверсификацией отношений с соседними странами. Мы предложили создать «континентальное партнёрство», подразумевающее глубокую экономическую интеграцию с общим регулированием. В рамках этого партнёрства ЕС, Великобритания и, возможно, другие страны соглашались бы на свободное перемещение товаров, услуг и капиталов, но не рабочей силы. Мы также доказывали полезность постоянного механизма политических консультаций, который – при условии подчинения Британии экономическим правилам ЕС – обеспечивал бы британцам возможность участия (без права голоса) в выработке европейских экономических законов.
В официальных кругах ЕС эту статью восприняли, мягко говоря, прохладно, а критиков негодование вызвало нарушение принципа четырёх свобод. Факты, однако, таковы: хотя интегрированный рынок товаров и услуг действительно нуждается в определённой степени трудовой мобильности, это не означает, что у всех людей должно быть право пересекать границы и искать работу в любой стране по своему выбору. Те, кто притворяется, будто это так, путают права граждан (конечно, очень важные в таком политическом и социальном сообществе, как ЕС) с экономическими нуждами. Это плохая экономика и сомнительная политика.
Наши критики также отказывались говорить о долгосрочных перспективах отношений двух сторон до того, как будут урегулированы детали их развода. Но сейчас эта глава закрыта, а значит, ЕС пора начать мыслить нестандартно и сделать Британии амбициозное предложение.
Любое разумное соглашение между ЕС и Британией неизбежно приведёт к тому, что последняя потеряет значительную часть влияния, которым она сейчас обладает в европейских делах. Такой исход, естественно, снизит привлекательность идеи последовать её примеру. Но даже если страна, входящая в ЕС, вдруг действительно решит, что ей будет лучше вне «внутреннего круга» Евросоюза, это не станет концом света. И это, конечно, не причина цепляться за статус-кво.