Wie sich das Beste aus dem Brexit-Übereinkommen machen lässt
PARIS – Am 8. Dezember einigten sich das Vereinigte Königreich und die 27 Mitgliedsstaaten der Europäischen Union auf einige zentrale Aspekte der Brexit-Scheidungsvereinbarung. Das hat den Weg für die am 15. Dezember getroffene Entscheidung freigemacht, ein neues Kapitel bei den Verhandlungen aufzuschlagen, das sich auf die Regelung der künftigen Beziehungen zwischen EU und Vereinigtem Königreich und auf die Übergangsbestimmungen konzentriert. Dies ist eine gute Nachricht, nicht zuletzt deshalb, weil sie das Worst-Case-Szenario vermeidet: einen harten Brexit. Doch was nun kommt, ist eine erheblich größere Herausforderung.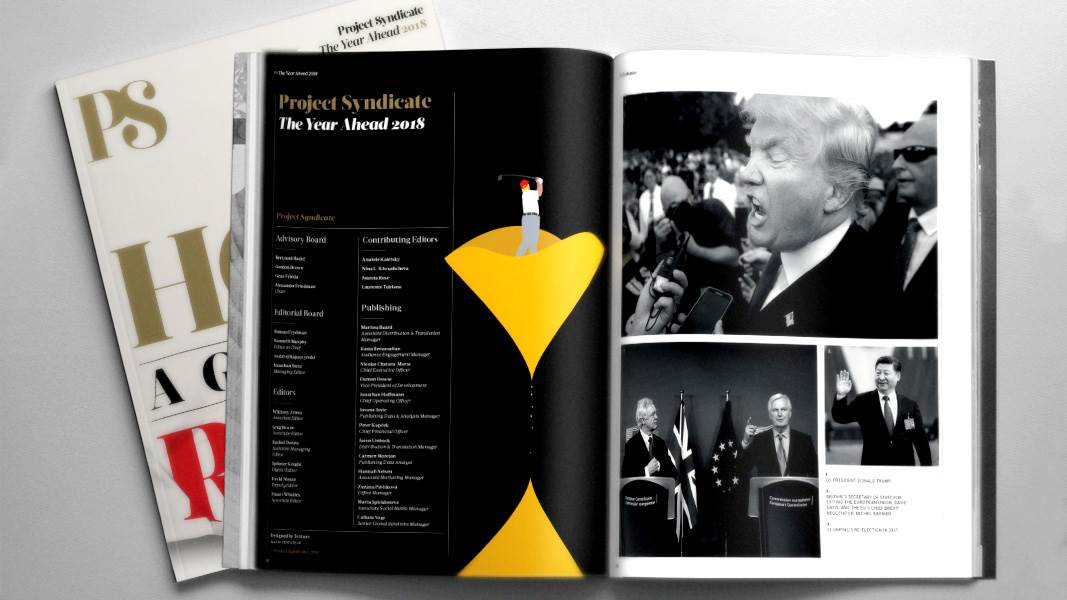 The Year Ahead 2018
The world's leading thinkers and policymakers examine what's come apart in the past year, and anticipate what will define the year ahead.
Für eine Weile sah es aus, als würde Europa schlafwandlerisch auf einen harten Brexit zusteuern. Angesichts der tiefen Spaltungen innerhalb der regierenden Konservativen Partei im Vereinigten Königreich und der scheinbar mangelnden Bereitschaft der EU, strategisch zu handeln, schien ein einigungsloses Szenario, bei dem beide Seiten über die Klippe springen, hochwahrscheinlich.
Am Ende jedoch machte das Vereinigte Königreich wichtige Zugeständnisse, die ein Fortschreiten der Verhandlungen ermöglichten: Es stimmte zu, seinen EU-Partnern sehr viel mehr zu zahlen, als es ursprünglich erklärt hatte, und verpflichtete sich, trotz weiterhin uneingeschränkten Zugangs Nordirlands zum britischen Markt eine "harte" Grenze zwischen Nordirland (das zum Vereinigten Königreich gehört) und der Republik Irland (die Teil der EU ist) zu vermeiden.
Diese Einigung ist eine bittere Pille für jene, die im Namen von Einsparungen zugunsten des britischen Gesundheitsdienstes NHS für den Brexit warben. Sie werden sich schwer tun, ihren Wählern zu erklären, dass die Begleichung der bestehenden Verpflichtungen gegenüber der EU jeden erwachsenen Briten mindestens 1.000 Euro kosten wird. Und jene modernen Leninisten, die den Brexit als Methode ansahen, die von Premierministerin Margaret Thatcher eingeleitete Agenda abzuschließen, werden sich schwer tun, ihre Vision eines deregulierten Großbritanniens mit der fortdauernden Abstimmung des nordirischen Regulierungssystems mit dem der EU zu vereinbaren.
Tatsache freilich ist, dass ein harter Brexit sowohl das Vereinigte Königreich als auch die EU sehr viel mehr Arbeitsplätze und Wohlstand gekostet hätte. Schon die drohende Gefahr eines derartigen Ergebnisses hat Schaden angerichtet, weil private Unternehmen Investitionen zurückstellten. Und auch die politischen Folgen eines harten Brexit wären verheerend gewesen. Sowohl das Vereinigte Königreich als auch die EU hätten global erheblich an Einfluss verloren, und das zu einer Zeit, in der eine unberechenbare US-Regierung bestrebt ist, die bestehende Weltordnung einzureißen, und in der eine selbstbewusste chinesische Regierung anfängt, diese Bemühungen zum eigenen Vorteil auszunutzen.
Hätte das Vereinigte Königreich nicht gehandelt, um ein solches Szenario zu vermeiden, hätte es selbst am meisten verloren, insbesondere, wenn es sich letztlich auf ein zerfallendes multilaterales Handelssystem hätte verlassen müssen, um seinen Zugang zu ausländischen Märkten sicherzustellen. In jedem Fall wird die EU, weil die Geografie nun mal wichtig ist, Großbritanniens wichtigster Markt bleiben. Und weil Größe wichtig ist, wird das Vereinigte Königreich auch weiterhin von den EU-Regeln abhängig sein, insbesondere was Dienstleistungen angeht.
Doch ist die Vermeidung eines harten Brexit nur der erste Schritt. Die Frage ist nun, auf was für eine Art künftiger Beziehung beide Seiten sich einigen können. Und die Antwort darauf ist alles andere als klar.
Auf britischer Seite erstaunt das Fehlen einer stimmigen Vision für die künftige Beziehung zwischen dem Vereinigten Königreich und der EU. Premierministerin Theresa Mays Florentiner Rede vom September kommt einem Angebot noch am nächsten, doch gab sie auf viele wichtige Fragen keine klare Antwort. Und wie Mays Abstimmungsniederlage im Unterhaus am 13. Dezember unterstreicht, bleibt die britische Regierung nach wie vor zu gespalten, um sich auf eine gemeinsame Brexit-Agenda zu einigen.
Auch auf EU-Seite mangelt es an einer echten Vision. Mit der jüngsten Übereinkunft hat Michel Barnier, der Verhandlungsführer der EU, einen taktischen Sieg errungen. Doch ein Modell für eine künftige Partnerschaft ist nicht in Sicht. Die im April von den Staats- und Regierungschefs der EU herausgegebenen Richtlinien für die Brexit-Verhandlungen bieten mit Sicherheit keines. Stattdessen haben sie Rote Linien festgelegt, die die "Untrennbarkeit" der dem europäischen Binnenmarkt zugrundeliegenden "vier Freiheiten" – dem freien Verkehr von Waren, Dienstleistungen, Kapital und Arbeitnehmern – herausstellen. Die Erklärung vom 15. Dezember geht nicht viel weiter.
Derzeit wird die Verhandlungsposition der EU noch immer weitgehend durch die Furcht bestimmt, dass eine zu günstige Übereinkunft Anreize für andere Länder schaffen könnte, dem Beispiel des Vereinigten Königreichs zu folgen. Über diese defensive Einstellung hinausgehend herrscht ein Mangel an politischem Konsens, der zu einer Präferenz für den Status quo geführt hat.
Unter Politik-Nerds werden derzeit eine "Kanada-Option" (ein Freihandelsabkommen für Waren) und eine "Norwegen-Option" (eine Art Juniormitgliedschaft im Binnenmarkt) gegeneinander abgewogen. Doch beide sind für eine Partnerschaft zwischen dem Vereinigten Königreich und der EU ungeeignet. Die Kanada-Option würde keines der grundlegenden Probleme beim Handel mit Dienstleistungen ansprechen – eine zentrale Auslassung angesichts der Tatsache, dass das Vereinigte Königreich ein wichtiger Lieferant von Dienstleistungen ist und deren Bereitstellung einen komplexen Regulierungsrahmen erfordert. Und die Norwegen-Option würde sich das Problem einfach wegdenken, indem sie Großbritannien verpflichtet, passiv alle von der EU verabschiedeten Wirtschaftsgesetze zu übernehmen.
In einem Aufsatz aus dem Jahr 2016 argumentierten meine Mitautoren und ich, dass die EU den Brexit als Chance ansehen sollte, ein neues Modell für Partnerschaften mit Ländern festzulegen, die sich starke Wirtschafts- und Sicherheitsbeziehungen ohne politische Integration wünschen. Wir argumentierten zudem, dass die EU in einer Zeit, in der sich die Erweiterungsdynamik erschöpft habe, auf eine Diversifizierung ihrer Beziehungen zu ihren Nachbarn hinarbeiten sollte. Wir schlugen eine "kontinentale Partnerschaft" vor, die eine tiefgreifende wirtschaftliche Integration auf der Basis eines gemeinsamen Regelwerks umfassen sollte, wobei die EU, das Vereinigte Königreich und möglicherweise andere den freien Verkehr von Waren, Dienstleistungen und Kapital, aber nicht von Arbeitskräften akzeptieren sollten. Und wir sprachen uns für einen dauerhaften Prozess politischer Konsultation aus, der den Briten im Austausch für die Unterwerfung des Vereinigten Königreiches unter die wirtschaftlichen Regeln der EU eine Stimme, aber kein Mitbestimmungsrecht bei der europäischen Wirtschaftsgesetzgebung geben sollte.
In offiziellen EU-Kreisen wurde dieser Aufsatz, gelinde gesagt, kühl aufgenommen, wobei die Kritiker über den Verstoß gegen die vier Freiheiten spotteten. Tatsache ist freilich, dass ein integrierter Markt für Waren und Dienstleistungen zwar ein gewisses Maß an Arbeitsmobilität erfordert, aber nicht impliziert, dass alle Menschen das Recht haben müssen, Grenzen zu überqueren und im Land ihrer Wahl nach Arbeit zu suchen. So zu tun, als wäre das der Fall, bringt ein Bürgerrecht (was in einer politischen und sozialen Gemeinschaft wie der EU sicherlich unverzichtbar ist) mit einer wirtschaftlichen Notwendigkeit durcheinander. Dies ist wirtschaftlich schlecht und politisch zweifelhaft.
Unsere Kritiker lehnten es zudem ab, sich eine längerfristige Übereinkunft vorzustellen, bevor nicht die Details der Scheidung vereinbart seien. Doch dieses Kapitel wird derzeit abgeschlossen, und daher ist es nun an der Zeit für die EU, über den Tellerrand hinauszudenken und Großbritannien ein ambitioniertes Angebot zu machen.
Eine vernünftige Übereinkunft zwischen der EU und dem Vereinigten Königreich wird zwangsläufig dazu führen, dass Letzteres einen großen Teil seines derzeitigen Einflusses in europäischen Fragen verliert – ein Ergebnis, das die Attraktivität, seinem Beispiel zu folgen, sicherlich verringern wird. Doch selbst wenn ein derzeitiger EU-Mitgliedsstaat sich entscheidet, dass es ihm außerhalb des "inneren Kreises" der EU besser gehen würde, ist das kein Weltuntergang. Mit Sicherheit ist es kein Grund, krampfhaft am Status quo festzuhalten.
Aus dem Englischen von Jan Doolan