Was der Brexit über die EU verrät
LONDON – In einer weiteren bizarren Wendung der Brexit-Saga hat das britische Parlament signalisiert, des Austrittsabkommens von Premierminister Boris Johnson mit der EU zu unterstützen, aber auch entschieden, dass am 12. Dezember, bevor das Abkommen endgültig ratifiziert werden kann, Wahlen stattfinden sollen. Dies dürfte bei den EU-Politikern ironisch belächelt werden. Obwohl die Meinungsumfragen Johnsons brexitfreundliche konservative Partei zu Beginn des Wahlkampfs klar an der Spitze sehen, zeigen sie aber auch, dass eine deutliche Mehrheit der britischen Wähler in der EU bleiben will – und zwar mehr, als sich beim Referendum von 2016 für "Leave" ausgesprochen haben.
Aber die EU-Politiker sollten sich ihr Lächeln verkneifen. Der größte Feind ihrer Gemeinschaft ist nicht Euroskepsis, sondern Gleichgültigkeit. Bereits vor dem Brexit-Referendum signalisierten die Umfragen teilweise eine Mehrheit für den Verbleib. Sie zeigten aber auch, dass die meisten Briten gar nicht an der EU interessiert waren. Die Frage der EU-Mitgliedschaft war für die meisten Menschen gar kein wichtiges Thema. Es wurde angenommen, dass die Wähler die weniger riskante Option wählen und sich für einen Verbleib entscheiden würden. Letztlich wurde das Referendum durch ihre Gleichgültigkeit entschieden.
So hing das Ergebnis von zufälligen Ereignissen oder der Effektivität der Rhetorik beider Seiten ab. Besonders die Einwanderung wurde 2016 durch Medienbilder von Massenmigration und Flüchtlingsströmen über das Mittelmeer und den Balkan zu einem entscheidenden Thema. Dass es die EU nicht schaffte, diese Krise zu bewältigen, war für die "Leave"-Kampagne ein Segen.
Blicken aber zukünftige Historiker auf diese Episode zurück, werden sie wohl zu dem Schluss kommen, dass zwischen den jeweiligen Einstellungen beider Seiten zur europäischen Frage ein Meer der Apathie lag. Großbritannien war schon immer ein höchstens halbherziges EU-Mitglied, also fehlte nicht viel, um die Waagschale in Richtung eines Austritts zu neigen. Der Schlüsselmoment kam, als der damalige Premierminister David Cameron aufgrund der politischen Dynamik innerhalb der Konservativen Partei die schicksalhafte Entscheidung traf, das Thema dem Volk zur Abstimmung zu geben – inmitten der wirtschaftlichen und politischen Probleme der langen Rezession nach der globalen Finanzkrise von 2008.
Bereits seit der Gründung der Europäischen Wirtschaftsgemeinschaft (des Vorgängers der EU) im Jahr 1957 hatten die Briten eine eher distanzierte und manchmal sogar herablassende Einstellung gegenüber der europäischen Integration. Dies blieb auch nach dem Beitritt des Vereinigten Königreichs im Jahr 1973 so – und auch noch, nachdem eine deutliche Mehrheit der britischen Wähler im Jahr 1975 die EU-Mitgliedschaft bestätigte. Ein Teil "Europas" zu sein, war für die Briten keine Liebesheirat, sondern eine Zweckgemeinschaft.
Die Länder hingegen, die am meisten unter den beiden Weltkriegen und der deutschen Besatzung während des Zweiten Weltkriegs gelitten hatten (Frankreich, die Niederlande, Belgien und Italien), hatten schon immer tiefere und emotionalere Gründe dafür, die EU zu unterstützen. Das Gespenst des Krieges ist im kollektiven Gedächtnis dieser Länder fest verankert – sogar bei der jüngeren Generation, die erst geboren wurde, als schon lang wieder Frieden herrschte.
Subscribe now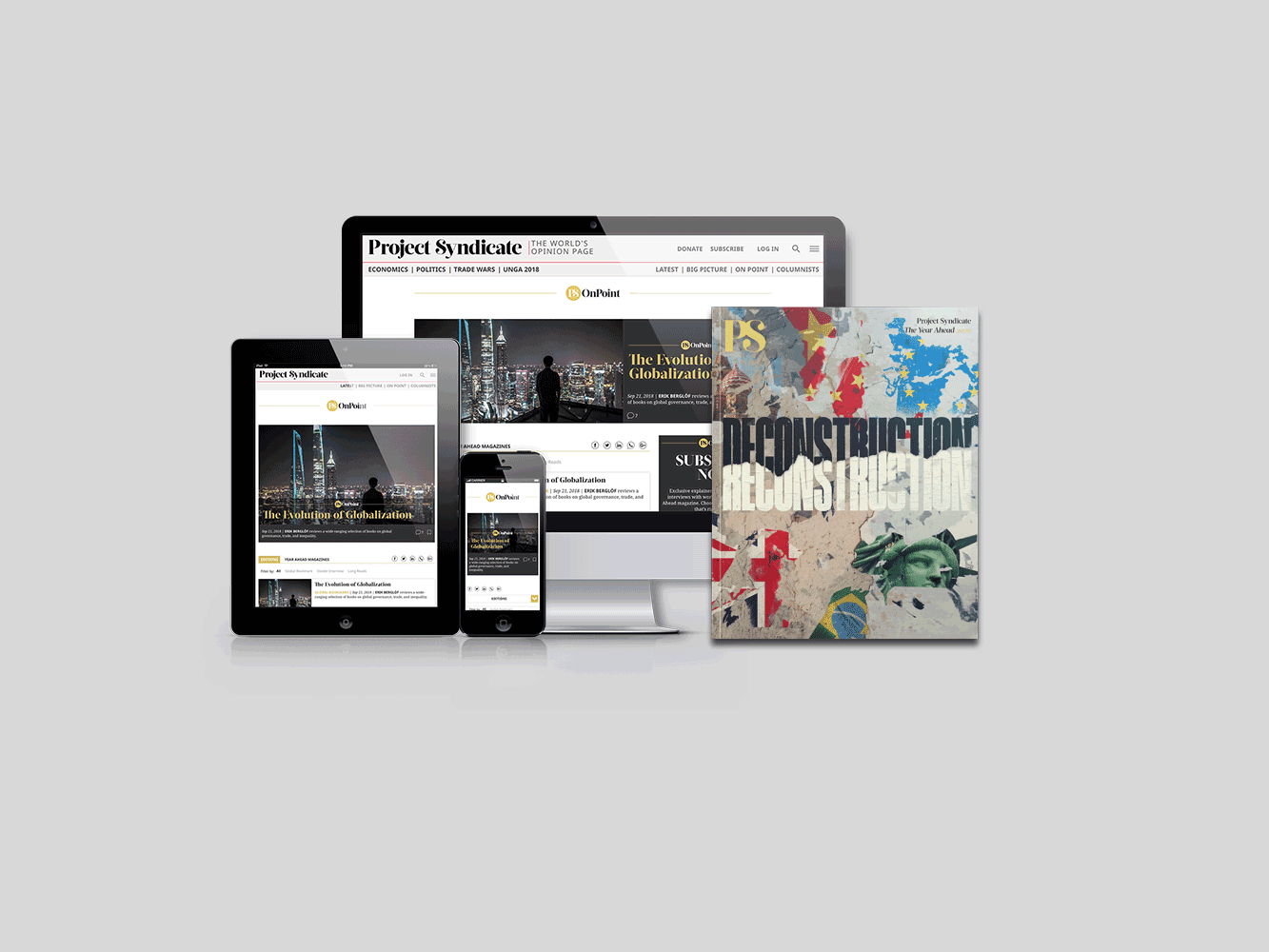 Subscribe now
Subscribe today and get unlimited access to OnPoint, the Big Picture, the PS archive of more than 14,000 commentaries, and our annual magazine, for less than $2 a week.
Aber sogar unter den Kontinentaleuropäern sollte das Engagement für das europäische Projekt nicht für selbstverständlich genommen werden. In diesem Monat veröffentlichte der Thinktank "Friends of Europe" eine Meinungsumfrage auf der Grundlage von Interviews mit über 12.000 Teilnehmern aus den 28 EU-Ländern. Dabei kam heraus, dass 60% der Befragten "nicht sicher sind, ob sie die EU vermissen würden, wenn es sie nicht mehr gäbe". Dieses Ergebnis sollte allen EU-Politikern Kopfzerbrechen bereiten.
Dass der Anteil der britischen Befragten, die nicht sicher sind, ob sie die EU vermissen würden, bei 63% liegt, war zu erwarten. Aber erstaunliche 72% der französischen Teilnehmer denken genauso, ebenso wie 67% der Italiener und 60% der Deutschen. Daher ist das größte Problem der EU, dass sie von ihren Bürgern einfach stillschweigend vorausgesetzt wird und es den Menschen ziemlich egal ist, ob sie aufblüht oder stirbt.
Dieses Problem könnte mangelnde Kommunikation widerspiegeln. Immerhin fiel es supranationalen bürokratischen Einheiten mit endlosen Reihen von Direktoraten, Büros und Kommissionen schon immer schwer, geliebt zu werden oder einfach nur zu erklären, was sie tun und warum sie existieren. Aber das größere Problem besteht darin, dass sich die EU schwer tut, schnelle, klare und ehrgeizige Entscheidungen zu treffen. Nein zu sagen geht ihr viel leichter von der Hand als zuzustimmen. Sie ist viel besser darin, Konflikte unter ihren Mitgliedern zu zerstreuen, als im Interesse klar definierter, gemeinsamer Ziele kollektiv zu handeln.
Dies war nicht immer der Fall. Die Einführung des Euro im Jahr 1999 war ein großer, klarer, epochaler Moment, der auf eine grundlegende politische Entscheidung und die erfolgreiche Einführung vieler technischer Maßnahmen folgte. Wenn es aber um das eine Thema geht, das die Durchschnittswähler am meisten interessiert, liefen die Dinge nicht so gut: die Effektivität der Eurozone bei der Schaffung von Arbeitsplätzen und der Steigerung des Lebensstandards. Heute löst der Euro keine Begeisterung und Überzeugung mehr aus, sondern nur noch zögernde Akzeptanz.
Das Motto des berühmten britischen Special Air Service ist "Wer wagt, gewinnt". Aber im Fall des Brexit könnte man es abändern in "Wer Interesse zeigt, gewinnt". Vor dem Referendum von 2016 sind die EU-freundlichen Kräfte daran gescheitert, die Briten stark genug für die EU-Mitgliedschaft zu interessieren. Vielleicht wird sich das im Vorfeld der Wahlen im Dezember ändern, aber es wäre riskant, darauf zu wetten. Die Fürsprecher der EU in den anderen Mitgliedstaaten sollten es sich merken: Ihr größter Feind ist die Gleichgültigkeit.
Aus dem Englischen von Harald Eckhoff