Опасность биткойна
ЛОНДОН – Экстраординарная волатильность биткойна и других криптовалют становится угрозой не только для международной финансовой системы, но и для политического порядка. Да, на технологию блокчейн, на которой основаны криптовалюты, возлагаются надежды как на более безопасный и удобный метод платежей, чем любые существовавшие ранее. Некоторые эксперты уверяют, что криптовалюты заменят электронные деньги на традиционных банковских счетах так же, как электронные платежи заменили бумажные деньги, пришедшие, в свою очередь, на смену золоту и серебру.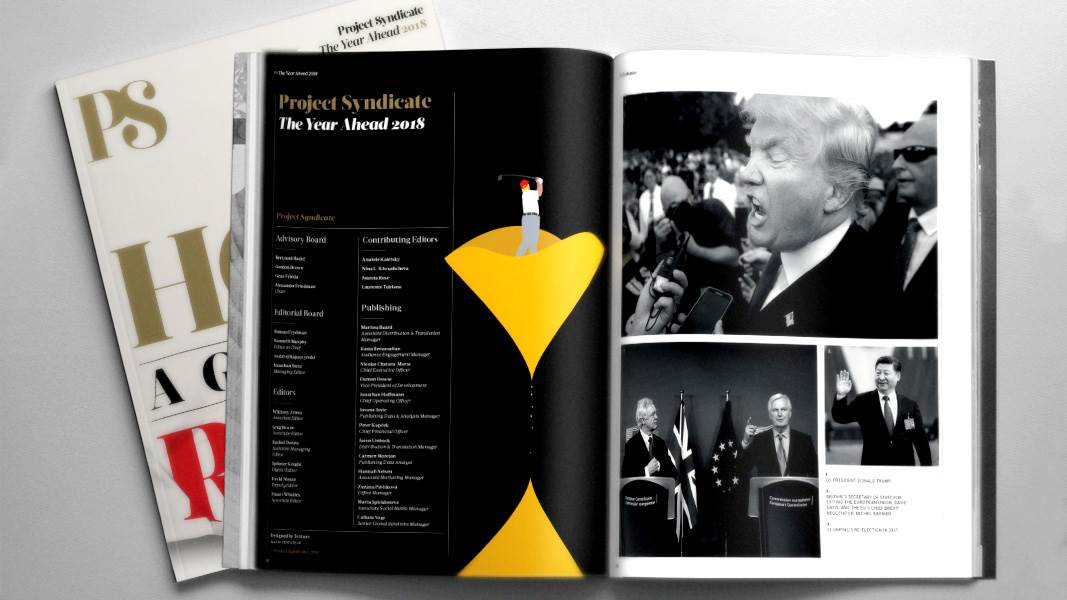 The Year Ahead 2018
The world's leading thinkers and policymakers examine what's come apart in the past year, and anticipate what will define the year ahead.
Но другие эксперты справедливо подозревают, что этой новой технологией можно манипулировать и злоупотреблять. Деньги являются частью социальной ткани. На протяжении подавляющей части истории человеческой цивилизации они формировали основу для доверия между людьми и правительствами, а также между частными лицами, осуществлявшими обмен. Почти всегда деньги были также выражением государственного суверенитета, при этом частные валюты встречались крайне редко.
Взять, например, металлические деньги: на монетах, как правило, изображались государственные символы. Одним из самых первых примеров была сова – символ города Афины. Впрочем, часто вокруг таких символов на монетах возникала некая неопределённость – представляют ли они государственность или божественность? Чья голова на монете? Филиппа Македонского, Александра Великого или Геркулеса? Позднее римские императоры использовали эту двойственность, выпуская деньги с собственным «божественным» портретом. И даже сегодня на британских монетах отчеканены слова, связывающие монархию с Богом.
Как бы то ни было, в истории прослеживается чёткая тенденция: плохие государства выпускают плохие деньги, а плохие деньги приводят к краху государств. Во время периодов инфляции и гиперинфляции радикальная девальвация валюты могла разрушить основы политического порядка. Например, в XVII веке одной из важных причин Тридцатилетней войны в Центральной Европе стала социальная дезинтеграция, последовавшая за периодом валютной нестабильности.
Во время Французской революции спекуляции бумажными деньгами, которые были привязаны к стоимости «государственного» имущества, конфискованного у аристократов и церкви, подорвали легитимность якобинцев. В XX веке периоды инфляции во время и после двух мировых войн разрушали политические институты Европы, усиливая огонь радикализма. Более того, Владимир Ленин называл станок, печатающий деньги, «самым простым способом истребить сам дух капитализма» и буржуазной демократии.
Плохие деньги были не только одной из главных причин дезинтеграции государств, но и важным элементом в межгосударственных конфликтах. Как показывает история, для агрессивных стран создание или использование валютной паники было достаточно дешёвым способом уничтожения противников. Даже в мирное время некоторые государства отвечали на ухудшение отношений распространением фальшивых денег с целью посеять беспорядки за пределами своих границ.
Самым известным примером применения валютного оружия является программа нацистской Германии, печатавшей банкноты стран союзников во время Второй мировой войны. Фальшивые деньги можно было использовать для покупки остро необходимых ресурсов или для оплаты труда шпионов. Но Германия задумывалась также над идеей использования бомбардировщиков дальнего действия для разбрасывания фальшивых купюр над Британией. Просто представьте, какая деморализация и хаос могли бы за этим последовать. Любой человек с крупной суммой денег автоматически становился бы подозреваемым, а доверие в обществе быстро испарилось бы. Не исключено, что сбрасывать деньги можно с намного более разрушительными последствиями, чем сбрасывать бомбы.
Деньгами даже проще манипулировать, если это международная валюта. В наше время государства-изгои, подобные КНДР, регулярно подделывают банкноты, особенно американские. Международные электронные платежи между банками нередко используются злоумышленниками и криминалом. Впрочем, до сих пор мы не видели ни одной разрушительной валютной атаки в мировых масштабах, если не считать кинематографические фантазии.
Да, политические усилия с целью ослабить или заменить доллар в качестве доминирующей глобальной валюты предпринимаются уже давно. Наиболее соблазнительной альтернативой до сих пор считалось золото. Российские теоретики «евразийства» часто хвастаются тем, что этот благородный металл использовался в традиционной русской иконописи. В 2001 году тогдашний премьер-министр Малайзии Махатхир Мохамад попытался ввести «золотой динар» в качестве противовеса валютной системе, опирающейся на США. В 2005 году Саиф аль-Адель, шеф безопасности в «Аль-Каиде», предложил использовать золото для победы над долларом.
Биткойн выглядит как золото XXI века, и его создатели даже поддерживают такие аналогии. Биткойн выпускается – или «майнится» – с усилиями. И как цена золота когда-то соответствовала стоимости человеческих усилий, необходимых для его извлечения из-под земли в далёких регионах, так и выпуск биткойнов требует заоблачного количества компьютерных мощностей, которые работают на дешёвой энергии в далёких регионах, например, Азии или Исландии.
Впрочем, расцвет биткойна свидетельствует о сдвигах в восприятии обществом фундаментальной стоимости. Если металлические валюты предшествовавших эпох послужили основой для создания трудовой теории стоимости (стоимость товаров и услуг зависит от количества вложенного в них человеческого труда), то технология блокчейн присваивает стоимость комбинации из компьютерных мощностей и накопленной энергии, а ничто из этого не является человеческим.
Кроме того, криптовалюты, подобные биткойну, сделали совершенно невозможным проведение различий между криминальным поведением государственного и частного сектора. КНДР подозревают в неустанных попытках валютных манипуляций с помощью майнинга и производства биткойнов, что заставило Китай и Южную Корею начать закрывать биткойн-биржи. Крупнейшие платформы криптовалют, например, Coincheck в Японии, также приостановили операции.
Тем не менее, мы уже достигли точки, когда крах биткойна будет иметь серьёзные глобальные последствия. Степень вовлечённости финансовых учреждений в сделки с криптовалютами сейчас не ясна, и, наверное, она будет полностью раскрыта уже только после финансовой катастрофы. Это пугающе похоже на ситуацию 2007-2008 годов, когда никто реально не знал, где в конечном итоге сосредоточены долги по субстандартной ипотеке. До краха все лишь гадали, какие финансовые учреждения могут стать банкротами.
Никто не может мгновенно определить, является ли новость «фейковой» или нет, и точно так же никто не может мгновенно определить значимость новых форм денег. Пока валюта не признана государством, вряд ли она будет пользоваться полным доверием. Но это не означает, что она не может стать игрушкой наивных и доверчивых, или оружием массового финансового поражения для политических агрессоров во всём мире.