Abraçar a nova era da Automação
,
LONDRES – Desde o início do século XIX, quando os trabalhadores do sector têxtil destruíram os teares mecânicos que ameaçavam a sua subsistência, que os debates sobre a automação invocam cenários de miséria e desolação sobre o futuro do trabalho. Com a aproximação de uma nova era de automação, até que ponto deveremos ficar apreensivos com o futuro da nossa própria subsistência?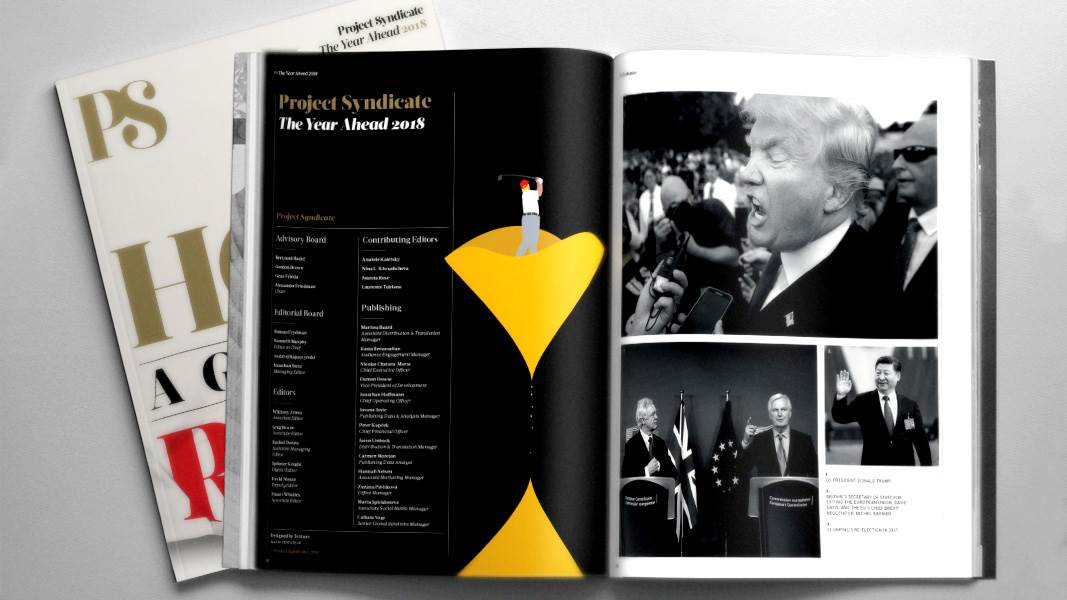 The Year Ahead 2018
The world's leading thinkers and policymakers examine what's come apart in the past year, and anticipate what will define the year ahead.
Um relatório recente do McKinsey Global Institute estima que, dependendo do nível de desenvolvimento de um país, a evolução da automação exigirá que entre 3 e 14% dos trabalhadores em todo o mundo mudem de profissão ou melhorem as suas competências, até ao ano 2030. Actualmente, cerca de 10% de todos os empregos na Europa desapareceram desde 1990, durante a primeira vaga da mudança tecnológica, que incidiu sobre tarefas rotineiras; e com a evolução da inteligência artificial (IA), que incide sobre um leque maior de tarefas, essa percentagem poderá duplicar nos próximos anos.
Historicamente, a deslocalização do trabalho ocorreu em vagas, primeiramente com as alterações estruturais da agricultura para a indústria, e depois com a evolução da indústria para os serviços. Mas durante esse processo, os ganhos de produtividade foram reinvestidos na criação de novas inovações, empregos e indústrias, promovendo o crescimento económico à medida que os empregos antigos e menos produtivos são substituídos por ocupações mais avançadas.
O motor de combustão interna, por exemplo, eliminou as carruagens puxadas por cavalos, mas deu origem a muitas indústrias novas, desde concessionários de automóveis a motéis. Na década de 1980, os computadores mataram as máquinas de escrever, mas criaram uma panóplia de novas ocupações, desde operadores de centrais de atendimento a programadores de informática.
Como os benefícios económicos e sociais resultantes das novas tecnologias tendem a receber menos atenções do que as perdas de empregos, vale a pena notar que as tecnologias da automação já demonstram capacidade para melhorar vidas. No passado mês de Novembro, investigadores da Universidade de Stanford demonstraram que um sistema de IA ultrapassa radiologistas experientes, na detecção de pneumonias a partir de radiografias aos pulmões.
Numa era em que o crescimento da produtividade estagnou, e em que as populações em idade activa estão a decrescer na China, na Alemanha, e noutros países, a automação poderá proporcionar o tão necessário incentivo económico. Uma maior produtividade implica um crescimento económico mais rápido, mais despesas de consumo, maior procura de emprego, e consequentemente uma maior criação de empregos.
Não obstante, qualquer debate sobre a automação baseada na IA também deverá considerar a ansiedade pública. Mesmo sendo provável que as ocupações perdidas para a automação sejam substituídas por novas ocupações, poderá demorar até que os salários acompanhem a realidade do aumento da produtividade do trabalho.
No início do século XIX, os salários estagnaram durante quase 50 anos antes de voltarem a crescer. Esse caso pode ter sido um caso extremo; mas para trabalhadores com menos habilitações, a transição actualmente em curso poderá revelar-se similarmente dolorosa. Com os receios de desigualdade acrescida já a aumentar, os governos precisarão de repensar políticas, para proporcionarem rendimentos e apoios à transição profissional aos trabalhadores atingidos pelas transformações.
Numa perspectiva de futuro, legisladores e empresas deverão considerar cinco imperativos. O primeiro consiste na adopção, sem hesitações, da IA e da automação. Mesmo que fosse possível reduzir o ritmo da mudança, seria um erro ceder a essa tentação. Devido aos efeitos da concorrência global, dificultar a difusão tecnológica numa área só abrandaria a prosperidade global. Na verdade, estimámos recentemente que as economias do norte da Europa poderão perder 0,5 pontos percentuais no crescimento anual do PIB se não acompanharem os seus vizinhos na adopção da IA.
O segundo imperativo consiste em equipar os trabalhadores com as competências certas. Os debates sobre o futuro do trabalho menosprezam frequentemente a questão de como o mercado laboral evoluirá, e ou acentuam ou diminuem o desfasamento de competências que já é premente nos países desenvolvidos. De acordo com um estudo recente da OCDE, até um terço dos trabalhadores das economias avançadas estão a ser subutilizados, ou são incapazes de cumprir as suas actuais funções.
Os empregos do futuro não necessitarão apenas de mais competências cognitivas, mas também de mais criatividade e de competências sociais, como a capacidade de treinar. Prevemos que, a menos que sejam actualizados os conjuntos de competências dos trabalhadores, o actual desfasamento de competências possa duplicar de gravidade no prazo de dez anos, resultando em importantes perdas na produtividade e em maiores níveis de desigualdade.
A valorização de competências em larga escala obrigará à coordenação entre pais, educadores, governos, empregadores e empregados, com especial atenção para as pessoas com menos competências. Infelizmente, nas duas últimas décadas a despesa pública nos mercados laborais, medida em proporção do PIB, diminuiu 0,5 pontos percentuais nos Estados Unidos, e mais de três pontos percentuais no Canadá, na Alemanha e na Escandinávia.
O terceiro imperativo consiste em prestar atenção às oportunidades de "trabalho aumentado". Ao contrário dos antigos robôs industriais, as tecnologias mais recentes conseguem interagir de forma segura e eficiente com os humanos, que deverão ocasionalmente proporcionar-lhe formação, e que deverão, cada vez mais, trabalhar com algoritmos e máquinas. Por exemplo, o desempenho de um consultório médico será grandemente melhorado se forem usados algoritmos de diagnóstico. Os legisladores e as empresas devem tentar maximizar este tipo de complementaridade em todos os sectores.
Em quarto lugar, as empresas terão de inovar e de capitalizar novas oportunidades de mercado, à mesma velocidade em que forem substituídas as tarefas desempenhadas por humanos. Como exemplo, durante a primeira vaga da robótica, países como a Alemanha e a Suécia substituíram empregos no sector automóvel com a adopção de robôs CAD (NdT: computer-aided design, ou desenho assistido por computador); mas, ao mesmo tempo, restituíram outros empregos que tinham anteriormente sido deslocalizados para a Ásia, e até criaram novos empregos a jusante, na área da electrónica. Do mesmo modo, a IA oferece inúmeras oportunidades para inovar e para explorar as cadeias globais de valor. Ao aproveitarmos rapidamente estas oportunidades, poderemos garantir uma transição suave dos antigos para os novos empregos.
Finalmente, é indispensável reinvestirmos os ganhos de produtividade originados pela IA no maior número possível de sectores económicos. Esse reinvestimento foi o principal motivo pela qual a mudança tecnológica beneficiou o emprego no passado. Mas sem um forte ecossistema local de IA, os actuais ganhos de produtividade poderão não ser reinvestidos de um modo que alimente a despesa e que impulsione a procura do trabalho. Os legisladores precisam urgentemente de garantir a existência de fortes incentivos ao reinvestimento.
A automação já tem má reputação como destruidora de empregos. Não obstante, para garantir que os seus benefícios ultrapassam as suas perturbações potenciais, os intervenientes nos sectores público e privado devem assumir uma liderança partilhada e forte, e manter no topo da sua agenda os cinco imperativos para a nova era da automação.