Abrazar la nueva era de la automatización
,
LONDRES – Desde que los trabajadores textiles de principios del siglo XIX destruyeron los telares mecánicos que amenazaban su sustento, los debates sobre la automatización han conjurado escenarios pesimistas sobre el futuro del trabajo. Ahora que estamos frente a otra era de automatización, ¿cuán nerviosos deberíamos estar sobre el futuro de nuestra propia subsistencia?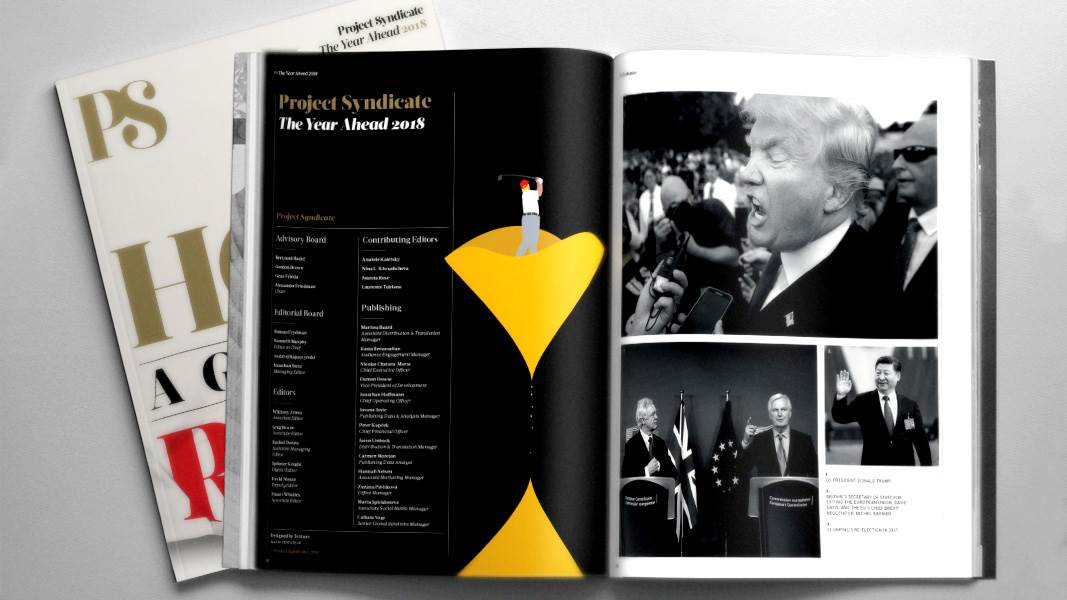 The Year Ahead 2018
The world's leading thinkers and policymakers examine what's come apart in the past year, and anticipate what will define the year ahead.
Un informe reciente del McKinsey Global Institute estima que, dependiendo del nivel de desarrollo de un país, los avances en la automatización exigirán que 3-14% de los trabajadores en todo el mundo cambien de ocupación o mejoren sus capacidades para el año 2030. Aproximadamente el 10% de todos los empleos en Europa ya han desaparecido desde 1990 durante la primera ola de cambio tecnológico basado en rutinas. Y con los progresos en la inteligencia artificial (IA), que afecta a un rango más amplio de tareas, ese porcentaje podría duplicarse en los próximos años.
Históricamente, el desplazamiento laboral se ha producido en olas, primero con el cambio estructural de la agricultura a la industria, y luego con el traspaso de la industria a los servicios. Pero a lo largo de este proceso, las alzas de la productividad han sido reinvertidas para crear nuevas innovaciones, empleos e industrias, lo que genera un crecimiento económico en tanto los empleos antiguos y menos productivos son reemplazados por ocupaciones más avanzadas.
El motor de combustión interno, por ejemplo, arrasó con los carruajes tirados por caballos, pero dio lugar a muchas industrias nuevas, desde las concesionarias de autos hasta los moteles. En los años 1980, las computadoras acabaron con las máquinas de escribir, pero crearon una serie de ocupaciones nuevas, desde representantes de servicios en call centers hasta desarrolladores de software.
Dado que los beneficios económicos y sociales de amplio alcance de las nuevas tecnologías tienden a recibir menos atención que las pérdidas de empleos, vale la pena mencionar que las tecnologías de la automatización ya están demostrando una capacidad para mejorar nuestras vidas. Este pasado noviembre, investigadores de la Universidad de Stanford demostraron que un sistema de IA tiene un mejor desempeño que los radiólogos expertos para detectar la neumonía a partir de radiografías de pulmón.
En una era de crecimiento estancado de la productividad y de poblaciones en edad laboral en baja en China, Alemania y otras partes, la automatización podría ofrecer un impulso económico muy necesario. Una mayor productividad implica un crecimiento económico más rápido, más gasto de los consumidores, una mayor demanda laboral y, por consiguiente, una mayor creación de empleos.
Sin embargo, cualquier discusión sobre la automatización basada en la IA también debe tener en cuenta las ansiedades de la población. Si bien las nuevas ocupaciones probablemente reemplacen a las que se perdieron a manos de la automatización, los salarios tal vez se demoren en alcanzar la realidad de una mayor productividad laboral.
A comienzos del siglo XIX, los salarios se estancaron durante casi 50 años antes de volver a recuperarse. Esa puede haber sido una situación extrema. Pero para los trabajadores de menores calificaciones, la transición que está en curso hoy podría resultar igualmente desgarradora. Los temores de una mayor desigualdad ya están en aumento y los gobiernos necesitarán repensar las políticas para ofrecer ingresos y un respaldo para la transición laboral a los trabajadores desplazados.
De cara al futuro, los responsables de las políticas y las empresas deberían tener en mente cinco imperativos. El primero es abrazar la IA y la automatización sin dudar. Aun si resultara posible desacelerar el ritmo del cambio, sucumbir a esa tentación sería un error. Debido a los efectos de la competencia global, obstaculizar la difusión tecnológica en un terreno no haría más que afectar la prosperidad general. En verdad, recientemente estimamos que las economías del norte de Europa podrían perder 0,5 puntos porcentuales de crecimiento anual del PIB si no mantienen el ritmo de sus vecinos en cuanto a la adopción de IA. 
El segundo imperativo es dotar a los trabajadores de las habilidades correctas. Los debates sobre el futuro del trabajo muchas veces pasan por alto el interrogante de cómo evolucionará el mercado laboral y cómo mejorará o exacerbará el desfase de las habilidades que ya es agudo en los países desarrollados. Según una reciente investigación de la OCDE hasta un tercio de los trabajadores en las economías avanzadas están subutilizados o no son capaces de realizar sus obligaciones actuales.
Los empleos del futuro exigirán no sólo más habilidades cognitivas, sino también más creatividad y capacidades sociales, como el coaching. Estimamos que, a menos que se mejoren los conjuntos de habilidades de los trabajadores, el desfase de hoy podría ser el doble de serio en un lapso de diez años, lo que resultaría en importantes pérdidas de productividad y niveles más altos de desigualdad.
Mejorar las habilidades en gran escala requerirá de una coordinación entre padres, educadores, gobiernos, empleadores y empleados, con un foco en los individuos con menores capacidades. Desafortunadamente, en los últimos 20 años, el gasto público en los mercados laborales, en relación al PIB, ha declinado 0,5 puntos porcentuales en Estados Unidos, y más de tres puntos porcentuales en Canadá, Alemania y Escandinavia.
El tercer imperativo es centrarse en las oportunidades de mano de obra aumentada. A diferencia de los antiguos robots industriales, las tecnologías más nuevas pueden interactuar de manera segura y eficiente con los seres humanos, que muchas veces necesitan capacitarlos y cada vez más tendrán que trabajar fluidamente con algoritmos y máquinas. Por ejemplo, la práctica médica se verá sumamente favorecida por los algoritmos de diagnóstico. Los responsables de las políticas y las empresas deberían intentar maximizar este tipo de complementariedad en todos los sectores.
Cuarto, las empresas tendrán que innovar y capitalizar las nuevas oportunidades de mercado con el mismo ritmo de las tareas humanas que se están reemplazando. Por ejemplo, en la primera ola de robótica, países como Alemania y Suecia desplazaron los empleos del sector automotriz al adoptar robots CAD (diseño asistido por computadora); pero simultáneamente permitieron recuperar otros empleos de Asia, y hasta crearon nuevos puestos de trabajo en el sector de la electrónica. De la misma manera, la IA ofrece un sinfín de oportunidades para la innovación y el aprovechamiento de las cadenas de valor globales. Si aprovechamos estas oportunidades rápidamente, podemos garantizar una transición menos agitada de los empleos de antes a los nuevos.
Finalmente, es imperativo que reinvirtamos las alzas de productividad impulsadas por la IA en la mayor cantidad posible de sectores económicos. Esta reinversión es la razón principal por la cual el cambio tecnológico ha beneficiado el empleo en el pasado. Pero sin un fuerte ecosistema local de IA, las alzas de productividad de hoy tal vez no se reinviertan de manera tal que alimenten el gasto e impulsen la demanda de mano de obra. Los responsables de las políticas necesitan con urgencia garantizar que existan fuertes incentivos para la reinversión.
La automatización ha recibido una mala reputación de verdugo de los puestos de trabajo. Sin embargo, para garantizar que sus beneficios superen sus potenciales alteraciones, los actores del sector privado y público deben ejercer un fuerte liderazgo conjunto -y mantener los cinco imperativos para la nueva era de la automatización bien arriba en la agenda.