Jak přijímat novou éru automatizace
,
LONDÝN – Už od počátku 19. století, kdy textilní zaměstnanci ničili tkací stroje, které ohrožovaly jejich živobytí, vyvolávají debaty o automatizaci katastrofické scénáře o budoucnosti lidské práce. Do jaké míry bychom se měli obávat o budoucnost našeho živobytí v době, kdy nás čeká další éra automatizace?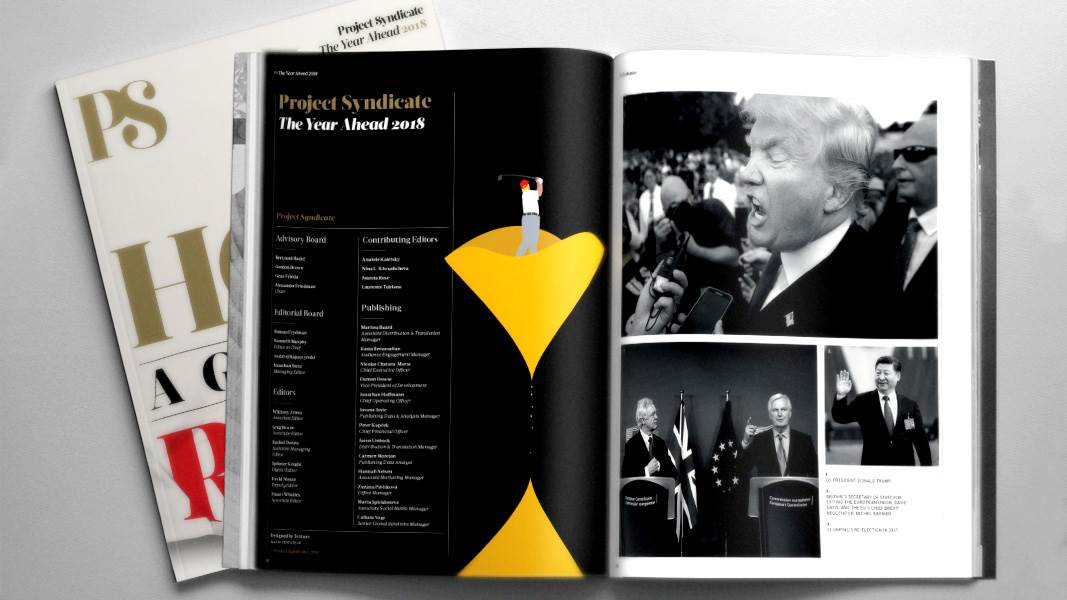 The Year Ahead 2018
The world's leading thinkers and policymakers examine what's come apart in the past year, and anticipate what will define the year ahead.
Nedávná zpráva společnosti McKinsey Global Institute odhaduje, že podle míry rozvoje dané země budou pokroky v oblasti automatizace vyžadovat, aby 3-14% celosvětové pracovní síly změnily do roku 2030 zaměstnání nebo zvýšily svou kvalifikaci. Už během první vlny technologických změn v oblasti pracovních postupů vymizelo v Evropě od roku 1990 přibližně 10% všech pracovních míst. A s pokroky na poli umělé inteligence (AI), které se dotýkají širšího rozpětí úkolů, by se tento podíl mohl v příštích letech zdvojnásobit.
Historicky probíhaly přesuny pracovních míst ve vlnách, když první vlnu představoval strukturální posun od zemědělství k výrobě a druhou vlnu přesun od výroby ke službám. Během celého tohoto procesu jsou však přírůstky produktivity zpětně investovány tak, aby vytvářely nové inovace, pracovní místa a sektory, což táhne hospodářský růst, neboť starší a méně produktivní pracovní místa jsou nahrazována modernějšími.
Například spalovací motor sice vytěsnil koňské povozy, avšak zároveň vyvolal nástup mnoha nových oborů, od autosalonů po motely. V 80. letech zabily počítače psací stroje, ale současně vytvořily řadu nových povolání, od pracovníků callcenter po vývojáře softwaru.
Jelikož dalekosáhlým ekonomickým a společenským přínosům nových technologií se obvykle věnuje menší pozornost než ztrátám pracovních míst, stojí za zaznamenání, že automatizační technologie už dnes demonstrují schopnost zkvalitňovat životy. Vědci ze Stanfordovy univerzity v listopadu ukázali, že systém umělé inteligence dokáže lépe než zkušení radiologové odhalovat na rentgenových snímcích plic pneumonii.
V éře zaseknutého růstu produktivity a klesajícího počtu obyvatel v produktivním věku v Číně, Německu i jinde by automatizace mohla poskytnout zoufale potřebnou ekonomickou vzpruhu. Z vyšší produktivity vyplývají rychlejší hospodářský růst, vyšší spotřebitelské výdaje, zvýšená poptávka po pracovní síle, a tím i rozsáhlejší tvorba pracovních míst.
Jakákoliv diskuse o automatizaci založené na AI však musí brát v úvahu také obavy veřejnosti. Ačkoliv namísto pracovních míst zaniklých kvůli automatizaci pravděpodobně vzniknou nová povolání, může nějakou dobu trvat, než se realita vyšší produktivity pracovní síly odrazí na výši mezd.
Na počátku 19. století mzdy stagnovaly téměř 50 let, než se znovu vydaly směrem vzhůru. Možná šlo o extrémní situaci. Avšak pro zaměstnance s nižší kvalifikací by dnes probíhající přerod mohl být stejně drastický. Obavy z rostoucí nerovnosti již sílí a vlády budou muset přehodnotit svou politiku a poskytnout zaměstnancům zasaženým změnami podporu v oblasti příjmů a rekvalifikace.
Do budoucna by měli mít politici i zástupci firem na paměti pět zásad. První zásada zní bez váhání přijmout AI a automatizaci za svou. I kdyby se tempo změn dalo zpomalit, podlehnout tomuto pokušení by byla chyba. Vzhledem k efektům globální konkurence by snaha zbrzdit rozšiřování nových technologií v jedné sféře jednoduše utlumila celkovou prosperitu. Dokonce jsme nedávno odhadli, že severoevropské ekonomiky by mohly ztratit až 0,5 procentního bodu ročního růstu HDP, pokud při zavádění AI neudrží krok se sousedními státy.
Druhou zásadou je vybavit zaměstnance správnou kvalifikací. Debaty o budoucnosti práce často přehlížejí otázku, jak se bude trh práce vyvíjet a zda bude zmírňovat, či prohlubovat nepoměr mezi nabízenými a poptávanými kvalifikacemi, který je v rozvojových zemích už dnes akutní. Podle nedávného průzkumu OECD je plná třetina zaměstnanců v rozvinutých ekonomikách buďto nevyužitá, nebo naopak nezpůsobilá plnit současné úkoly.
Pracovní místa budoucnosti nebudou vyžadovat jen poznávací schopnosti, ale i větší kreativitu a sociální dovednosti, jako je koučink. Odhadujeme, že nedojde-li k aktualizaci kvalifikační výbavy zaměstnanců, mohl by se současný nepoměr během deseti let zdvojnásobit, což by mělo za následek významné ztráty produktivity a vyšší úroveň nerovnosti.
Rozsáhlá aktualizace kvalifikační výbavy bude vyžadovat koordinaci rodičů, vzdělávacích pracovníků, vlád, zaměstnavatelů i samotných zaměstnanců s důrazem na méně kvalifikované jednotlivce. Bohužel se veřejné výdaje na trhy práce v poměru k HDP snížily v posledních dvaceti letech ve Spojených státech o půl procentního bodu a v Kanadě, Německu a Skandinávii o více než tři procentní body.
Třetí zásadou je zaměřit se na příležitosti takzvané rozšířené práce. Na rozdíl od starších průmyslových robotů jsou novější technologie schopny bezpečné a účinné interakce s lidmi, kteří je však někdy potřebují "zaškolit" a ve stále větší míře budou muset bezchybně pracovat s algoritmy a přístroji. Například lékařská praxe se po aplikaci diagnostických algoritmů výrazně zkvalitní. Politici a zástupci firem by se měli snažit maximalizovat tento typ komplementarity napříč všemi sektory.
Za čtvrté budou firmy muset inovovat a využívat nových tržních příležitostí stejným tempem, jakým jsou nahrazovány lidské úkoly. V první vlně robotizace například země jako Německo a Švédsko utlumily pracovní místa v automobilovém sektoru zavedením robotů CAD (počítačem podporovaného projektování); současně však přenesly jiná pracovní místa zpátky z Asie, a dokonce vytvořily nová místa v elektronice. Podobně i AI nabízí bezpočet příležitostí k inovacím a zapojení se do globálních hodnotových řetězců. Pokud těchto příležitostí rychle využijeme, můžeme zajistit hladší přechod ze starých pracovních míst na nová.
A poslední zásada zní reinvestovat zisky z přírůstků produktivity tažených AI do co největšího počtu ekonomických sektorů. Takové zpětné investice jsou hlavním důvodem, proč technologické změny v minulosti prospívaly zaměstnanosti. Bez silného lokálního ekosystému AI však zisky z produktivity nemusí být reinvestovány způsobem, který bude podporovat výdaje a zvyšovat poptávku po pracovní síle. Je naléhavě zapotřebí, aby politici zavedli silné pobídky ke zpětným investicím.
Automatizace dostala nelichotivou nálepku zabijáka pracovních míst. Chceme-li proto zajistit, aby její přínosy převažovaly nad potenciálními disrupcemi, musí aktéři v soukromém a veřejném sektoru uplatňovat silné společné vedení – a klást na čelní místo své agendy pětici zásad pro novou éru automatizace.
Z angličtiny přeložil Jiří Kobělka.