Грядёт решающий год для Европы
БЕРЛИН – В политическом смысле 2019 год станет невероятно важным годом для Евросоюза. Великобритания движется к выходу из ЕС 29 марта 2019 года. А после майских выборов в Европарламент почти на всех важнейших руководящих позициях в институтах ЕС произойдут изменения. Тем самым, в зависимости от распределения мест в новом парламенте, Европа может стать свидетелем полной перегруппировки сил между странами ЕС, а также внутри институтов ЕС и между Европарламентом и странами ЕС.
Новое распределение сил внутри институтов ЕС будет проявляться главным образом в виде кадровых назначений. Будут назначены новые председатели Европейской комиссии, Европейского совета и Европейского центрального банка, а также выбран новый Верховный представитель ЕС по иностранным делам и политике безопасности. Если националистические партии евроскептиков станут крупнейшей фракцией в Европарламенте, эти назначения вполне могут продемонстрировать резкий разрыв с прошлым.
Страны ЕС сейчас расколоты так, как никогда ранее, причём даже по самым фундаментальным вопросам, касающимся европейского проекта. На смену широкому проевропейскому консенсусу, существовавшему в прошлом, пришёл возродившийся национализм. Кроме того, восток всё чаще выступает против запада, а север против юга. Есть все основания опасаться, что эти растущие разногласия найдут отражение в новом составе парламента, что затруднит (или сделает вообще невозможным) формирование правящего большинства.
Имеющаяся сегодня де-факто большая коалиция между консервативной Европейской народной партией (EPP) и Прогрессивным альянсом социалистов и демократов (S&D) с высокой долей вероятности не сохранится после грядущих выборов. В частности, S&D пребывает в глубоком (и более того, экзистенциальном) кризисе во многих странах Европы. Кроме того, на поле появились новые игроки, в том числе центристская партия президента Франции Эммануэля Макрона «Вперёд, Республика!» (La République En Marche!) и несколько партий радикальных евроскептиков и националистов.
Учитывая беспрецедентный подъём националистических партий в этом электоральном цикле, обычные формальные проблемы в европейской избирательной кампании отойдут на второй план. Это будет спор о Европе и о будущем европейской демократии. Последние события в целом ряде стран ЕС бросают вызов фундаментальным принципам Евросоюза, таким как верховенство закона и разделение властей. По сути, на этих выборах будет решаться судьба демократических институтов, а также вопросы европейской солидарности и суверенитета.
Надо ли говорить, что выборы в Европарламент окажут глубокое влияние на будущее Европы в быстро меняющемся мире. Нынешний президент США демонстрирует такое презрение к ЕС, что многие сейчас заговорили о «конце Запада». Россия, с её нарастающим реваншизмом, ведёт войны на европейской периферии и в Сирии. Президент Турции Реджеп Тайип Эрдоган повёл свою страну по пути авторитаризма. А Китай требует признания в качестве глобальной державы.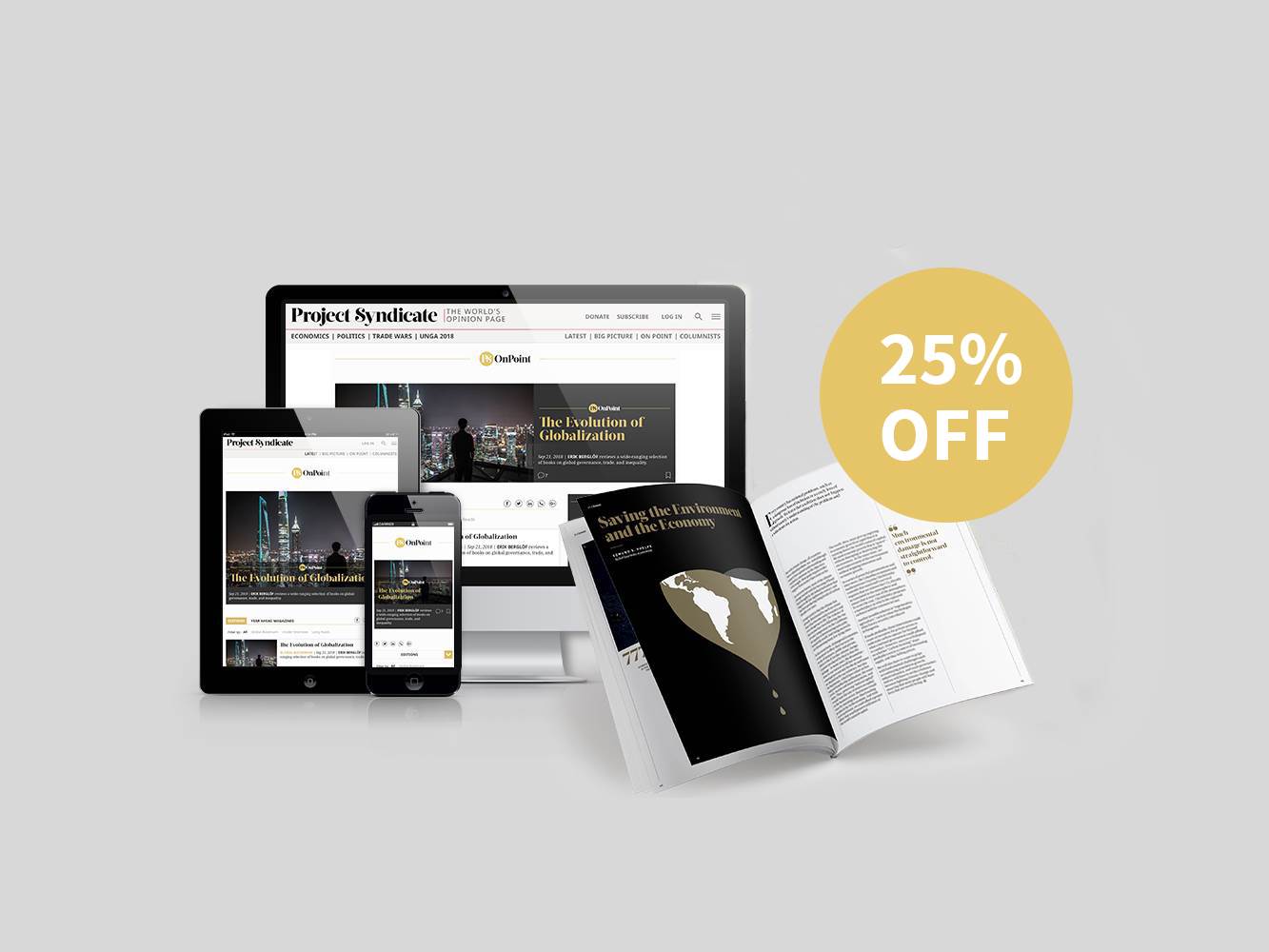 Subscribe now
For a limited time only, get unlimited access to On Point, The Big Picture, and the PS Archive, plus our annual magazine and a tote bag, for just $75.
Хуже того, недавнее решение президента США Дональда Трампа о выходе США из договора 1987 года с Россией «О ликвидации ракет средней и меньшей дальности» создаёт угрозу возобновления гонки вооружения. Всё это совпадало по времени с эскалацией климатического кризиса и началом глобальной гонки за доминирование в сфере искусственного разума, все риски которого пока ещё не осознаются в полной мере.
На этом мрачном фоне возникает вопрос, а что станет с Европой. Сумеют ли европейцы сохранить свой европейский суверенитет, или же спровоцированная ими самими раздробленность ещё сильнее увеличит их зависимость от других держав?
Партии, выступающие за ЕС, должны сделать вопрос о месте Европы в мире центральным в предстоящей кампании по выборам в Европарламент. В противном случае они потерпят сокрушительное поражение от рук новых националистов. Националисты хотят вернуться в прошлое; задача проевропейских сил – предложить ответы для будущего.
Не следует заблуждаться: победа националистов в следующем году до оснований потрясёт ЕС и погрузит его в новый глубокий кризис. Это стало бы разгромом для фундаментальных ценностей европейского проекта. Учитывая масштабы данной угрозы, сторонники Европы не могут полагаться на привычные подходы. Недавние радикальные перемены в партийных системах многих стран ЕС изменили электоральные расчёты, и проевропейские силы обязаны адаптироваться соответствующим образом.
Я, со своей стороны, предвижу, что выборы следующего года возвестят драматические изменения в Европе. К лучшему или худшему, но вопрос о Европе оказался политизирован, и теперь он должен быть решён. Мы увидим либо возрождение национализма, либо победу демократии и единства на уровне ЕС. К сожалению, проевропейские силы не могут надеяться на какую-либо помощь из-за рубежа. Напротив, верно обратное: Европа должна внимательно охранять от иностранного вмешательства свои внутренние дела, в том числе выборы.
На протяжении последних лет велось много разговоров о том, что ЕС страдает от «дефицита демократии». Но борьба за большинство в Европейском парламенте фактически является огромным шансом для демократии. Проевропейским силам нужно лишь вовремя пробудиться, чтобы воспользоваться им. Или же это сделают враги Европы.