2019 - ou l'année du jugement pour l'Europe
BERLIN – Sur le plan politique, 2019 sera une année extrêmement importante pour l'Union européenne. Le Royaume-Uni est actuellement en passe de quitter l'UE le 29 mars 2019. À la suite des élections au Parlement européen en mai, la quasi-totalité des postes de direction des plus importantes institutions de l'UE vont passer dans d'autres mains. Ainsi, selon la répartition des sièges parlementaires, l'Europe pourrait faire l'objet d'un réalignement du pouvoir entre les États membres, au sein des institutions de l'UE et entre les États membres et le Parlement européen.
La nouvelle répartition du pouvoir au sein des institutions de l'UE va se refléter en grande partie sur le personnel. Les nouveaux présidents de la Commission européenne, du Conseil européen et de la Banque centrale européenne seront nommés et un nouveau Haut représentant de l'Union pour les Affaires étrangères et la politique de sécurité sera choisi. Si les partis eurosceptiques nationalistes deviennent le plus grand groupe au Parlement européen, ces nominations pourraient bien marquer une rupture brutale avec le passé.
Les États membres de l'UE sont plus divisés que jamais, même sur les questions les plus fondamentales du projet européen. Le large consensus pro-européen du passé a été remplacé par une renaissance du nationalisme. De plus, l'Est est de plus en plus opposé à l'Ouest - et le Nord de plus en plus opposé au Sud. Il y a de bonnes raisons de craindre que ces divisions de plus en plus marquées se retrouvent dans la nouvelle composition de la majorité du Parlement européen, ce qui va rendre la gouvernance difficile, sinon impossible.
La grande coalition actuelle entre les conservateurs du Parti Populaire Européen (PPE) et l'Alliance Progressiste des Socialistes et démocrates (S&D) ne vont vraisemblablement pas survivre aux élections. Le S&D, en particulier, traverse une crise profonde - et en effet existentielle - dans toute l'Europe. Il y a de nouveaux acteurs sur le terrain, notamment le président français centriste Emmanuel Macron de La République en marche ! et un petit nombre d'eurosceptiques radicaux et de partis nationalistes.
Compte tenu de l'importance sans précédent des partis nationalistes dans ce cycle électoral, les problèmes de campagne européenne pro forma habituels vont inévitablement être relégués à l'arrière-plan. Ce sera un concours sur l'Europe et sur l'avenir de la démocratie européenne. Les développements récents dans un certain nombre d'États membres ont remis en question certains principes de l'UE, comme l'état de droit et la séparation des pouvoirs. Ces institutions démocratiques, ainsi que les questions de solidarité européenne et de souveraineté, vont toutes effectivement être soumises aux suffrages.
Il va sans dire que les élections parlementaires auront de profondes implications sur l'avenir de l'Europe dans un monde en rapide évolution. L'actuel président des États-Unis témoigne un tel mépris à l'égard de l'UE que l'on entend beaucoup parler en ce moment d'une « fin de l'Occident. » Une Russie de plus en plus revancharde mène des guerres en périphérie de l'Europe et en Syrie. Le Président turc Recep Tayyip Erdoğan met son pays sur la voie de l'autoritarisme. Et la Chine exige d'être reconnue en tant que puissance mondiale.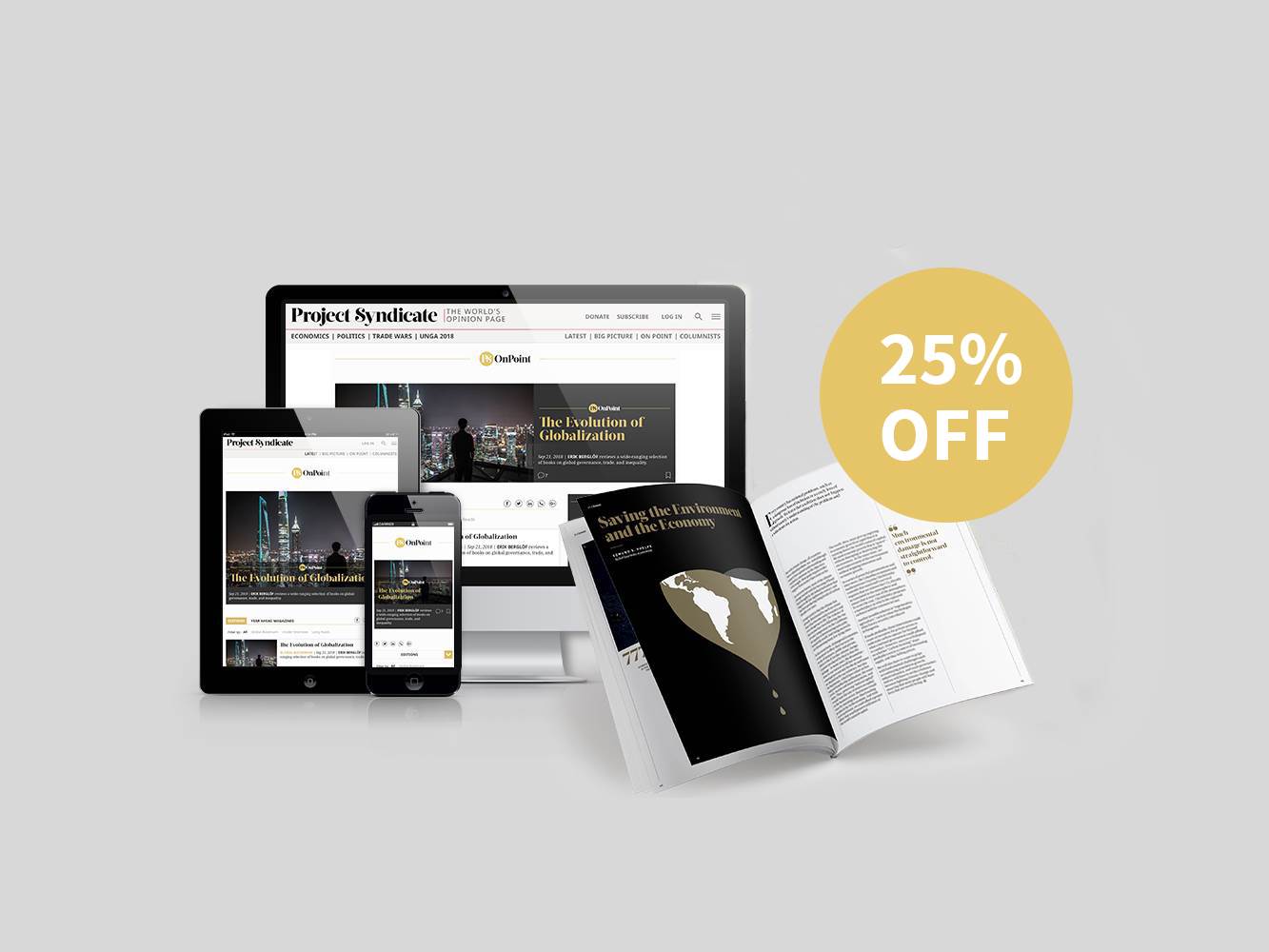 Subscribe now
For a limited time only, get unlimited access to On Point, The Big Picture, and the PS Archive, plus our annual magazine and a tote bag, for just $75.
Pire encore, la récente décision du président américain Donald Trump, de retirer les États-Unis du Traité sur l'élimination des missiles à portée intermédiaire de 1987 avec la Russie, laisse planer la menace d'une nouvelle course aux armements. Cela coïncide avec l'escalade de la crise climatique et avec un concours mondial pour la prédominance dans le domaine de l'intelligence artificielle, dont les risques sont encore en grande partie non évalués.
Dans ce contexte sombre, la question est de savoir ce qu'il va advenir de l'Europe. Les Européens vont-ils conserver leur souveraineté, ou bien la désunion qu'ils se sont eux-mêmes infligée va-t-elle les rendre encore plus dépendants d'autres puissances ?
Les partis pro-UE doivent faire de la place de l'Europe dans le monde une question centrale de la campagne électorale parlementaire : sinon, ils seront défaits par les nouveaux nationalistes. Les nationalistes veulent retourner au passé : c'est aux pro-européens d'apporter des réponses pour l'avenir.
Ne nous méprenons pas : une victoire nationaliste l'année prochaine risque de frapper l'UE en son cœur et de la plonger dans une nouvelle crise profonde. Ce serait une défaite pour les valeurs fondamentales du projet européen. Compte tenu de l'ampleur de la menace, les pro-européens ne peuvent pas compter sur le statu quo. Les récents bouleversements dans les systèmes de partis de nombreux États membres ont modifié le calcul électoral et les pro-européens doivent s'adapter en conséquence.
Pour ma part, je pense que les élections de l'année prochaine laissent présager un changement spectaculaire en Europe. Pour le meilleur ou pour le pire, la question de l'Europe elle-même est politisée et doit à présent être tranchée. Il y aura soit une renaissance du nationalisme, soit une victoire pour la démocratie au niveau de l'UE et de l'unité. Malheureusement les pro-européens ne peuvent espérer aucune aide de l'étranger. En réalité, c'est tout le contraire : l'Europe doit faire preuve de vigilance dans le contrôle de l'ingérence étrangère dans ses affaires - en particulier dans ses élections.
Ces dernières années, il a beaucoup été question d'un « déficit démocratique » au sein de l'UE. Mais la lutte pour une majorité au Parlement européen représente en réalité une chance majeure pour la démocratie. Les pro-européens n'ont qu'à se réveiller à temps pour la saisir - sinon les ennemis de l'Europe s'en chargeront.