El día D para Venezuela
CAMBRIDGE – La crisis de Venezuela está pasando, inexorablemente, de ser catastrófica a ser inimaginable. El nivel de miseria, sufrimiento humano y destrucción ha llegado a un punto en que la comunidad internacional debe repensar cómo puede ayudar.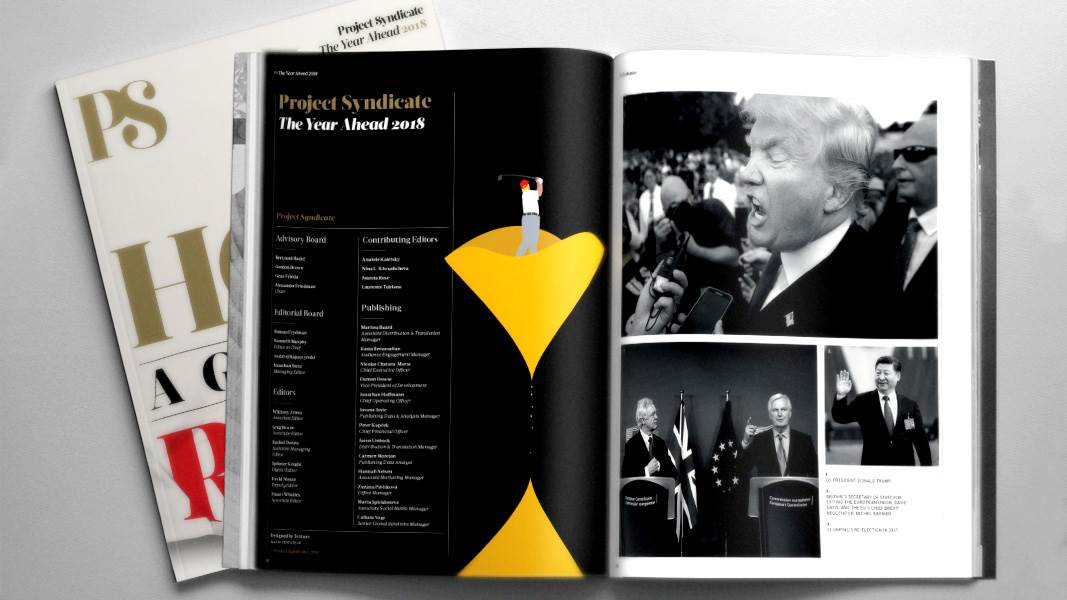 The Year Ahead 2018
The world's leading thinkers and policymakers examine what's come apart in the past year, and anticipate what will define the year ahead.
Hace dos años, advertí que en Venezuela se avecinaba una hambruna similar al Holomodor de Ucrania entre 1932 y1933. El 17 de diciembre, The New York Timespublicó en su portada fotografías de este desastre, provocado por el hombre.
En julio, describí la calamidad económica sin precedentes por la que atraviesa Venezuela y documenté el colapso en la producción, los ingresos, y los niveles de vida y salud. Probablemente, la estadística más reveladora que cité fue que el sueldo mínimo (el que en Venezuela gana el trabajador mediano), medido en la caloría más barata disponible, había caído de 52.854 calorías diarias en mayo de 2012 a tan solo 7.005 en mayo de 2017, completamente insuficiente para alimentar a una familia de cinco personas.
Desde entonces, la situación ha empeorado de manera drástica. Para el mes de noviembre, el sueldo mínimo se había desplomado a apenas 2.740 calorías diarias. Y la escasez de proteínas es todavía más aguda. El abastecimiento de carne de cualquier tipo es tan reducido, que el precio de un kilo en el mercado equivale a más de una semana de trabajo remunerado al sueldo mínimo.
Las condiciones de salud también han decaído, como consecuencia de las deficiencias nutricionales y de que el gobierno decidió no proveer fórmula para lactantes, vacunas contra enfermedades infecciosas, medicamentos para quienes están en tratamiento por SIDA, cáncer, diálisis y trasplante, y también los suministros generales de los hospitales. Desde el 1 de agosto, el valor del dólar ha añadido un cero, y desde septiembre, la inflación ha estado por encima del 50% al mes.
De acuerdo a la OPEP, desde mayo la producción de petróleo ha declinado el 16%, una reducción de más de 350.000 barriles al día. Para detener este declive, el gobierno del presidente Nicolás Maduro no ha tenido mejor idea que arrestar a alrededor de 60 ejecutivos de PDVSA, la empresa petrolera estatal, y nombrar a un general de la Guardia Nacional sin experiencia en la industria para conducir sus operaciones.
En lugar de tomar medidas para poner fin a esta crisis humanitaria, el gobierno la está usando para consolidar su control político. Rechaza los ofrecimientos de asistencia internacional, al tiempo que, para sofocar las manifestaciones, invierte sus recursos en adquirir sistemas de control de disturbios de grado militar fabricados en China.
Muchos observadores externos creen que el gobierno perderá poder a medida que la economía siga empeorando. Sin embargo, la oposición política organizada está hoy en una posición de mayor debilidad que en julio, a pesar de la crisis y del masivo apoyo diplomático internacional. Desde entonces, el gobierno ha instalado una Asamblea Constituyente inconstitucional con plenos poderes, ha cancelado el registro electoral de los tres principales partidos de oposición, ha destituido a alcaldes y diputados legítimamente elegidos, y se ha robado tres elecciones.
Dado que todas las soluciones son imprácticas, inviables o inaceptables, la mayoría de los venezolanos anhelan alguna forma de deus ex machina que los salve de esta tragedia. Lo mejor sería poder convocar elecciones libres y justas para llegar a tener un nuevo gobierno. Este es el Plan A de la oposición venezolana organizada en torno a Mesa de la Unidad Democrática, y es lo que se busca en las conversaciones que se están realizando en la República Dominicana.
No obstante, es un desafío a la credulidad pensar que un régimen dispuesto a matar de hambre a millones de personas para mantenerse en el poder, va a ceder ese poder en elecciones libres. En la década de 1940 en Europa Oriental, los regímenes estalinistas consolidaron su poder pese a sufrir derrotas electorales. El hecho de que el gobierno de Maduro se haya robado tres elecciones tan solo en 2017, y que haya bloqueado la participación electoral de tres de los partidos con los cuales está negociando en República Dominicana, de nuevo a pesar de una atención diplomática internacional masiva, sugiere que el éxito es improbable.
La idea de un golpe militar para restaurar el orden constitucional agrada menos a muchos políticos democráticos porque temen que después los soldados no regresen a sus cuarteles. Por lo demás, el régimen de Maduro ya es una dictadura militar, con oficiales a cargo de muchas agencias gubernamentales. Los oficiales de alto rango de las fuerzas armadas son esencialmente corruptos, habiendo participado durante años en actividades de contrabando, delitos cambiarios y en las compras públicas, narcotráfico y muertes extrajudiciales que, en términos per cápita, son tres veces más prevalentes que en Las Filipinas de Rodrigo Duterte. Un número importante de altos oficiales decentes han estado renunciando a las fuerzas armadas.
Las sanciones focalizadas en individuos, que administra la Office of Foreign Assets Control (OFAC) de Estados Unidos, están incomodando a muchos de los bandidos que gobiernan Venezuela. No obstante, en el mejor de los casos son muy lentas, pues para el tiempo que rindan el efecto deseado se habrán producido decenas de miles de muertes evitables y se habrán ido al exterior millones de nuevos refugiados venezolanos. Y, en el peor de los casos, nunca surtirán efecto. Al fin y al cabo, sanciones como estas no han conducido a un cambio de régimen en Rusia, Corea del Norte, ni Irán.
Esto nos deja con una posible intervención militar internacional, solución que asusta a la mayoría de los gobiernos latinoamericanos a causa de la historia de agresiones contra sus intereses soberanos, especialmente en México y Centroamérica. Pero es posible que estas no sean las analogías históricas correctas. Después de todo, Simón Bolívar pasó a ser llamado el Libertador de Venezuela gracias a la invasión de 1814 organizada y financiada por la vecina Nueva Granada (hoy Colombia). Entre 1940 y 1944, Francia, Bélgica y los Países Bajos no lograron liberarse de un régimen opresivo sin una acción militar internacional.
La implicación es clara. A medida que la situación en Venezuela se torna inimaginable, sus posibles soluciones se acercan a lo inconcebible. La Asamblea Nacional debidamente elegida hace dos años, en la cual la oposición tiene una mayoría de dos tercios, ha sido despojada de todo su poder de manera inconstitucional por una Corte Suprema nombrada inconstitucionalmente. Y las fuerzas armadas han empleado ilegítimamente su poder para reprimir las protestas y obligar a exiliarse a muchos líderes, entre ellos los jueces de la Corte Suprema que la Asamblea Nacional nombró en julio.
Si se trata de soluciones, por qué no considerar la siguiente: la Asamblea Nacional podría destituir a Maduro y al narcotraficante de su vicepresidente, Tareck El Aissami, sancionado por la OFAC y a quien el gobierno estadounidense le ha embargado más de US$ 500 millones. Dado este vacío de poder, la Asamblea, nombraría de forma constitucional a un nuevo gobierno, el que a su vez podría solicitar asistencia militar a una coalición de países amigos, entre ellos, latinoamericanos, norteamericanos y europeos. Esta fuerza liberaría a Venezuela de la misma forma en que canadienses, australianos, británicos y estadounidenses liberaron a Europa en 1944-1945. Más cerca de casa, esto sería semejante a la liberación de Panamá de la opresión de Manuel Noriega por parte de Estados Unidos, la que marcó el inicio de su democracia y del crecimiento económico más rápido de América Latina.
De acuerdo al derecho internacional, nada de esto requeriría la aprobación del Consejo de Seguridad de las Naciones Unidas (que Rusia y China podrían vetar), puesto que la fuerza militar sería invitada por un gobierno legítimo en busca de apoyo para defender la constitución de su país. La existencia de una opción como esta incluso podría mejorar la probabilidad de que las negociaciones que se están llevando a cabo en la República Dominicana lleguen a un resultado exitoso.
El colapso de Venezuela es contrario al interés nacional de la mayoría de los países. Y las condiciones imperantes en el país constituyen un delito de lesa humanidad al que se debe poner fin por razones morales. El fracaso de la Operación Market Garden en septiembre de 1944, inmortalizado en el libro y el film "Un puente lejano", se tradujo en la hambruna del invierno 1944-1945 en los Países Bajos. La hambruna en la Venezuela de hoy ya es peor que esa. ¿Cuántas vidas más serán destrozadas antes de que arribe la salvación?
Traducción del inglés por Ana María Velasco