Die Rückkehr des kranken Mannes am Bosporus
BERLIN – Das europäische 19. Jahrhundert hindurch war die sogenannte "orientalische" Frage, d. h. die rapide voranschreitende Auflösung des osmanischen Reiches, jenes damals so genannten "kranken Mannes am Bosporus", und wer von den großen europäischen Mächten seine Erbfolge antreten würde, eine der großen geo- und machtpolitischen Fragen der Zeit. Es kam nicht von ungefähr, dass die Selbstentleibung Alteuropas im Ersten Weltkrieg vom Balkan ausging, jener geopolitischen Bruchzone dreier großer, allesamt dem historischen Untergang entgegen treibenden Imperien – dem osmanischen Reich, Österreich-Ungarn und dem Russischen Kaiserreich.
Nach der Niederlage im Ersten Weltkrieg verschwanden die Osmanen, gemeinsam mit den beiden anderen multinationalen Reichen. Die Türkei wurde zur Republik, unter General Mustafa Kemal zog sich die geschlagene türkische Armee auf Anatolien zurück, wehrte dort militärisch erfolgreich  eine griechisch Intervention und eine Akzeptanz der Pariser Vorortverträge (Vertrag von Sèvres) ab . Mustafa Kemals Ziel war es, die Türkei zu einem laizistischen, modernen, westlichen Staat zu machen, zu einem Teil Europas und nicht des Nahen und Mittleren Ostens. Um dieses historische Ziel zu erreichen, bediente er sich autoritärer Mittel, schuf einen hybriden Staat, eine Mischung aus faktischer Militärherrschaft und formaler Demokratie mit Parteien. In zyklisch wiederkehrenden großen Krisen der türkischen Demokratie wurde diese mehrfach durch temporäre Militärdiktaturen abgelöst.
Hinzu kam nach 1947 der Kalte Krieg zwischen Ost und West, der die Türkei zu einem geopolitisch unverzichtbaren Bündnispartner des Westens machte, der die Meerengen zwischen Mittel- und Schwarzem Meer und das östliche Mittelmeer, die Südflanke der NATO, vor dem Zugriff der Sowjetunion schützte.
Dennoch blieb in all den Jahrzehnten des Kalten Krieges die Türkei innenpolitisch ein instabiles Gebilde zwischen Demokratie und Militärdiktatur, dessen Modernisierung nicht recht vorankam. Die große Hoffnung der türkischen Demokraten hieß in all den Jahrzehnten Europa. Ein Beitritt der Türkei zur EU sollte sowohl die Modernisierung des Landes als auch dessen Verwestlichung, den Traum von der Transformation der ehemaligen, Jahrhunderte währenden osmanischen Vormacht des Nahen Ostens Richtung Europa, vollenden.
Mit der Wahl der islamistischen AKP unter Gül und Erdogan zu Beginn der 2000er Jahre schien sich die Türkei endgültig auf den Weg nach Europa gemacht zu haben. Die AKP-Regierungen unternahmen weitreichende Justiz- und andere institutionelle und Wirtschaftsreformen (unter anderem wurde damals die Todesstrafe abgeschafft, eine unverzichtbare Voraussetzung für Fortschritte im Beitrittsverfahren des Landes zur EU), und die Türkei wurde zum offiziellen Beitrittskandidaten. Mit der Einbeziehung Anatoliens in den Wirtschaftsaufschwung, der Annäherung an die EU und der damit einhergehenden institutionellen Modernisierung und insgesamt glänzenden weltwirtschaftlichen Lage erlebte das Land unter Erdogan einen beispiellosen Modernisierungsschub und eine unglaubliche Wachstumsphase.
Es sei nicht vergessen, dass noch 2011, zu Beginn des arabischen Frühlings, die Türkei im Nahen Osten zu Recht als das gelungene Vorbild der Verbindung von Rechtsstaat, Demokratie und Marktwirtschaft in der muslimisch arabischen Welt galt.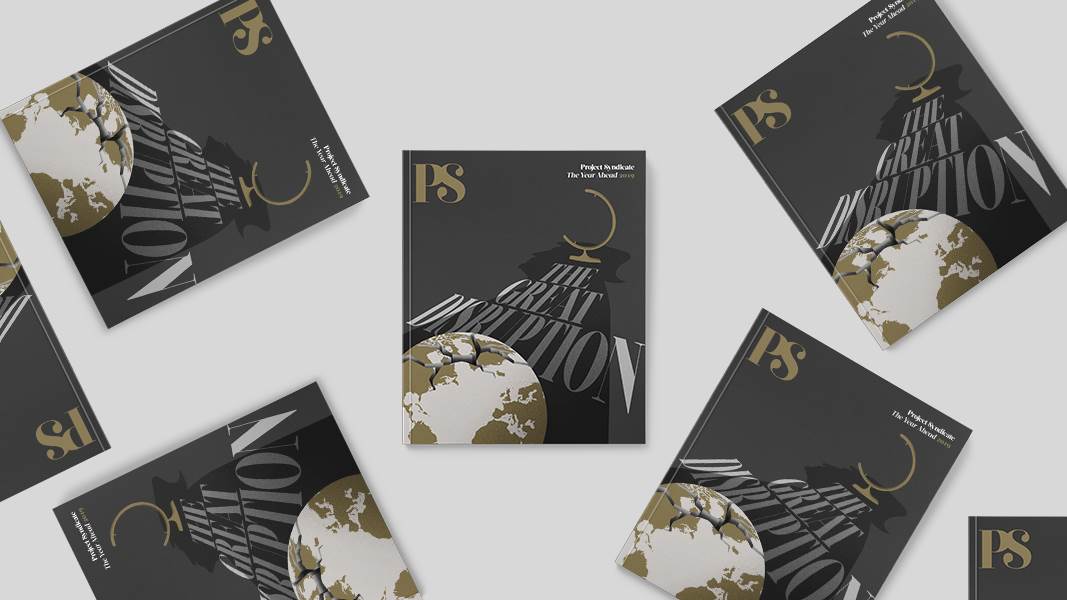 The Year Ahead 2019
Featuring commentaries by Joseph Stiglitz, Sri Mulyani Indrawati, Angus Deaton, Célestin Monga, Jean-Claude Juncker, and other leading thinkers. Now available for pre-order.
Dies scheint eine andere Welt gewesen zu sein, nur wenige Jahre her, aber mittlerweile bewegt sich die Türkei zurück in die sattsam bekannte Dauerkrise des "kranken Mannes am Bosporus". Statt einer glänzenden Zukunft im 21. Jahrhundert, wofür angesichts der strategischen Lage und dem wirtschaftlichen wie auch menschlichen Potential des Landes alles spräche, zurück in das 19. Jahrhundert unter dem Banner des Nationalismus und der Selbstüberschätzung, statt Europa und die Modernität des Westens der Nahe Osten mit seiner Dauerkrise. Und diese gegensätzliche Entwicklung geschah immer unter der Regentschaft Erdogans. Er verantwortet beide Entwicklungen, und insofern kann man zu Recht von einer Tragödie sprechen.
Der türkische Präsident hatte die historische Chance, das Werk Kemal Atatürks der Westorientierung der Türkei zu vollenden und in dessen Fußstapfen zu treten. Warum ist er gescheitert? Wahrscheinlich aus Selbstüberschätzung wegen der glänzenden weltwirtschaftlichen Lage vor der Finanzkrise 2008, wegen der Demütigungen durch Europa im Beitrittsprozess und persönlichen autoritären Träumen, verstärkt durch den gescheiterten Militärputsch.
Erdogan hat eine einmalige historische Chance für sein Land, ja für die muslimische Welt insgesamt vertan, gründlich. Der Türkei droht mittlerweile der Staatsbankrott, und das Land ist in Gefahr zu einem schwankenden Halm zwischen Ost und West, zwischen Europa und dem Nahen Osten zu werden, zu einem Risikofaktor statt zu einem Stabilitätsgaranten in der Region. Die innertürkischen ethnischen Konflikte, vor allem mit den Kurden, sind wieder voll ausgebrochen. Dabei weiß man aufgrund der Erfahrungen, dass diese nicht militärisch, sondern nur auf dem Verhandlungswege beigelegt werden können. Auch hier war Erdogan in der Vergangenheit schon wesentlich weiter.
Die Türkei bleibt für Europa aufgrund ihrer zentralen Brückenfunktion zwischen Ost und West, Nord und Süd ein Nachbar von überragender strategischer Bedeutung, aber auch wegen der Millionen von türkischstämmigen EU-Bürgern. Auch wenn das Land unter dem autoritären Regime Erdogans über keinerlei Beitrittsperspektive mehr verfügt, ist es richtig, dass die EU diesen Prozess nicht abbricht, sondern alles versucht, das Land zu stabilisieren. Denn die Türkei, ob stabil oder instabil, wird angesichts der geopolitischen Realitäten, immer ein europäisches Problem bleiben, im Guten wie im Schlechten.
Eine destabilisierte Türkei wäre für Europa so ziemlich das Letzte, was sich die Europäer wünschen könnten. Es geht nicht um Sympathie oder Antipathie für Erdogan, sondern um sehr viel Wichtigeres: um Frieden und Sicherheit im Südosten Europas und um die Zukunft der türkischen Demokratie. Dieser Einsatz ist sehr hoch und zwingt Europa zu geduldiger Realpolitik.