La Navidad de Trump
NUEVA YORK – Esta Navidad, el regalo de Estados Unidos al mundo fue un recorte de 285 millones de dólares al presupuesto regular de las Naciones Unidas. Técnicamente, el presupuesto surge de una decisión consensuada por los 193 países miembros del organismo, pero no hay duda de que el principal promotor del recorte fue Estados Unidos. De hecho, Nikki Haley (embajadora estadounidense ante la ONU) acompañó el anuncio en vísperas de Navidad con la advertencia de que Estados Unidos pretende más reducciones.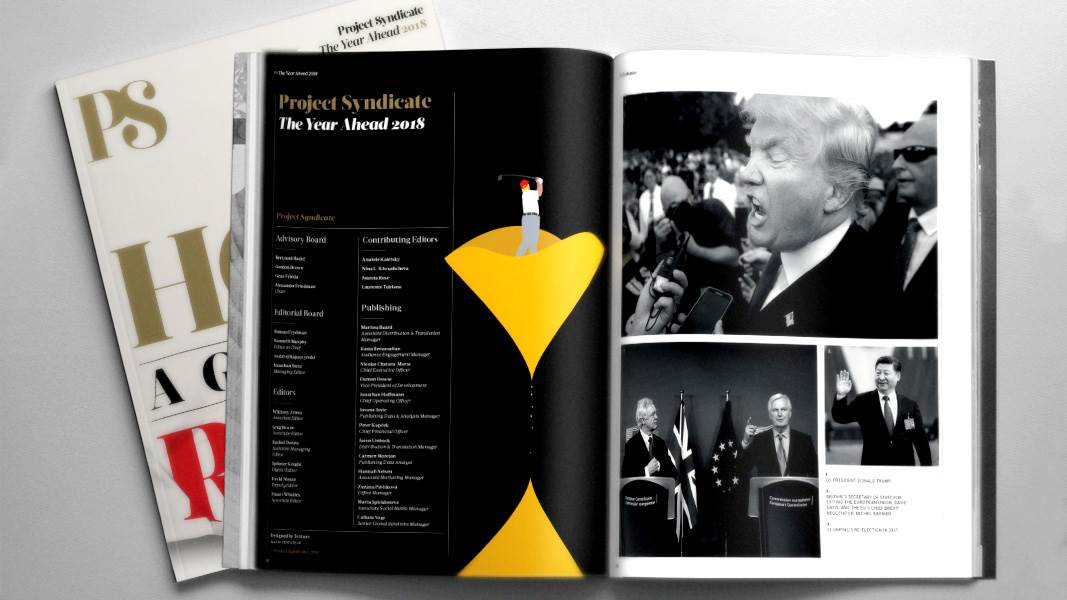 The Year Ahead 2018
The world's leading thinkers and policymakers examine what's come apart in the past year, and anticipate what will define the year ahead.
Ebenezer Scrooge no lo habría hecho mejor. Con los recortes, será mucho más difícil para los organismos de la ONU prevenir guerras, ayudar a millones de desplazados por conflictos, alimentar y vestir a niños hambrientos, combatir brotes de enfermedades, proveer saneamiento y potabilización del agua, y promover el acceso de los pobres a educación y atención médica.
El presidente Donald Trump y Haley insisten en que el costo de funcionamiento de la ONU está inflado (y es verdad que hay margen para algún recorte). Pero el rédito que obtiene el mundo a cambio de lo que invierte en la ONU es asombroso; los estados miembros deberían invertir en sus organismos y programas mucho más, no menos.
Veamos los números. El presupuesto regular de la ONU para el bienio 2018-2019 será unos 5300 millones de dólares (285 millones menos que en 2016-2017). El gasto anual rondará los 2700 millones de dólares. La cuota de Estados Unidos será 22%, o sea, alrededor de 580 millones de dólares al año, lo que equivale a aproximadamente 1,80 dólares al año por cada estadounidense.
¿Qué reciben los estadounidenses por esos 1,80 dólares? Para empezar, el presupuesto regular de la ONU incluye el funcionamiento de la Asamblea General, el Consejo de Seguridad y la Secretaría (incluidos la oficina del secretario general, el Departamento de Asuntos Económicos y Sociales, el Departamento de Asuntos Políticos y el personal administrativo). Cuando surge una amenaza grave a la paz (como ahora el duelo entre Estados Unidos y Corea del Norte), es común que el Departamento de Asuntos Políticos de la ONU actúe como facilitador de negociaciones diplomáticas vitales que se desarrollan detrás de escena.
Además, el presupuesto regular de la ONU incluye las partidas del Fondo para la Infancia (UNICEF), el Programa de Desarrollo, la Organización Mundial de la Salud, el Alto Comisionado para los Refugiados, el Alto Comisionado para los Derechos Humanos, los organismos regionales para Asia, África, Europa y América Latina, el Programa para el Medioambiente, la Oficina de Coordinación de Asuntos Humanitarios (para la respuesta a desastres), la Organización Meteorológica Mundial, la Oficina contra la Droga y el Delito, ONU Mujeres (para los derechos de las mujeres) y muchos otros organismos, cada uno de ellos especializado en dar respuesta global a crisis, conflictos, la pobreza, el desplazamiento de personas, riesgos ambientales, enfermedades u otras necesidades públicas.
Muchos de los organismos de la ONU reciben otros aportes "voluntarios" de países interesados en apoyar iniciativas especializadas de agencias como UNICEF y la Organización Mundial de la Salud, dotadas de mandato global y legitimidad política inigualables, y con capacidad para actuar en cualquier parte del mundo.
La estupidez del ataque estadounidense al volumen del presupuesto de la ONU queda de manifiesto si se lo compara con el presupuesto del Pentágono. En la actualidad, Estados Unidos gasta en defensa unos 700 000 millones de dólares al año (alrededor de 2000 millones al día). Es decir que todo el presupuesto regular de la ONU para un año equivale a más o menos un día y nueve horas de gasto militar estadounidense. La parte que le corresponde a Estados Unidos equivale a más o menos siete horas del gasto del Pentágono. Vaya derroche.
Los motivos de Trump y Haley para limitar el presupuesto de la ONU son tres. El primero es complacer a la base política de Trump. La mayoría de los estadounidenses apoyan a la ONU y son conscientes de su inmenso valor, pero para la extrema derecha republicana, la ONU es una afrenta a Estados Unidos. Según una encuesta realizada por Pew Research en 2016, la aprobación pública de la ONU en Estados Unidos es 64%, contra sólo un 29% de imagen desfavorable. Pero el Partido Republicano de Texas, por ejemplo, insiste en pedir que Estados Unidos abandone la ONU.
El segundo motivo es reducir el dispendio de algunos programas (lo cual es necesario en cualquier organización). El error está en recortar el presupuesto general, en vez de reasignar fondos y aumentar desembolsos en programas vitales de lucha contra el hambre y las enfermedades, educación infantil y prevención de conflictos.
El tercer y más peligroso motivo para recortar el presupuesto de la ONU es debilitar el multilateralismo en nombre de la "soberanía" estadounidense. Trump y Haley insisten en que Estados Unidos es soberano y puede hacer lo que quiera, sin importar la oposición de la ONU o de cualquier otro grupo de países.
En el discurso que pronunció en la reciente sesión de la Asamblea General de la ONU sobre Jerusalén (donde la inmensa mayoría de los estados miembros rechazó su reconocimiento unilateral como capital de Israel por Estados Unidos), Haley dijo al resto del mundo: "Estados Unidos pondrá la embajada en Jerusalén. Es lo que el pueblo estadounidense quiere que hagamos, y es lo correcto. Ninguna votación en Naciones Unidas podrá cambiarlo".
Esta forma de entender la soberanía es extremadamente peligrosa. En primer lugar, es contraria al derecho internacional, al cual numerosas resoluciones de la Asamblea General y del Consejo de Seguridad han remitido el estatus final de Jerusalén. Al arrogarse la facultad de desoír el derecho internacional, Estados Unidos pone en riesgo el sistema de cooperación internacional conforme a la Carta de la ONU.
Pero hay otro peligro grave, y es para Estados Unidos, cuyo vasto poder militar y arrogancia lo llevan a menudo a causarse desastres cuando deja de oír a los demás países. Soberanistas como Trump y Haley no toleran que otros países se opongan a la política exterior estadounidense; pero es común que al hacerlo sólo estén dando un consejo franco y atinado que mejor sería escuchar. Por ejemplo, la oposición del Consejo de Seguridad a la guerra de 2003 en Irak no pretendía debilitar, sino proteger a Estados Unidos, y con él a Irak y a todo el mundo, de la furia y la ceguera ante los hechos de Estados Unidos.
"¡Bah! ¡Tonterías!", decía Scrooge. Pero el mensaje de Charles Dickens es precisamente que el principal perjudicado por la arrogancia, la avaricia y la insolencia de Scrooge era él mismo.
Traducción: Esteban Flamini