Les péronistes américains
WASHINGTON, DC – Devinez de quel pays il s'agit. Son chef se répand en injures contre les étrangers, érige divers obstacles à l'importation, pousse pour de faibles taux d'intérêt et une abondance de crédit bon marché en faveur de certains secteurs privilégiés. La dette publique est déjà élevée, mais celui qui voudrait être l'homme fort au pouvoir décide d'en accumuler encore davantage en augmentant le déficit budgétaire, faisant valoir que cela stimulera la prospérité vers des niveaux jamais atteints auparavant. Bien que le gouvernement prétende représenter le peuple, les marchés publics sont attribués à des amis d'amis.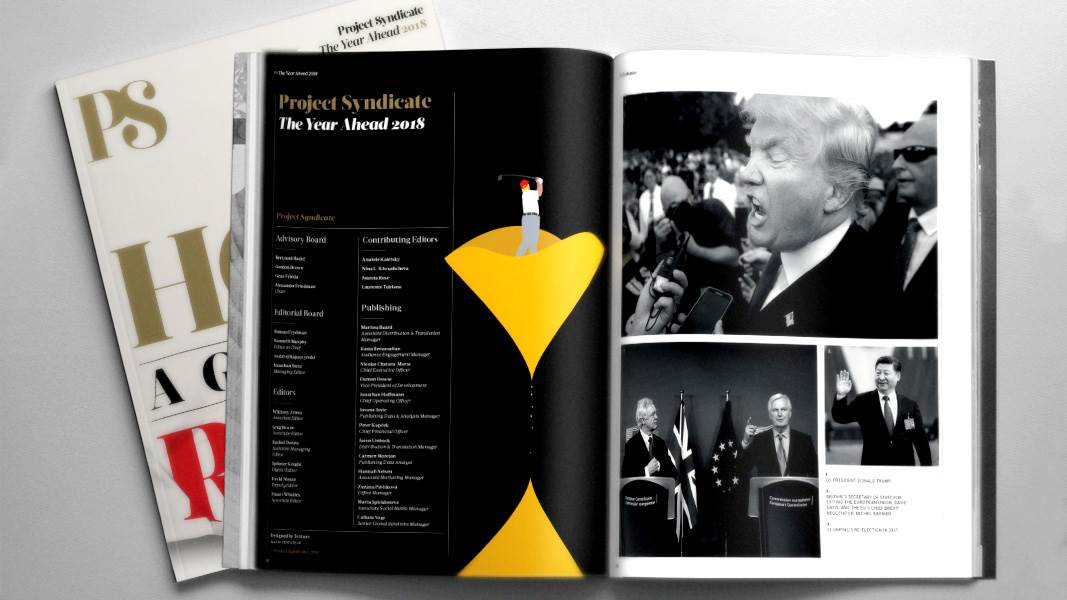 The Year Ahead 2018
The world's leading thinkers and policymakers examine what's come apart in the past year, and anticipate what will define the year ahead.
La réponse, bien sûr, est l'Argentine sous Juan Perón, qui était au pouvoir de 1946 à 1955 (puis une nouvelle fois brièvement en 1973 et 1974), et plusieurs de ses successeurs. L'un des pays les plus riches du monde aux alentours des années 1900 a été mis à plat par des décennies de politiques économiques non durables, qui faisaient que les gens se sentaient bien à court terme, mais finissaient par aboutir à un désastre, comme une inflation galopante, une crise financière et des cessations de paiement de la dette périodiques. (Disons-le clairement : aujourd'hui les politiques économiques de l'Argentine sont très différentes ; pour une analyse profonde et à jour, je recommande le travail de mon collègue Alberto Cavallo.)
Mais si votre réponse était : « les Etats-Unis sous la présidence de Donald Trump », vous n'auriez pas été loin. Il y a lieu de craindre que les Etats-Unis aient maintenant pris le chemin de ce qui était auparavant connu comme le populisme latino-américain.
Songez à la remarquable volte-face du Parti républicain sur la responsabilité fiscale. D'ordinaire, il y avait un compteur donnant la mesure de la dette nationale dans la salle d'audience du Financial Services Committee de la Chambre, et les Républicains se lançaient dans de longues diatribes sur la prodigalité du gouvernement à chaque fois qu'il repartait à la hausse. Quand je me suis rendu dans cette salle récemment, le compteur était « en réparation ».
Des « conservateurs budgétaires » autoproclamés tels que Mick Mulvaney (un ancien membre de la Chambre des représentants qui dirige maintenant les finances publiques en tant que chef de l'Office of Management and Budget), s'apprêtent à adopter d'énormes réductions d'impôt, tout en sachant que cela fera augmenter le déficit et la dette nationale. Mulvaney et ses collègues s'en fichent complètement.
Malgré le contrôle des deux chambres du Congrès et de la présidence, les Républicains sont en proie à des divisions internes. En conséquence, ils éprouvent des difficultés à « payer » les réductions d'impôt au moyen de réductions de dépenses fiscales (des incitations en faveur de diverses activités telles que les emprunts des entreprises, le financement hypothécaire ou l'épargne-pension). Pourtant, les républicains se sont profondément engagés à adopter des réductions d'impôts gigantesques, en grande partie parce que leurs donateurs les exigent. Par conséquent, les États-Unis se retrouveront tout simplement avec des déficits budgétaires plus importants.
Par le passé, les faits avaient de l'importance à Washington, au moins un peu. Mais ce n'est plus le cas à l'époque de Trump, du moins pas en ce qui concerne la fiscalité. Au lieu de cela, la stratégie a été de déclarer de manière éhontée tout ce qui passe par la tête et de couvrir d'injures grossières quiconque avance des preuves du contraire.
Dans le chapitre 3 de White House Burning, James Kwak et moi-même avons passé en revue les conséquences des réductions d'impôts adoptées en 2001 sous George W. Bush. De grandes promesses avaient été faites au sujet de ces réductions, y compris qu'elles aideraient la plupart des Américains. Pourtant, bien qu'elles aient effectivement aidé les gens riches à devenir plus riches, il n'y a aucune preuve qu'elles aient généré une croissance plus rapide ou des revenus plus élevés pour la classe moyenne. Au lieu de cela, elles ont augmenté le déficit budgétaire et ont contribué de manière significative à l'augmentation de la dette nationale des États-Unis (d'environ 3 billions de dollars en 2010), ce qui a affaibli la capacité du gouvernement à réagir aux crises, que ce soit en termes de sécurité nationale ou d'instabilité financière.
J'ai témoigné à plusieurs reprises devant le Congrès sur les questions de politique fiscale. Au cours de la crise financière de 2008-2009, les Républicains étaient certainement intéressés par les faits. Mais ceci s'est rapidement estompé, notamment à la Chambre des représentants. En fait, Kevin Brady, le représentant qui m'a dit le plus clairement qu'il n'était pas intéressé à regarder des faits qui dérangent ne serait-ce que modérément, est maintenant président du Ways and Means Committee de la Chambre, qui joue un rôle clé pour tout ce qui concerne la fiscalité.
Ron Wyden, le démocrate senior du Finance Committee du Sénat, qualifie les réductions d'impôts proposées par les Républicains « une arnaque pour classe moyenne ». C'est une manière polie de le dire.
La baisse des impôts sur les sociétés que les républicains sont susceptibles de promouvoir n'augmenteront pas les salaires de manière significative. Comme le Congressional Research Service a expliqué à propos du plan général mis en avant par le Président de la Chambre Paul Ryan, « les effets estimés du plan sur la production semblent être limités en taille et potentiellement négatifs. »
Prenant en compte tous les effets positifs potentiels liés aux propositions républicaines, le Tax Policy Center a néanmoins conclu que les recettes du gouvernement fédéral « chuteraient d'un montant compris entre 2,4 billions et 2,5 billions de dollars au cours des dix premières années et d'environ 3,4 billions de dollars au cours de la deuxième décennie. »
L'administration Trump a répondu à ce type d'analyse, raisonnable et fondée sur les faits, de la façon à laquelle on s'est désormais habitué: en étant grossier.
Le populisme américain à l'ère Trump, bien qu'il promette des gains important pour les travailleurs, profitera en fait à ceux qui sont déjà riches. Pour être honnête, c'est en fait assez éloigné de ce que Perón pouvait imaginer réaliser un jour. Néanmoins, les résultats du populisme irresponsable sont toujours les mêmes.
Traduit de l'anglais par Timothée Demont