Le piége idéologique
LOS ANGELES – Alors qu'il n'y a pas d'urgence, le président Trump a déclaré l'état d'urgence pour construire son "mur" à la frontière avec le Mexique, une promesse qu'il avait faite à ses partisans lors de sa campagne électorale en 2016. C'est là un exemple supplémentaire de la tension persistante, et dangereuse, entre raison et idéologie dans la vie politique.
Quelles que puissent être leurs limites, les décisions basées sur la raison sont préférables à celles qui se fondent sur une idéologie, car leur mise en œuvre peut s'adapter à des changements de situation ou à des faits nouveaux. Par contre, celles qui reposent sur des principes rigides risquent d'être totalement inadaptées à la réalité.
L'Histoire offre de multiples exemples des conséquences désastreuses de choix purement idéologiques qui font abstraction de la réalité. Ainsi, ne croyant pas que la science pourrait satisfaire le peuple allemand, mais que l'Allemagne devait élargir son espace vital, Hitler a instrumentalisé le mythe de la suprématie des Teutons pour justifier son entreprise. A la tête d'un autre régime fondé sur une idéologie, Staline l'a emporté sur les nazis, précisément parce qu'il a renoncé aux impératifs dogmatiques pour mener sa guerre en fonction d'objectifs rationnels reposant sur son propre intérêt.
Aux USA, Trump n'est pas le premier président à choisir la foi plutôt que la raison. Comme lui, le président George W. Bush considérait que sa présidence relevait d'un plan divin, au point de considérer les guerres qu'il a lancées en Afghanistan et en Irak comme des "croisades".
En 2002, il a explicitement basé sa stratégie en matière de sécurité nationale sur les principes de l'Amérique plutôt que sur ses intérêts. Son vice-président, Dick Cheney, a pris cela très à cœur, au point de rejeter en 2003 l'accord que proposait alors l'Iran qui aurait mis fin à son programme nucléaire et à sa politique étrangère agressive, parce que les USA "ne négocient pas avec le diable".
Le gouvernement de Trump et plus largement le parti républicain s'alignent sur cette tradition. Quelles que soient les preuves qui montrent que l'immigration est un pilier essentiel du succès de l'Amérique, les nativistes qui soutiennent Trump restent cramponnés à leur croyance. Par contre ils accepteront probablement de voir la Constitution américaine détournée pour construire un mur ruineux, désastreux sur le plan écologique et dépourvu de la moindre utilité.
Subscribe now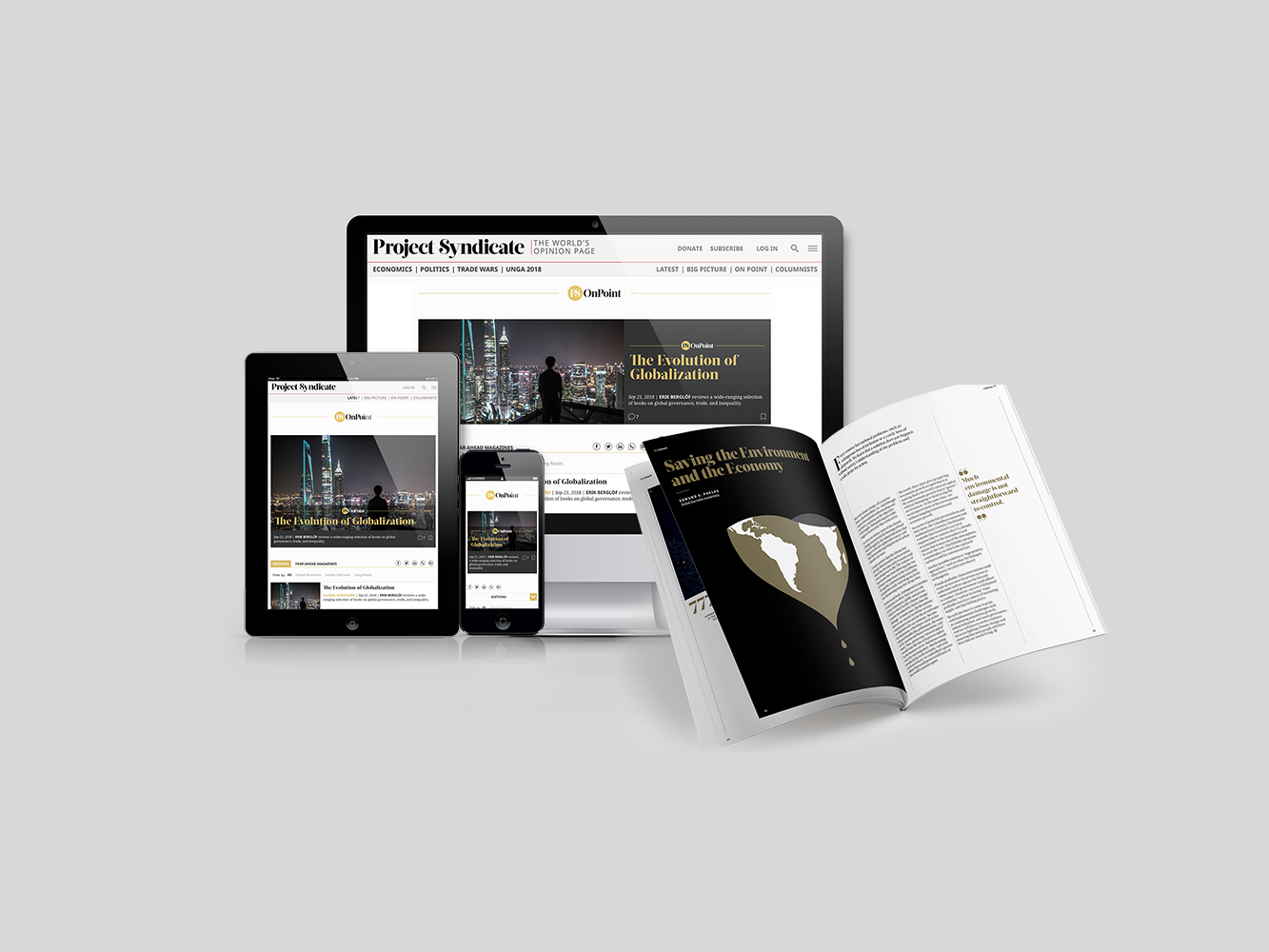 Subscribe now
Get unlimited access to OnPoint, the Big Picture, and the entire PS archive of more than 14,000 commentaries, plus our annual magazine, for less than $2 a week.
De la même manière, beaucoup de républicains, dont Trump lui-même, restent dans le déni du réchauffement climatique et de la menace qu'il représente, et rejettent le consensus scientifique quasi général à ce sujet. Dans le passé, Trump a alimenté le mouvement anti-vaccin en envoyant nombre de tweets sur un lien possible entre vaccination et autisme, malgré l'absence totale d'éléments en faveur de cette thèse. Les républicains prétendent que les USA, bien qu'étant le pays le plus riche de la planète, n'ont pas les moyens de mettre en oeuvre une assurance maladie universelle qui serait de toute façon à leurs yeux une attaque d'inspiration socialiste contre les libertés individuelles.
Ils ont recours à des arguments du même ordre pour s'opposer aux mesures destinées à diminuer le coût des études supérieures. L'endettement des étudiants américains qui atteint maintenant 1500 milliards de dollars n'est dépassé que par celui lié au prêts immobiliers dans la catégorie des dettes individuelles ; pourtant les républicains frappent d'anathème toute subvention aux études qui ressemblerait à celles accordées au profit des prêts immobiliers. Il en est de même en matière d'impôts : ils sont partisans d'un allègement de la fiscalité au profit des plus hauts revenus, alors que tous les éléments montrent qu'il n'y a pas "ruissellement" au bénéfice du reste de l'économie.
Les USA ne sont pas seuls dans ce cas. Au Royaume-Uni, ce sont des esprits dogmatiques qui ont mené tout le processus du Brexit. Croyant avec persistance au concept anachronique selon lequel la Grande-Bretagne reste une grande puissance mondiale, ils déclarent que l'UE freine le Royaume-Uni. De nouveaux accords commerciaux avec le Commonwealth (à leurs yeux toujours essentiel à l'empire britannique) et avec des puissances émergentes comme la Chine permettront selon eux au Royaume-Uni de retrouver sa place sur la scène internationale.
A l'image de ceux qui adhèrent aveuglement à un dogme, les partisans du Brexit ne tiennent aucun compte des faits. Aucun d'entre eux n'a pu proposer un plan réaliste et cohérent pour une rupture totale avec l'UE. Pourtant beaucoup d'entre eux, comme le conservateur Michael Gove, moquent allégrement les "experts", comme si la connaissance et l'expérience n'étaient d'aucune utilité.
Il est vrai que le dogmatisme en faveur du Brexit parmi les conservateurs et les flottements au sein du parti travailliste à ce sujet tiennent en partie au passé de désengagement du Royaume-Uni vis à vis de l'Europe au cours des années 1930. A cette époque, beaucoup de dirigeants politiques britanniques se focalisaient sur la menace que faisait peser sur leur pays la détermination des nazis de modifier l'équilibre des pouvoirs dans le monde.
Aujourd'hui l'Europe ne représente évidemment pas une menace de ce type pour le Royaume-Uni. Pourtant, le philosophe britannique John Gray décrit le Brexit comme la meilleure défense contre un retour au "sombre" passé dictatorial de l'Europe. Beaucoup de partisans du Brexit pensent qu'un effondrement total de l'UE est inévitable. Dans la mesure où la Grande-Bretagne retrouve sa prééminence sur les mers, elle a tout intérêt à quitter une Europe promise à devenir une sorte d'empire russo-eurasiatique.
Les sécessionnistes catalans font preuve d'une même combinaison de détachement hautain et de projets anachroniques à l'égard de l'Espagne. Ils se croient bien plus travailleurs et créatifs, que les Espagnols supposés être paresseux et peu productifs, et même pour certains d'entre eux racialement supérieurs aux Espagnols. Par ailleurs, ajoutent-ils, ces derniers ont un penchant en faveur de l'autoritarisme. Et ils estiment que pour étouffer la créativité et l'esprit d'entreprise des Catalans, le gouvernement démocratique espagnol n'est guère différent du régime de Franco.
Les Catalans de sont fiers de leur "seny", une combinaison de sagesse ancestrale et de réalisme, de même que les Britanniques se félicitent de leur bon sens. Mais les sécessionnistes catalans et les partisans du Brexit se sont enfermés, avec leurs concitoyens, dans une camisole de force idéologique.
L'idéologie est un outil performant pour présenter un programme politique, faire basculer l'opinion publique et évaluer des objectifs. Mais la fixation sur un dogme conduit presque inévitablement dans une mauvaise direction, notamment dans une époque de changement économique rapide et d'incertitudes géopolitiques grandissantes. Le psychologue américain Abraham Maslow l'a parfaitement formulé : si l'on dispose seulement d'un marteau, il est tendant de considérer tous les problèmes comme des clous. Ainsi que Trump pourrait le dire sans sourciller, c'est ainsi que l'on construit des murs.
Traduit de l'anglais par Patrice Horovitz