Die Wahrheit über Trumps Mob
NEW YORK – Der Sturm auf das Kapitol in Washington am 6. Januar lässt sich leicht missverstehen. Viele von der Nervenprobe erschütterte Mitglieder des Kongresses haben Erklärungen abgegeben, dass Amerika eine Nation der Gesetze und nicht des Mobs sei. Dabei wird impliziert, dass die von Präsident Donald Trump aufgestachelten Turbulenzen etwas Neues seien. Das sind sie nicht. Die USA haben eine lange Geschichte der Gewalt durch den Mob, die von weißen Politikern im Dienste reicher weißer Amerikaner angeheizt wurde. Was diesmal ungewöhnlich ist, ist, dass der weiße Mob sich gegen die weißen Politiker richtete und nicht gegen Farbige, die sonst gewöhnlich die Opfer sind.
Natürlich sind die Umstände dieser Ausschreitungen äußerst wichtig. Ihr Ziel war, den Kongress einzuschüchtern, damit dieser die friedliche Übergabe der Macht stoppen würde. Dies ist der Versuch zum Umsturz, und indem er dazu aufgewiegelt hat, hat Trump ein Kapitalverbrechen begangen.
In der Vergangenheit richtete sich eine derartige Gewalt des Mobs auf stärker traditionelle Ziele des weißen Hasses: Afroamerikaner, die versuchten, zu wählen oder die Rassentrennung in Bussen, im Wohnungswesen, an Essenstheken und in Schulen zu beenden, amerikanische Ureinwohner, die ihre Jagdgründe und natürlichen Ressourcen zu schützen suchten, mexikanische Farmarbeiter, die ein sicheres Arbeitsumfeld verlangten, und chinesische Einwanderer, die zuvor die Eisenbahnen gebaut und in den Bergwerken gearbeitet hatten. All diese Gruppen waren Ziele der von Amerikanern wie US-Präsident Andrew Jackson und dem Grenzer Kit Carson (im 19. Jahrhundert) und dem Gouverneur von Alabama George Wallace (im 20 Jahrhundert) angeheizten Gewalt des Mobs.
In diesem historischen Licht betrachtet hatte der das Kapitol stürmende Mob aus rechtschaffen entrüsteten "Good Old Boys" etwas Vertrautes. Wie Trump es in seiner den Aufruhr schürenden Rede formuliert hat: Sie wollten Amerika "retten". "Lasst die Schwachen [Politiker] abhauen. Dies ist eine Zeit für Stärke", erklärte er unter Einsatz vertrauter Motive. "Sie wollen außerdem eure Kinder in der Schule indoktrinieren, indem sie ihnen Dinge beibringen, die nicht stimmen. Sie wollen eure Kinder indoktrinieren. Es ist alles Teil eines umfassenden Anschlags auf unsere Demokratie."
In der gesamten US-amerikanischen Geschichte kam die Gewalt des Mobs zumeist nicht als spasmodische Explosion des Protests von unten, sondern vielmehr als strukturelle Gewalt von oben daher. Die Anstifter waren weiße Politiker, die die Ängste, den Hass und die Ignoranz der weißen Unterschicht ausnutzten. Wie die Historikerin Heather Cox Richardson in ihrem brillanten neuen Buch How the South Won the Civil War dokumentiert, ist diese Version der Mobgewalt seit mehr als 150 Jahren ein entscheidender Bestandteil der Verteidigung einer hierarchischen Gesellschaft durch die weiße Oberschicht der USA.
Amerikas Kultur weißer Mobgewalt geht Hand in Hand mit seiner Schusswaffenkultur. Die hunderte von Millionen Schusswaffen in Privatbesitz in den USA gehören überproportional Weißen, und wie die Historikerin Roxanne Dunbar-Ortiz in Loaded: A Disarming History of the Second Amendment überzeugend darlegt, berufen sich Selbstjustiz verübende weiße Mobs traditionell auf die "Rechte auf Schusswaffenbesitz", um Schwarze und amerikanische Ureinwohner zu unterdrücken.
Subscribe to Project Syndicate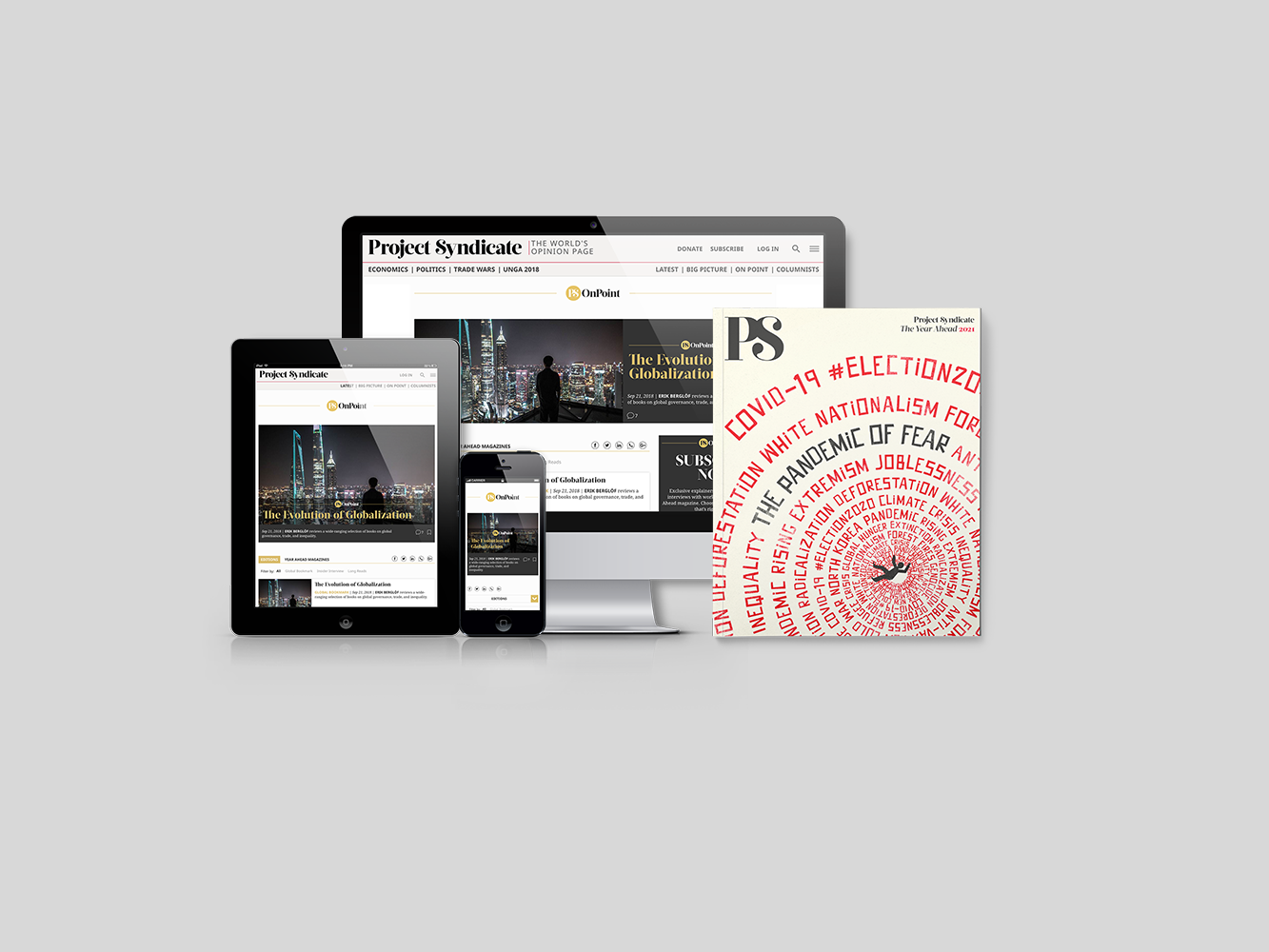 Subscribe to Project Syndicate
Enjoy unlimited access to the ideas and opinions of the world's leading thinkers, including weekly long reads, book reviews, and interviews; The Year Ahead annual print magazine; the complete PS archive; and more – All for less than $9 a month.
Zur Gewalt des Mobs gegen Farbige aufzuhetzen ist eine typische Methode, wie reiche Weiße die Beschwerden der armen Weißen von sich selbst ablenken. Dies ist durchaus keine speziell Trump'sche Taktik, sondern der älteste Trick im Taktikhandbuch der amerikanischen Politik. Will man eine regressive Steuersenkung für die Reichen verabschieden, erzählt man den wirtschaftlich kämpfenden Weißen einfach, dass Schwarze, Muslime und Einwanderer unterwegs seien, um den Sozialismus einzuführen.
Im gesamten Verlauf seiner Präsidentschaft hat Trump genau dies getan und gewarnt, die Amerikaner würden ohne ihn im Weißen Haus "Chinesisch lernen müssen". Auf seinen Kundgebungen tritt er routinemäßig als Verfechter des 2. Verfassungszusatzes auf und schimpft gegen Nichtweiße. So hat er z. B. farbige weibliche Kongressabgeordnete aufgefordert, sie sollten zu den "total kaputten und vom Verbrechen befallenen Orten zurückgehen, aus denen sie herkommen". Er hat seine Anhänger zu physischer Gewalt gegenüber oppositionellen Demonstranten aufgerufen; sie sollten diese hinauswerfen – und zwar nicht nur aus seinen Kundgebungen, sondern aus dem Land selbst. Er hat weiße Suprematisten als "sehr feine Leute" bezeichnet. Nachdem sein die Flaggen der Konföderierten schwenkender Mob das Kapitol gestürmt hatte, erklärte er: "Wir lieben euch; ihr seid etwas ganz Besonderes."
Die republikanische Partei hat Trump und seine hetzerische Politik bis unmittelbar zum Nachmittag des 6. Januar, als der Mob das Kapitol überschwemmte, uneingeschränkt unterstützt. Doch die Treue der republikanischen Führung zu Trump war nicht bloß durch seinen starken Rückhalt bei der republikanischen Basis bedingt. Trump repräsentiert die Quintessenz der amerikanischen Rechten. Die ihm zufallende Rolle war immer klar: die Justiz mit strammen Republikanern zu besetzen, die Steuern für die Konzerne und die Reichen zu senken und Forderungen nach Erhöhung der Sozialausgaben und Umweltvorschriften abzuwehren, und dabei zugleich den jaulenden Mob zur Bekämpfung des "Sozialismus" anzustiften.
Am 6. Januar liefen die Dinge aus dem Ruder, weil sich der weiße Mob gegen die weißen Politiker selbst wandte. Dies war nicht hinnehmbar, aber nicht unvorhersehbar. Trump hat seinen Anhängern immer wieder erzählt, dass sie Amerika verlören, und der Verlust der beiden Senatssitze in Georgia an einen Afroamerikaner und einen Juden hat die Wut zweifellos noch verstärkt.
Trump mag bei seiner Rassenhetze ungewöhnlich krud vorgegangen sein, doch passt sein Ansatz mindestens seit der "Südstrategie" der Republikaner bei der Wahl 1968, im Gefolge der Bürgerrechtsgesetze jenes Jahrzehnts, perfekt zu dem der Partei. Bis letztes Jahr hat Trump die Arbeit für die plutokratischen Geldgeber, Bosse und wirtschaftlichen Verbündeten seiner Partei in vorgesehener Weise erledigt. Die Wahl in 2020 konnte er nur selbst verlieren – und das tat er. Doch war der Grund nicht, dass er zu rassistisch gegenüber Farbigen war, sondern dass er angesichts einer tödlichen Pandemie in überwältigender Weise böswillig und inkompetent war.
Im großen geschichtlichen Rahmen betrachtet ist Amerika tatsächlich dabei, seine Vergangenheit des Rassismus und der Gewalt weißer Mobs hinter sich zu lassen. Barack Obama wurde zweimal zum Präsidenten gewählt, und als Trump 2016 gewann, erhielt er weniger Stimmen als seine Gegenkandidatin. Angesichts der Wahl von Kamala Harris zur Vizepräsidentin und der Senatswahlen in Georgia in dieser Woche deutet viel darauf hin, dass Amerika sich allmählich von der weißen oligarchischen Herrschaft abwendet. Im Jahr 2045 werden die nicht-hispanischen Weißen nur noch rund die Hälfte der Bevölkerung stellen, während es 1970 noch rund 83% waren. In den Folgejahren dann werden in den USA die Minderheiten zusammen die Mehrheit bilden, und 2060 werden auf die nicht-hispanischen Weißen nur noch rund 44% der Bevölkerung entfallen.
Aus gutem Grund sind die jüngeren US-Amerikaner sich des Rassismus stärker bewusst als frühere Generationen. Die im Kapitol erkennbare Trump'sche Virulenz mag verstörend sein. Doch sollte man sie als verzweifelten, armseligen letzten Atemzug begreifen. Zum Glück wird das Amerika der rassistischen weißen Herrschaft zunehmend Geschichte, wenn auch immer noch viel zu langsam.
Aus dem Englischen von Jan Doolan