Trump im iranischen Irrgarten
BERLIN – Was will der amerikanische Präsident im Iran eigentlich erreichen? Einen "besseren" Nuklearvertrag? Die Selbstabdankung des Regimes mittels der Unterwerfung unter die amerikanischen Maximalforderungen? Oder ein durch Krieg und militärische Besetzung des Landes erzwungener Regimewechsel? Vermutlich wissen der US Präsident und seine Berater das selbst nicht so genau, jenseits ihrer Wunschvorstellungen, die nicht erreichbar sind, denn nichts von alledem wird es geben.
Die unter Präsident Obama geschlossene Nuklearvereinbarung aufzukündigen, obwohl sie bis dahin vom Iran eingehalten worden war, dies war ein vorrangiges Wahlkampfversprechen Trumps gewesen und ist mittlerweile geschehen. Aber nun wie weiter?
Eine der wenigen berechenbaren Konstanten in Trumps Politik ist die Tatsache, dass der Präsident konsequent auf die Zustimmung seiner Kernwählerschaft achtet. Und diese will definitiv keinen neuen, noch größeren Krieg im Mittleren Osten, der noch mehr Opfer kosten und noch weniger gewinnbar sein wird als der Krieg im Irak.
Man kann daraus also mit einigem Recht die Schlussfolgerung ziehen, dass Donald Trump keinen Krieg mit dem Iran will. Maximalen Druck ja, Krieg nein, scheint Trumps Maxime zu sein. Nur so klar und eindeutig identifizierbar verläuft in der harten Wirklichkeit des Persischen Golfes die Linie nicht. Aus maximalem Druck kann sehr schnell eine heiße militärische Konfrontation werden, wie die Erfahrung zeigt.
Trump, im Gegensatz zu seinem Sicherheitsberater John Bolton, strebt keinen bewaffneten Regierungswechsel in Teheran als Ziel seiner Iranpolitik an. Dies zumindest sagt der Präsident. Die Crux besteht aber darin, er verhält sich exakt so, als wenn in Washington noch die Neocons unter Präsident George W. Bush regieren würden, die Verantwortlichen für das Debakel im Irak.
Die Handlungsfreiheit der USA im Nahen Osten hat sich aber seit 2003 erheblich verringert. Trumps und auch andere Wähler, die Mehrheit der Amerikaner, wollen keinen neuen Krieg in der Region. Zudem ist die regionale Position des Irans heute, Dank des Kriegs im Irak, wesentlich stärker als 2003. Das Land würde im Ernstfall materiell und diplomatisch auch durch Russland und China unterstützt, wäre also mitnichten isoliert.
Subscribe now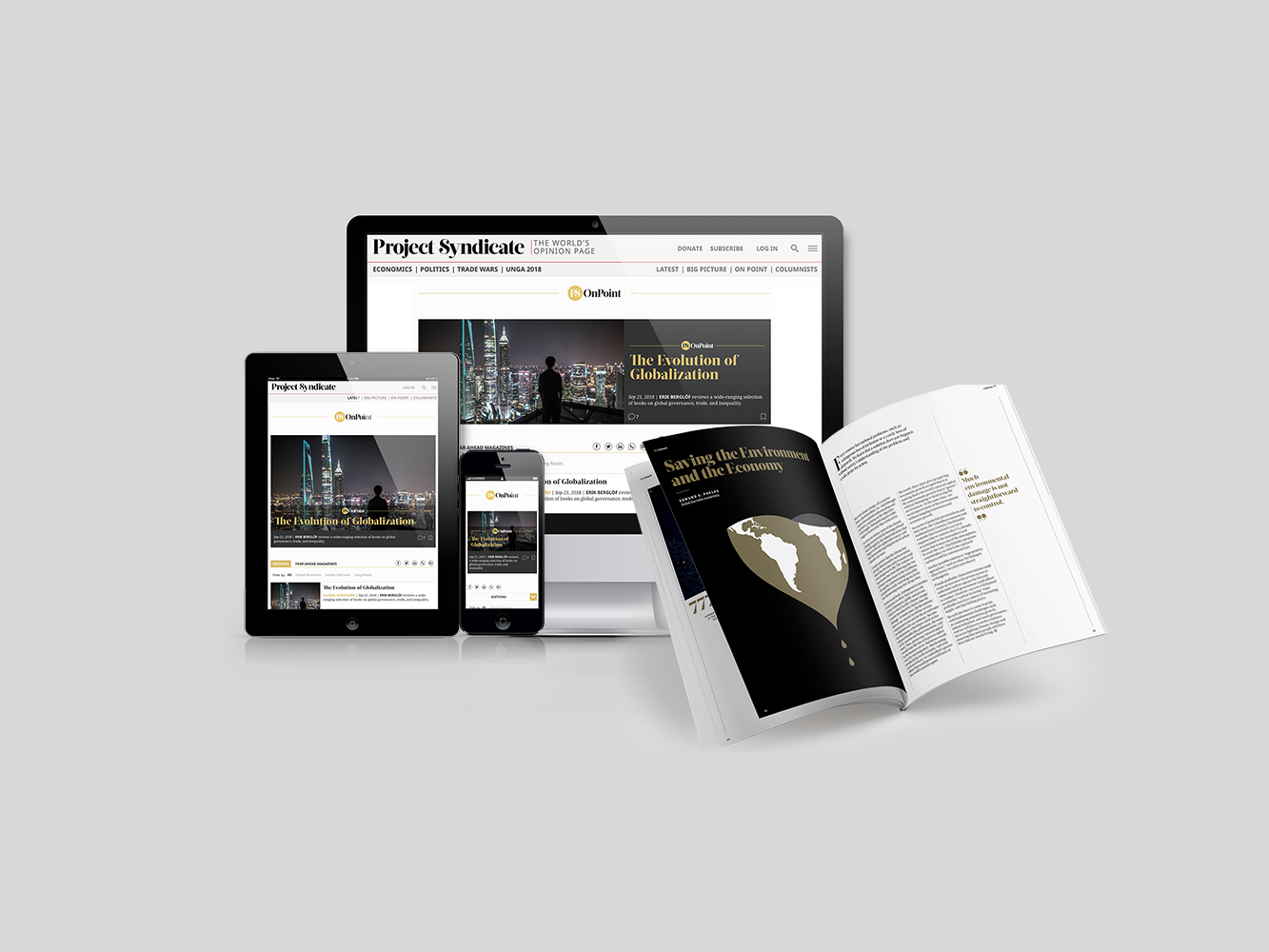 Subscribe now
Get unlimited access to OnPoint, the Big Picture, and the entire PS archive of more than 14,000 commentaries, plus our annual magazine, for less than $2 a week.
Die amerikanische und westliche Politik gegenüber dem Iran war seit dem Sturz des Schahs auf Illusionen gegründet. Das Land sollte mittels Sanktionen dazu gezwungen werden, seine Politik zu ändern oder in der Isolation zu verharren.
Der Iran ist aber im Laufe langer Jahrzehnte der Sanktionen und Dank der amerikanischen Fehler in der Region immer stärker und nicht schwächer geworden. Der militärische Arm Teherans reicht heute über den Irak, Syrien und Libanon bis hin zum Mittelmeer und an die Nordgrenze Israels. Gewiss, die iranische Wirtschaft leidet schwer unter den Sanktionen, aber sie zerbricht nicht, ebenso wenig wie das Regime, dessen Sicherheitsapparat keinerlei Risse zeigt.
Eine Nuklearisierung Irans würde eine unmittelbare Kriegsgefahr mit sich bringen und zumindest einen nuklearen Rüstungswettlauf in der Region auslösen und, in Verbindung mit den iranischen Mittelstreckenraketen, eine völlig neue Bedrohungslage für Europa schaffen.
Dies war das eigentliche strategische Kalkül, warum die Europäer 2003, unmittelbar nach dem Irakkrieg, die Verhandlungen mit Teheran um das iranische Nuklearprogramm begannen. Diese Verhandlungen konnten erst erfolgreich sein, als die USA unter Präsident Obama ihnen beitraten, und werden mit hoher Wahrscheinlichkeit an einem erneuten Strategiewechsel der USA unter Donald Trump scheitern. Denn Europa ist zu schwach, um den Erfolg allein garantieren zu können.
Die Nuklearvereinbarung mit dem Iran hatte noch ein zweites strategisches Ziel neben der Verzögerung des iranischen Nuklearprogramms, die beide nur gemeinsam Sinn machten, nämlich die Reintegration des Iran in die Staatengemeinschaft. Die Isolationsstrategie hat offensichtlich nach vielen Jahren nicht funktioniert, ein zweites Desaster wie im Irak kann offensichtlich auch kein ernsthaftes Ziel sein. Bleibt daher nur der Versuch der Reintegration und diesen Weg haben Donald Trump und die Seinen verbaut.
Der Iran ist seit mehr als zwei Jahrtausenden Teil des Nahen Ostens und wird dies auch in Zukunft bleiben. Welche Rolle soll dieses große Land mit seiner alten, stolzen Zivilisation demnach in der Region und in der Weltpolitik spielen? Ohne eine befriedigende Antwort auf diese Frage wird die gesamte Region instabil bleiben und das Risiko einer die Region übersteigenden Kriegsgefahr im Laufe der kommenden Jahre zunehmen.
Iran, Saudi-Arabien und Israel sind die drei Mächte, die in der Region um die Hegemonie kämpfen, nachdem die USA unter Obama einen Teilrückzug begonnen haben. Er wurde unter Trump bisher nicht zurückgenommen. Der Teilrückzug der USA hat, im Zusammenhang mit dem Abschluss der Nuklearvereinbarung, die Spannungen sogar noch erhöht, da er die Angst vor einem Koalitionswechsel der USA zugunsten Teherans noch verstärkt hat. Parallel dazu hat der Iran seine Stellung in der Region mittels des syrischen Bürgerkriegs ausgebaut, was die vorhandenen Ängste und Befürchtungen in Riad und Jerusalem noch intensiviert hat. Sollte daher der Iran sein Nuklearprogramm wieder anfahren, so wird die Welt ganz unmittelbar am Rande eines großen Krieges mit mehr als ungewissem Ausgang stehen.
Neben der Verhinderung einer iranischen Nuklearisierung und damit dem Festhalten an der Nuklearvereinbarung, wird es großer diplomatischer Anstrengungen bedürfen, um die Frage nach der regionalen und internationalen Rolle des Irans im Sinne stabiler Verhältnisse zu beantworten. Solch eine stabile Ordnung im Nahen Osten kann nur von innen kommen, niemals aber von außen. Das lehrt uns die Erfahrung der vergangenen 100 Jahre.
Eine Verhinderung der Nuklearisierung der Region und eine dauerhafte Ordnung, die nicht auf hegemonialer Konkurrenz zwischen den wichtigsten Regionalmächten oder gar rivalisierenden Weltmächten beruht, lautet dafür die Formel. Ihre Umsetzung wird titanische diplomatische Anstrengungen nötig machen und dauern.
Für Donald Trump allerdings könnte sich allerdings sehr schnell im iranischen Irrgarten, den er mit seiner Aufkündigung der Nuklearvereinbarung ohne Not betreten hat, die wenig ansprechende Alternative auftun, zwischen völligem Gesichtsverlust und militärischer Konfrontation wählen zu müssen.