Blindes Einprügeln auf China
NEW HAVEN – In diesem Jahr unterrichte ich in Yale zum zehnten Mal einen Kurs mit dem Titel "Das nächste China". Der Kurs konzentriert sich auf die beängstigenden wirtschaftlichen Umstellungen, vor denen das moderne China steht. Er fasst das bewegliche Ziel, das sich der Regierung von US-Präsident Donald Trump entzieht, die zielsicher das alte China ins Visier nimmt (ein bequemes Ziel für einen Staatschef, der das alte Amerika wieder auferstehen lassen will). Die mangelnde Kohärenz von Trumps Handels- und Wirtschaftspolitik mit all ihren potenziell gravierenden Konsequenzen für die Weltwirtschaft ist ein destabilisierendes Nebenprodukt dieser Unstimmigkeit.
Mein Kurs setzt an bei der Dringlichkeit der Herausforderungen, die von Deng Xiaoping in den späten 1970er Jahren in Angriff genommen wurden. Sein hautsächlicher Fokus jedoch ist, wie das resultierende chinesische Wachstumswunder Präsident Xi Jinping mit vier zwingenden Anforderungen für Veränderungen konfrontiert: der Umstellung von einem export- und investitionsbedingten Wachstum auf eine Wirtschaft, die zunehmend durch den privaten Binnenkonsum angetrieben wird, der Umstellung von der produzierenden Industrie auf Dienstleistungen, der Umstellung von Ersparnis-Überschüssen auf die Absorption von Ersparnissen, um das von Chinas rapide alternder Mittelschicht so dringend benötigte soziale Netz zu finanzieren, und der Umstellung von importierter auf interne Innovation, die letztlich entscheidend für Chinas Ziel sein wird, bis Mitte dieses Jahrhundert eine "Gesellschaft von bescheidenem Wohlstand" zu werden.
Das Zusammentreffen dieser vier Herausforderungen wäre für jedes Land beängstigend. Für China mit seiner Mischwirtschaft – dem sogenannten sozialistischen Marktsystem mit einem sich ständig verändernden Machtgleichgewicht zwischen der Kommunistischen Partei und einem dynamischen privaten Sektor – triff dies besonders stark zu. Es ist ganz eindeutig ein äußerst schwieriger Balanceakt.
Ich datiere den Wendepunkt auf dem Weg vom alten zum nächsten China auf Anfang 2007, als der damalige Ministerpräsident Wen Jiabao zu Recht die Diagnose aufstellte, die zu diesem Zeitpunkt ausnehmend erfolgreiche chinesische Wirtschaft sei zunehmend "instabil, unausgewogen, unkoordiniert und nicht nachhaltig". Diese vier Kritikpunkte lösten eine lebhafte interne Debatte in China aus, die zu einer wichtigen Neubewertung des chinesischen Wachstumsmodells und einer Anzahl neuer strategischer Pläne und Reformen führte: dem 12. und dem 13. Fünfjahresplan (für 2011-15 bzw. 2016-20) und den sogenannten Reformen des dritten Plenums (Ende 2013).
Ungeachtet aller westlichen Kritik an China (von der übersprudelnden, parteiübergreifenden politischen Angst in Washington gar nicht zu reden) hat das Land in den letzten zwölf Jahren außerordentliche Fortschritte gemacht. Die chinesischen Verbraucher der Mittelschicht sind zum Leben erwacht, und der Dienstleistungssektor hat sich zu einem zunehmend leistungsstarken Wachstumsmotor entwickelt. Chinas übergroßer Leistungsbilanzüberschuss ist so gut wie verschwunden – ein Trend, der für die von der Binnenwirtschaft benötigte Absorption von Ersparnissen von entscheidender Bedeutung ist. Und Beispiele interner Innovationen sind überall erkennbar: vom elektronischen Handel und der Finanztechnologie bis hin zur künstlichen Intelligenz und Durchbrüchen in den Biowissenschaften.
Natürlich ist der chinesische Fortschritt seit 2007 so wie alle Sagas wirtschaftlicher Entwicklung zuweilen ungleichmäßig abgelaufen, und es sind dabei neue Herausforderungen deutlich geworden. Wens vier Kritikpunkte stellen einen nützlichen Ansatz dar, um die noch immer lauernden Fallgruben aufzuzeigen. Die Instabilität bleibt eine allgegenwärtige Bedrohung, die durch Chinas unersättlichen Hunger nach Krediten unterstrichen wird. Letzterer hat eine aggressive Entschuldungskampagne ausgelöst, die darauf zielt, das gefürchtete Japan-Syndrom zu vermeiden. Ungleichgewichte bestehen fort, was durch den Anteil des privaten Konsums von unter 40% am chinesischen BIP unterstrichen wird – ein Manko, dem sich nur durch ein robusteres soziales Netz (insbesondere Renten und Krankenversicherung) begegnen lässt. Anhaltende regionale Ungleichgewichte sind, in Verbindung mit zunehmender Ungleichheit, sichtbare Manifestationen mangelnder Koordinierung. Und natürlich bleibt die Umweltzerstörung trotz jüngster Fortschritte bei der Bekämpfung der Luftverschmutzung für Chinas anspruchsvolle Nachhaltigkeitsagenda zentral.
Subscribe now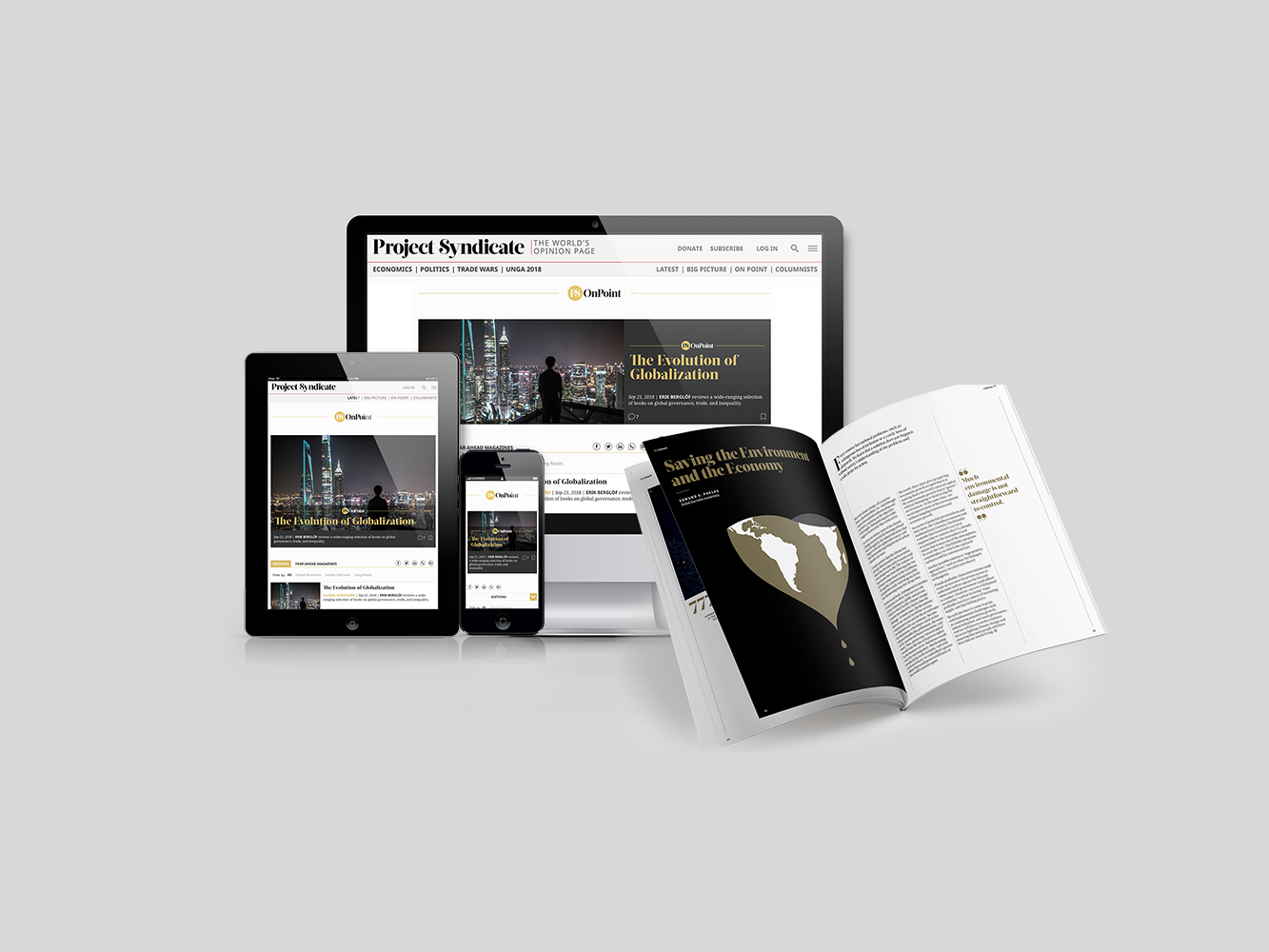 Subscribe now
Subscribe today and get unlimited access to OnPoint, the Big Picture, the PS archive of more than 14,000 commentaries, and our annual magazine, for less than $2 a week.
Doch der Handelskonflikt mit den USA ist eine neue, wichtige Nachhaltigkeitsherausforderung für China. Trotz jahrelangen Leugnens kann es keinen Zweifel mehr geben, dass die USA eine Containment-Strategie gegenüber China verfolgen. Diese reicht von einem ständig eskalierenden Handelskrieg und der Umwandlung der Handelspolitik in eine Waffe (indem chinesische Technologieunternehmen auf eine Schwarze Liste gesetzt werden) bis hin zu Trumps "Befehl" an die US-Unternehmen, ihre Geschäfte mit China zu beenden, und Vizepräsident Mike Pence' Erklärung eines neuen Kalten Krieges. Das politische Establishment der USA hat einen drastischen Kurswechsel vollzogen; statt als Chance wird China inzwischen als existenzielle Bedrohung begriffen. Und die Stimmung in der Bevölkerung hat sich in die gleiche Richtung entwickelt. Eine aktuelle Umfrage des Pew Research Center ergab, dass volle 60% der Amerikaner eine negative Ansicht von China haben; das ist ein Anstieg um 13 Prozentpunkte gegenüber 2018 und die am stärksten negative Einschätzung Chinas seit Beginn dieser Pew-Umfrage 2005.
Vergessen wir dabei einmal, ob diese Kehrtwende gerechtfertigt ist. Ich bin weniger besorgt als die meisten über die sogenannte chinesische Bedrohung, aber ich verstehe die Furcht und Nervosität, die die Zweifler erfasst haben. Das wahre Problem ist weniger die Substanz der Vorwürfe; es sind die tiefen Widersprüche von Trumps politischen Maßnahmen, um ihnen zu begegnen.
Der von Wut angetriebene US-Präsident scheint nicht zu begreifen, dass bilateraler Handel die Möglichkeit eines umgehenden Gegenschlags impliziert, wenn eine Seite die andere mit Zöllen belegt. Auch zeigt seine Regierung keinerlei Verständnis der Zusammenhänge zwischen ständig steigenden Haushaltsdefiziten, unterdurchschnittlichen nationalen Ersparnissen und multilateralen Handelsungleichgewichten. Sie hat sich im Gegenteil einer chinazentrischen bilateralen Lösung für ein multilaterales Problem verschrieben, und zwar just zu einer Zeit, in der Amerikas eigener Mangel an Haushaltsdisziplin eine Ausweitung des Handelsdefizits mit der Welt insgesamt so gut wie sicherstellt.
Und statt Huawei als legitimen Wettbewerber im Bereich der 5G-Telekommunikation zu betrachten, will Trump Chinas führendes Technologieunternehmen in einen Würgegriff nehmen. Er nimmt dabei keine Rücksicht auf die daraus resultierende Destabilisierung der Lieferketten, die US-Lieferanten großen Schaden zufügen würde, oder auf die Tatsache, dass Maßnahmen gegen Huawei nichts tun, um Amerikas eigenen eklatanten Mangel an 5G-Kapazitäten zu beseitigen.
Ein an Don Quichote erinnernder Trump kämpft gegen Windmühlen. Seine Regierung schlägt blind auf ein antiquiertes Bild vom alten China ein, was die Probleme, die sie zu bekämpfen vorgibt, nur verschärft. Die Finanzmärkte merken inzwischen, dass etwas im Argen liegt. Dasselbe gilt für die US-Notenbank. Derweil lässt die Weltwirtschaft erste Anzeichen der Schwäche erkennen. Die USA waren in derart tückischen Zeiten noch nie eine Oase. Ich bezweifle, dass es diesmal anders sein wird.
Aus dem Englischen von Jan Doolan