La ilusión de la libertad en la era digital
LONDRES – A lo largo de las últimas semanas, los medios de comunicación de todo el mundo se han visto saturados con artículos sobre cómo la tecnología está destruyendo la política. En autocracias como China, el temor es a estados tipo Gran Hermano con enormes poderes, como el que describe George Orwell en 1984. En democracias como los Estados Unidos, la preocupación es que las empresas tecnológicas sigan exacerbando la polarización política y social al facilitar la propagación de la desinformación y crear "burbujas filtros" ideológicas, dando origen a algo similar a Un mundo feliz de Aldous Huxley.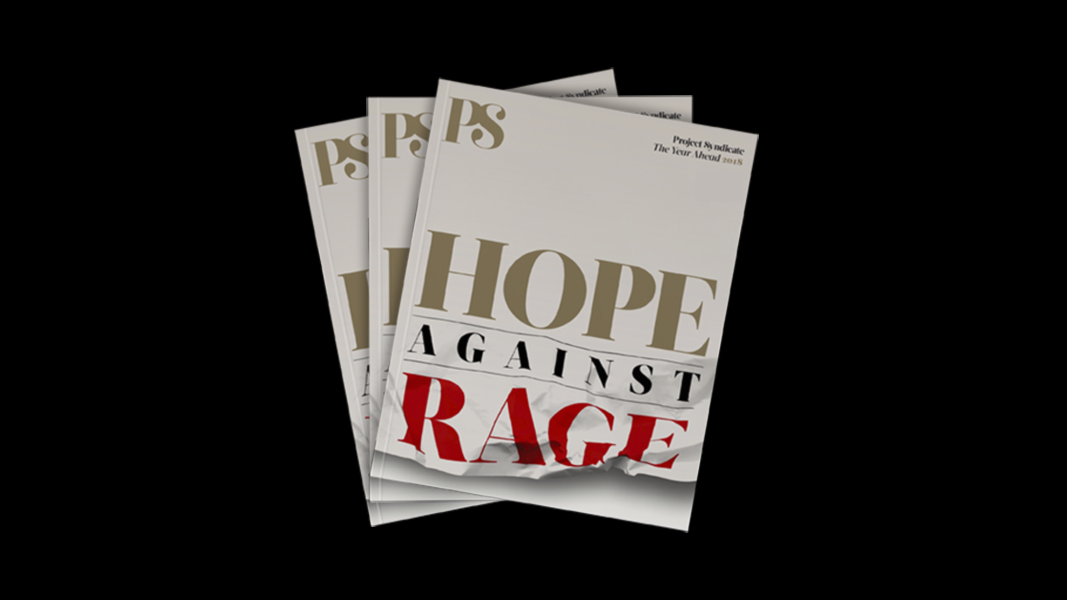 The Year Ahead 2018
The world's leading thinkers and policymakers examine what's come apart in the past year, and anticipate what will define the year ahead.
De hecho, al causar una convergencia entre democracia y dictadura, las nuevas tecnologías vuelven imposibles a estas dos visiones distópicas, pero eso no significa que no haya nada que temer.
Gran parte de la cobertura del XIX Congreso Nacional del Partido Comunista de China (PCC) se centró en la consolidación del poder del Presidente Xi Jinping. Los observadores advierten que está creando una dictadura de la era de la información, en que las tecnologías que alguna vez se esperó que trajeran libertad a los 1,4 mil millones de ciudadanos chinos le han permitido afianzar su propia autoridad. Al dar al gobierno información muy detallada sobre las necesidades, sentimientos y aspiraciones de los chinos comunes y corrientes, la Internet permite a los líderes de ese país adelantarse al descontento. En otras palabras, usan el Big Data en lugar de la fuerza bruta para asegurar la estabilidad.
Y, efectivamente, la cantidad de datos es enorme. Más de 170 millones de cámaras con capacidad de reconocimiento facial siguen cada paso de los ciudadanos. Un sistema de seguridad con inteligencia artificial puede detectar a sospechosos de delitos si pasan en bicicleta por un lago o compran empanadillas a un vendedor callejero, y avisar de inmediato a la policía. Las cámaras de vigilancia de datos de China alimentan el banco de datos de "crédito social", en que el régimen compila grandes archivos sobre la calidad crediticia, patrones de consumo y fiabilidad general de su gente.
El PCC también usa tecnología para manejar a sus propias filas, habiendo desarrollado decenas de apps para comunicarse con los miembros del partido. Al mismo tiempo, bloquea algunas de las características empoderadoras de las tecnologías; al obligar a todas las compañías tecnológicas a tener sus servidores dentro de China, en la práctica "nativiza" la censura.
El impacto de la tecnología en la política estadounidense ha sido todavía más visible, pero se analiza en términos del mercado más que del estado. Algunas de las historias más llamativas han girado en torno al papel que jugaron las "noticias fabricadas" en la determinación de los resultados de las elecciones del año pasado. Facebook ha admitido que 126 millones de estadounidenses pueden haber visto noticias falsas durante la campaña.
De manera más reciente, el Asesor Especial Robert Mueller, que está llevando una investigación sobre si la campaña del Presidente estadounidense Donald Trump se coludió con la interferencia de Rusia en las elecciones de 2016, acusó al ex director de campaña Paul Manafort de once cargos (incluido "conspiración contra los Estados Unidos") por sus acciones previas a la campaña. Además, un asesor de asuntos exteriores de la campaña de Trump, George Papadopoulos, también fue imputado por mentir al FBI sobre sus reuniones con personas estrechamente asociadas al gobierno ruso durante la campaña, si bien ya se había declarado culpable y ha cooperado con los investigadores desde el verano.
Pero más allá de estos llamativos acontecimientos existe una sensación de ansiedad más amplia acerca de la capacidad de las compañías tecnológicas de controlar la información que llega a la gente. Los algoritmos secretos de las grandes compañías tecnológicas ("Big Tech"), determinan cómo percibimos el mundo y nos dificultan cada vez más la toma consciente de decisiones: lo que los filósofos perciben como la dimensión básica del libre albedrío.
Las Big Tech, cuyo valor supera el PIB de algunos países, apuntan a aumentar sus utilidades, no el bienestar social. Sin embargo, en momentos en que la atención está reemplazado al dinero como el bien más valioso, sus decisiones tienen consecuencias de gran alcance. James Williams, ingeniero de Google convertido en académico, argumenta que la era digital ha desatado una feroz competencia por nuestra atención y pocos se han beneficiado más que Trump, que es a la Internet lo que Ronald Reagan fue a la televisión.
Al mismo tiempo, el impacto de la tecnología sobre la política es relativamente independiente del tipo de régimen. La tecnología está borrando la cómoda distinción entre sociedades abiertas y cerradas, y entre economías planificadas y libres, haciendo que en último término sea imposible que cualquiera de ellas exista en su forma ideal.
Edward Snowden, al revelar los enormes niveles de vigilancia de la Administración de Seguridad Nacional de EE.UU., dejó claro que el deseo estatal de saberlo todo no se limita solo a China. Por el contrario, es un factor central de la idea de seguridad nacional en los Estados Unidos.
En China las cosas se están moviendo en la dirección opuesta. No hay duda de que el gobierno está presionando a las mayores empresas tecnológicas a darle un papel directo en la toma de decisiones corporativas y acceso directo a sus datos. Sin embargo, al mismo tiempo la Internet está cambiando la naturaleza de la política y la economía chinas, impulsándolas a tener una mayor capacidad de respuesta ante las necesidades de los consumidores.
Por ejemplo, un amigo que trabajó para el motor de búsqueda Baidu me explicó cómo la compañía trata de mejorar la experiencia de censura del consumidor, probando maneras en que la gente prefiere ser censurada. Jack Ma del gigante tecnológico Alibaba piensa que China puede usar el Big Data para diseñar intervenciones estatales perfectamente calibradas que les permitan superar a las economías de libre mercado. Ma cree que en las próximas décadas "la economía planificada se volverá cada vez más grande".
En la era digital, el mayor peligro no es que la tecnología enfrente cada vez más a sociedades libres y autocráticas, sino el que los peores temores tanto de Orwell como Huxley se vuelvan manifiestos en ambos tipos de sistema y creen un tipo diferente de distopía. Los ciudadanos tendrán la ilusión de ser libres y estar empoderados, al estarse cumpliendo muchos de sus deseos más profundos. En realidad, sus vidas, la información que consumen y las opciones que prefieren estarán determinadas por algoritmos y plataformas controladas por elites corporativas y de gobierno que no tienen que rendir cuentas.
Traducido del inglés por David Meléndez Tormen