Иллюзия свободы в цифровую эпоху
ЛОНДОН – За последние несколько недель в мировых СМИ было опубликовано множество статей о том, как новые технологии разрушают политику. В авторитарных странах, подобных Китаю, страх вызывает всемогущее государство Большого Брата, такое как в романе Джорджа Оруэлла «1984». А в демократических странах, подобных США, другая озабоченность: технологические копании будут усиливать политическую и социальную поляризацию, помогая распространять дезинформацию и создавать замкнутые идеологические фильтры (так называемые filter bubbles), так что ситуация будут похожа на роман Олдоса Хаксли «О дивный, новый мир».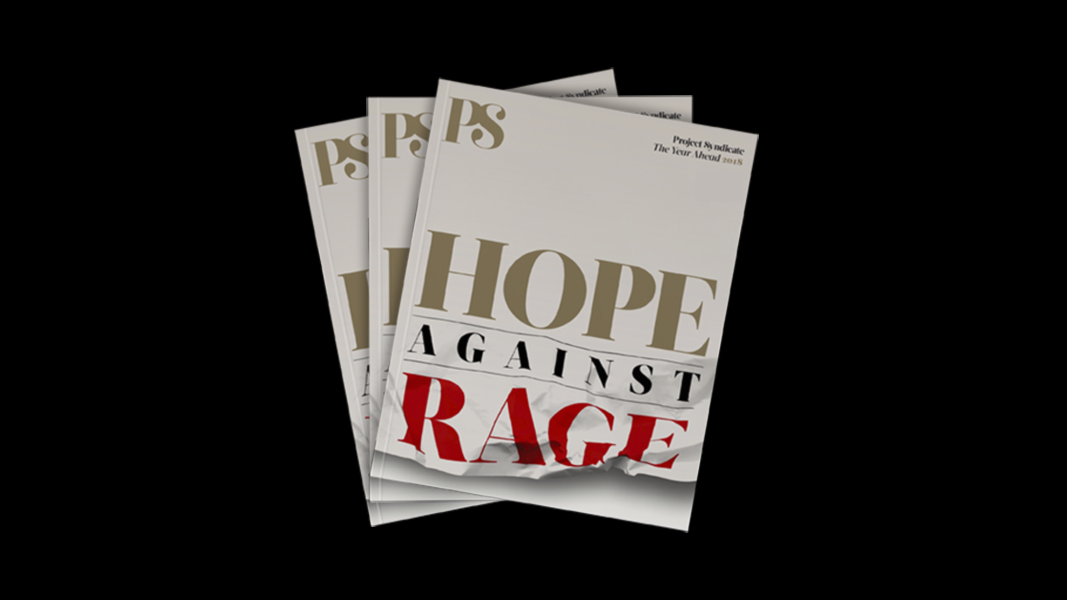 The Year Ahead 2018
The world's leading thinkers and policymakers examine what's come apart in the past year, and anticipate what will define the year ahead.
В реальности же, помогая сближению демократии и диктатуры, новые технологии делают оба антиутопических прогноза невозможными. Однако это не означает, что опасаться нечего.
Большинство сообщений о XIX съезде Коммунистической партии Китая (КПК) были сосредоточены на теме консолидации власти председателем КНР Си Цзиньпином. Эксперты предупреждают, что он создаёт диктатуру информационной эпохи, в которой технологии помогают ему укреплять свою власть, хотя ранее ожидалось, что они, наоборот, принесут свободу 1,4 млрд граждан Китая. Интернет обеспечивает правительство страны очень детальной информацией о нуждах, настроениях и чаяниях рядовых китайцев, поэтому он позволяет руководству страны предупреждать недовольство. Иными словами, для поддержания стабильности теперь используются «Большие данные» (Big Data), а не жёсткая сила.
Данные действительно большие. Более 170 млн камер наблюдения с функцией распознавания лиц отслеживают каждый шаг граждан. Системы безопасности с искусственным интеллектом способны обнаружить подозреваемых преступников, когда они катаются на велосипеде у пруда или покупают пельмени у торговца на улице, и тут же предупредить об этом полицию. Данные камер наблюдения пополняют китайский банк данных о «социальных кредитах», в котором режим накапливает толстые досье о кредитоспособности, потребительских предпочтениях и общей надёжности населения.
Кроме того, КПК использует технологии для управления партийными рядами, в частности, для общения между членами партии созданы десятки мобильных приложений. Но одновременно элементы технологий, которые расширяют права людей, блокируются: заставив все технологические компании размещать свои сервера внутри Китая, страна фактически встроила в них цензуру.
Влияние технологий на американскую политику даже более заметно, но оно анализируется с точки зрения рынка, а не государства. Наиболее выделяется сюжет о роли «фейковых новостей» в президентских выборах в прошлом году. Facebook признался, что 126 млн американцев могли видеть в этой социальной сети фейковые новости во время избирательной кампании.
Специальный прокурор Роберт Мюллер, который ведёт расследование по поводу возможной тайной координации между избирательным штабом президента США Дональда Трампа и Россией, вмешавшейся в выборы 2016 года, недавно предъявил бывшему руководителю этого штаба, Полу Манафорту, обвинение по 12 пунктам за действия, совершённые до начала кампании. Среди этих обвинений – «заговор против США». А внешнеполитический советник штаба Трампа, Джордж Пападопулос, был обвинён в том, что лгал ФБР о своих встречах с частными лицами, тесно связанными с российскими властями, во время избирательной кампании. Впрочем, он уже признал себя виновными и, начиная с лета, сотрудничает со следствием.
Однако помимо этих сенсационных событий есть и другая, более глубокая проблема: возможность технологических копаний контролировать информацию, которую получают люди. Именно секретные алгоритмы Больших технокомпаний (Big Tech) определяют то, как мы воспринимаем мир, поэтому людям становится всё труднее принимать сознательные решения, а именно это философы называют фундаментальным аспектом свободы воли.
Большие технокомпании, чья стоимость превышает размеры ВВП некоторых стран, стремятся к максимизации прибылей, а не социальных благ. Но в эпоху, когда внимание людей становится ценнее денег, последствия их решений оказываются очень далекоидущими. Джеймс Уильямс, инженер из Google, перешедший на академическую работу, утверждает, что с цифровой эпохой началась жесточайшая конкуренция за наше внимание, и мало кто выиграл от этого так же сильно, как Трамп: для Интернета он стал таким же человеком, каким Рональд Рейган был для телевидения.
Между тем, влияние технологий на политику сравнительно мало зависит от типа режима. Технологии размывают удобные различия между открытыми и закрытыми обществами, между плановой и свободной экономикой, так что, в конечном счёте, ни одно из этих явлений не может больше существовать в своей идеальной форме.
Благодаря информации Эдварда Сноудена о колоссальной государственной системе наблюдения при Агентстве национальной безопасности США, стало очевидно: желание государства всё знать не ограничивается одним лишь Китаем. Напротив, для национальной безопасности США это центральная идея.
Тем временем, в Китае ситуация развивается в обратном направлении. Да, китайские власти давят на крупнейшие технокомпании, требуя прямого доступа к принятию корпоративных решений, а также к их данным. Но одновременно интернет меняет саму природу китайской политики и экономики, заставляя их более чутко реагировать на нужды потребителей.
Например, мой знакомый, работавший в китайской поисковой системе Baidu, рассказывал мне однажды, как эта компания пыталась улучшить качество цензурного обслуживания потребителей: различные формы цензуры тестировались, чтобы выявить, какие из них пользуются наибольшим предпочтением у людей. Джек Ма из техно-гиганта Alibaba считает, что Китай может использовать Большие данные для планирования идеально откалиброванных государственных решений, которые позволят стране обогнать страны со свободной экономикой. В ближайшие десятилетия, полагает Ма, «плановая экономика будет становиться всё больше и больше».
В цифровую эпоху самой большой опасностью является не то, что технологии будут всё резче подчёркивать разницу между свободными и авторитарными обществами. Опасность в том, что худшие страхи и Оруэлла, и Хаксли станут проявляться в системах обоего типа, создавая новый вид антиутопии. Когда многие глубочайшие желания граждан удовлетворены, они могут поддаться иллюзии свободы и обладания правами. А в реальности вся их жизнь, вся информация, которую они потребляют, и любой выбор, который они совершают, будут определяться алгоритмами и платформами, контролируемыми никому не подотчётными корпоративными и государственными элитами.