Porque é que o capitalismo precisa do populismo?
CHICAGO – As grandes empresas estão sob ataque nos Estados Unidos. A Amazon cancelou os seus planos de abrir uma nova sede no bairro de Queens, na cidade de Nova Iorque, face à forte oposição local. Lindsey Graham, uma senadora republicana dos EUA pela Carolina do Sul, manifestou preocupação sobre a indiscutível posição no mercado do Facebook, enquanto a sua colega do Senado democrata, Elizabeth Warren, de Massachusetts, pediu a divisão da empresa. Warren também introduziu legislação que reservaria 40% dos assentos do conselho de administração corporativo para trabalhadores.
Essas propostas podem parecer deslocadas na terra do capitalismo de livre mercado, mas o debate atual é exatamente o que a América precisa. Ao longo da história do país, foram os críticos do capitalismo que garantiram o seu funcionamento adequado, ao combaterem a concentração do poder económico e a influência política que ela confere. Quando algumas empresas dominam uma economia, elas inevitavelmente juntam-se aos instrumentos de controlo estatal, criando uma aliança profana entre elites do setor público e privado.
Foi o que aconteceu na Rússia, que é democrática e capitalista apenas no nome. Ao manter o controlo total sobre a extração de mercadorias e a atividade bancária, uma oligarquia em dívida com o Kremlin descartou a possibilidade de uma concorrência económica e política significativa. De facto, a Rússia é a apoteose do problema que o presidente dos EUA, Dwight D. Eisenhower, descreveu no seu discurso de despedida em 1961, quando advertiu os americanos a "se precaverem contra a obtenção de influência injustificada" pelo "complexo industrial-militar" e contra o "potencial para o aumento desastroso do poder desajustado".
Com muitas indústrias dos EUA já dominadas por algumas empresas "superestrela", deveríamos ficar contentes pelo facto de ativistas "socialistas democráticos" e manifestantes populistas estarem a dar ouvidos ao aviso de Eisenhower. Mas, ao contrário da Rússia, em que os oligarcas devem a sua riqueza à captura de ativos estatais nos anos 90, as empresas superestrela americanas chegaram onde estão por serem mais produtivas. Isso significa que os esforços de regulamentação têm de ser mais subtis - mais precisão e menos confrontos (mais bisturi e menos martelo).
Especificamente, numa era de fornecimento global, as empresas americanas beneficiaram de enormes economias de escala, efeitos de rede e uso de dados em tempo real para melhorarem o desempenho e a eficiência em todas as etapas do processo de produção. Uma empresa como a Amazon aprende constantemente com os seus dados de forma a minimizar os prazos de entrega e a melhorar a qualidade dos seus serviços. Confiante da sua superioridade em relação à concorrência, a empresa precisa de poucos favores do governo - uma razão pela qual o fundador da Amazon, Jeff Bezos, pode apoiar o The Washington Post, que muitas vezes critica a administração dos EUA.
Mas só porque as empresas superestrela são supereficientes, hoje em dia, isso não significa que elas continuarão assim, particularmente na ausência de concorrência significativa. As titulares serão sempre tentadas a sustentar as suas posições através de meios anticoncorrenciais. Ao apoiarem a legislação, como a Lei de Fraude e Abuso de Computador de 1984 e a Lei de Direitos de Autor do Milénio Digital de 1998, as principais empresas de Internet garantiram que os concorrentes não pudessem ligar-se às suas plataformas para beneficiarem dos efeitos de rede gerados pelos utilizadores. Da mesma forma, após a crise financeira de 2009, os grandes bancos aceitaram a inevitabilidade do aumento das regulamentações e, em seguida, pressionaram para a existência de regras que que acabaram por aumentar os custos de conformidade, prejudicando, desse modo, os concorrentes mais pequenos. E agora que a administração Trump está com o dedo no gatilho com as tarifas de importação, as empresas bem conectadas podem influenciar quem recebe proteção e quem suporta os custos.
Subscribe now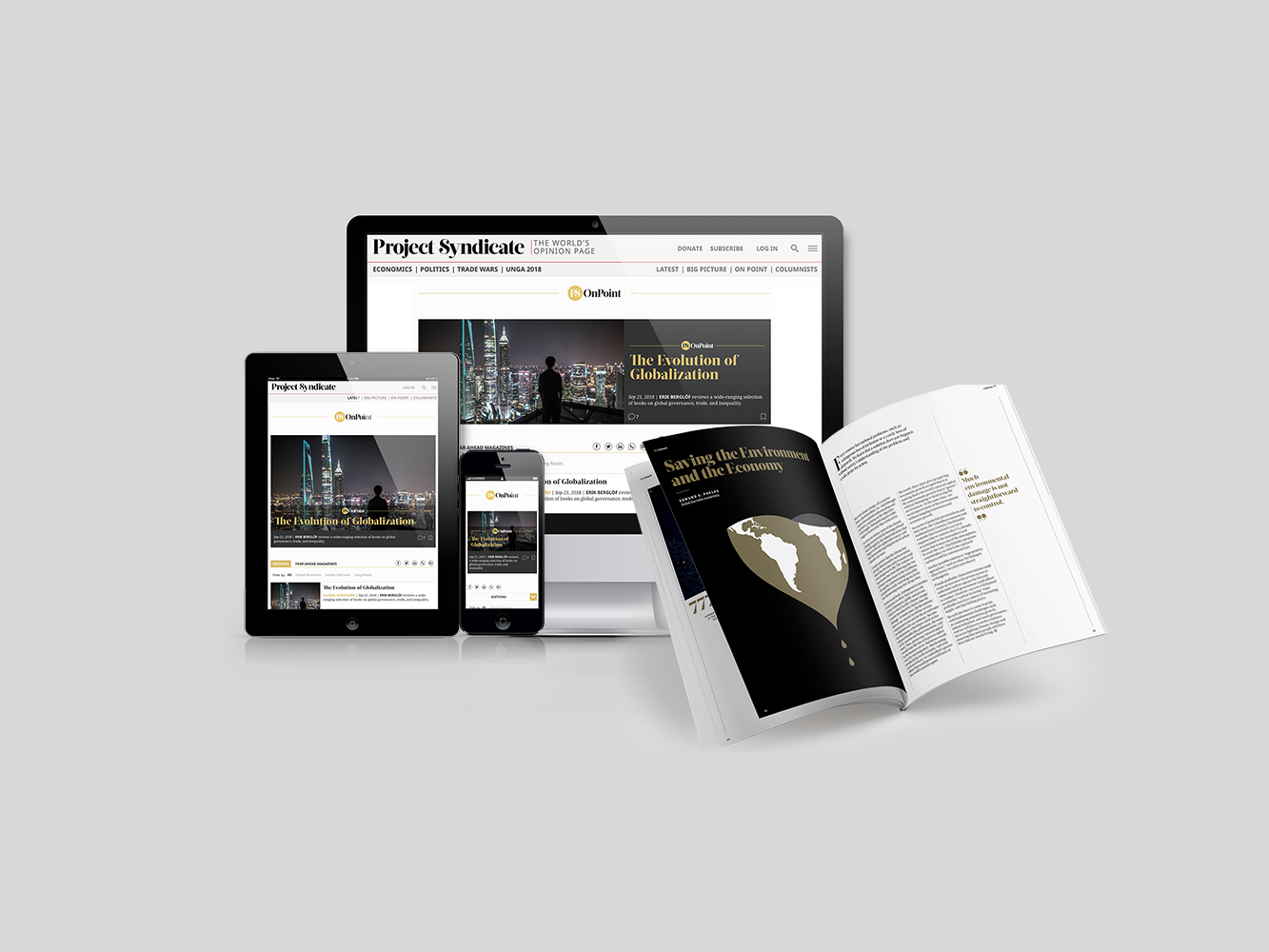 Subscribe now
Get unlimited access to OnPoint, the Big Picture, and the entire PS archive of more than 14,000 commentaries, plus our annual magazine, for less than $2 a week.
Em termos mais gerais, quanto mais os direitos de propriedade intelectual, regulamentos e tarifas definidos pelo governo - e não a produtividade - reforçarem os lucros de uma empresa, mais dependente ela se torna da benevolência do governo. A única garantia de eficiência e independência empresarial no futuro é a concorrência no presente.
A pressão sobre o governo para manter o capitalismo competitivo, e impedir o seu desvio natural em direção ao domínio de algumas empresas dependentes, normalmente vem de pessoas comuns, que se organizam democraticamente nas suas comunidades. Ao não possuírem a influência das elites, muitas vezes querem mais concorrência e acesso aberto. Nos EUA, o movimento populista no final do século XIX e o movimento progressista no início do século XX foram reações à monopolização em setores críticos, como ferrovias e bancos. Essas mobilizações de base levaram a regulamentações como a Lei Antitrust Sherman de 1890 e a Lei Glass-Stegall de 1933 (embora de forma menos direta), e a medidas para melhorar o acesso à educação, saúde, crédito e oportunidades de negócios. Ao apoiarem a concorrência, esses movimentos não apenas mantiveram o capitalismo dinâmico, mas também evitaram o risco do autoritarismo corporativista.
Hoje, uma vez que os melhores empregos vagueiam nalgumas empresas superestrela que recrutam principalmente através de algumas universidades de prestígio; as pequenas e médias empresas encontram o caminho para o crescimento repleto de impedimentos impostos por empresas dominantes; e a atividade económica troca as cidades pequenas e comunidades semi-rurais pelas megacidades, o populismo está a emergir novamente. Os políticos estão a lutar para dar resposta, mas não há garantia de que as suas propostas nos levarão na direção certa. Tal como ficou claro na década de 1930, pode haver alternativas muito mais obscuras do que o status quo. Se os eleitores de aldeias francesas decadentes e de pequenas cidades dos Estados Unidos sucumbirem ao desespero e perderem a esperança na economia de mercado, estarão vulneráveis ao canto das sereias do nacionalismo étnico ou do socialismo total, que destruiriam o delicado equilíbrio entre os mercados e o Estado. Isso acabará com a prosperidade e com a democracia.
A resposta certa não é a revolução, mas sim o reequilíbrio. O capitalismo precisa de reformas descendentes, como a regulamentação antitrust atualizada, para garantir que as indústrias permanecem eficientes e de livre acesso e não sejam monopolizadas. Mas também precisa de políticas ascendentes para ajudar comunidades economicamente devastadas a criarem novas oportunidades e a manterem a confiança dos seus membros na economia de mercado. A crítica populista deve ser ouvida, mesmo que as propostas radicais de líderes populistas não sejam seguidas servilmente. Isso é essencial para preservar tanto os mercados dinâmicos como a democracia.