Der letzte Silowik?
MOSKAU – Präsident Wladimir Putins Regime ist mindestens so undurchsichtig wie jedes andere, das Russland bisher beherrscht hat, und derzeit zeichnet sich ein neues Rätsel ab. Steht der Sturz Igor Sechins – dem vielleicht Mächtigsten der St. Petersburger Silowiki, die vor 18 Jahren halfen, Putins Regime zu etablieren – bevor?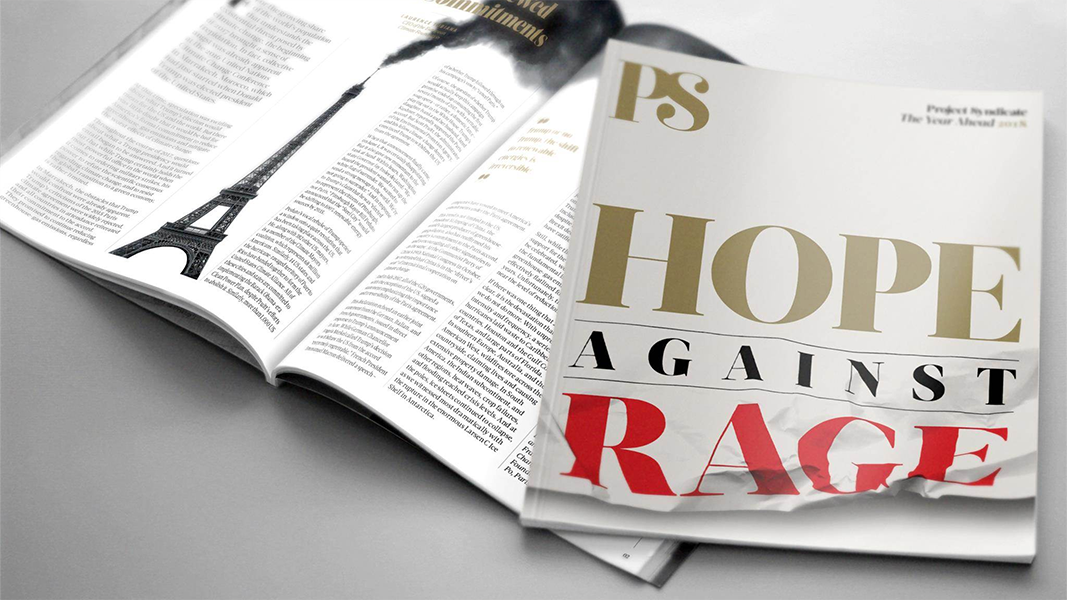 The Year Ahead 2018
The world's leading thinkers and policymakers examine what's come apart in the past year, and anticipate what will define the year ahead.
Die Silowiki, die aus dem Sicherheits- und Militärapparat hervorgegangenen grauen Männer, haben in Russland während der letzten Generation das Sagen gehabt. Sechin hat eine noch bedeutendere KGB-Karriere als Putin selbst hinter sich und hatte viele Schlüsselposten in der Regierung seines Patrons inne. Seit 2012 ist er CEO des staatseigenen Ölriesen Rosneft, Russlands drittgrößtem Unternehmen (nach Gazprom und Lukoil), dessen Aufsichtsratsvorsitzender seit September der ehemalige deutsche Bundeskanzler Gerhard Schröder ist.
Unter Sechins Führung hat sich Rosneft zu einem Staat im Staate mit einer Viertelmillion Mitarbeitern, einem Umsatz von 65 Milliarden Dollar und 50 Tochtergesellschaften im In- und Ausland entwickelt (so viele wie Gazprom). Zudem hat Rosneft stärker noch als Gazprom seit 2004, als es nach der Inhaftierung des Yukos-Chefs und Putin-Gegners Michail Chodorkowsky wegen Betrugs- und Veruntreuungsvorwürfen dessen Unternehmen übernahm, dem Modus Operandi des Putinsystems den Weg bereitet.
Sechin hatte immer einen kurzen Draht zu Putin. Viele Russen sind seit langem der Ansicht, dass er zugleich Augen und Ohren der KGB-Nachfolgorganisation (FSB) im Rohstoffsektor darstellt, der den Kern der russischen Volkswirtschaft bildet und das Zentrum der korrupten Machtnetze des Landes ist.
Heute jedoch ist Sechin an einem sehr öffentlichen – und symbolisch bedeutsamen – Kampf vor Gericht beteiligt. Er wurde schon dreimal durch ein Moskauer Strafgericht vorgeladen, um in einem Verfahren gegen Alexei Uljukajew, einen Ex-Minister für Wirtschaftsentwicklung, als Zeuge auszusagen. Doch Sechin hat der Vorladung konsequent nicht Folge geleistet, und vor kurzem hat sein Büro dem Gericht mitgeteilt, dass er bis ins neue Jahr nicht zur Verfügung stünde.
Sechins Ausreden für sein Nichterscheinen waren relativ typisch: Die Vorladung sei verloren gegangen, und sein Terminkalender – der wichtige Regierungsreisen nach Vietnam und in die Türkei beinhaltet habe – habe sein Erscheinen nicht zugelassen. Doch es ist nichts typisch daran, dass ein russisches Gericht jemanden von Sechins Statur für eine öffentliche Zeugenaussage vorlädt. Im Gegenteil: In der Welt der Kreml-Politik ist dieser Schritt so bizarr, wie man sich das nur vorstellen kann.
Das Ganze begann vor einem Jahr, als Uljukajew in der Moskauer Zentrale von Rosneft verhaftet wurde, wo er im Gegenzug für seine Unterstützung bei der geplanten Übernahme einer Mehrheit der staatlichen Anteile an Bashneft, einer regionalen Ölgesellschaft, angeblich ein Schmiergeld in Höhe von zwei Millionen Dollar von Sechin entgegennehmen wollte. Sechin hatte Uljukajew nach einem früheren Gespräch über das Thema dem FSB gemeldet, der dort bereitstand, um den Minister zu verhaften.
Doch Bestechung ist in Russland Gang und Gäbe; daher geht es bei einer Entscheidung, ein Bestechungsverfahren gegen einen mächtigen Akteur anzustrengen, nie bloß um den Rechtsstaat. In diesem Fall ist die wahre Motivation für Sechins Entscheidung, gegen Uljukajew vorzugehen, unklar. Möglicherweise hatte er das Gefühl, der Minister müsse an seinen Platz in der rigiden Kremlhierarchie erinnert werden. Oder vielleicht arbeitete Uljukajew, wie gerüchteweise kolportiert wird, mit anderen Regierungsvertretern zusammen, um Sechin seine Grenzen aufzuzeigen, indem sie Rosneft am Erwerb der Bashneft-Anteile hinderten.
Jedenfalls ging Sechins Plan – von dem Putin möglicherweise gar nichts wusste – rasch nach hinten los, als das Gerichtsverfahren öffentlich wurde. Besonders belastend war im September die Veröffentlichung von Abschriften Sechins geheimer Mitschnitte seines Gesprächs mit Uljukajew – Teil einer verdeckten Operation, bei der Sechin eine führende Rolle gespielt hatte.
Sechin bezeichnete die Entscheidung des Gerichts, den Fall öffentlich zu verhandeln, als "professionelle Idiotie". "Fälle wie dieser sollten gegenüber allen Seiten abgeschlossen sein", so Sechin, weil "sie Staatsgeheimnisse betreffen". In Wahrheit freilich war es gleicherweise arrogant wie dumm von Sechin, anzunehmen, dass er nicht in den Fall hineingezogen werden würde.
Natürlich diktiert die Logik angesichts von Sechins Rolle bei der Falle für Uljukajew, dass er als erster Zeuge hätte gehört werden müssen. Doch werden in Russland mächtige oder berühmte Personen – wie etwa Chodorkowsky – ohne ausdrückliche Zustimmung des Kremls nicht in Rechtsverfahren hineingezogen. Es ist völlig unvorstellbar, dass ein untergeordneter Moskauer Richter oder Staatsanwalt Sechin von sich aus vorgeladen hätte.
Als Sechin also als letzter Zeuge – mit der Unglücksnummer 13 – berufen wurde, gab es dafür nur eine logische Erklärung: Putin, der bereits eine Anzahl der führenden Silowiki, die ihn an die Macht gebracht hatten, ausgebotet hatte, hatte beschlossen, Sechin einen Dämpfer zu versetzen. Die graue Eminenz von Rosneft hatte sich zu weit vorgewagt.
Wie im Fall Chodorkowsky scheint der Kreml das Gericht als Plattform zu nutzen, um die jeweiligen Stellungen innerhalb der russischen Elite klarzustellen. Dies ist im Vorfeld der Präsidentschaftswahlen 2018 von besonderer Bedeutung, nicht zuletzt, weil gemunkelt wird, dass Putin einem seiner vertrauenswürdigen Lakaien (zumindest vorübergehend) sein Amt überlassen wolle.
Und falls Putin selbst erneut antritt – was angesichts seiner Neigung zu absoluter Kontrolle wahrscheinlicher ist –, wird er sich zumindest um einen dienstbaren Ministerpräsidenten bemühen. Der aktuelle Amtsträger, Dmitri Medwedew, ist als ineffizient diskreditiert und – für eine Öffentlichkeit, die ihn als politischen Pygmäen betrachtet – das Maß an aufgedeckter privater Korruption nicht wert.
Indem er gegen einen von Putins Ministern vorging, schien Sechin die Muskeln spielen zu lassen. Möglicherweise tat er dies in dem Glauben, dass dies seine Bereitschaft unter Beweis stellen würde, politisch in der ersten Reihe mitzuspielen. Stattdessen hat diese Episode lediglich einmal mehr gezeigt, dass es in Russland keine echte "Nr. 2" gibt; es gibt allein Putin, der den FSB, die Gerichte und die Schaltstellen der Wirtschaft kontrolliert.
Egal, ob Putin beschließt, Präsident zu bleiben oder das Amt vorübergehend mit einer Marionette zu besetzen, wie er das 2008 mit Medwedew tat – seine Botschaft könnte gar nicht klarer ausfallen: Ich, und ich allein, bin der Boss.
Aus dem Englischen von Jan Doolan