El futuro del sueño de Putin
WASHINGTON, DC – El resultado de la elección presidencial del 18 de marzo en Rusia es sabido de antemano: el presidente en ejercicio, Vladimir Putin, ganará con cinco o seis veces más votos que el candidato que llegue segundo. Hoy las elecciones en Rusia son tan poco justas, libres o competitivas como en la era soviética. La única diferencia es que en aquel tiempo la papeleta sólo traía un candidato, mientras que ahora hay varios, para que parezca más creíble.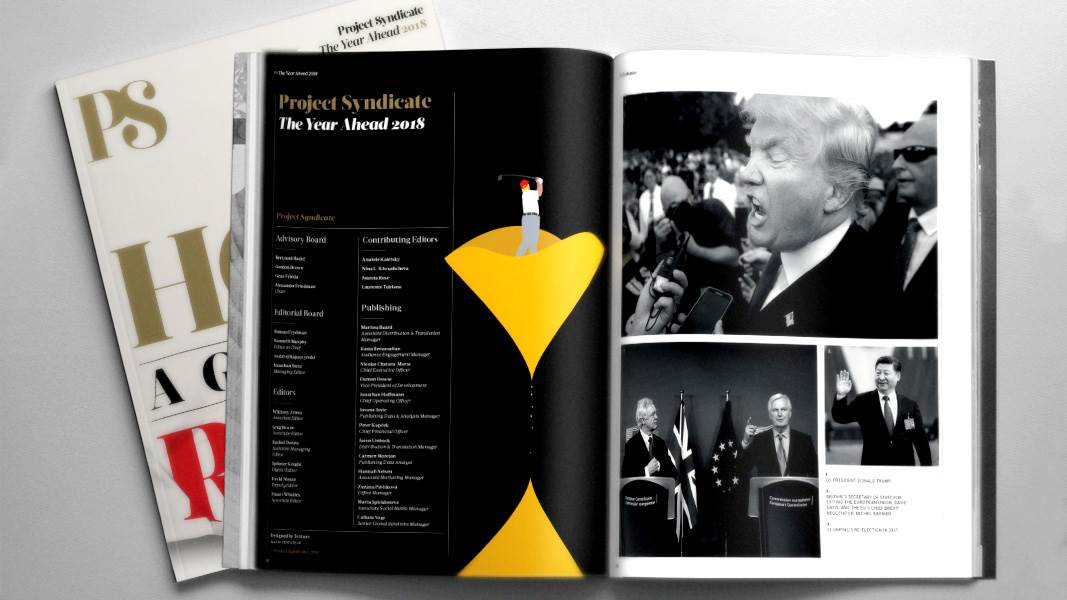 The Year Ahead 2018
The world's leading thinkers and policymakers examine what's come apart in the past year, and anticipate what will define the year ahead.
Otra certeza sobre la próxima elección es que Putin volverá a mostrar una versión nueva de sí mismo, como ya hizo cuatro veces. Sus reencarnaciones anteriores fueron: a fines de octubre de 2003 tras el arresto del ahora exiliado oligarca Mikhail Khodorkovsky; luego, en la elección de 2004, para la que se presentó otro modelo renovado de Putin; después de la elección de 2008, cuando tuvo que encontrar el modo de manejar al nuevo presidente electo de Rusia, Dmitry Medvedev; y finalmente en 2012, cuando un belicoso Putin (el que más tarde invadiría Ucrania) reunió a sus simpatizantes en la plaza Poklonnaya Gora de Moscú, superó protestas masivas y volvió a la presidencia.
Pero pese a su talento para la transformación, no es de esperar que tras la inminente victoria Putin vaya a introducir algún cambio de políticas sustancial. Ni pensar en reformas amplias y audaces como las que propuso el ex ministro de finanzas liberal Alexei Kudrin. Putin es un perro viejo, que ya no aprenderá trucos nuevos.
Para predecir el rumbo que puede tomar en el próximo mandato, hay que analizar cinco tendencias que han definido a Rusia durante los dieciocho años que estuvo en el poder. La primera es la escalada de confrontación política y militar con Occidente, que convirtió a Rusia en un estado canalla, amenazante para sus vecinos. La segunda es la consolidación gradual del poder en manos de un pequeño círculo de élites, que se han adueñado de la toma de decisiones en reemplazo de la burocracia, el parlamento y el sistema judicial.
La tercera tendencia es la apelación creciente al uso de la fuerza en la vida política, particularmente de parte de la policía secreta. Ahora el Servicio Federal de Seguridad (FSB), sucesor del KGB, puede encarcelar (con escasas pruebas, o ninguna) a ministros federales, gobernadores regionales, líderes opositores, directores de teatro, activistas ambientales o ciudadanos rusos de a pie que expresan sus opiniones políticas en Twitter o Facebook.
Una cuarta tendencia relacionada es la restricción de las libertades consagradas en la constitución, entre ellas el derecho al voto y la libertad de expresión y de reunión. Y la última tendencia es la gradual erosión de la protección de la propiedad, que ha vuelto a los empresarios rusos renuentes a invertir en el país.
Todas estas tendencias negativas continuarán, aunque el ritmo de la degradación es discutible. La reelección de Putin supone casi con certeza otros seis años de estancamiento económico y aislamiento internacional. Tal vez hablará de hacer reformas, pero tras casi una generación en el poder, ya no se puede creer en sus palabras. Para adivinar sus intenciones y las medidas que aplicará hay que prestar atención a sus acciones: no lo que dice, sino lo que hace. En mi opinión, hay cuatro escenarios probables.
El primero es que Putin trate de posicionarse como presidente vitalicio, mediante un plebiscito que elimine el límite constitucional de dos mandatos presidenciales consecutivos. O que sea elegido presidente del Estado Unificado de Rusia y Bielorrusia, con el actual presidente de Bielorrusia (Alexander Lukashenko) como primer ministro. El proyecto de unificación ha estado inactivo desde 1997, pero podría reflotarse al servicio de Putin.
En el segundo escenario, Putin se convertiría en la versión rusa de Deng Xiaoping. Tras reconocer que el modelo político actual de Rusia es insostenible, convocaría a una "mesa redonda" con representantes de todo el país para que diseñen un nuevo sistema; para ello tal vez deban definir normas para un período transicional que abarque los dos últimos años de la presidencia de Putin, después de lo cual Rusia ingresaría a una nueva era política.
O, como hizo Boris Yeltsin, Putin puede declarar que está cansado y nombrar sucesor. En el tercer escenario, el sucesor sería un liberal como Medvedev; en el cuarto escenario sería un conservador como el vice primer ministro Dmitry Rogozin, que en la actualidad supervisa la industria de defensa.
En los últimos dos escenarios, que el sucesor sea liberal o conservador no tiene ninguna importancia. Lo que importa es si, liberal o conservador, podrá retener el poder una vez asumido el cargo. Ni un Medvedev ni un Rogozin podrán mantener el sistema como está. Pero cualquier reforma que intenten entrará inevitablemente en conflicto con poderosos intereses arraigados, lo que desestabilizará el equilibrio de poder actual. Además, no está claro qué clase de relación tendrían Medvedev o Rogozin con el FSB, o hasta que punto podrían evitar la interferencia de la policía secreta en la vida política del país después de Putin.
No entraré en especulaciones acerca de cuál de los cuatro escenarios es más probable. En cualquier caso, todos plantean la misma pregunta: ¿quién liderará Rusia en 2024, Putin 5.0 u otra persona? Pase lo que pase, de algo podemos estar seguros: con el correr del tiempo, a Putin lo obsesionará cada vez más su dilema existencial: ¿cómo sigue esto?
Traducción: Esteban Flamini