Geld für lau
MÜNCHEN – Ein geldpolitische Programm, das durch quantitative Erleichterung (QE) und die momentanen Null- oder gar Negativzinsen geprägt ist, hat für Politiker mit einer bestimmten Veranlagung ein außerordentlich freizügiges Umfeld geschaffen. Jene, die bereit sind, diese Bedingungen dazu zu nutzen, um sich beliebt zu machen, können sich auf freie Bahn freuen – zumindest im Moment.
In fast allen Industriestaaten spielt die Geld- und Haushaltspolitik auf eine neue und einmalige Art zusammen. Nehmen wir beispielsweise die Tatsache, dass die deutsche Regierung gerade 30-jährige Staatsanleihen mit negativer Rendite ausgegeben hat. Dies bedeutet, dass sie sich – kostenlos – Geld leihen und theoretisch alles damit tun kann, was sie will. Und Deutschland steht damit nicht allein, weshalb es nicht überrascht, immer mehr Stimmen zu hören, die beim ersten Zeichen einer Wachstumsschwäche zu erheblichem haushaltspolitischem Aktivismus aufrufen.
Angesichts dessen, dass die traditionellen Renditesucher von den Regierungen immer stärker enteignet werden, könnte die momentane Lage offensichtlich umfassende geld- und verteilungspolitische Folgen haben. Aber dies ist erst der Anfang. In der Politik ging es bisher immer darum, Alternativen zu berücksichtigen, die sich gegenseitig ausschließen: Geld, das in einem Bereich ausgegeben wird, kann nicht woanders ausgegeben werden. Bekommen Krankenpfleger und Ärzte mehr Gehalt, verdienen Lehrer, Polizisten oder Feuerwehrleute vergleichsweise weniger. Die Regierungen müssen sich entscheiden, ob sie lieber Steuern senken oder neue Hochgeschwindigkeitszüge, Flugzeugträger, Straßen und Brücken bauen wollen.
Jetzt aber geht die unkonventionelle Geldpolitik in eine unkonventionelle Politik über. Experten für dieses neue Spiel sind besonders die populistischen Regierungen in Mittel- und Osteuropa: Sie können verschiedene politische Interessengruppen bedienen, das Kindergeld erhöhen, die Rente anheben, das Rentenalter verringern, Infrastruktur aufbauen und Steuern senken – und dies alles gleichzeitig. Und verspricht die Opposition neue Ausgaben, kann die Regierung diese Ideen einfach als ihre eigenen verkaufen und so ihre Macht sichern.
Diese neue Mischung aus Geldwirtschaft und Haushaltspolitik wird unweigerlich zu Störungen führen. Als die Europäer in den 1990ern überlegten, den Euro einzuführen, wurde die Gemeinschaftswährung sowohl als Disziplinierungsinstrument als auch als Mittel zur Verschleierung der harschen Unvereinbarkeiten innerhalb der konventionellen Politik verkauft. Der Eurozone beizutreten bedeutete, einen Teil der Souveränität über die eigene Haushaltspolitik aufzugeben, aber gleichzeitig in den Genuss niedrigerer Zinsen zu kommen. So konnten die Kosten der Staatsschulden gesenkt und Ressourcen für andere Zwecke eingesetzt werden.
Im aktuellen neuen Umfeld ist die Versuchung, mehr Geld auszugeben, immer noch hoch. Aber sie wird von einer neuen, seltsamen Voraussetzung begleitet: Die Fee ergießt ihren magischen Goldstaub nur über Länder, die versprechen, in der Gemeinschaft zu bleiben. Sobald es darum geht, die Eurozone zu verlassen, ist der Bann gebrochen, und daher sind selbst die euroskeptischen Politiker in Italien oder Frankreich von diesem Plan abgerückt. Natürlich ist es nicht so, dass der Euro die Regierungen der Mitgliedstaaten auf wundersame Weise in ökonomische Musterschüler verwandelt. Im Gegenteil: Sie werden jetzt effektiv dafür belohnt, verantwortungslos und unvorhersehbar zu handeln, während gleichzeitig die geldpolitischen Autoritäten in eine nachgiebigere Position gezwungen werden.
Subscribe now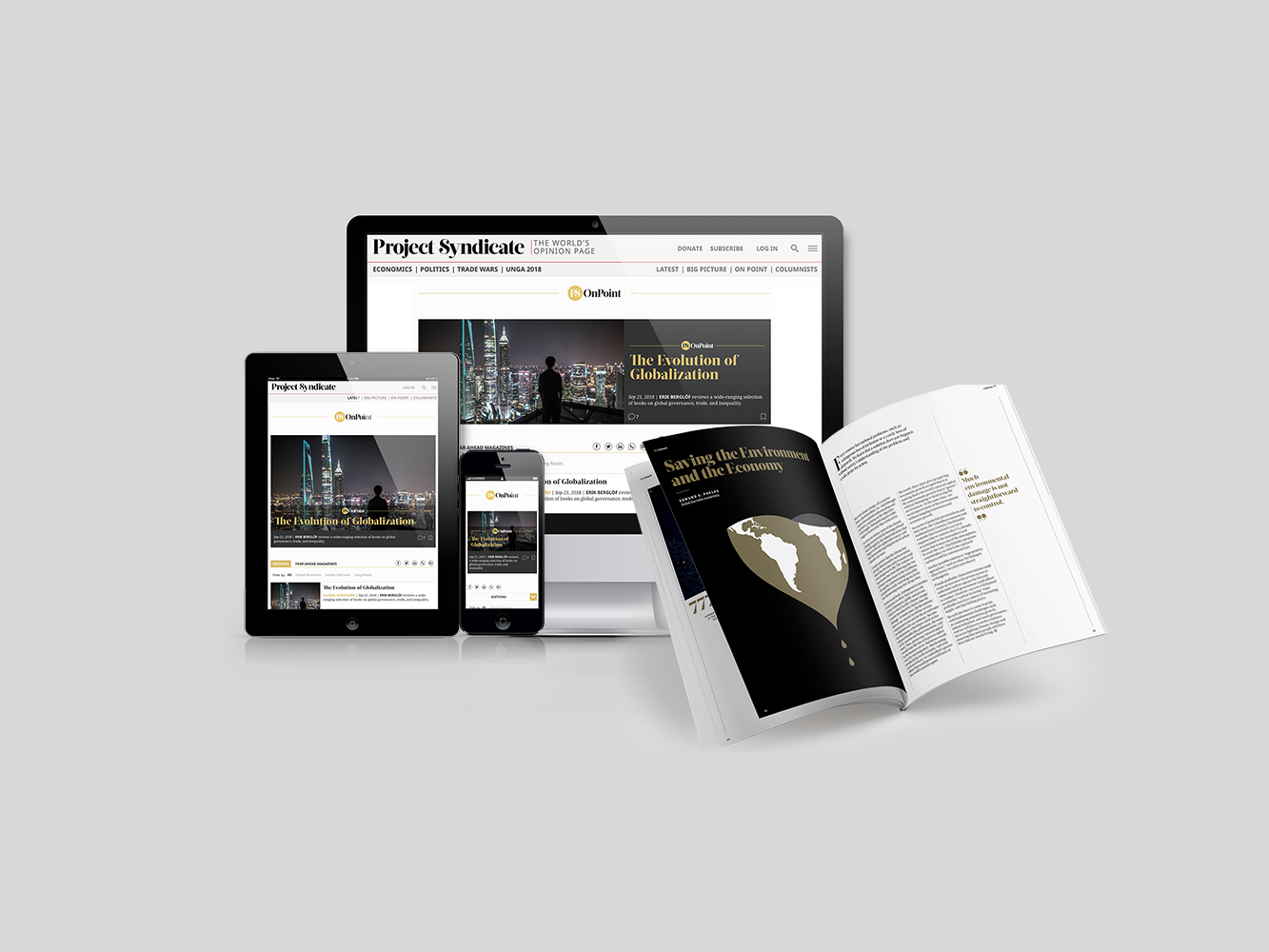 Subscribe now
Subscribe today and get unlimited access to OnPoint, the Big Picture, the PS archive of more than 14,000 commentaries, and our annual magazine, for less than $2 a week.
Das offensichtlichste Beispiel für einen solchen Schachzug finden wir in den Vereinigten Staaten. Dort schürt Präsident Donald Trump mit seinem Handelskrieg und seinen Twitter-Drohungen die wirtschaftliche Unsicherheit und bläst den Tauben im Offenmarktausschuss Wind in die Segel. Die Fed senkt nun die Zinsen, um einem Einbruch des Wachstums vorzubeugen. Und bis die Populisten – der britische Premierminister Boris Johnson, der ungarische Ministerpräsident Viktor Orbán und Matteo Salvini (der immer noch gern italienischer Ministerpräsident werden möchte) – diese Strategie auch für sich entdecken, dürfte es nur eine Frage der Zeit sein.
Das Problem wird dadurch noch verschärft, dass die Populisten neue intellektuelle Argumente gefunden haben und sich immer mehr als ernsthafte, innovative Denker darstellen. Zunächst mussten sie ihre Wähler davon überzeugen, dass das, was sie tun, ungefährlich ist. Aber angesichts dessen, dass die Rufe, die den Untergang der alten liberalen Ordnung feiern, nun über das gesamte politische Spektrum hinweg erschallen, war dies nicht allzu schwierig. Überall in den Industrieländern herrscht die Ansicht, die alten Regeln seit der Finanzkrise von 2008 würden nicht mehr gelten.
Das neu entstandene Narrativ ist für Populisten ideal: Es besagt, dass die traditionellen Volkswirtschaften durch die Finanzkrise diskreditiert wurden und dass der "Neoliberalismus" eine gefährliche Illusion war. Die neoliberale Einsicht, die nach der Krise am stärksten kritisiert wurde, war jene, dass fiskale Zurückhaltung eine Tugend ist und ihre Anhänger mit niedrigeren Zinsen, günstigeren Krediten und höheren Konsumentenausgaben belohnt. Für die Kritiker sind Staatsausgaben nicht nur gratis, sondern auch bedingungslos gut.
In dieser schönen neuen Wirtschaftwelt scheint niemand mehr sicher sagen zu können, wieviel Schulden eigentlich gefährlich sind. Aber dies bedeutet nicht, dass es kein Schuldenniveau gibt, das eine dramatische Umkehr auslösen könnte. Werden Anleger und Investoren nervös, könnten die Kredite auch wieder teurer werden, wodurch die Schulden plötzlich nicht mehr nachhaltig wären. Dann wird auch die Magie der Populisten nicht mehr funktionieren.
Jene, die die konventionelle Politik und die alten Regeln wiederbeleben wollen, sind in einer wenig beneidenswerten Lage: Entgegen ihrer Absicht klingen sie, wenn sie neben den Populisten stehen, so, als wollten sie den Wohlstand abschaffen. Niemand möchte Kassandra wählen, wenn auch Pollyanna auf dem Wahlzettel steht. Aber wenn Kassandras Warnungen verstummt sind, wird es wie immer zu spät sein.
Aus dem Englischen von Harald Eckhoff