Ein neuer Trump?
WASHINGTON, DC – Es herrscht allgemeine Übereinstimmung in Washington, D.C., dass die Präsidentschaft Donald Trumps in eine neue Phase eintritt. Zu definieren, was genau das für eine Phase ist, erweist sich jedoch als problematisch.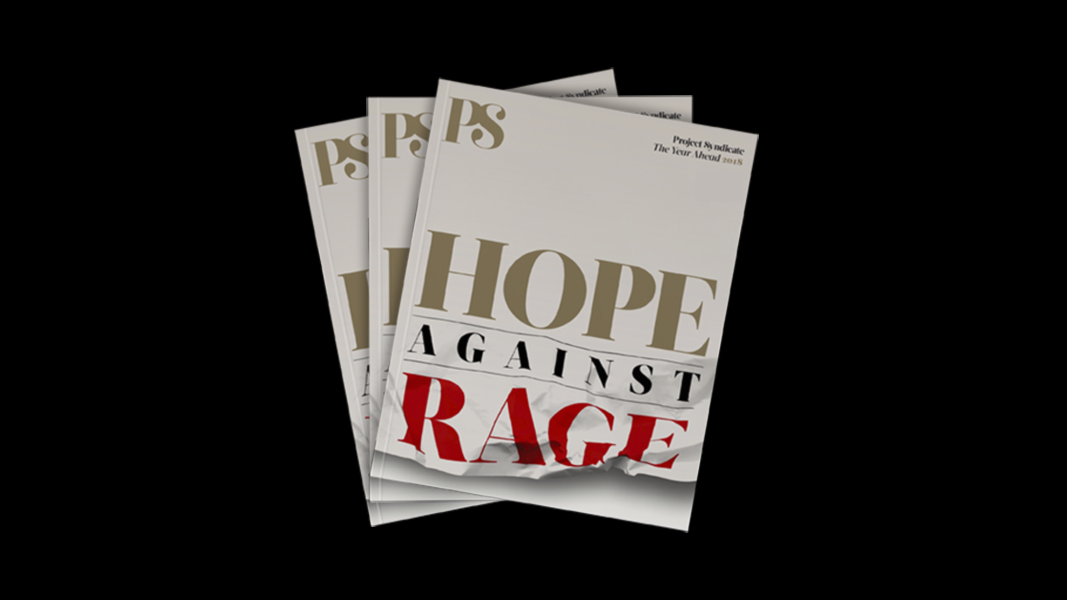 The Year Ahead 2018
The world's leading thinkers and policymakers examine what's come apart in the past year, and anticipate what will define the year ahead.
Es war weithin erwartet worden, dass die Entfernung von Stephen Bannon – dem ehemaligem Chefberater im Weißen Haus und aktueller Gallionsfigur des weißen amerikanischen Nationalismus – ein reibungsloseres Arbeiten der Regierung bewirken, Grabenkämpfe abmildern (wenn auch nicht beseitigen) und die Anzahl der Durchstechereien verringern würde. Die internen Machtkämpfe mögen ruhiger ablaufen, seit John Kelly das Amt des Stabschefs im Weißen Haus übernommen hat und für mehr Ordnung sorgt. Doch solange Trump Präsident ist, wird Ordnung nicht das wesentliche Merkmal des Weißen Hauses sein. Tatsächlich hält Trump weiterhin ständigen Kontakt zu Bannon, der wieder die Leitung von Breitbart News übernommen hat.
Wie nicht anders zu erwarten, begann Trump sich schon Anfang September, als Kelly gerade mal fünf Wochen im Amt war, an den von seinem neuen Stabschef verhängten Beschränkungen zu reiben. Kelly hatte engmaschige Kontrollen des Zugangs zum Oval Office verhängt, hört während der Bürozeiten bei den meisten von Trumps Telefongesprächen mit und kontrolliert, welche Papiere den Schreibtisch des Präsidenten erreichen. Dies hat den hochideologischen Räuberpistolen, die einige Mitarbeiter Trump zusteckten, einen Riegel vorgeschoben.
Das Problem ist, dass Trump Unordnung mag; so hatte er sein Unternehmen geführt, und er mag es gar nicht, wenn man ihn managt. Er mochte es, wenn seine Günstlinge ganz nach Belieben bei ihm im Büro vorbeischauten, und es ist seine Vorstellung von Management, Menschen gegeneinander auszuspielen. Auch gibt er sich keine Mühe, im Umgang mit Mitarbeitern sein Temperament zu zügeln. Selbst Kelly, ein ehemaliger General der Marineinfanterie, hat Trumps Zunge zu spüren bekommen. Beobachter schließen inzwischen Wetten darüber ab, wann Kelly beschließen wird, dass es ihm reicht.
Ich habe noch nie ein Weißes Haus erlebt, wo so viel davon abhängt, wer den Zorn des Präsidenten auf sich gezogen hat. Gary Cohn, der ehemalige Präsident und CEO von Goldman Sachs, der als Trumps oberster Wirtschaftsberater dient, ist der Letzte, der kaltgestellt wurde. Cohns Sünde bestand darin, öffentlich zu machen, dass er nach der Gewalt in Charlottesville im vergangenen Monat, als Trump demonstrierende weiße Rassisten und Neonazis, von denen viele bewaffnet waren, mit jenen gleichsetzte, die diesen Widerstand leisteten, beinahe zurückgetreten wäre.
Tatsächlich kann man so etwas wie Sympathie für einen Präsidenten empfinden, dessen Mitarbeiter das eine tun und das andere nicht lassen will – so wie Cohn, der seine vorgebliche Betroffenheit öffentlich macht, aber ohne die Konsequenzen zu ziehen. Doch kann es Probleme geben, wenn ein Präsident beschließt, seinen leitenden Wirtschaftsberater zu ignorieren. Cohn galt als eine der gemäßigteren Stimmen in der Regierung und wollte Janet Yellen als Chef der US Federal Reserve beerben.
Die Spekulationen über die Möglichkeit eines "neuen Trump" erreichten Anfang September einen Höhepunkt, als der Präsident plötzlich eine Abmachung mit der Führung der Demokraten im Kongress schloss. Trump einigte sich mit der Vorsitzenden der Minderheitsfraktion im Repräsentantenhaus Nancy Pelosi und ihrem Amtskollegen im Senat, Chuck Schumer, wie man das Schuldenlimit des Bundes, das der Kongress angesichts steigender Ausgaben jedes Jahr erhöhen muss, ausweiten solle, und wie man die Mittelzuweisungen verlängern solle, um die staatliche Verwaltung am Laufen zu halten (da der Kongress Gesetzesentwürfe über Mittelzuweisungen regelmäßig zu spät vorlegt). Beide Fragen waren an eine besondere Mittelzuweisung im Gefolge des Hurrikans Harvey zur Bezahlung für die Wiederherstellungsbemühungen geknüpft. (Der größere Hurrikan Irma hatte damals noch nicht zugeschlagen.)
Bei der Sitzung im Oval Office mit Pelosi und Schumer unterbrach Trump seinen Finanzminister Steve Mnuchin mitten während der Diskussion, als dieser die Republikanische Position verteidigte, diese Themen für 18 Monate bis nach den Kongresswahlen aufzuschieben. Die Demokraten hatten argumentiert, dass die Erhöhung der Schuldengrenze und die Verlängerung der Mittelzuweisungen lediglich für drei Monate gelten sollten, was die Republikaner vor den Wahlen 2018 zu unter Wahlkampfgesichtspunkten riskanten Abstimmungen zwingt.
Vor der Sitzung hatte der Sprecher des Repräsentantenhauses Paul Ryan den Vorschlag der Demokraten entschieden abgelehnt. Doch plötzlich und ohne auch nur seine eigenen Mitarbeiter zu informieren, ging Trump darauf ein. Der Verfasser von The Art of the Deal hatte das allererste Angebot der Demokraten akzeptiert.
Die Kommentatoren waren völlig aus dem Häuschen und ordneten der Episode umfassende Bedeutung zu: Trump sei jetzt kein Republikaner mehr, sondern ein Unabhängiger. Möglicherweise würde er eine dritte Partei gründen. Sein Schritt markiere den Beginn einer neuen Art Regierens.
Tatsächlich hatte Trump lediglich eine Gelegenheit erkannt und ergriff sie. Angesichts fehlender echter legislativer Erfolge tat er etwas. Über die Führung der Republikaner im Kongress – Paul Ryan und den Vorsitzende der Mehrheitsfraktion im Senat, Mitch McConnell – hatte sich Trump schon eine ganze Weile geärgert. Er war beschämt und wütend über ihr Versagen, Obamacare aufzuheben und zu ersetzen. (Seine eigenen Beiträge zu dem Debakel sieht Trump nicht.) In vielen Fragen hat Trump keine ausreichende Mehrheit im Senat.
Übersehen wurde in all der Aufregung über Trumps Absprache mit der Demokratischen Führung, dass das Problem, um das es ging, den gesetzgeberischen Zeitablauf betraf und nicht die Sache. Und die anschließenden erhitzten Diskussionen über Trumps zentrale Ansichten – er sei vielleicht ein Kryptodemokrat, denn er habe schließlich einst Spenden an Demokratische Kandidaten geleistet und mit Demokratischen Positionen (etwa zur Abtreibung) sympathisiert – haben den wesentlichen Punkt übersehen. Trump vertritt keine bestimmte politische Philosophie; er ist ein Opportunist, der sich nach Publicity und Lob sehnt.
Doch sein Maverick-Verhalten könnte sich als fortsetzen. Trotz all seiner Verachtung für die "Lügenmedien" war Trump begeistert über die positive Berichterstattung, die sein parteiübergreifender Schritt erzeugt hat. Und das könnte ihn dazu bewegen, sich um mehr davon zu bemühen.