A1¿Un nuevo Trump?
WASHINGTON, DC – En Washington casi todos coinciden en que la presidencia de Donald Trump está entrando a una nueva fase. Pero no resulta fácil definirla.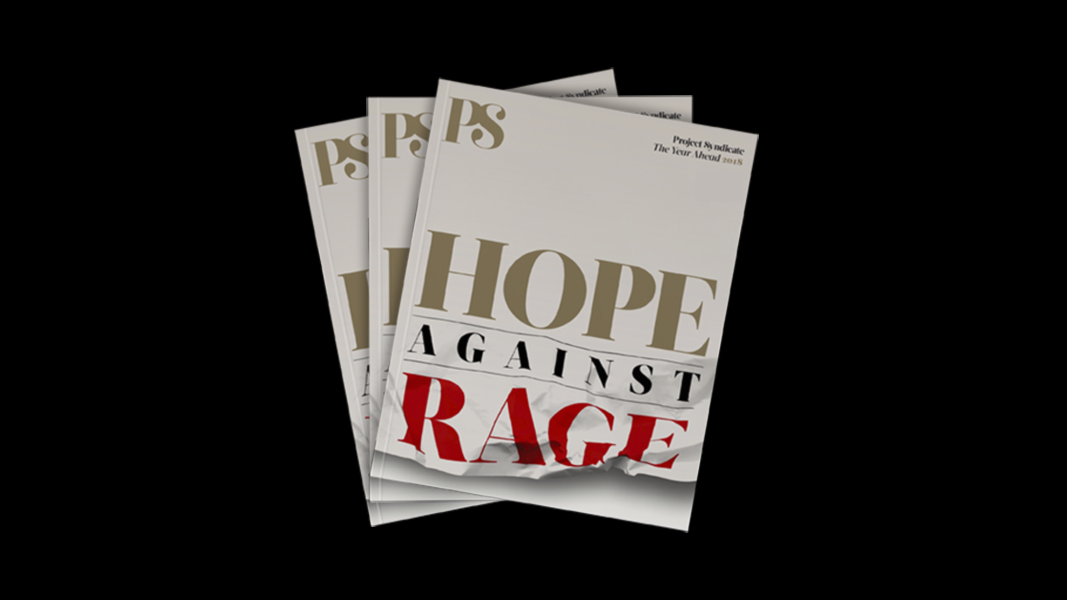 The Year Ahead 2018
The world's leading thinkers and policymakers examine what's come apart in the past year, and anticipate what will define the year ahead.
Muchos esperaban que el despido de Stephen Bannon (ex asesor principal de la Casa Blanca y encarnación residente del nacionalismo blanco estadounidense) agilizaría el funcionamiento del gobierno, mitigaría (aunque sin eliminarlas) las disputas internas y reduciría las filtraciones. Puede ser que desde que John Kelly asumió como jefe de gabinete y empezó a poner más orden en el Ala Oeste las internas se hayan aquietado. Pero mientras Trump sea presidente, la Casa Blanca no se va a destacar por el orden. De hecho, Trump sigue teniendo contactos frecuentes con Bannon, que volvió a hacerse cargo de Breitbart News.
Inevitablemente, apenas había empezado septiembre, y con sólo cinco semanas de Kelly en el cargo, Trump ya no soportaba las restricciones impuestas por el nuevo jefe de gabinete. Kelly limitó el acceso a la Oficina Oval, escucha la mayoría de las conversaciones telefónicas de Trump en horario de trabajo y filtra cada pedazo de papel que llega al escritorio del presidente (con lo que eliminó las diatribas extremistas que algunos miembros de su equipo acostumbraban hacerle llegar).
El problema es que Trump disfruta el desorden; así dirigía su empresa, y no tolera que lo controlen. Le gustaba tener a sus favoritos entrando a su oficina cuando quisieran, y su credo gerencial era poner a la gente a competir entre sí. Y tampoco se molesta en controlar su temperamento en el trato con sus asistentes. Hasta Kelly, un ex general del Cuerpo de Marines, ha sido blanco de maltratos verbales. Los observadores ya hacen apuestas a cuánto aguanta antes de decir basta.
Nunca he visto una Casa Blanca donde incurrir en la ira del presidente sea tan peligroso. El último excomulgado fue Gary Cohn, expresidente y ex director de operaciones de Goldman Sachs y ahora jefe de asesores económicos de Trump. Su pecado fue revelar que tuvo intenciones de renunciar cuando, tras los hechos de violencia del mes pasado en Charlottesville, Trump igualó a los manifestantes supremacistas blancos y neonazis (muchos de ellos armados) con quienes se les oponían.
Está bien, uno puede tener cierta simpatía por un presidente cuando un auxiliar le juega a dos bandas, como Cohn al exhibir su aparente inquietud moral sin hacer nada al respecto. Pero que un presidente decida desestimar a su principal asesor económico es problemático. Cohn tiene fama de ser una de las voces más moderadas del gobierno, y pretendía suceder a Janet Yellen en la presidencia de la Reserva Federal de los Estados Unidos.
Las especulaciones sobre la posibilidad de un "nuevo Trump" llegaron a su apogeo a principios de septiembre, tras un acuerdo inesperado entre el presidente y los líderes demócratas en el Congreso. Trump acordó con los jefes de la minoría en la Cámara de Representantes, Nancy Pelosi, y en el Senado, Chuck Schumer, el modo de incrementar el límite de endeudamiento del gobierno federal (que el Congreso debe subir todos los años conforme aumenta el gasto) y prorrogar las asignaciones presupuestarias (porque el Congreso nunca tiene los proyectos de ley presupuestaria a tiempo). Ambos elementos iban de la mano con una asignación especial para financiar los trabajos de recuperación tras el huracán Harvey. (El huracán Irma fue peor pero todavía no había llegado.)
Durante la reunión con Pelosi y Schumer en la Oficina Oval, Trump interrumpió al secretario del Tesoro, Steve Mnuchin, cuando este defendía la posición de los republicanos: que la prórroga fuera por dieciocho meses, hasta después de las elecciones legislativas de 2018. Los demócratas querían que sólo fuera por tres meses, lo que exponía a los republicanos a una votación peligrosa antes de las elecciones.
Antes de la reunión, el presidente de la Cámara de Representantes, Paul Ryan, rechazó la propuesta de los demócratas terminantemente. Pero de buenas a primeras y sin dar aviso ni siquiera a sus propios asistentes, Trump la aceptó. El autor de El arte de la negociación se quedó con la oferta inicial de los demócratas.
Al ver lo sucedido, los comentaristas se pusieron como locos a buscarle interpretaciones: que Trump no es un republicano, sino un independiente; que fundará un tercer partido; que con su jugada, había iniciado un nuevo modo de gobernar.
Pero en realidad, lo único que pasó es que Trump vio una oportunidad y la aprovechó. No tenía ningún triunfo legislativo que mostrar y consideró que había que hacer "algo". Los líderes republicanos en el Congreso (Ryan y el jefe de la mayoría en el Senado, Mitch McConnell) venían hace algún tiempo caídos en desgracia con Trump, por no haber podido cumplir el programa legislativo del presidente, que estaba humillado y furioso porque no se pudo derogar y reemplazar la Ley de Atención Médica Accesible, Obamacare. (Pero no admitió sus propios aportes a la derrota.) Hay muchas cuestiones en las que Trump no tiene mayoría de gobierno en el Senado.
El alboroto que causó el alineamiento de Trump con los líderes demócratas impidió ver que el acuerdo de marras sólo afecta el calendario, pero no la sustancia, de la agenda legislativa. Y toda la discusión que se desató después, sobre las verdaderas creencias de Trump ("¿No será un criptodemócrata? Una vez donó dinero a candidatos demócratas, y simpatizaba con sus posturas, por ejemplo, en relación con el aborto"), dejó de lado el hecho fundamental: Trump no tiene una filosofía política, sólo es un oportunista ansioso de publicidad y aplauso.
Pero puede ser que estas conductas imprevisibles se reproduzcan. Por más que desprecie a los "medios deshonestos", le encantó la cobertura positiva que hizo la prensa de su jugada bipartidista, y es posible que quiera más.
Traducción: Esteban Flamini