Cuando todo se desmorona
LONDRES – En todo el mundo, hoy se percibe el final de una era; un profundo presagio de desintegración de sociedades antes estables. Como en los versos inmortales del gran poema de W. B. Yeats, "La segunda venida":
"Todo se desmorona; el centro cede;
Una total anarquía se abate sobre el mundo (…)
Los mejores no tienen convicción, los peores
Están llenos de fanática pasión (…)
¿Qué horrible bestia, llegada al fin su hora,
Subscribe to PS Digital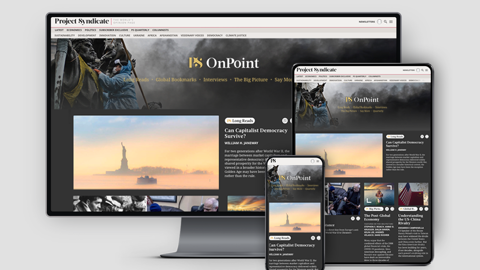 Subscribe to PS Digital
Access every new PS commentary, our entire On Point suite of subscriber-exclusive content – including Longer Reads, Insider Interviews, Big Picture/Big Question, and Say More – and the full PS archive.
Se arrastra hacia Belén para nacer?"
Yeats escribió estos versos en enero de 1919, dos meses después del fin de la Primera Guerra Mundial. Instintivamente, sintió que pronto la paz cedería lugar a horrores aun peores.
Casi 50 años después, en 1967, la ensayista estadounidense Joan Didion tituló Arrastrarse hacia Belén una colección de ensayos sobre las fracturas sociales de fines de los sesenta. En los doce meses que siguieron a la publicación del libro, Martin Luther King, Jr. y Robert Kennedy fueron asesinados; en los barrios bajos estadounidenses estallaron revueltas; y los estudiantes franceses salieron a las calles a protestar, dando inicio a la rebelión que un año más tarde pondría fin al gobierno del presidente Charles de Gaulle.
A mediados de los setenta, Estados Unidos había perdido la Guerra de Vietnam. Las Brigadas Rojas, el grupo radical estadounidense Weather Underground, el Ejército Republicano Irlandés y terroristas neofascistas italianos hacían atentados en todo Estados Unidos y Europa. Y el juicio político al presidente Richard Nixon había puesto en ridículo a la democracia occidental.
Pasaron otros 50 años, y el mundo es nuevamente asaltado por temores a que la democracia haya fracasado. ¿Podemos extraer alguna enseñanza de aquellos períodos anteriores de duda existencial?
En los años veinte y treinta, como a fines de los sesenta y en los setenta, y nuevamente ahora, la pérdida de fe en la política se relacionaba con la desilusión por el fracaso de un sistema económico. En el período de entreguerras, el capitalismo, acosado por desigualdades intolerables, deflación y desempleo a gran escala, parecía tener los días contados. En los sesenta y setenta, también pareció que se derrumbaba, pero esta vez por los motivos opuestos: la inflación y la reacción de contribuyentes e intereses empresariales contra las políticas estatistas redistributivas.
Señalar este patrón de crisis recurrentes no implica postular alguna ley natural por la que cada 50 o 60 años el capitalismo deba entrar en crisis terminal. Pero sí reconocer que el capitalismo democrático es un sistema cambiante, que responde a las crisis con una transformación radical de las relaciones económicas y de las instituciones políticas.
Así que en la turbulencia actual deberíamos ver una respuesta previsible al quiebre, en 2008, de un modelo específico del capitalismo global. A juzgar por la experiencia del pasado, es muy probable que nos espere una década o más de inestabilidad y reflexión, que en algún momento darán paso a una nueva decantación de la política y la economía.
Es lo que sucedió cuando Margaret Thatcher y Ronald Reagan ganaron las elecciones después de la gran inflación de principios de los setenta, y cuando de la Gran Depresión se pasó al New Deal estadounidense y a la "horrible bestia" del rearme europeo. Cada una de estas decantaciones que siguieron a una crisis fue acompañada por transformaciones en el pensamiento económico y en la política.
La Gran Depresión condujo a la revolución keynesiana en economía y al New Deal en política. Las crisis inflacionarias de los sesenta y setenta provocaron la contrarrevolución monetarista de Milton Friedman, que inspiró a Thatcher y Reagan.
De modo que era de preverse que la ruptura del capitalismo financiero desregulado provocaría un cuarto cambio cataclísmico (lo que en 2010 denominé "capitalismo 4.0") tanto en política cuanto en el pensamiento económico. Pero si el capitalismo global está realmente entrando a una nueva fase de su evolución, ¿cuáles son sus características probables?
Cada etapa sucesiva del capitalismo global estuvo signada por un corrimiento de la frontera entre la economía y la política. En el capitalismo clásico decimonónico, la política y la economía se idealizaban como esferas distintas; las interacciones entre el Estado y las empresas se limitaban al cobro (necesario) de impuestos para financiar aventuras militares y a la protección (nociva) de poderosos intereses creados.
En la segunda versión del capitalismo, la keynesiana, los mercados eran vistos con sospecha, mientras que se daba por sentado que la intervención estatal era correcta. En la tercera fase, dominada por Thatcher y Reagan, los supuestos se invirtieron: ahora por lo general era el Estado el que se equivocaba y el mercado el que siempre daba en la tecla. Lo que tal vez defina la cuarta fase será el reconocimiento de que tanto el Estado cuanto el mercado pueden equivocarse catastróficamente.
Reconocer semejante grado de falibilidad puede ser paralizante (algo de lo que sin duda el clima político actual es reflejo). Pero también puede ser liberador, ya que implica la posibilidad de hacer mejoras, tanto en economía cuanto en política.
Si el mundo es tan complejo e impredecible que ni los mercados ni los gobiernos pueden alcanzar los objetivos sociales, entonces se necesitan nuevos sistemas de controles y contrapesos que permitan a las decisiones políticas poner límites a los incentivos económicos y viceversa. Si el mundo se caracteriza por ser ambiguo e imprevisible, entonces hay que revisar las teorías económicas de antes de la crisis, que nos hablan de expectativas racionales, mercados eficientes y neutralidad monetaria.
Además, los políticos tendrán que reconsiderar gran parte de la superestructura ideológica que se erigió sobre los supuestos del fundamentalismo de mercado. Esto incluye no solo la desregulación financiera, sino también la independencia de los bancos centrales, la separación de las políticas fiscal y monetaria, y el supuesto de que la competencia de mercado sin intervención estatal es suficiente para lograr una distribución aceptable del ingreso, generar innovación, crear las infraestructuras necesarias y suministrar bienes públicos.
Es evidente que las nuevas tecnologías y la integración de miles de millones de nuevos trabajadores a los mercados globales han creado oportunidades que deberían implicar más prosperidad en las décadas venideras que antes de la crisis. Sin embargo, en todas partes los políticos "responsables" advierten a los ciudadanos de que la "nueva normalidad" es el estancamiento económico. No es raro que los votantes estén furiosos.
La gente considera que los gobernantes tienen potentes herramientas económicas que podrían mejorar los niveles de vida: emitir dinero y distribuirlo entre los ciudadanos; subir los salarios mínimos para reducir la desigualdad; aumentar la inversión pública en infraestructuras y en innovación (con costo nulo); usar la regulación bancaria para estimular el crédito en vez de restringirlo.
Pero para implementar políticas tan radicales habría que abandonar las teorías que han dominado la economía desde los ochenta, y con ellas los arreglos institucionales basados en ellas, como el Tratado de Maastricht en Europa. Pocas son aún las personas "responsables" que están dispuestas a poner en duda la ortodoxia económica anterior a la crisis.
El mensaje que transmiten las revueltas populistas actuales es que los políticos deben olvidar los manuales de antes de la crisis y alentar una revolución del pensamiento económico. Si los políticos responsables se niegan a hacerlo, alguna "horrible bestia, llegada al fin su hora" lo hará por ellos.
Traducción: Esteban Flamini