Der Mythos über Chinas erzwungene Technologietransfers
PEKING – Obwohl viele Beobachter in den entwickelten Ländern US-Präsident Donald Trumps Einsatz von so grobschlächtigen Instrumenten wie Zöllen gegenüber China ablehnen, glauben viele, dass er damit auf ein echtes Problem reagiert. China, so argumentieren sie, bediene sich tatsächlich unfairer Handelspraktiken. Aber stimmt das?
Eine der hauptsächlichen Beschwerden gegen China lautet, dass es sich auf "erzwungene Technologietransfers" (so die Bezeichnung der US-Regierung) stütze: Ausländische Unternehmen, die Zugriff zum chinesischen Markt anstreben, sind verpflichtet, ihr geistiges Eigentum an einen inländischen "Partner" zu übertragen. Doch suggeriert das Wort "erzwungen" ein Maß an Zwang, das wirtschaftlich keinen Sinn ergibt. Amerikanische und europäische Unternehmen müssen ja nicht in China investieren; wenn sie sich entscheiden, das zu tun, obwohl sie dann verpflichtet sind, ihre Technologie zu teilen, tun sie das, weil sie trotzdem erwarten, dabei Gewinn zu machen.
Die Verpflichtung zum Technologietransfer dürfte ausländischen Unternehmen helfen, bessere Geschäftsabschlüsse mit chinesischen Firmen zu erreichen, da diese bei ihrer Gesamtbewertung des Beitrags des ausländischen Investors zu einem Gemeinschaftsunternehmen den Wert der Technologie einbeziehen werden. Im Gegenzug bieten der örtliche Partner und die jeweilige Kommune, die begierig an mehr Wachstum interessiert sind, billiges Land, Infrastruktur, Steuerbefreiungen oder günstige Kredite.
Verkürzt gesagt: Der Preis der übertragenen Technologie ist bei allen ausländischen Direktinvestitionen (ADI) eingerechnet. Dies spiegelt sich in der anhaltend hohen Rentabilität von Unternehmen mit ausländischen Investoren wider.
Es ist nur natürlich, dass amerikanische und europäische Unternehmen bei Umfragen erklären, dass es ihnen besser ginge, wenn sie nicht "gezwungen" wären, ihre Technologie zu übertragen. Aber diese Aussagen setzen voraus, dass die Bedingungen, zu denen die ursprüngliche Investition getätigt wurde, ohne den Technologietransfer die gleichen wären, und das ist nicht der Fall.
Natürlich wäre, wenn kein Technologietransfer vorgeschrieben wäre, das effizienteste Investment in vielen Fällen ein Lizenzvertrag oder die Zahlung von Tantiemen. Aber das sollte nur eine sekundäre Überlegung sein, weil der Zeitwert der nicht erhaltenen Gebühren oder Tantiemen bei jedem derartigen Investment stillschweigend berücksichtigt wäre.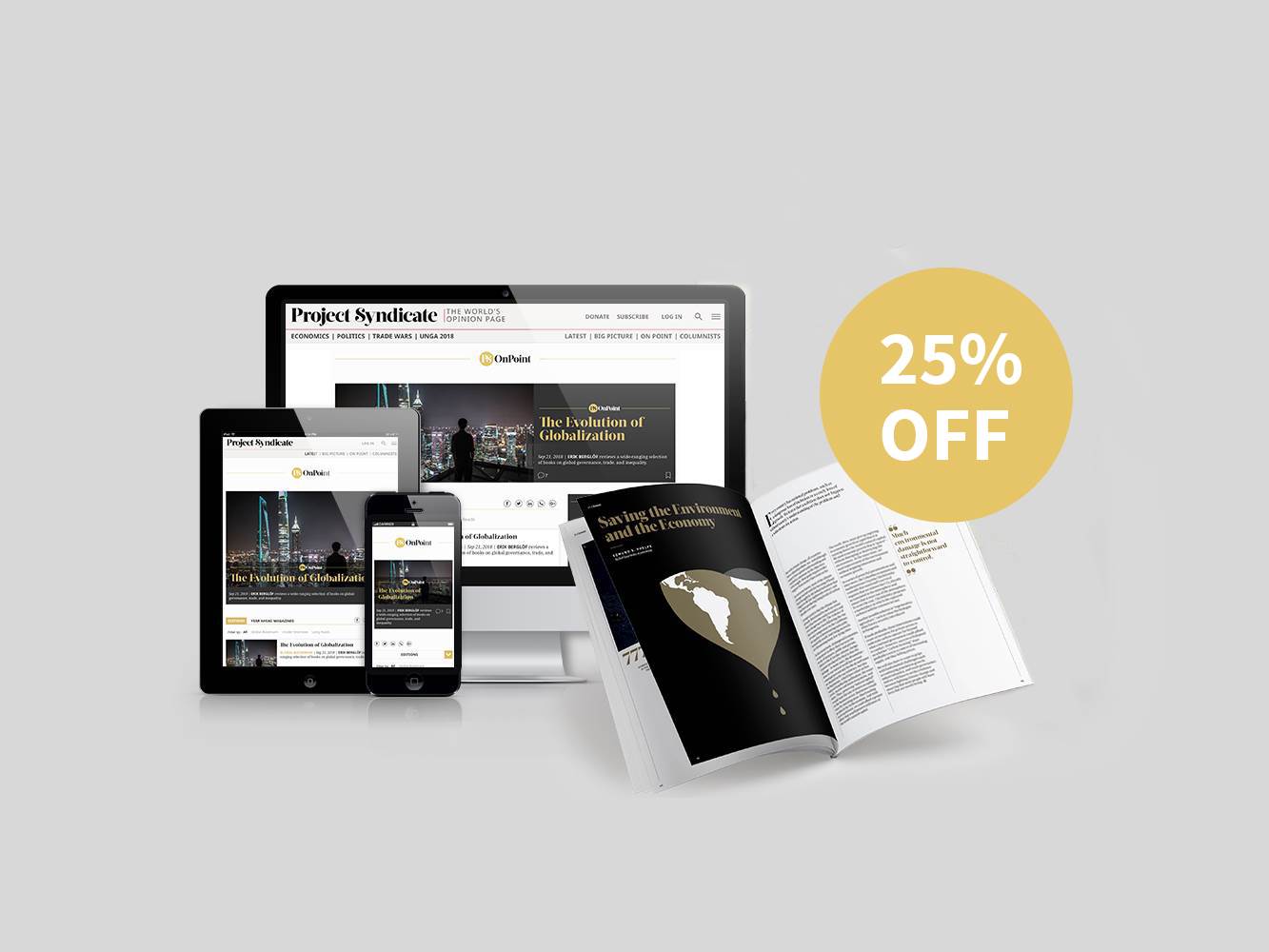 Subscribe now
For a limited time only, get unlimited access to On Point, The Big Picture, and the PS Archive, plus our annual magazine and a tote bag, for just $75.
Doch während die Kosten, die westlichen Unternehmen durch die vorgeschriebenen Technologietransfers entstehen, vermutlich weit übertrieben sind, gilt das Gleiche für die Vorteile, die diese Politik China bietet. Warum also bestehen die chinesischen Behörden darauf, Marktzugang und Technologietransfer miteinander zu koppeln?
Chinas wichtigstes offizielles Argument ist, dass, da es ein Entwicklungsland sei, die chinesischen Firmen gegenüber ausländischen Investoren im Nachteil seien, weil sie deren hochentwickelte Technologien nicht verstünden. Doch während dieses Argument in einigen weniger entwickelten Ländern, die es nutzen, um restriktive ADI-Regeln zu rechtfertigen, stichhaltig sein mag, haben Chinas technologische Fähigkeiten im Verlauf der letzten beiden Jahrzehnte eine explosionsartige Verbesserung erfahren.
Tatsächlich sind Chinas Ausgaben für Forschung und Entwicklung sowohl als Anteil vom BIP als auch absolut inzwischen höher als in Europa und vielen anderen OECD-Ländern. Angesichts der Tatsache, dass sich die Fähigkeiten des Landes zu eigener Forschung und Entwicklung – von der Technologieübernahme gar nicht zu reden – deutlich verbessert haben, besteht keine große Notwendigkeit, "in den Kinderschuhen steckende" chinesische Branchen zu schützen.
Es ist dieser Fortschritt, der die westlichen Unternehmen zu zunehmend lautstarken Beschwerden über "erzwungene" Technologietransfers veranlasst hat. In der Vergangenheit waren sie eher bereit, ihre Technologie zu übertragen, da sie davon ausgingen, dass ihre chinesischen Konkurrenten diese sowieso nicht anpassen und beherrschen könnten. Nun, da China mehr Hochschulabsolventen in den Natur- und Ingenieurswissenschaften hervorbringt als die USA und Europa zusammen, ist diese Annahme nicht länger haltbar.
Trotz des zunehmenden Widerstands gegen Technologietransfers jedoch zögern die chinesischen Behörden, ihre Politik aufzugeben, und zwar vermutlich aus demselben Grund, aus dem die USA wütend darüber sind: Sie überschätzen deren Auswirkungen. Sie erkennen nicht, dass die westlichen Unternehmen ihren chinesischen Partnern schlechtere Bedingungen anbieten, als sie das tun würden, wenn sie ihre Technologie behalten und stattdessen Lizenzvereinbarungen einsetzen könnten.
Doch diese anderen Formen von Technologietransfer werden bereits zunehmend häufiger: Die erfassten Tantiemen aus China sind steil in die Höhe geschossen und belaufen sich inzwischen auf beinahe 30 Milliarden Dollar jährlich. Da inzwischen nur noch die USA mehr für ausländische Technologie ausgeben als China, ist es klar, dass ein großer und wachsender Anteil der Technologietransfers nicht "erzwungen" ist.
Für Trump jedoch ist das möglicherweise gar nicht der Punkt. Was seiner Regierung wirklich Sorgen macht, ist, dass China die USA in Kürze überflügeln und seine technologische Führung in einer Anzahl von Sektoren etablieren könnte, die (auf beiden Seiten des Pazifiks) als für die nationale Sicherheit entscheidend angesehen werden. Doch China zu zwingen, seine Vorschriften für Technologietransfers abzuschaffen, wird dies nicht ändern.
Letztlich könnte das sogar in Chinas Interesse sein. Auf die USA und China entfällt ein großer Teil des Welthandels, aber die Weltwirtschaft dominieren tun sie nicht. Der bilaterale Handelskrieg wird von der Seite gewonnen werden, die die Unterstützung der neutralen Mächte (wie Europa und Japan) gewinnen kann, indem sie vernünftiger erscheint. Für China würde das bedeuten, alle Beschränkungen gegenüber ausländischem Eigentum abzuschaffen, einschließlich der Vorgabe, dass Technologie geteilt werden muss, statt lizensiert werden zu können.
Ein derartiger Schritt würde die Stärke der chinesischen Wirtschaft unterstreichen, ohne China auch nur annähernd so viel zu kosten, wie seine Führung oder die Politiker in den USA zu glauben scheinen. Und was vielleicht noch wichtiger ist: Sie würde die USA zwingen, entweder damit aufzuhören, verbal auf China einzuprügeln, oder zuzugeben, dass ihre zugrundeliegende Motivation nicht wirtschaftlicher Art ist, sondern auf geopolitischer Rivalität beruht.
Aus dem Englischen von Jan Doolan