MÉMO POUR LA BCE : NE PAS SUIVRE LA RÉSERVE FÉDÉRALE
Le dilemme actuel de la Réserve Fédérale américaine, qui la pousse à relever ses taux directeurs malgré le fait que l'économie américaine ait été mise à mal par l'ouragan Katrina, est porteur d'un message important pour la Banque Centrale Européenne (BCE).
Après une période prolongée de stabilité monétaire avec des taux directeurs extraordinairement bas, les conséquences d'une attente trop longue avant de relever les taux directeurs à des niveaux plus communs et appropriés sont dangereuses. La Réserve Fédérale, ayant baissé ses taux directeurs à des niveaux spectaculairement bas, en partie à cause de craintes déplacées envers l'inflation, a lancé le processus de normalisation des taux trop tard. Maintenant, elle doit continuer à relever ses taux même s'il est clair que l'économie américaine est peut-être en train de décliner, comme le montre la baisse de confiance des consommateurs américains. La BCE ne doit pas faire la même erreur.
Les signes avant-coureurs d'une inflation imminente font foison dans toute la zone euro. La croissance de la masse monétaire est bien supérieure aux niveaux cible depuis un certain temps, ce qui indique une liquidité excessive. L'inflation affichée pour octobre, à 2,5 %, est supérieure à la cible de 2 % de la BCE, tout comme le sont les récentes prévisions pour l'inflation en 2006 (les prévisions revues et corrigées seront publiées début décembre). Les prix de l'énergie qui montent en flèche menacent également de participer au processus d'inflation générale.
Pourquoi attendre ? Toute procrastination prolongée sur la normalisation des taux directeurs de la part de la BCE pourrait très bien mener à une méchante crise inflationniste. Cela serait catastrophique, particulièrement pour la reprise économique européenne. La BCE, dans de telles circonstances, n'aurait d'autre choix que de peser brutalement sur la pédale de frein monétaire.
Personne n'en a vraiment envie. Mieux vaut une augmentation de 50 points de base maintenant, permettant ainsi à la reprise économique de se poursuivre en maîtrisant l'inflation, qu'une augmentation trois ou quatre fois plus élevée que ce chiffre plus tard, ce qui pourrait anéantir la reprise sur sa lancée. « Mieux vaut prévenir que guérir » est un adage qui s'applique tout particulièrement aux questions de politique monétaire.
Si l'on en juge par le résultat de la réunion du mois de novembre du Conseil des gouverneurs de la BCE, cette « prévention » semble approcher à grands pas pour l'économie de la zone euro.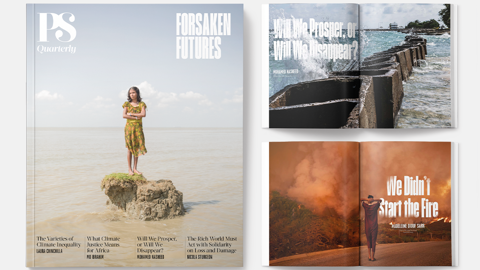 PS Quarterly: Forsaken Futures is here, and available exclusively to Premium subscribers.
Subscribe now to read all the magazine's content, including exclusive insights from Laura Chinchilla, Mohamed Nasheed, Nicola Sturgeon, Laurence Tubiana, and more.
Les avertissements de la BCE sur les risques de l'inflation se sont accélérés récemment, passant d'un « nous sommes particulièrement vigilants » en septembre à un « il faut rester fortement vigilant vis-à-vis des risques accrus envers la stabilité des prix » à la réunion d'octobre, à Athènes.
En outre, Jean-Claude Trichet, le président de la BCE, a récemment adopté un ton plus belliqueux à Athènes. Pour la première fois, il était prêt à déclarer publiquement que le Conseil des gouverneurs venait de discuter des avantages et désavantages d'une hausse des taux. Il semble avoir fait appel à une approche préemptive pour contrer les effets secondaires quand il déclara : « nous ne devons pas laisser les effets secondaires se matérialiser ».
Malgré cela, lors de sa dernière réunion de novembre, la BCE a continué de décrire les taux directeurs actuels comme « d'actualité », signalant ainsi que la banque n'a pas atteint le seuil requis pour prendre certaines mesures. Cependant, M. Trichet nous a avertis : « nous pouvons évidemment agir à tout moment. Nous ne faisons aucune promesse. » La BCE a au moins indiqué clairement à tout un chacun – hommes politiques, syndicats, marchés financiers – que sa longue période d'inactivité monétaire touche à sa fin.
Cette nouvelle ne ravit pas tout le monde. Les hommes politiques, notamment le président Jacques Chirac en France, le Premier ministre Silvio Berlusconi en Italie et un certain nombre de ministres des finances européens, continuent de faire pression pour conserver des taux d'intérêt fixes, et même plus bas encore. Il est facile pour les hommes politiques d'agir de manière irresponsable quand il s'agit de politique monétaire. Ce ne sont pas ceux que l'on rend responsable des poussées inflationnistes. Pas plus qu'ils ne seront chargés de forcer le mauvais génie inflationniste à regagner sa bouteille s'il s'en échappe.
Quelle importance qu'ils soient mécontents de la hausse des taux ? Le célèbre mot de Wim Duisenberg à l'égard des hommes politiques et des directeurs des banques centrales, « je les entends mais je ne les écoute pas », est toujours aussi pertinent aujourd'hui que le jour où il a prononcé ces paroles.
La BCE doit pourtant agir de sa propre manière, européenne et unique, et non pas suivre la Réserve Fédérale sur le chemin qu'elle a choisi pour sortir de son inactivité monétaire prolongée. Le Réserve Fédérale a constamment augmenté ses taux par incréments de 25 points de base lors de ses treize dernières réunions, et d'autres augmentations sont attendues, depuis qu'elle est sortie de sa période prolongée de faibles taux d'intérêt. Pour la BCE, une augmentation de 50 points de base pourrait suffire à ce stade, et les taux pourraient alors être mis en attente pendant quelque temps.
La Réserve a attendu trop longtemps avant de lancer le processus de normalisation, et, de ce fait, s'étant montrée plus agressive dans la baisse de ses taux lors la phase de baisse du cycle des taux d'intérêt, elle a dû se montrer plus agressive dans leur relèvement lors de la phase de hausse.
Ce n'est pas là le type de politique monétaire volatile que l'Europe veut, ni celui dont elle a besoin.
Melvyn Krauss est attaché supérieur de recherches à l'Institution Hoover, de l'université de Stanford.