La apuesta sanitaria de las grandes corporaciones de Estados Unidos
LUND, SUECIA – A fines de enero, Amazon, Berkshire Hathaway y JPMorgan Chase anunciaron planes de crear una compañía que ayudara a sus empleados en los Estados Unidos a acceder a una atención de salud "a precios razonables". Si bien los detalles siguen siendo escasos, el efecto potencial ya se conoce: con una fuerza laboral combinada de más de un millón de personas, la colaboración podría modernizar la organización y entrega de la sanidad en los EE.UU. y más allá.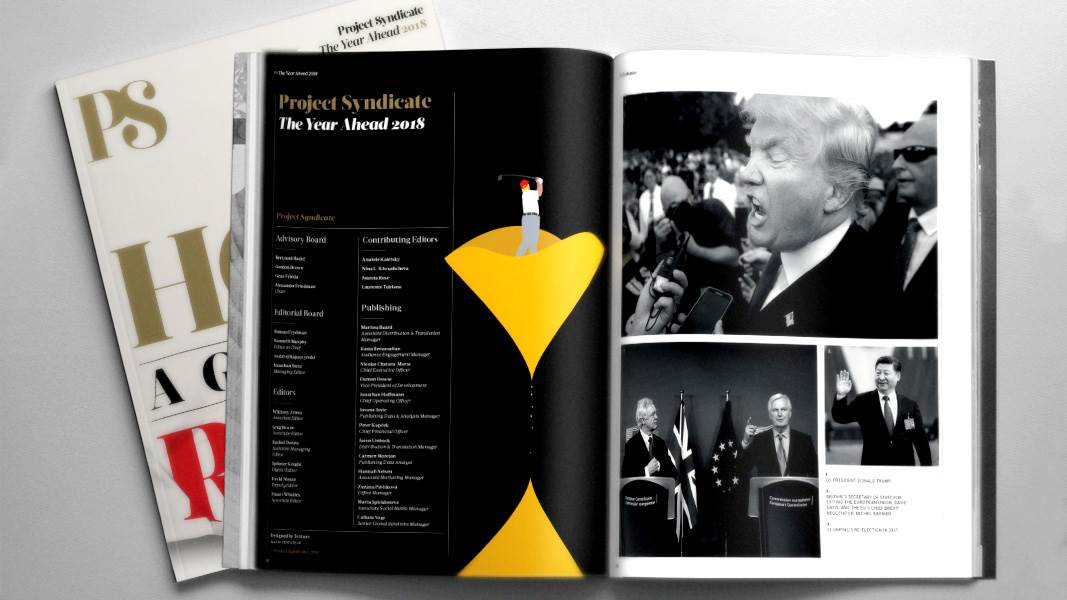 The Year Ahead 2018
The world's leading thinkers and policymakers examine what's come apart in the past year, and anticipate what will define the year ahead.
Al crear una empresa conjunta "libre de los incentivos y las limitaciones de la generación de utilidades", la iniciativa apunta a hacer algo notable: priorizar a los pacientes. De acuerdo a Warren Buffett, Director Ejecutivo de Berkshire Hathaway, el objetivo es poner las riendas a los crecientes costes de la atención de salud -una "hambrienta lombriz solitaria en la economía estadounidense", como lo expresara- y mejorar al mismo tiempo la satisfacción y los resultados de los pacientes.
Hoy en día, la mayor parte de la de la industria sanitaria estadounidense se orienta a obtener utilidades, lo que se refleja en casi todas las decisiones, desde qué medicamentos se desarrollan a quién obtiene un seguro de salud. En un país que destina cerca de un 18% de su PIB en atención de salud, pero que sin embargo está muy por detrás de otros países ricos en cuanto a resultados de salud, hay algo que claramente falta. Este es el ambiente disfuncional en el que intervienen los tres gigantes corporativos.
Los europeos están particularmente interesados en cómo evoluciona esta nueva relación de colaboración, incluso si solo representa un audaz impulso en la lucha por reducir los costes sanitarios. Las entidades reguladoras sanitarias de Europa a menudo dudan antes de implementar reformas estructurales. Aunque las autoridades de algunos países han explorado modelos de gestión innovadora, como la atención centrada en el paciente y la medicina basada en el valor, las estructuras básicas han sido las mismas por décadas. El tipo de remezón que se debate en EE.UU. da motivos de reflexión para todos.
Aun así, y a pesar de la promesa de la propuesta, siguen pendientes grandes interrogantes. La más importante es qué significa "coste razonable" y cómo se podría organizar un sistema para alcanzarlo. En una declaración anunciando la colaboración, Buffett fue sorprendentemente claro sobre lo poco desarrollada que estaba la idea. "Nuestro grupo no llega a este problema con respuestas", concedió, sino solo con la ambición en común de encontrarlas.
Tal vez yo pueda ayudar. Según mi investigación y experiencia, sugeriría que se debe asignar la más alta prioridad a tres objetivos para el éxito de la iniciativa.
El primero es mantener bajos los costes administrativos. En 2015, los países de la OCDE destinaron en promedio un 3,2% de sus gastos de atención de salud totales a administración y burocracia, mientras que en EE.UU. fue un increíble 8,3%. Si bien el sector sanitario requiere gastos generales de administración, las herramientas desactualizadas afectan la eficiencia en muchos países. Valdría la pena considerar reformas que mejoren la gestión de la información, como perfeccionar los sistemas de registro de pacientes.
Más aún, si el nuevo emprendimiento aporta aplicaciones de análisis de big data e inteligencia artificial al lado administrativo de la atención de salud, naturalmente bajará el gasto total y los menores precios se podrán trasladar a los pacientes y pagadores.
Segundo, un sistema con precios razonable se centra solo en la atención esencial. Los sistemas modernos entregan una gama de servicios, pero también por lo general ofrecen más de lo necesario. Por ejemplo, muchos sistemas en Europa están integrados al sistema de bienestar social, en un enfoque que eleva las expectativas sobre los servicios que se deberían entregar.
Al usar diferentes modelos de compras estratégicas y costes compartidos, y al ser más transparentes sobre los servicios que cubren, los usuarios pueden alinear sus expectativas con la realidad de manera más transparente. Todo nuevo sistema que elimine los cuidados que no sean necesarios y se centre en lo que el bienestar del paciente realmente requiera tendrá precios más razonables.
Finalmente, quienes ideen la compañía sanitaria de Amazon-Berkshire Hathaway-JPMorgan deben enfatizar la medicina preventiva. Hoy en día, las enfermedades letales más comunes (como las cardiovasculares y ciertos cánceres) se pueden prevenir; a medida que la tecnología avance, los doctores podrán diagnosticar y tratar estas enfermedades mucho más rápido.
No hay duda de que la medicina preventiva no está incorporada fácilmente a las estrategias de atención de salud, razón por la cual los países de la OCDE no gastan demasiado en ella. De hecho, muchos países destinan más presupuesto a la administración que a la prevención de enfermedades e iniciativas de bienestar. Pero es innegable que un diagnóstico temprano reduce los costes de tratamiento generales, y si los sistemas sanitarios futuros han de tener precios justos deben integrar la promoción sanitaria.
Más allá de en lo que acabe esta propuesta, el mero hecho de que las grandes corporaciones estadounidenses consideren este tipo de intervención resonará en todo el planeta. Incluso si el esfuerzo tiene un éxito parcial, es probable que el dinero que se ahorre estimule más innovaciones.
Traducido del inglés por David Meléndez Tormen