¿Por qué Latinoamérica se ha alejado de la izquierda?
SANTIAGO – En las elecciones del pasado noviembre en Chile, dominó la idea del voto antisistema. Una nueva coalición populista de izquierda, que sigue el modelo del partido español Podemos, recibió un quinto de los votos. Muchas figuras de renombre, entre ellas el presidente del Senado, perdieron sus escaños en el Congreso. Los expertos se apresuraron a describir un marcado giro hacia la izquierda.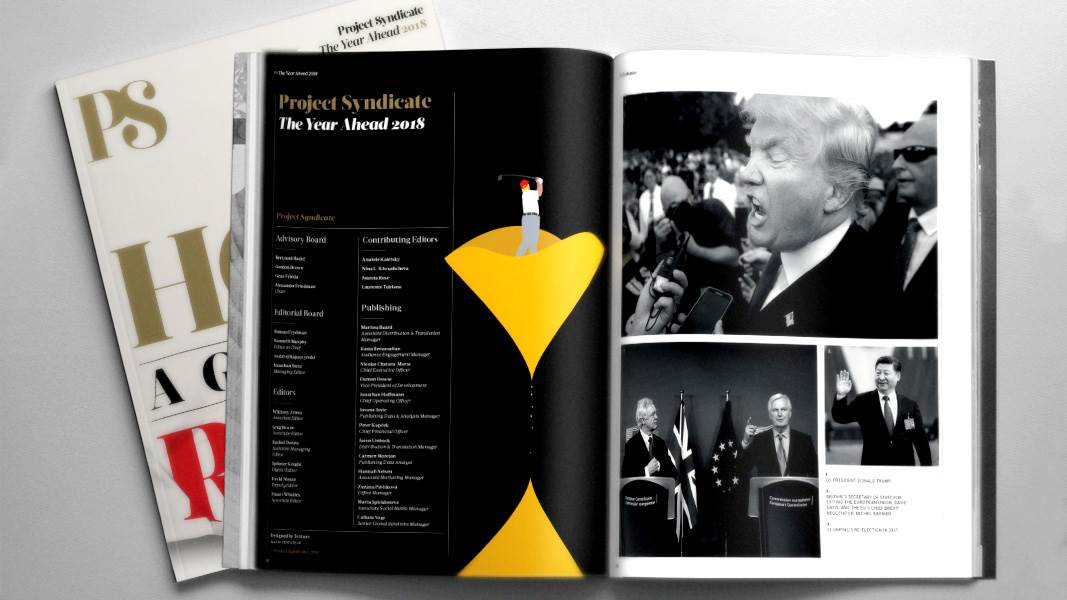 The Year Ahead 2018
The world's leading thinkers and policymakers examine what's come apart in the past year, and anticipate what will define the year ahead.
Sin embargo, en la segunda vuelta de la elección presidencial, realizada el 17 de diciembre, los chilenos nuevamente enviaron a La Moneda (el palacio presidencial) a Sebastián Piñera, un expresidente billonario y niño símbolo del establishment conservador del país. ¿Cómo fue posible esto? Y ¿qué revela esta paradoja acerca del estado de la política en Chile y en la región?
La narrativa estándar, típica de gran parte de la prensa internacional, es más o menos esta: puesto que América Latina tiene la distribución de ingresos más desigual del mundo, tiende a elegir reformadores de izquierda. Cuando estos mantienen su palabra y establecen generosas prestaciones sociales, los electores quedan encantados y se afanan por acudir a las urnas para mantener en el poder a la misma persona o partido.
Si el mundo funcionara de este modo tan simple, Michelle Bachelet, la presidenta socialista de Chile  –quien subió los impuestos a los ricos, aumentó las transferencias a los pobres, estableció la gratuidad de la educación universitaria y envió al Congreso un proyecto de ley destinado a incrementar las pensiones– hubiera podido seleccionar a dedo a su sucesor. Pero no fue así.
Hoy día, solo dos de cada cinco chilenos aprueban la forma en que ella realizó esas reformas. Su coalición de izquierda se fragmentó, los partidos tradicionales de ideas socialistas y socialdemócratas perdieron escaños en el Congreso, y su peor pesadilla se hizo realidad: una vez más deberá entregar la banda presidencial a su némesis, el conservador Piñera, como sucedió en 2010.
Chile no es único a este respecto. Los electores de Argentina y de Perú, ante alternativas populistas de derecha o de izquierda, recientemente optaron por empresarios exitosos (Mauricio Macri y Pedro Pablo Kuczynski, respectivamente). En Brasil, Dilma Rousseff fue destituida en lugar de ser derrotada en las urnas, pero el colapso en la popularidad de su Partido de los Trabajadores (PT) y el gobierno proempresa que ha seguido, caben claramente dentro de lo que parece ser una tendencia regional.
¿Cuál es la razón de este alejamiento de la izquierda populista o semipopulista en América Latina? La explicación común y corriente es la corrupción. Ciertamente en Argentina y Brasil no se entienden ciertos cambios políticos recientes sin conocer las inescrupulosas acciones de operativos peronistas o del PT. El mejor regalo que pudo recibir el gobierno de Macri fue un video de un exministro peronista tratando de ocultar millones de dólares y euros en un convento local.
Pero esta simple explicación no cabe en Chile. Es verdad que el hijo y la nuera de Bachelet estuvieron involucrados en transacciones turbias de bienes raíces. Pero Piñera no es ningún santo. En 2007, por ejemplo, el regulador de valores le impuso una multa por operar con información privilegiada –y este no ha sido su único encuentro con la justicia–. En muchos países, ello hubiera significado el fin de una carrera política.
Entonces, ¿por qué votaron por él los chilenos?
Una de las razones es que la izquierda de Bachelet hizo un mal diagnóstico de Chile. Cuando los estudiantes y luego otros grupos se volcaron a las calles en 2011, los intelectuales de izquierda interpretaron estas protestas como un rechazo total a lo que les gusta llamar "el modelo": una economía basada en el mercado y abierta al mundo, en la que el sector privado desempeña un importante papel en la prestación de servicios públicos como la salud, la educación y las pensiones.
El gobierno de Bachelet limitó la educación particular subvencionada, puso fin a la educación con fines de lucro, se negó a construir hospitales a través de concesiones público-privadas, y no permitió que empresas privadas administraran nuevos fondos de pensiones.
Algunas de estas medidas fueron populares, pero gran parte resultó políticamente contraproducente. A las familias de clase media que habían luchado por enviar a sus hijos a escuelas privadas (alrededor del 60% del estudiantado asiste a este tipo de instituciones), no les agradó lo que consideraron una intromisión indebida por parte del gobierno. Los pacientes que enfrentaban largas listas de espera para recibir tratamiento, lamentaron que no se construyeran ciertos nuevos hospitales.
Ciertamente, la conducta colusoria, la manipulación de precios y los abusos por parte de algunas empresas privadas, molestaron a la ciudadanía. Pero las protestas se realizaron para arreglar el sistema, no para destruirlo y reemplazarlo por otra cosa. Los votantes no querían revolución, sino evolución y ajuste.
Otro problema que debió enfrentar Bachelet fue la fuerte desaceleración de la economía, debida en parte al mal diseño de sus reformas tributaria y laboral (los bajos precios de los productos básicos entre el 2014 y 2016 también jugaron un papel). Para las sociedades de clase media de América Latina, los empleos buenos, con salarios buenos, son de importancia. Y no parece que la izquierda de la región, como los laboristas del Reino Unido en los años 1980, esté bien equipada para crearlos.
Piñera basó su campaña en la promesa de un crecimiento económico más rápido. Muchos proyectos estaban a la espera de las elecciones para concretarse, de modo que la inversión aumentará algo en 2018. Pero el aumento de la productividad en Chile, al igual que la diversificación de sus exportaciones, han sido insignificantes en los últimos veinte años. No está nada de claro qué piensa hacer Piñera al respecto.
En un país donde la generación actual tiene mucho mejor educación que la anterior, los electores han llegado a esperar un nivel mínimo de competencia de parte de sus líderes. Piñera es un orador mediocre (su discurso luego de la victoria fue tan tortuoso que hasta su señora e hijos cuchicheaban mientras lo pronunciaba); sin embargo, sus estudios de economía en la Universidad de Harvard quedan en evidencia en la forma en que maneja hechos y cifras. En contraste, Alejandro Guillier, su contendor en la segunda vuelta, demostró muy poca comprensión de incluso las cuestiones más básicas de política pública.  
En la primera vuelta, Piñera fue la opción de solo el 36 por ciento del electorado. Sin embargo, en la segunda, suficientes electores lo consideraron como el mal menor, y ganó con un cómodo margen de 9 puntos.
Piñera no contará con mayoría en el Congreso, y es probable que estudiantes y sindicatos regresen a las calles poco después de que él asuma el mando en marzo. Tiene la esperanza de ser como Macri, quien ha retenido su popularidad. Pero podría terminar como Michel Temer, el reemplazante de Rousseff, y Kuczynski, quienes perdieron el poco apoyo que tenían luego de solo unos meses de gobierno.
Pronto lo sabremos.
Traducido del inglés por Ana María Velasco