Wird Italien den illiberalen Rubikon überschreiten?
PARIS – Im Jahr 1841 vollendete der italienische Komponist Giuseppe Verdi seine gefeierte Oper Nabucco. "Va, pensiero," die berühmte Arie, die das Schicksal der Hebräer in der Wüste schildert, wurde später zum Schlachtruf italienischer Patrioten in ihrem Kampf um die Befreiung aus dem Kaisertum Österreich.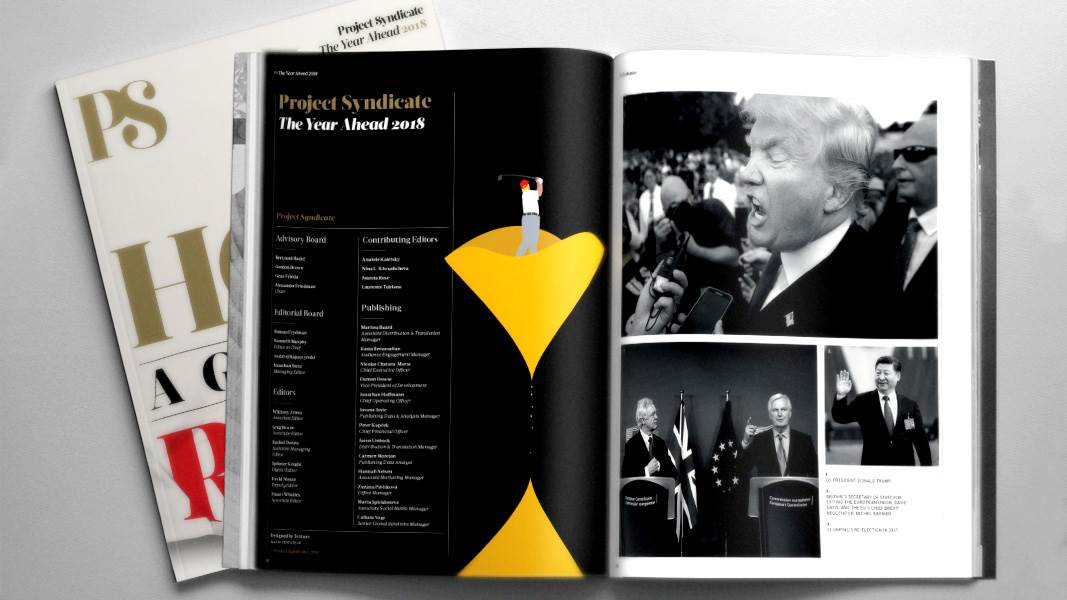 The Year Ahead 2018
The world's leading thinkers and policymakers examine what's come apart in the past year, and anticipate what will define the year ahead.
Anlässlich einer Vorstellung zum 150. Jahrestag der Uraufführung im Jahr 2011 am Teatro dell'Opera in Rom unter Dirigent Riccardo Muti wurde Nabucco in den Dienst der Demokratie gestellt. Der damalige Ministerpräsident Silvio Berlusconi war im Publikum anwesend und sah sich am nächsten Tag in der italienischen Presse mit Schlagzeilen konfrontiert wie: "Berlusconi von Verdi gestürzt." Genauer hätte es freilich geheißen, dass sich Berlusconi, der in diesem Jahr zum Rücktritt gezwungen wurde, aufgrund persönlicher Exzesse und finanzieller Korruption selbst stürzte.
Nun, da Italien auf eine entscheidende Parlamentswahl am 4. März zusteuert, sind derartige Verweise auf die Vergangenheit wieder sinnvoll. Doch während die Italiener im Jahr 1841 gegen Österreich mobilmachten, bewegen sie sich heute möglicherweise in Richtung eines "österreichischen Regierungsmodells" bestehend aus einer Koalition der Rechten mit der extremen Rechten. Und obwohl Berlusconi im Jahr 2011 in Ungnade fiel, spielt er mittlerweile die Rolle eines potentiellen Königsmachers. Mit 81 Jahren verkörpert er ein alterndes und zunehmend zynisches Italien. Manche Wähler kehren aus Überzeugung zu ihm zurück; andere, weil sie befürchten, die Alternativen seien noch schlimmer.
Gleichzeitig ist es fast unmöglich, das Wahlergebnis vorherzusagen, weil sich die Verfahren so komplex gestalten, dass selbst die bestinformierten Wähler Probleme haben, sie zu verstehen. Aufgrund eines neuen Wahlrechts werden rund 40 Prozent der Parlamentssitze durch Mehrheitswahlrecht vergeben und der Rest proportional zugeordnet.  
Obwohl also noch alles offen ist, kann man hinsichtlich dieser Wahl vernünftigerweise aber von zwei Dingen ausgehen. Erstens wird die Wahlbeteiligung gering sein, insbesondere unter den jungen Menschen. Wir schreiben nicht Mai 1968, als Studenten in ganz Italien auf die Straße gingen. Heute meiden junge Italiener das Wahllokal – obwohl man nicht ausschließen kann, dass sie letztlich wieder auf die Straße zurückkehren.
Zweitens wird Italien aus dieser Wahl nicht nur politisch und sozial, sondern auch geographisch gespalten hervorgehen. Die populistische Fünf-Sterne-Bewegung (M5S) ist vor allem im Süden stark, die rechtsextreme Lega Nord im Norden und die Venezianer träumen zunehmend von Autonomie oder gar von Unabhängigkeit.
Befürchtungen, Italien könnte in eine Zeit zurückfallen, als das Land nichts weiter als ein "geographischer Begriff" war, sind wahrscheinlich übertrieben. Allerdings könnte Italien in den kommenden Wochen sehr wohl den Titel "europäischer Patient" wiedergewinnen, insbesondere, wenn die Wahlen nicht zu klaren Mehrheitsverhältnissen oder einem Patt im Parlament führen. Russland würde ein derartiges Ergebnis begrüßen und hat wahrscheinlich schon alles in seiner Macht stehende getan, um eine derartige Situation herbeizuführen.
Eine Allianz österreichischer Prägung zwischen Berlusconis Forza Italia und Matteo Salvinis Lega Nord verheißt auch nichts Gutes, weil Italien dadurch die restlichen Gründungsmitglieder der Europäischen Union gegen sich aufbringen würde. 
In ähnlicher Weise wäre auch ein substanzieller Erfolg der M5S unerwünscht. Der Impuls, dem Status quo eine Absage zu erteilen, ist unter italienischen Wählern so stark, dass sie sich auch von dem Misserfolg der M5S, in Rom ordnungsgemäß zu regieren, nicht abschrecken lassen, wo die Partei im Juni 2016 das Bürgermeisteramt eroberte. Dennoch wird die M5S wahrscheinlich keine Parlamentsmehrheit erringen und sie versprach auch, nicht in Koalitionen mit anderen Parteien einzutreten.
Das einzige positive Szenario wäre also ein zwar unwahrscheinliches – aber nicht unmögliches – Bündnis zwischen der mitte-links angesiedelten Demokratischen Partei des ehemaligen Ministerpräsidenten Matteo Renzi und der Forza Italia. Eine Koalitionsregierung bestehend aus diesen zwei Parteien würde höchstwahrscheinlich auch dazu führen, dass Paolo Gentiloni, der angesehene aktuelle Ministerpräsident, im Amt bleibt.
Damit wären wahrscheinlich Frankreich und Deutschland ebenso zufrieden wie die Europäische Kommission. Das Hauptproblem dabei ist allerdings die Unbeliebtheit Renzis seit seinem Rücktritt als Ministerpräsident nach einem wagemutigen, aber erfolglosen Versuch im Dezember 2016, Verfassungsänderungen durch ein Referendum durchzusetzen.
Trotz der düsteren wirtschaftlichen, sozialen und politischen Situation Italiens – von den wachsenden Spannungen rund um die Migration aus Nordafrika ganz zu schweigen – bleiben die Finanzmärkte relativ gelassen. Die Anleger scheinen einen Sieg der M5S nicht zu fürchten und ebenso wenig zeigen sie sich besorgt darüber, dass Italiens Jugendarbeitslosigkeit knapp 33 Prozent beträgt oder dass das Wirtschaftswachstum unter dem EU-Durchschnitt liegt. Unterschätzen die Anleger die Gefahr, dass die drittgrößte Volkswirtschaft der EU in eine Abwärtsspirale aus Polarisierung und Lähmung geraten könnte?
Unabhängig vom Ergebnis dieser Wahl ist festzuhalten, dass sie weitreichende Folgen nicht nur für Italien und die EU, sondern für die Demokratie weltweit haben wird. Welches Italien werden wir nach dem 4. März sehen? Ein Italien, das sich mit dem französischen Präsidenten Emmanuel Macron zur Stärkung des europäischen Projekts zusammenschließt oder ein Italien, das sich den in Mitteleuropa um sich greifenden Populismus zu eigen macht? Ob es ihnen bewusst ist oder nicht: die italienischen Wähler treffen ihre Wahl nicht nur zwischen politischen Parteien, sondern auch – noch bedeutsamer – zwischen politischen Regimen. 
Aus dem Englischen von Helga Klinger-Groier