La fatiga democrática de Israel
JERUSALÉN – Si hay un país occidental que está sufriendo disfunción democrática, es Israel. Tras un nuevo fracaso de la dirigencia política del país para formar gobierno después de la última elección parlamentaria en septiembre, los votantes volverán a las urnas en marzo de 2020 por tercera vez en menos de un año. Pero con la intensidad y polarización de la política de Israel y la gran proporcionalidad de su sistema electoral, ¿qué puede esperarse de la próxima elección nacional excepto más parálisis?
El primer ministro de Israel, Binyamin Netanyahu, siempre se vio a sí mismo como un Winston Churchill israelí: el salvador supremo de un pueblo confrontado a la presunta amenaza de un nuevo Holocausto por parte de un Irán nuclearizado. Pero ahora, le gustaría más ser émulo del actual primer ministro británico Boris Johnson y obtener una clara mayoría parlamentaria con una combinación de mendacidad decidida por su parte y cansancio por parte del electorado.
Además, a Netanyahu todavía le quedan algunas cartas por jugar. Muchos votantes israelíes de ascendencia rusa sueñan con un "Putin israelí", un gobernante fuerte de temperamento autoritario, y es probable que "Bibi" sea el más indicado. Pero en lo profundo, una mayoría de los israelíes piensan que la era post-Netanyahu ya empezó, y que el primer ministro quiere permanecer en el poder tanto para evitar el riesgo de ir a prisión por presuntos delitos de corrupción como para salvar a su pueblo.
El instinto de conservación de Netanyahu también aumenta el riesgo de una escalada de tensiones con Irán, especialmente porque el régimen persa podría tener motivos propios para desviar la atención pública de sus problemas internos.
Es verdad que el Medio Oriente actual no se parece a la Europa de 1869 en vísperas del conflicto francoprusiano. No hay en Jerusalén o Teherán "partidos de la guerra" similares a los que había entonces en París y Berlín; es decir que la presencia de misiles de largo alcance (armados o no con ojivas nucleares) es una diferencia importante en este sentido. Aun así, las tensiones regionales pueden darle un bienvenido alivio a un régimen iraní que es cada vez más impopular tanto fronteras adentro cuanto en Irak y el Líbano, donde Irán ejerce considerable influencia. Y a Netanyahu no le molestaría un poco de tensión con Irán por Siria, si sirve para recordar a los votantes israelíes que aunque su principal rival Benny Gantz, líder del partido Azul y Blanco, haya sido comandante del ejército israelí, nadie puede competir con Bibi en materia de seguridad.
Israel no sólo es un ejemplo de la crisis actual de la democracia liberal, sino también un precursor que ve el mundo en términos del "G2", y enfrenta el importante desafío estratégico de equilibrar las relaciones con Estados Unidos y China.
Subscribe now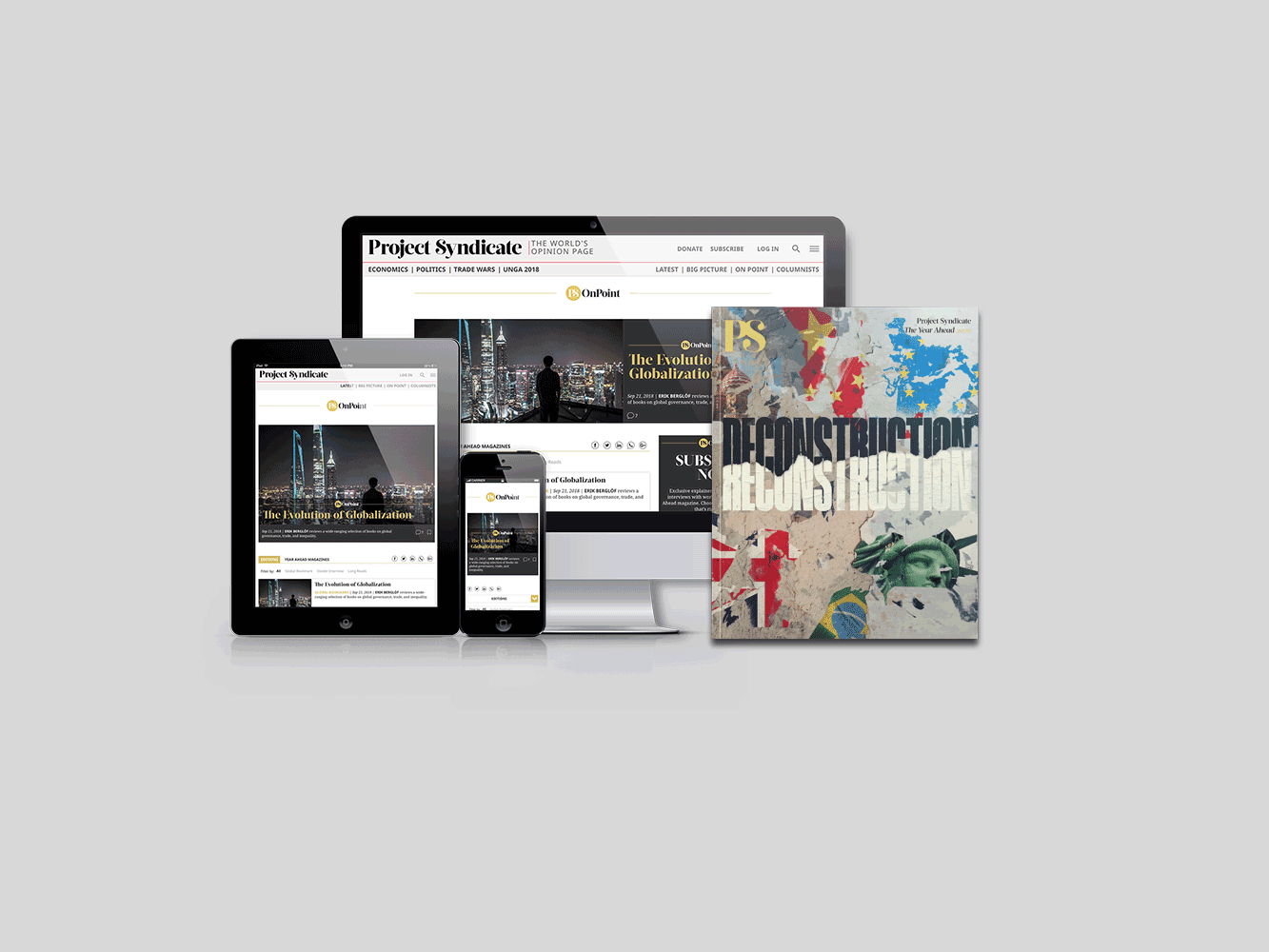 Subscribe now
Subscribe today and get unlimited access to OnPoint, the Big Picture, the PS archive of more than 14,000 commentaries, and our annual magazine, for less than $2 a week.
Está claro que la dirigencia israelí no quiere debilitar los viejos lazos del país con Washington, su aliado más importante. Pero el futuro del mundo, y por tanto de Israel, dependerá cada vez más de lo que suceda en Asia. De modo que siguiendo una estrategia en la que algunos ven oportunismo cínico y otros ven sabiduría, Israel ha adoptado una postura cada vez más abierta hacia China.
Los funcionarios israelíes necesitan convencer al gobierno estadounidense de que permitir que una empresa estatal china construya una nueva terminal portuaria en Haifa o adoptar la tecnología 5G china no son decisiones contra Estados Unidos. Apelan para ello al argumento de que siendo Israel un país tan pequeño, esos hechos no deberían ser motivo de gran preocupación para Washington. Pero las autoridades estadounidenses temen que si uno de los aliados más cercanos y fieles de Estados Unidos fortalece vínculos con China, entonces otros socios mucho más grandes con una relación no tan estrecha (en particular la Unión Europea) intentarán hacer lo mismo.
En Israel son muy conscientes de este dilema, pero están perdiéndole la confianza a Estados Unidos. Además de la total imprevisibilidad de la diplomacia estadounidense bajo el presidente Donald Trump, ahora el veneno del antisemitismo se está manifestando abiertamente en Estados Unidos. En 2019, murieron más judíos asesinados en ataques antisemitas en Estados Unidos que en Europa. Comunidades judías estadounidenses que antes recaudaban fondos para colaborar con la seguridad israelí ahora están cada vez más preocupadas por la propia.
Las dificultades democráticas de Israel y su acercamiento a China van de la mano. Es verdad que en comparación con Irán, Egipto o la Turquía actual, el país todavía puede presentarse como la única democracia de la región (al menos, mientras no hablemos de los palestinos que viven bajo la ocupación, aunque en esto, hay entre Israel y la mayoría de los regímenes árabes, o acaso todos, una especie de competencia a ver quién es más indiferente a sus padecimientos). Sin embargo, en Israel se está dando una evolución sutil que no es una mera variación de aquello de que "la democracia es buena, la seguridad es mejor". Si Estados Unidos e Israel avanzan al mismo tiempo hacia la "democracia iliberal", se hace más difícil decir que ambos países están unidos por una "geografía de valores".
Con China, todo es a la vez más sencillo y más complejo. Por un lado, la dirigencia china es totalmente cínica en relación con los derechos humanos. Por el otro, no es posible apelar con China a un sentido de culpa histórica como la de los europeos, ni hacer la clase de referencias bíblicas que generaban resonancias en presidentes estadounidenses como Harry Truman y Jimmy Carter.
El creciente ensimismamiento occidental obliga a Israel a reconsiderar cómo seguir siendo la vanguardia y primera línea de defensa de Occidente en Medio Oriente. Pero también podría ocurrir que en vez de eso, un día decida presentarse como la frontera de la modernidad asiática en la región y reemplazar la protección estadounidense con la de China. Aunque hoy es claramente prematuro para hablar de si Israel sería capaz de desligarse totalmente de sus valores, mañana puede ser otra historia.
La resistencia de la ciudadanía hongkonesa al dominio autoritario chino es (o debería ser) para los israelíes un recordatorio de las raíces democráticas de su país. Pero con la difundida fatiga electoral y los cambios en el equilibrio mundial de poder, todavía no es seguro por cuánto tiempo seguirán dominando los valores democráticos.
Traducción: Esteban Flamini