Los desafíos de la agenda post-pandemia
PARÍS – Existe una creciente posibilidad de que la crisis del COVID-19 marque el fin del modelo de crecimiento nacido hace cuatro décadas con la revolución Reagan-Thatcher, el abrazo del capitalismo por parte de China y la caída de la Unión Soviética. La pandemia ha resaltado la vulnerabilidad de las sociedades humanas y ha fortificado el respaldo de una acción climática urgente. Asimismo, ha fortalecido el poder de los gobiernos, ha erosionado el respaldo ya inestable de la globalización y ha originado una revaloración del valor social de las tareas rutinarias. El modelo de gobierno pequeño y mercado libre de repente parece terriblemente demodé.
La historia sugiere que las transiciones entre las fases de desarrollo capitalista pueden ser duras e inciertas. El modelo de crecimiento de posguerra cobró forma recién después de que el Plan Marshall catalizara su aparición. Y la transición de la estanflación de los años 1970 al modelo de crecimiento dominado por el mercado llevó una década. Muy probablemente, los próximos años serán muy difíciles.
El desafío no tiene que ver sólo con la incertidumbre. También tiene que ver con que el surgimiento de una nueva coherencia normalmente requiere que algo o alguien ceda. A fines de los años 1940, los especuladores europeos cedieron ante las fuerzas de la modernización. Y en los años 1980, la mano de obra organizada cedió ante el capitalismo financiero. Lo mismo es válido esta vez, porque la coherencia entre las prioridades emergentes es cualquier cosa menos obvia.
Empecemos por el cambio climático. Si bien la transición a una neutralidad de carbono probablemente sea la única manera de preservar nuestro bienestar, sin lugar a duda desestabilizará el estilo de vida de los hogares acostumbrados a conducir vehículos todoterreno o a depender de sistemas de calefacción pasados de moda.
El levantamiento de los Chalecos Amarillos en Francia recientemente brindó un crudo recordatorio de las consecuencias sociales de los impuestos al carbono. Si bien estos impuestos estaban mal diseñados y eran regresivos, el problema es mucho más profundo: como la transición verde implica reemplazar el capital "marrón" por capital "verde", exigirá una inversión adicional –en términos conservadores, de alrededor del 1% del PIB por año en las próximas décadas- en sistemas industriales, edificios y vehículos más eficientes. Si el consumo público y las exportaciones netas se mantienen constantes, esto se traducirá en una caída del consumo privado del 1% del PIB –o aproximadamente una caída del nivel del 2%
Luego viene una menor dependencia de los mercados globales para los suministros esenciales. Si bien la participación de China en la economía global ha sido disruptiva para los trabajadores, ha beneficiado enormemente a los consumidores. Como han demostrado Robert Feenstra de la Universidad de California en Davis y sus colegas, el ingreso de China a la Organización Mundial de Comercio en 2001 redujo los precios de fabricación de Estados Unidos un 1% por año –un alza del 0,3% en el poder adquisitivo-. Mediante una metodología diferente, Lionel Fontagné y Charlotte Emlinger de CEPII (París) han determinado que, en 2010, las importaciones de países de bajos salarios habían hecho que el hogar francés mediano fuera un 8% más rico. Ahora, el beneficio para los consumidores podría haber alcanzado el 10% en Europa y Estados Unidos.
Subscribe to Project Syndicate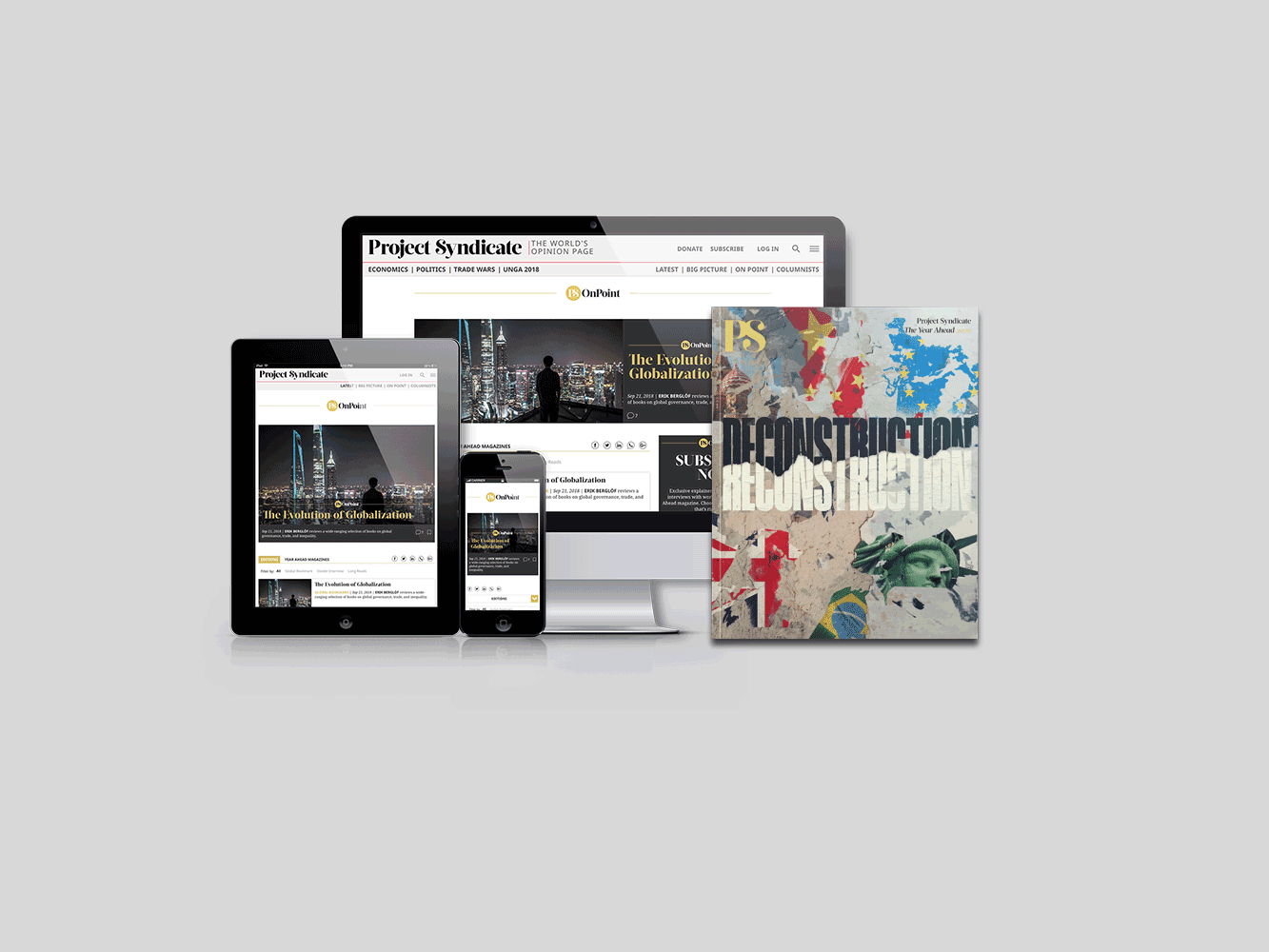 Subscribe to Project Syndicate
Enjoy unlimited access to the ideas and opinions of the world's leading thinkers, including weekly long reads, book reviews, and interviews; The Year Ahead annual print magazine; the complete PS archive; and more – all for less than $2 a week.
¿Cuánto costaría una mayor autonomía económica? Supongamos que implicaría renunciar a la cuarta parte de una ganancia del 8% a partir de la globalización. Esto recortaría el consumo real otro 2%.
Pero hay más: las proyecciones del Fondo Monetario Internacional y de la OCDE indican que, para 2021, el porcentaje del PIB de la deuda pública en las economías avanzadas habrá aumentado por lo menos 20 puntos porcentuales. En un contexto de tasas de interés cero, la mayoría de los países pueden afrontarlo, pero cuando la pandemia haya terminado, los gobiernos tendrán que empezar a reducir sus ratios de deuda para poder crear el espacio fiscal necesario para confrontar la potencial recurrencia de sacudidas disruptivas. Supongamos, nuevamente en términos conservadores, que la mitad del incremento se revierta en diez años a través de impuestos a los hogares. Esto implicaría otro recorte del 1% del PIB en ingresos y, en igualdad de circunstancias, otra caída del consumo del 2%. En total, esto reduciría el crecimiento del consumo anual de la década un 0,6%.
Sin embargo, no se espera que el ingreso real aumente mucho más. Como enfatizó recientemente un estudio integral del Banco Mundial, las ganancias de productividad anuales –el motor del crecimiento económico- se han frenado a nivel global desde la crisis financiera de 2008, con incrementos anuales por debajo del 1% por año en las economías avanzadas. La productividad estancada, si continúa, y si se la suma al envejecimiento demográfico, no dejará espacio para aumentar el consumo de los hogares en un período de diez años.
Sin embargo, la crisis de salud pública ha generado una renovada conciencia de la importancia de las tareas rutinarias que desarrollan muchos trabajadores. En la mayoría de las sociedades avanzadas, se cree –al menos por ahora- que el ingreso de esos trabajadores debería reflejar mejor su aporte al bien común. Sería extraño decirles que lo máximo a lo que pueden aspirar en la próxima década es a mantener su ingreso constante.
Así las cosas, ¿quién y qué cederá? Implícita o explícitamente, este debate probablemente domine las discusiones de políticas en los próximos años. Sin duda, personas como el presidente de Estados Unidos, Donald Trump, dirán que la soberanía y el crecimiento del consumo son más importantes que la preservación climática y la deuda. Quienes piensan diferente tendrán que encontrar una salida de lo que parece ser un conjunto incoherente de objetivos. 
Para eso, habrá que darle una máxima prioridad a la eficiencia. Esto implica fomentar la productividad, en lugar de soñar con un decrecimiento; enfatizar una estrategia económica para la transición verde, en lugar de desperdiciar recursos en inversiones de descarbonización mal elegidas; y definir precisamente qué conlleva la seguridad económica, en lugar de apuntar a repatriar la producción, para lo cual los países desarrollados no tienen ninguna ventaja comparativa.
Ahora bien, la eficiencia por sí misma no bastará para superar los desafíos que han surgido. Las nuevas metas –la preservación de los bienes públicos, la seguridad económica y la inclusión- necesitarán ocupar la escena central, relegando el valor para los accionistas a un segundo plano. Y en lugar de considerar el crecimiento como la máxima solución para la desigualdad, las economías avanzadas tendrán que enfrentar de lleno las cuestiones distributivas. Es de esperar que no tengan que enfrentar las convulsiones que suelen acompañar a los cambios estructurales y de políticas de esta magnitud.