Internationale Zusammenarbeit 2.0
OXFORD – Nach Jahrzehnten, in denen sie das Rückgrat einer regelbasierten Weltordnung bildeten, propagieren die Vereinigten Staaten unter Präsident Donald Trump nun lautstark ihre Agenda des "Amerika zuerst", im Rahmen derer ein eng gefasster Wirtschaftsnationalismus und das Misstrauen gegenüber internationalen Institutionen und Abkommen gepriesen werden. Doch es könnte eine neue Art internationaler Zusammenarbeit entstehen – die Trump außen vor lässt.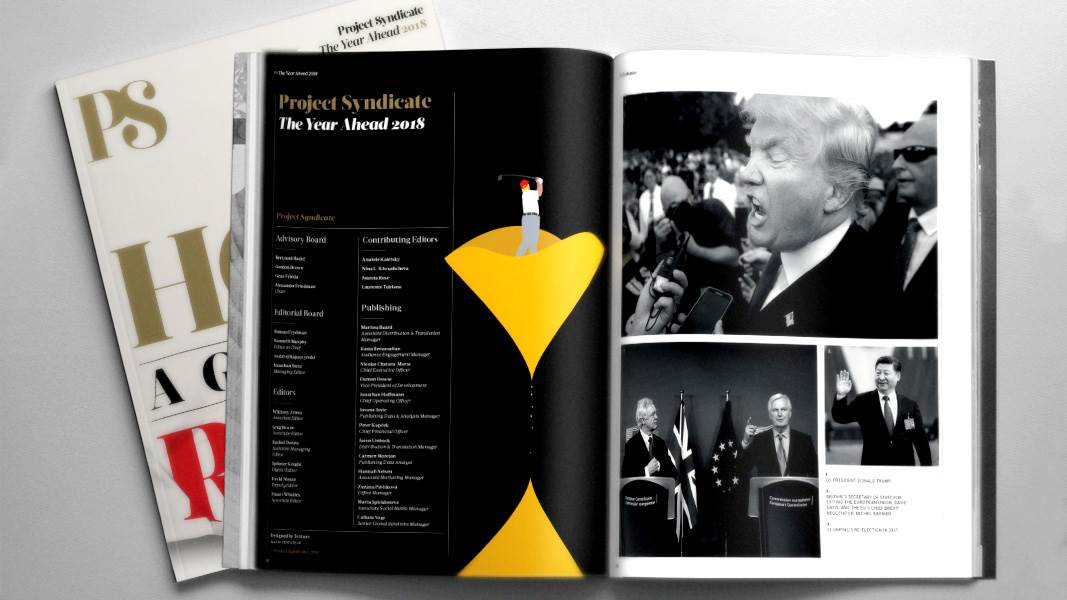 The Year Ahead 2018
The world's leading thinkers and policymakers examine what's come apart in the past year, and anticipate what will define the year ahead.
Da sich die Regierung Trump weiterhin von lange etablierte Strukturen der Zusammenarbeit distanziert, wird freilich die Gefahr für die globale Stabilität immer akuter. So äußerte sich beispielsweise US-Finanzminister Steven Mnuchin im letzten Monat anlässlich des jährlichen Treffens des Weltwirtschaftsforums in Davos positiv über einen schwächeren Dollar als eine Methode, den US-Handel anzukurbeln.
Das ist eine tollkühne Perspektive für ein Land, das auf die ausländische Nachfrage nach einem starken Dollar und Staatsanleihen zur Finanzierung seines rasch wachsenden Defizits angewiesen ist. Außerdem läuft es auf einen Verrat an dem seit langen bestehenden Bekenntnis der USA hinaus, ein regelbasiertes Währungssystem zu bewahren, das vor wettbewerbsbedingter Währungsabwertung abschreckt.
In der Außenpolitik unterstützt US-Außenminister Rex Tillerson in Zentral- und Südamerika die Wiederbelebung der Monroe-Doktrin – jener aus dem 19. Jahrhundert stammenden Erklärung der US-Vorherrschaft in der westlichen Hemisphäre, mit dem Ziel die europäische Konkurrenz fernzuhalten. Ziel ist es, Chinas wachsenden Einfluss in der Region einzudämmen. Tillersons Nostalgie für 1823 stieß südlich der amerikanischen Staatsgrenze allerdings auf wenig Gegenliebe, wo ein mexikanischer Kommentator  darauf verwies, dass die Monroe-Doktrin dazu diente, "die Interventionen der Gringos zu rechtfertigen" und wo man Chinas wachsendes Engagement als Gegengewicht zu den Vereinigten Staaten betrachtet.   
Überdies agiert die Trump-Administration mit einer neuen, aggressiveren Atompolitik. In der Bestandsaufnahme zur Atompolitik Nuclear Posture Review schlägt man vor, konventionelle Bedrohungen mit Atomschlägen zu beantworten und dabei neue Atomwaffen "geringer Wirkung" zu verwenden, wobei ein U-Boot einen Sprengsatz mit der Vernichtungskraft jener Bomben abfeuern würde, die im Jahr 1945 Hiroshima und Nagasaki zerstörten. Diese Politik – die laut Verteidigungsminister James Mattis darauf abzielt, die Gegner zu überzeugen, dass "sie durch den Einsatz von Atomwaffen nichts gewinnen, aber alles verlieren" – markiert praktisch das Ende der 40 Jahre währenden US-Führungsrolle bei der Verkleinerung der Atomarsenale und der Förderung der Nichtweiterverbreitung.   
Wenig überraschend verlieren andere Länder rasch das Vertrauen in die USA als stabilen Partner, von ihrer Rolle als verlässliche Führungsmacht ganz zu schweigen. Laut einer  Gallup-Umfrage fiel das Vertrauen in die Führung der USA in 134 Ländern von einem Medianwert von 48 Prozent im Jahr 2016 auf 30 Prozent im Jahr 2018, wobei dieser Wert in Kanada, Portugal, Belgien und Norwegen um 40 Punkte (oder noch mehr) abstürzte.  Unterdessen stieg die Ablehnung der USA als Führungsmacht um 15 Punkte auf einen Medianwert von 43 Prozent an – verglichen mit 36 Prozent für Russland, 30 Prozent für China und 25 Prozent für Deutschland. 
Angesichts des rückläufigen Vertrauens in Amerikas Führungskraft schwindet möglicherweise auch das Bekenntnis zur Zusammenarbeit der anderen Länder – Trends, die in einem wirtschaftlichen Abwärts-Wettlauf oder gar in gewalttätigen Konflikten gipfeln könnten. Schließlich ist es unwahrscheinlich, dass sich ein Land an die Regeln hält, wenn man nicht daran glaubt, dass dies auch die Gegner tun. Japan beispielsweise wird wohl eher von der Abwertung seines Wechselkurses absehen, wenn man zur Ansicht gelangt, dass auch die USA darauf verzichten.
Freilich könnten sich manche Erklärungen der Trump-Administration als bloße Schaumschlägerei entpuppen. Während der ersten Amtszeit von Präsident Ronald Reagan in den frühen 1980er Jahren stellte auch er das internationale Währungssystem infrage; fuhr einen härteren Kurs im Hinblick auf Lateinamerika; und äußerte seine Zweifel an der atomaren Abschreckung (er bevorzugte die Vorstellung atomarer Überlegenheit). Doch in seiner zweiten Amtszeit hatte sich Reagan mit der internationalen Zusammenarbeit angefreundet.
Zu dieser Zeit allerdings war die Führungsrolle der USA praktisch garantiert, befand sich doch die einzige andere globale Supermacht – die Sowjetunion – in sklerotischem Niedergang. Heute ist das nicht der Fall. Das heißt allerdings nicht, dass die internationale Zusammenarbeit zum Scheitern verurteilt ist.
In seinem 1984 erschienenen Buch After Hegemony argumentiert der amerikanische Wissenschaftler Robert Keohane, dass die internationale Zusammenarbeit auch ohne die globale Vorherrschaft der USA ihre Fortsetzung finden könne. Keohanes zentrale Erkenntnis bestand darin, dass es zur Schaffung von Institutionen wie dem Internationalen Währungsfonds, der Weltgesundheitsorganisation und selbst von Ad-hoc-Institutionen wie den G-20 möglicherweise einer klaren Führungsmacht bedarf, ihr operativer Betrieb jedoch möglicherweise ohne sie auskommt.   
Tatsächlich ist die Last der Führung dank derartiger Institutionen heute leichter. Wenn Regierungen von regelbasierten Systemen wie etwa dem Welthandelssystem profitieren möchten, wird ihnen das durch die bestehenden multilateralen Institutionen ermöglicht. Dadurch kann ein vielfältigeres Spektrum an Regierungen in unterschiedlichen Bereichen die Führung übernehmen.
Nachdem Trump im Januar 2017 angekündigt hatte, die USA würden sich aus der Transpazifischen Partnerschaft zurückziehen – jener ehrgeizigen, von den USA geführten Initiative zur Schaffung eines Handels- und Investitionsblocks bestehend aus 12 pazifischen Anrainerstaaten – glaubten viele, die Tage der TPP wären gezählt.  Doch ein Jahr später kündigten die verbliebenen 11 Länder an, dass sie auf Grundlage des so genannten Umfassenden und Fortschrittlichen Abkommens für TTP weitermachen werden.
Ebenso befürchteten viele Beobachter das Schlimmste, als Trump letzten Juni den Ausstieg der USA aus dem Pariser Klimaabkommen verkündete. Doch Ende letzten Jahres hatte jedes zweite Land dieser Welt das Abkommen unterzeichnet. Überdies gründeten 15 US-Bundesstaaten die US-Klima-Allianz, die sich zur Einhaltung der Klimaziele des Pariser Abkommens bekennen.
Und als Trump das von den USA angeführte Sicherheitsbündnis NATO öffentlich infrage stellte, spornte dies schließlich die Europäer an, ihre eigenen Sicherheitspläne voranzutreiben. Aus Angst kaltgestellt zu werden, haben die USA nun Einwände gegen diese Schritte erhoben. 
Das kommt nicht überraschend. Die Art der sich nun abzeichnenden internationalen Zusammenarbeit verspricht vielfältigere Sichtweisen und Interessen widerzuspiegeln, wobei die Länder ihre Strategien auf Grundlage einer Vielzahl internationaler Überlegungen anpassen und nicht nur die Präferenzen und Interessen der USA im Blick haben. Neben modernisierten globalen Institutionen entstehen dadurch möglicherweise auch neue kooperative Koalitionen. In den USA könnte die Trump-Administration feststellen, dass "Amerika zuerst" in Wirklichkeit "Amerika allein" heißt.  
Aus dem Englischen von Helga Klinger-Groier