Un mundo infeliz en Alemania
BERLÍN – El resultado de las elecciones federales alemanas del domingo fue inesperado y preocupante, al menos para los estándares del país. Los dos partidos principales, el Socialdemócrata (SPD) y la Unión Demócrata Cristiana (CDU), junto a su partido hermano bávaro, la Unión Social Cristiana (CSU), recibieron el castigo de las urnas después de haber gobernado durante los últimos cuatro años como una gran coalición liderada por la canciller Ángela Merkel.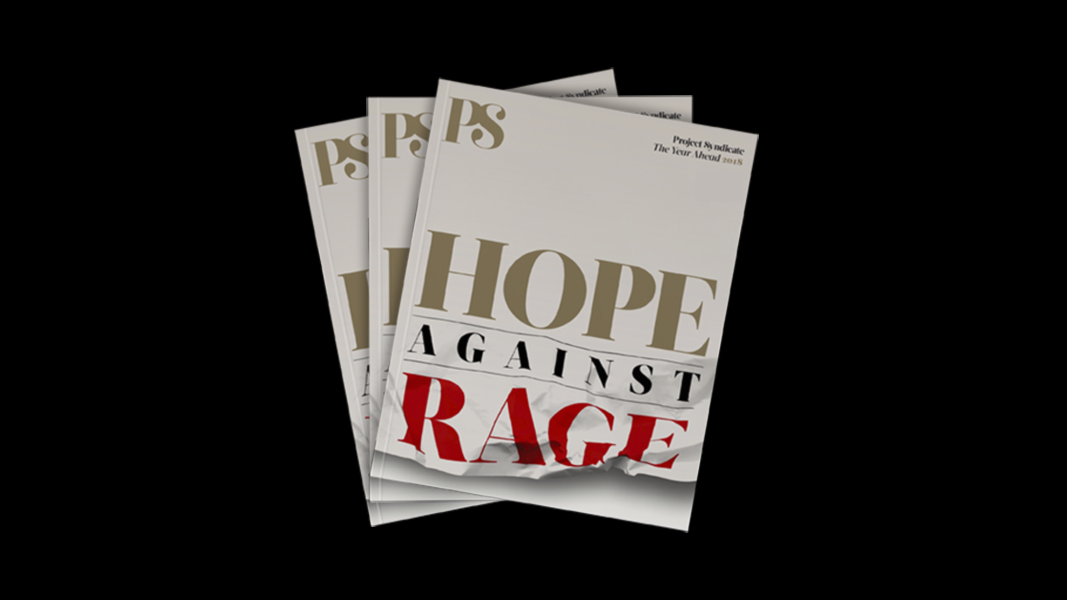 The Year Ahead 2018
The world's leading thinkers and policymakers examine what's come apart in the past year, and anticipate what will define the year ahead.
El SPD obtuvo su peor resultado en unas elecciones federales desde las primeras efectuadas en  la República Federal en 1949. De igual modo, la alianza CDU/CSU tuvo su segundo peor desempeño desde 1949, y la CSU sufrió la peor derrota electoral de su historia. Esto reviste especial importancia, dado que Baviera celebrará elecciones estatales el próximo año.
A fin de cuentas las elecciones resultaron ser una avalancha contra la gran coalición de Merkel y, en gran medida, pueden considerarse un voto de protesta contra ella. A nivel internacional se la valora como una estadista efectiva y como la garante de la estabilidad y la autoridad moral en Occidente. Pero claramente esto ya no ocurre en casa.
El mayor error de Merkel en estas elecciones fue ampararse en la misma estrategia defensiva que usó en las dos anteriores, en las que ganó rotundamente. Parece haber dado por sentado que evitar las controversias y mantener el silencio sobre las cuestiones fundamentales que afronta Europa volvería a funcionar. Esto demostró un error de juicio, teniendo en cuenta la crisis de los refugiados de 2015 y sus implicaciones para Alemania, por no hablar del ascenso de la extrema derecha con Alternativa para Alemania (AfD), que obtuvo alrededor del 13% de la votación.
Muchos alemanes han estado preguntándose sobre el futuro del país y de la identidad nacional alemana. Merkel no dio suficientes respuestas a estas reflexiones. Y mientras ella guardaba silencio, populistas como Alexander Gauland (vicepresidente del AfD) saturaron el espacio público con fuertes apelaciones a la nostalgia étnica y nacionalista.
En realidad, el gran ganador de estas elecciones fue el AfD, cuyos miembros incluyen a neonazis y otros extremistas. Su éxito es una desgracia para Alemania. La extrema derecha regresa al Bundestag después de 72 años, y lo hace como el tercer bloque más fuerte. Y ahora es el segundo mayor partido de los Länder (estados federales) que formaban parte de la antigua Alemania Oriental.
Alemania no es el único país europeo en el que la derecha populista ha logrado avances electorales en los últimos años. Pero, debido a su particular historia, en ningún lugar el resurgimiento de la extrema derecha resulta más desconcertante. Los partidos que aún defienden los valores democráticos deben tomarse en serio su responsabilidad de formar un nuevo gobierno para evitar que la derecha cause daños irreparables a la democracia alemana.
Es casi seguro que Merkel permanecerá como canciller en el próximo gobierno. A medida que los miembros de la CDU y la CSU debatan sobre ello en los próximos días, no encontrarán ninguna otra alternativa creíble o igualmente popular. Con o sin pérdidas electorales, no se puede deponer a la canciller sin contar con un sustituto convincente. Merkel tiene suerte: los cuchillos aún no han aparecido, e incluso si lo hacen, probablemente no harán correr sangre (al menos por ahora).
Otra consecuencia inesperada de las elecciones es que los líderes del SPD están discutiendo unirse a la oposición, como si participar en el gobierno fuera una maldición que deben evitar a toda costa. Esto hará que el proceso para formar el próximo gobierno resulte largo y arduo, lo que es inusual en la política alemana.
Con la negativa del SPD a participar en una gran coalición, la única opción matemáticamente viable que queda es una alianza "Jamaica" (llamada así por la bandera negra, amarilla y verde de este país), que comprende la CDU/CSU, el Partido Liberal y los Verdes. Pero no será tarea fácil: si bien no tendrán muchos problemas para llegar a los compromisos políticos necesarios, difieren notoriamente en mentalidad de gobierno y estilo de liderazgo.
Además, es muy probable que el calendario político interno prolongue las conversaciones de la coalición. Los líderes de los partidos se darán tono e intentarán mantener la credibilidad frente a sus electores, y no ocurrirá demasiado hasta después de las elecciones estatales en Baja Sajonia el 15 de octubre. E incluso entonces, no se formará un nuevo gobierno con rapidez.
Las únicas alternativas a la coalición Jamaica son un gobierno minoritario de la CDU/CSU o unas nuevas elecciones en la próxima primavera, lo que probablemente solo fortalecería la posición del AfD. Ambos desenlaces serían malos para Alemania, que ampliamente se percibe y cuenta como un ancla de estabilidad en Europa.
Lo anterior significa que el futuro de la democracia alemana y de la estabilidad europea dependerá de si prevalece la razón entre los restantes partidos más pequeños. Los partidos Jamaica tienen la responsabilidad de respaldar a Merkel y de comprometerse a formar gobierno cuando sea necesario. Esperamos que sus líderes sean lo suficientemente inteligentes como para trabajar juntos de buena fe, en lugar de limitarse a buscar una estrecha ventaja partidista. Pueden comenzar definiendo que los tres pilares de un nuevo tipo de coalición sean la seguridad, la reforma económica y la modernización ecológica y digital.
En cuanto a Merkel, no ser capaz capaz de formar un gobierno mayoritario estable probablemente marcaría el fin de su cancillería. En líneas más generales, podría abrir las puertas a un nuevo período de caos político. Nadie debería desearlo para Alemania ni para Europa.
Traducido del inglés por David Meléndez Tormen