Warum der neuerliche Überschwang der Finanzmärkte irrational ist
NEW YORK – Im vergangenen Mai und August erschütterten Eskalationen beim Handels- und Technologiekonflikt zwischen den USA und China die Aktienmärkte und drückten die Anleiherenditen auf historische Tiefststände. Doch das ist vorbei: Inzwischen herrscht an den Finanzmärkten einmal mehr überschwängliche Begeisterung. US- und sonstige Aktien streben neuen Höchstständen zu, und es ist sogar von einem potenziellen "Melt-up" der Aktienbewertungen die Rede. Die Aufregung an den Finanzmärkten gründet auf der Möglichkeit eines "Reflationshandels" und die Hoffnung, dass dem jüngsten globalen Abschwung ein sich beschleunigendes Wachstum und eine verfestigte Inflation (die den Gewinnen und risikobehaften Anlagewerten nutzt) in 2020 folgen werden.
Die plötzliche Wende von der Risikoscheu zur Risikobereitschaft spiegelt vier positive Entwicklungen wider. Erstens dürften die USA und China eine Teileinigung erreichen, die zumindest vorübergehend jede weitere Eskalation ihres Handels- und Technologiekrieges stoppen dürfte. Zweitens hat es der britische Premierminister Boris Johnson trotz der die am 12. Dezember stattfindenden Parlamentswahlen umgebenden Unsicherheit zumindest geschafft, eine provisorische Einigung mit der EU über einen "weichen Brexit" herbeizuführen, und die Chancen, dass das Vereinigte Königreich den Block ohne eine Vereinbarung verlässt, sind deutlich gesunken.
Drittens üben die USA angesichts iranischer Provokationen im Mittleren Osten bisher Zurückhaltung; Präsident Donald Trump hat erkannt, dass gezielte punktuelle Angriffe auf das Land zu einem ausgewachsenen Krieg und einem schwerwiegenden Anstieg der Ölpreise führen könnten. Und schließlich sind die US Federal Reserve, die Europäische Zentralbank und andere wichtige Notenbanken dem geopolitischen Gegenwind durch Lockerung der Geldpolitik zuvorgekommen. Und da die Notenbanken einmal mehr als Retter aufgetreten sind, werden selbst unbedeutende "grüne Triebe" – wie die Stabilisierung des US-Fertigungssektors und die Widerstandsfähigkeit des Wachstums im Dienstleistungsbereich und beim Konsum – als Vorboten einer neuerlichen globalen Expansion angesehen.
Doch deutet eine Menge darauf hin, dass in der Weltwirtschaft Einiges im Argen liegt. Zunächst einmal legen aktuelle Daten aus China, Deutschland und Japan nahe, dass der Abschwung weiterhin anhält, auch wenn sich sein Tempo inzwischen entschleunigt hat.
Zweitens könnten sich die USA und China zwar auf einen Waffenstillstand einigen; die fortdauernde Entkoppelung der beiden weltgrößten Volkswirtschaften wird sich jedoch nach den US-Wahlen im nächsten November fast mit Sicherheit wieder beschleunigen. Mittel- bis langfristig ist bestenfalls zu hoffen, dass sich der sich anbahnende Kalte Krieg nicht in einen heißen Krieg verwandelt.
Drittens hat China in Bezug auf den Volksaufstand in Hongkong zwar Zurückhaltung gezeigt; die Lage in der Stadt verschlimmert sich jedoch, was ein gewaltsames Durchgreifen in 2020 wahrscheinlicher macht. Eine militarisierte chinesische Reaktion könnte – neben anderen Faktoren – eine Handelsvereinbarung mit den USA vereiteln und die Finanzmärkte erschüttern, und sie könnte Taiwan in Richtung jener Kräfte drängen, die eine Unabhängigkeit unterstützen – eine rote Linie für Peking.
Subscribe now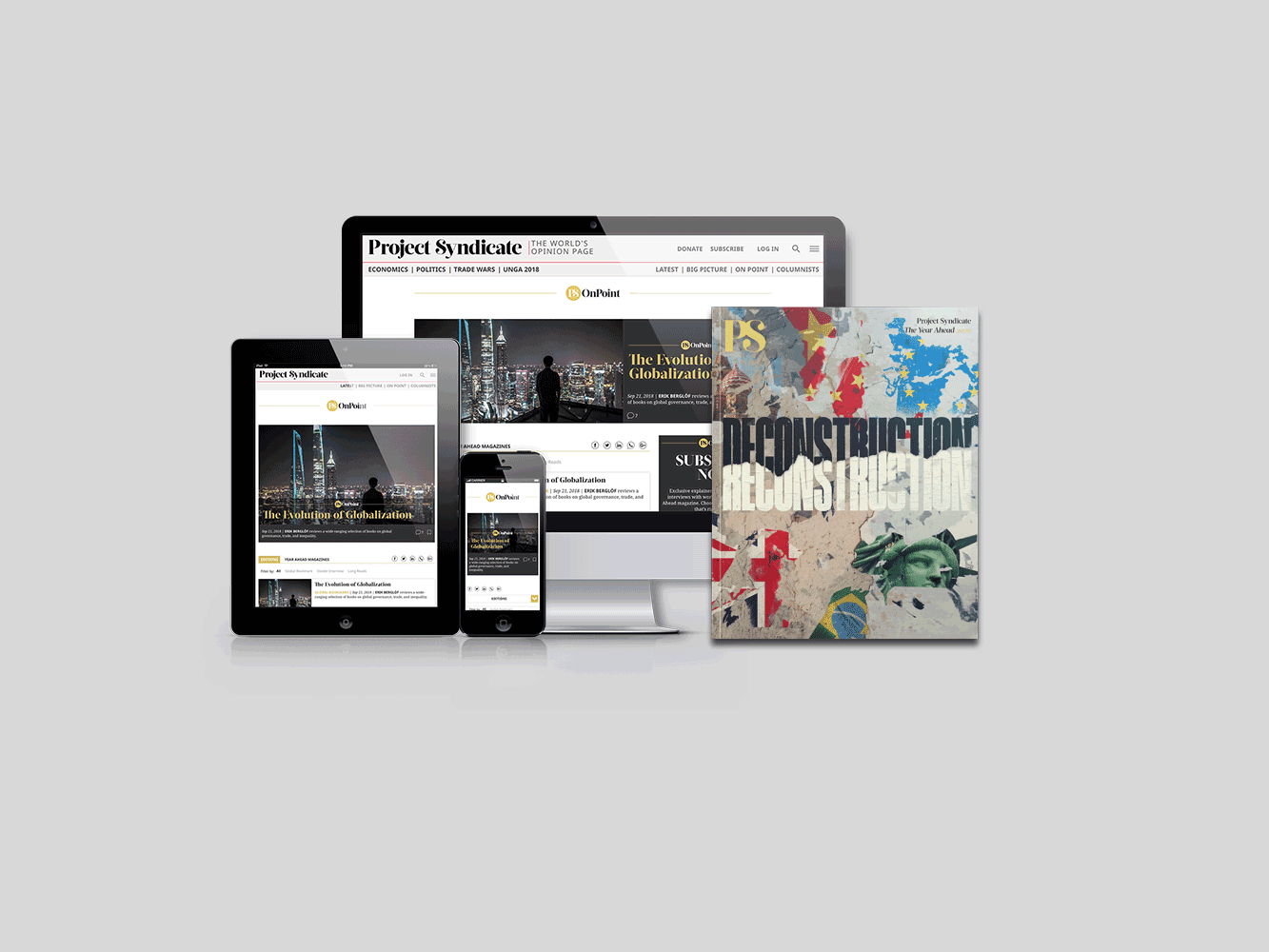 Subscribe now
Subscribe today and get unlimited access to OnPoint, the Big Picture, the PS archive of more than 14,000 commentaries, and our annual magazine, for less than $2 a week.
Viertens mag ein "harter Brexit" zwar vom Tisch sein, doch erlebt die Eurozone derzeit eine sich vertiefende Malaise, die nichts mit dem anstehenden Austritt des Vereinigten Königreichs zu tun hat. Deutschland und andere Länder mit Haushaltsspielräumen widersetzen sich weiterhin Forderungen nach Konjunkturimpulsen. Schlimmer noch ist, dass die neue Präsidentin der EZB Christine Lagarde höchstwahrscheinlich nicht in der Lage sein wird, deutlich mehr geldpolitische Impulse zu setzen, da ein Drittel des EZB-Rats bereits der derzeitigen Runde der Lockerung gegenüber negativ eingestellt ist.
Über die von einer alternden Bevölkerung, eine Abschwächung der chinesischen Nachfrage und den Kosten der Erfüllung neuer Emissionsstandards hinaus bleibt Europa zudem verletzlich gegenüber Trumps häufig wiederholter Drohung der Verhängung von Importzöllen auf deutsche und andere europäische Autos. Und die wichtigsten europäischen Volkswirtschaften – nicht zuletzt Deutschland, Spanien, Frankreich und Italien – erleben derzeit politische Auseinandersetzungen, die in wirtschaftliche Probleme münden könnten.
Fünftens wird das iranische Regime angesichts lähmender US-geführter Sanktionen keine andere Möglichkeit sehen, als die Instabilität in der Gesamtregion weiter anzuheizen, um die Kosten von Amerikas derzeitigem Ansatz in die Höhe zu treiben. Der Mittlere Osten steckt bereits im Chaos. Im Irak und im Libanon – einem Land, das praktisch bankrott ist und dem eine Währungs-, Staatsschulden- und Bankenkrise droht – sind massive Proteste ausgebrochen. Im aktuellen politischen Vakuum dort könnte sich die vom Iran unterstützte Hisbollah entscheiden, Israel anzugreifen. Der Einmarsch der Türkei in Syrien hat viele neue Risiken aufgeworfen, u. a. in Bezug auf die Öllieferungen aus dem irakischen Teil Kurdistans. Im jemenitischen Bürgerkrieg ist kein Ende in Sicht. Und Israel steht derzeit ohne Regierung da. Die Region ist ein Pulverfass; eine Explosion könnte einen Ölschock und eine neuerliche Phase der Risikoscheu auslösen.
Sechstens geraten die Notenbanken derzeit an die Grenzen dessen, was sie zur Stützung der Konjunktur tun können, und die Fiskalpolitik unterliegt weiterhin von der Politik und hohen Schulden ausgehenden Beschränkungen. Natürlich könnten die Notenbanker bei einem neuerlichen Abschwung auf eine sogar noch unkonventionellere Politik– die Monetisierung der Haushaltsdefizite – verfallen. Aber das werden sie nicht tun, bis die nächste Krise bereits schwerwiegende Ausmaße erreicht hat.
Siebtens verschlimmert sich vielerorts die populistische Gegenreaktion auf die Globalisierung, den Handel, die Migration und die technologische Entwicklung. In einem Abwärtswettlauf könnten zusätzliche Länder eine Politik zur Beschränkung des Waren- und Kapitalverkehrs, der Freizügigkeit von Arbeitskräften und der Weitergabe von Technologien und Daten verfolgen. Während die jüngsten Massenproteste in Bolivien, Chile, Ecuador, Ägypten, Frankreich, Spanien, Hongkong, Indonesien, dem Irak, dem Iran und dem Libanon eine Vielzahl unterschiedlicher Ursachen widerspiegeln, sind in all diesen Ländern wirtschaftliche Schwierigkeiten und eine Zunahme politischer Ressentiments über die Ungleichheit und andere Probleme zu verzeichnen.
Achtens könnten sich die USA unter Trump zur größten Quelle der Unsicherheit entwickeln. Trumps dem Motto "America First" folgende Außenhandelspolitik droht, die internationale Ordnung, die die USA und ihre Verbündeten nach dem Zweiten Weltkrieg ins Leben gerufen haben, zu zerstören. Einige in Europa – wie der französische Staatspräsident Emmanuel Macron – sorgen sich, dass die NATO inzwischen im Koma liegt, während die USA ihre asiatischen Verbündeten wie Japan und Südkorea eher provozieren als unterstützen. In den USA selbst wird das Amtsenthebungsverfahren zu noch mehr Stillstand und Konflikten zwischen den beiden Parteien führen, und einige Demokratische Präsidentschaftskandidaten verfolgen politische Programme, die die Finanzmärkte nervös machen.
Und schließlich könnten mittelfristige Trends zu noch größeren wirtschaftlichen Schäden und einer noch stärkeren Destabilisierung führen: Die gesellschaftliche Überalterung in den hochentwickelten Volkswirtschaften und den Schwellenmärkten wird das potenzielle Wachstum unweigerlich verringern, und Migrationsbeschränkungen werden das Problem verschlimmern. Der Klimawandel verursacht schon jetzt hohe wirtschaftliche Kosten, da Extremwetterereignisse an Häufigkeit, Virulenz und Zerstörungskraft zunehmen. Und während die technologische Innovation den wirtschaftlichen Kuchen langfristig vergrößern mag, werden künstliche Intelligenz und Automatisierung zunächst zu einer Destabilisierung von Arbeitsmarkt, Unternehmen und kompletten Branchen führen und das bereits jetzt hohe Maß an Ungleichheit noch verschärfen. Wenn irgendwann der nächste schwere Abschwung eintritt, werden die hohen und weiter steigenden privaten und öffentlichen Schulden sich als untragbar erweisen und eine Welle ungeordneter Zahlungsausfälle und Konkurse auslösen.
Die Abkoppelung zwischen den Finanzmärkten und der Realwirtschaft nimmt zu. Die Anleger konzentrieren sich frohgemut auf die Abschwächung einiger kurzfristiger Extremrisiken und auf die Rückkehr der Notenbanken zu einer lockeren Geldpolitik. Doch die grundlegenden Risiken für die Weltwirtschaft bleiben bestehen. Aus mittelfristiger Sicht verschlimmern sie sich sogar.
Aus dem Englischen von Jan Doolan