La nouvelle exubérance des marchés financiers est irrationnelle
NEW-YORK – A deux reprises, en mai et en août dernier, l'escalade du conflit commercial et technologique entre les USA et la Chine a ébranlé la Bourse et poussé le rendement des obligations à des niveaux historiquement bas. Mais la situation a changé depuis, car les marchés financiers ont recommencé à flamber. Les titres américains s'envolent, et ils ne sont pas les seuls - au point que selon certains observateurs, la Bourse pourrait battre des records. La frénésie qui s'est emparée des marchés financiers repose sur l'espoir que le récent ralentissement mondial soit suivi en 2020 d'une relance et d'un raffermissement de l'inflation basés sur la vente des actions et l'achat d'obligations (ce qui favorise les gains et les titres à risque). Ce soudain basculement de la recherche de la sécurité vers la prise de risques traduit une évolution positive sur quatre plans.
Tout d'abord, les USA et la Chine vont probablement parvenir à un premier accord qui permettrait de stopper au moins temporairement toute escalade de leur guerre commerciale et technologique. Deuxièmement, malgré les incertitudes qui entourent les élections du 12 décembre au Royaume-Uni, le Premier ministre Boris Johnson est parvenu à assurer au minimum une ébauche de Brexit en douceur. De ce fait, la probabilité de conséquences désastreuses pour son pays a beaucoup diminué.
Troisièmement, les USA ont fait preuve de retenue face aux provocations iraniennes au Moyen-Orient. Le président Trump a réalisé que des frappes chirurgicales contre l'Iran risquaient de dégénérer en un véritable conflit et d'entraîner une flambée du cours du pétrole. Enfin, la Réserve fédérale américaine, la Banque centrale européenne (BCE) et d'autres grandes banques centrales utilisent le relâchement monétaire pour lutter contre les difficultés géopolitiques. Les banques centrales intervenant à nouveau au secours de l'économie, un signe de reprise, aussi mineur soit-il (qu'il s'agisse de la stabilisation du secteur manufacturier américain, de la résilience du secteur des services ou de la croissance de la consommation), est considéré comme l'amorce d'une nouvelle phase d'expansion mondiale.
Néanmoins, nombre d'éléments laissent à penser que la santé de l'économie mondiale n'est pas très florissante :
- Les derniers chiffres concernant la Chine, l'Allemagne et le Japon montrent que même s'il est moins accentué, le ralentissement économique se prolonge encore.
- Même si les USA et la Chine font une trêve, le découplage des deux principales économies mondiales va sans aucun doute s'accélérer après l'élection présidentielle américaine de novembre 2020. Il reste à espérer qu'à court et moyen terme, la guerre froide qui s'annonce ne dégénère pas en un véritable conflit.
Subscribe now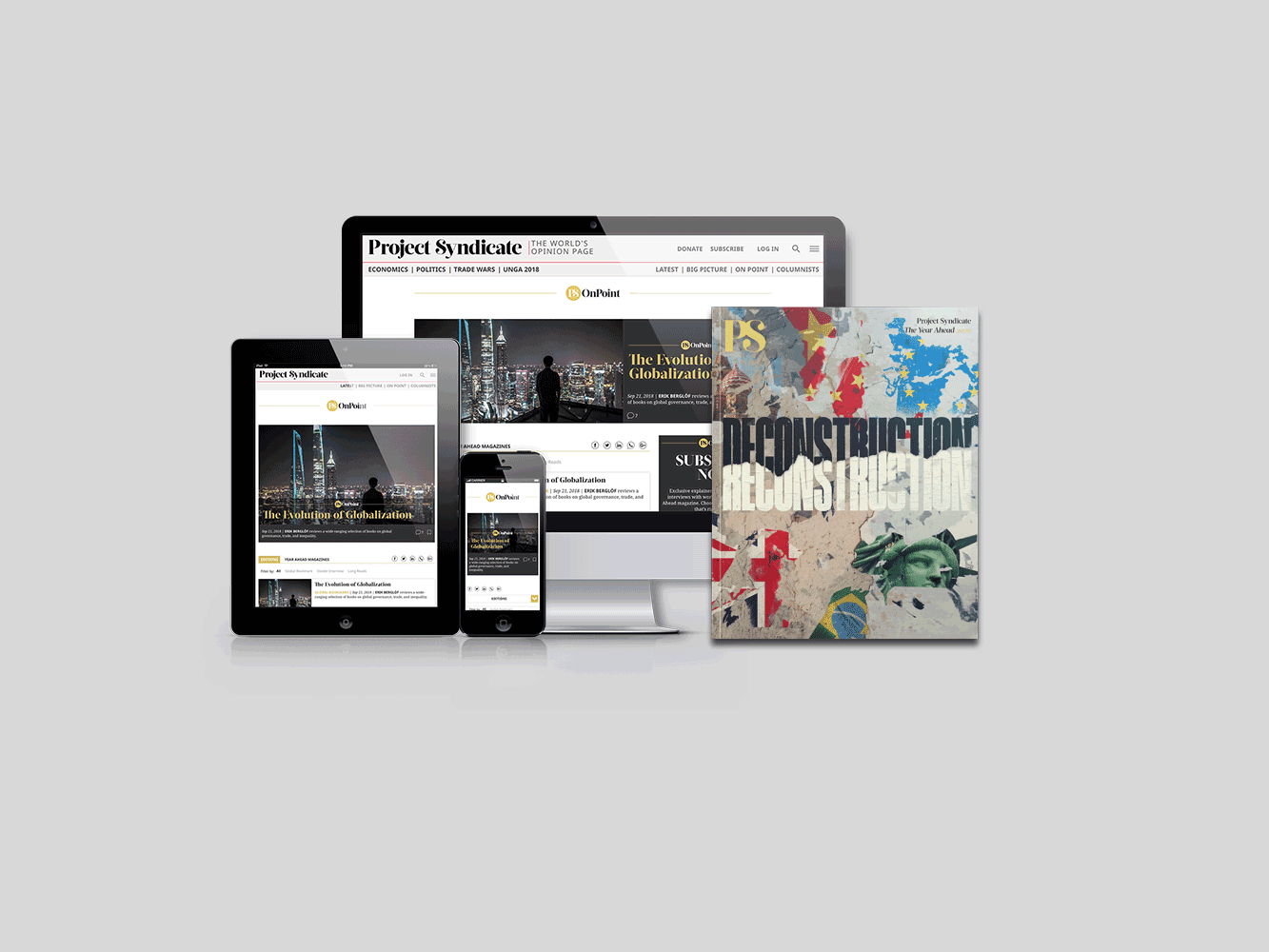 Subscribe now
Subscribe today and get unlimited access to OnPoint, the Big Picture, the PS archive of more than 14,000 commentaries, and our annual magazine, for less than $2 a week.
- La Chine a jusqu'à présent fait preuve de retenue face au soulèvement populaire qui a lieu à Hong Kong, mais la situation s'aggravant, elle pourrait intervenir en 2020. Entre autre, une réaction violente de la Chine pourrait bloquer tout accord commercial avec les USA et entraîner une crise sur les marchés financiers. Et il en serait de même si les USA encourageaient les forces favorables à l'indépendance de Taïwan – une ligne rouge pour Pékin.
- Bien que l'on parle beaucoup moins d'un Brexit sans accord, la zone euro est en proie à un malaise de plus en plus profond, sans lien avec le départ imminent du Royaume-Uni. L'Allemagne et d'autres pays en bonne santé budgétaire s'opposent toujours aux demandes de relance. Pire, un tiers des membres du Conseil des gouverneurs de la BCE s'opposant à la phase actuelle de relâchement monétaire, sa nouvelle présidente, Christine Lagarde, ne pourra probablement pas utiliser la politique monétaire comme outil de relance.
 Sans même considérer le vieillissement de sa population, le fléchissement de la demande chinoise et le coût du respect des nouvelles normes d'émission des gaz à effet de serre, l'Europe est très vulnérable face aux menaces répétées de Trump d'augmenter les taxes appliquées aux voitures importées d'Allemagne et d'autres pays européens. Les principales puissances économiques de l'UE (notamment l'Allemagne, l'Espagne, la France et l'Italie) connaissent des frictions politiques qui pourraient retentir sur leur économie.
- Les sanctions douloureuses prises par les USA contre l'Iran alimentant des troubles et des violences dans ce pays, son gouvernement n'aura d'autre choix que de continuer à déstabiliser toute la région pour faire payer aux USA le prix de leur stratégie. Le Moyen-Orient est déjà une région fortement troublée. Il y a des manifestations de masse en Irak et aussi au Liban qui se trouve en faillite et pourrait connaître une crise monétaire, une crise de sa dette souveraine et de ses banques. Dans le vide politique actuel, soutenu par l'Iran, le Hezbollah pourrait décider d'attaquer Israël. L'incursion de la Turquie en Syrie introduit de nouveaux risques, dont ceux liés à la fourniture du pétrole en provenance du Kurdistan irakien. Pour l'instant rien n'annonce la fin de la guerre civile au Yémen, et Israël se trouve sans gouvernement. La région est une véritable poudrière ; une étincelles pourrait déclancher une crise pétrolière et une nouvelle phase de refus de prise de risque.
- Les banques centrales atteignent les limites de ce qu'elles peuvent faire pour protéger l'économie, or la politique budgétaire reste soumise à des contraintes liées au surendettement et à la politique. En cas de nouveau ralentissement, les dirigeants politiques attendront sans doute qu'il se transforme en véritable crise avant de recourir à une mesure encore plus hétérodoxe : le déficit budgétaire monétisé.
- La réaction populiste contre la mondialisation, le commerce, les migrations et la technologie s'intensifie un peu partout. Dans une course au moins-disant, de plus en plus de pays pourraient restreindre la libre circulation des biens, des capitaux, de la main d'oeuvre, de la technologie et des données. Les récentes manifestations qui ont eu lieu en Bolivie, au Chili, en Equateur, en Egypte, en Espagne, à Hong Kong, en Indonésie, en Irak, en Iran et au Liban ont des causes différentes, mais on y trouve un facteur commun : des difficultés économiques et une colère de plus en plus vive suscitée notamment par les inégalités.
- Les USA deviennent la principale source d'incertitudes. La politique commerciale de Trump sous la devise de "L'Amérique avant tout" risque de démanteler l'ordre international que les USA et leurs alliés ont créé à l'issue de la Deuxième Guerre mondiale. En Europe, à l'image du président Emmanuel Macron, certains s'inquiètent du dépérissement de l'OTAN, tandis que les USA provoquent davantage qu'ils ne soutiennent leurs alliés asiatiques comme le Japon et la Corée du Sud. Sur le plan intérieur, le processus de destitution ne fera que renforcer l'impasse et l'affrontement bipartisan, tandis que le programme de certains candidats à l'investiture du parti démocrate pour la présidentielle rend les marchés financiers nerveux.
- Enfin, les tendances à moyen terme pourraient aggraver les difficultés économiques : le vieillissement de la population dans les pays avancés et certains pays émergents va réduire leur potentiel de croissance, tandis que les restrictions à l'immigration aggraveront la situation. Accompagné d'événements météorologiques extrêmes de plus en plus fréquents, intenses et destructeurs, le réchauffement climatique cause déjà des dégâts sur le plan économique. A long terme, l'innovation technologique pourrait accroître les bénéfices à partager, mais à court terme, l'intelligence artificielle et l'automatisation vont d'abord supprimer des emplois, perturber le fonctionnement des entreprises et de secteurs industriels tout entier et creuser encore les inégalités. Lors de la prochaine crise, l'endettement public et privé deviendra insoutenable, ce qui entraînera des défauts de paiement et des banqueroutes désordonnées.
La déconnexion entre les marchés financiers et l'économie réelle est de plus en plus marquée. Les investisseurs se réjouissent de la diminution de certains risques extrêmes à court terme et de la reprise des mesures de relâchement monétaire par les banques centrales. Mais l'économie mondiale reste confrontée aux mêmes risques fondamentaux ; et si l'on se place dans une perspective à moyen terme, ils s'aggravent.
Traduit de l'anglais par Patrice Horovitz