Die Fed sollte aufpassen, was sie sich wünscht
,
CAMBRIDGE – Die empirischen Beziehungen innerhalb der Wirtschaft sind derart fragil, dass es sogar ein "Gesetz" über ihr Scheitern gibt. Wie der britische Ökonom Charles Goodhart in den 1980er Jahren erklärte, "neigt jede statistische Regelmäßigkeit zum Zusammenbrechen, wenn zu Steuerungszwecken Druck auf sie ausgeübt wird". Die Notenbanken in den hochentwickelten Volkswirtschaften haben in letzter Zeit in ihrem Bemühen, ihre Versprechen zur Erhöhung der Inflation auf das stabile Plateau ihrer numerischen Ziele einzuhalten, einige weitere Fallstudien beigesteuert, die Goodharts Gesetz bestätigen.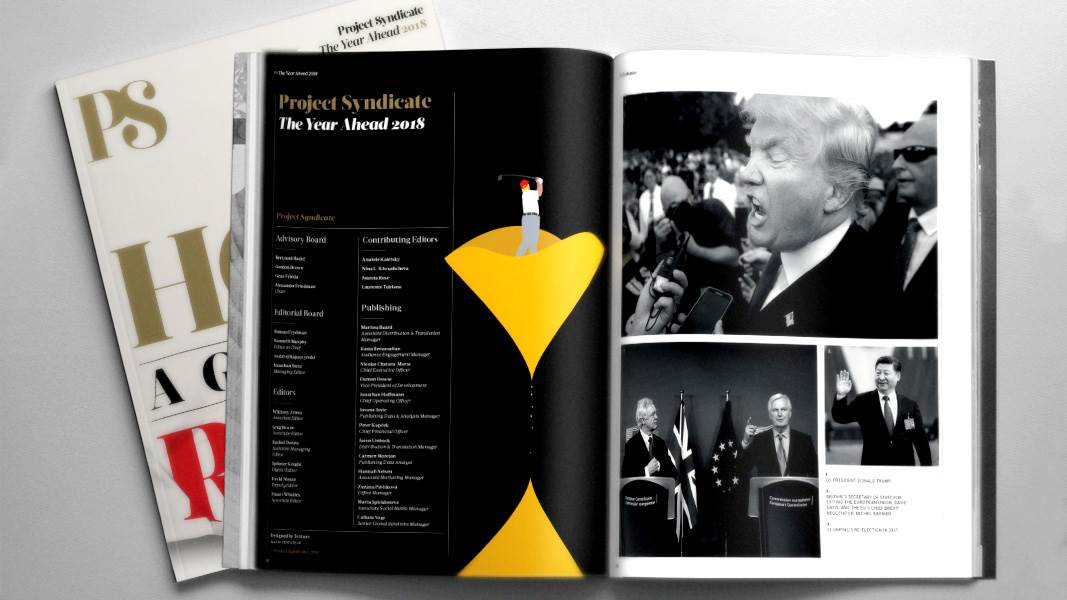 The Year Ahead 2018
The world's leading thinkers and policymakers examine what's come apart in the past year, and anticipate what will define the year ahead.
Die Fixierung der großen Notenbanken auf die Inflation lässt ein Schuldbewusstsein erkennen, die eigenen Ziele reihenweise verfehlt zu haben. Sie erhöht zudem das Risiko, dass die Notenbanken, indem sie die Gefechte der Vergangenheit führen, auf den nächsten Krieg schlecht vorbereitet sein werden: den Kampf gegen eine zu hohe Inflation.
Man betrachte etwa die US Federal Reserve, die Anfang 2012 das ihr durch den Kongress erteilte Mandat der "Förderung maximaler Beschäftigung, stabiler Preise und moderater langfristiger Zinssätze" quantifizierte. Diese Ziele, so die Notenbank, seien am besten zu erreichen, indem man die Inflation, gemessen am von der Fed bevorzugten Preisindex für den privaten Konsum, langfristig bei 2% hielte. Seitdem lag das Wachstum über vier Quartale in diesem Index mit einer Ausnahme in jedem Quartal unter dieser Marke, und die Inflationsprognosen der Fed lagen kontinuierlich falsch. Goodharts Gesetz hat immer noch Zähne.
Die Lösung der Fed für dieses Versagen bestand, wie die anderer Notenbanken auch, darin, mehr über das Thema zu reden. Das Protokoll der Januar-Sitzung des Offenmarktausschusses der Fed (FOMC) lässt eine umfassende Diskussion zwischen den Entscheidungsträgern darüber erkennen, wie man die US-Inflation messen solle. Mehr als tausend Wörter (enorm viel für ein normalerweise knappes Dokument) waren nötig, um drei separate Informationsveranstaltungen für die Mitarbeiter zum Thema zusammenzufassen. Die Leser erfuhren von alternativen Ansätzen bei der Erstellung von Inflationsprognosen, von den vorherrschenden niedrigen Inflationserwartungen und dem verringerten Druck, den der Ressourcenüberschuss auf die Kosten ausübt (und der damit einhergehenden geringeren Verlässlichkeit der Phillipskurve). Die Vertreter der Fed rangen die Hände über die verpassten Zielvorgaben und bestätigten erneut ihr Bekenntnis zu einem längerfristigen symmetrischen Ziel von 2% Inflation.
Die Zusammenfassung könnte ganz nebenbei einen Teil dessen aufgezeigt haben, was die Fed falsch macht. Die Beschreibung ihrer Anstrengungen zur Bestimmung der Inflation, mit ihrem scheuklappenartigen Fokus auf die Binnenwirtschaft, ist ein Rückfall in die 1960er Jahre. Nirgend in diesen tausend Wörtern waren die Formulierungen "Handelspartner", "Wechselkurs des Dollars", "Rohstoffpreise" oder "globale Lieferketten" zu finden. Doch die übrige Weltwirtschaft existiert, und sie ist größer als früher und agiert weniger wie die USA als früher. All dies impliziert Kostendisziplin bei einer lahmenden Konjunktur und einen potenziellen Brandbeschleuniger bei einer überhitzten Konjunktur.
Was die erste Beobachtung angeht, so belaufen sich die Gesamtexporte und -importe von Waren und Dienstleistungen im Verhältnis zum nominalen BIP (der gängigen internationalen Messgröße für die Offenheit des Handels) derzeit auf fast 30%. Dies ist mehr als dreimal so viel wie der Durchschnitt in den 40 Jahren vor dem Auseinanderbrechen des gesteuerten Systems fester Wechselkurse, als die Phillipskurve belastbarere Ergebnisse lieferte. Die übrige Welt existiert.
Zweitens bleibt die US-Volkswirtschaft bei Anlage der meisten Messgrößen zwar die größte weltweit, mit fast einem Viertel des globalen BIP, doch liegt dieser Anteil zehn Prozentpunkte niedriger als in den 1960er Jahren, als die US-Fabriken den meisten Stahl und die meisten Autos und Flugzeuge auf der Welt produzierten. Niedrige Transport- und Kommunikationskosten und ein freierer Handel haben die Märkte enger miteinander verwoben, was impliziert, dass dieser relative Rückgang des US-Anteils an der Weltwirtschaft die Verbindung zwischen inländischen Kapazitätsbeschränkungen und internationalen Preisen lockert. Die übrige Welt ist größer.
Drittens handelten die USA zu Beginn der Post-Bretton-Woods-Ära überwiegend mit der "Alten Welt" Europas, mit Kanada und mit Japan. Basierend auf bilateralen Handelsanteilen haben die Transaktionen mit asiatischen und lateinamerikanischen Volkswirtschaften 2006 gleichgezogen; die relative Bedeutung dieser Volkswirtschaften im Bereich des Handels für die USA hat sich seit 1972 mehr als verdoppelt. Obwohl man sich vor übertriebenen Verallgemeinerungen hüten sollte: Diese anderen wichtigen Handelspartner weisen relativ gesehen größere Reservoirs gering bezahlter Arbeitnehmer auf, auf die sie zurückgreifen können, um die Kosten entlang der globalen Wertschöpfungskette zu trimmen. Die übrige Welt ist nicht komplett so wie die USA.
Diese Beobachtungen könnten erklären, warum die Kosten nur langsam steigen, aber sie bedeuten nicht, dass die Kosten ewig gleich bleiben. Angesichts der Tatsache, dass die Arbeitslosenquote inzwischen bei nahezu 4% liegt und in diesem Jahr noch weiter fallen dürfte, wird die Inflation steigen, wenn auch langsamer, als die langfristige Entwicklung erwarten lässt. Glücklicherweise sind sich die Vertreter der Fed des Einflusses überschüssiger Ressourcen auf die Inflation bewusst; im Protokoll vom Januar heißt es, dass die "geschätzte Stärke dieser Effekte sich in den letzten Jahren deutlich verringert hatte".
Freilich wäre die Diskussion beruhigender ausgefallen, wenn sie die übrige Welt mit berücksichtigt hätte, und zwar unter anderem, weil dies für die politischen Entscheidungsträger auch weiterhin eine entscheidende Herausforderung darstellen wird. Eine stärker vom Handel abhängige Volkswirtschaft reagiert sensibler auf Schwankungen im Wechselkurs ihrer Währung.
Zwar stimmt es, dass ein großer Teil des weltweiten Handels in Dollar abgerechnet wird, doch der chinesische Renminbi drängt inzwischen auf dieses Gelände vor, und die Hersteller interessiert letztlich, wie sich ihre Erlöse kaufkraftmäßig in ihren Heimatländern niederschlagen. Das Aufwärtsrisiko für die Inflation in den USA rührt aus diesen Währungsumrechnungen her – dem Wert des Dollars.
Der gesetzgeberische Doppelschlag aus Steuerreform und Ausgabeerhöhungen wird zu einer Erhöhung der US-Schulden im Bund führen. Wenn der Status der US-Schatzanleihen nun durch eine lasche Haushaltspolitik getrübt wird und die US-Währungshüter als langsam dabei wahrgenommen werden, die lockere Geldpolitik zu beenden, könnten Notenbankchef Jerome Powell und seine Kollegen es mit einer höheren Inflation zu tun bekommen als ihnen lieb ist.
Aus dem Englischen von Jan Doolan