Europa entre Trump y Xi
PARÍS – La última conferencia ministerial de la Organización Mundial del Comercio, que tuvo lugar en diciembre en Buenos Aires, Argentina, resultó siendo un fiasco. Los participantes no fueron capaces de realizar una declaración conjunta, pese a lo limitado de la agenda. Sin embargo, no todos quedaron decepcionados por este resultado: China mantuvo un silencio diplomático, en tanto que Estados Unidos pareció celebrar el fracaso del encuentro. Malas noticias para Europa, que al expresar su descontento se quedó virtualmente sola.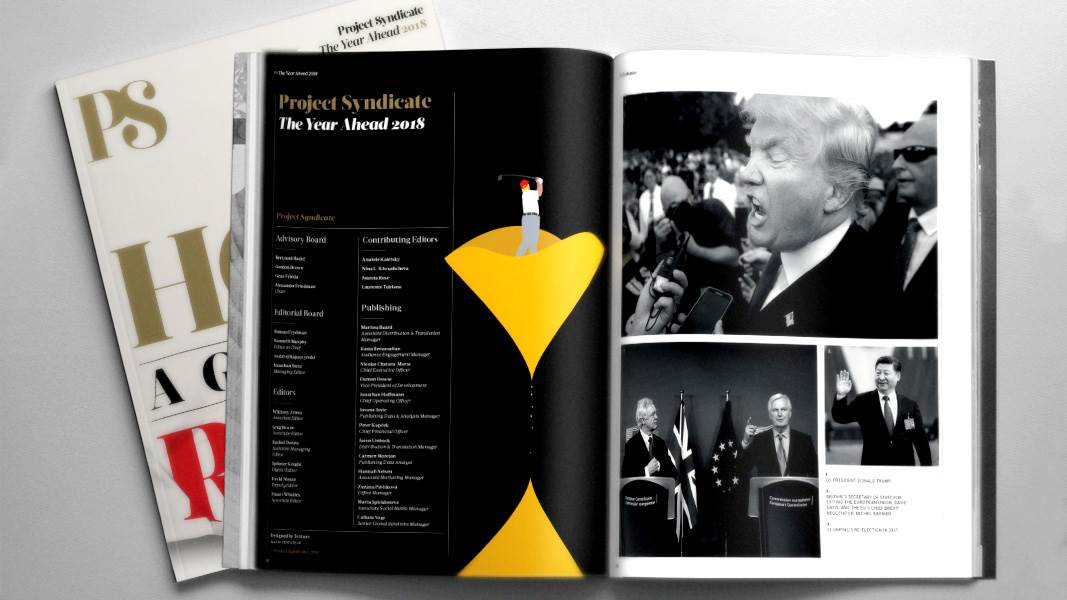 The Year Ahead 2018
The world's leading thinkers and policymakers examine what's come apart in the past year, and anticipate what will define the year ahead.
A menudo se apunta que, ante el miope proteccionismo del presidente Donald Trump, la Unión Europea tiene la oportunidad de asumir un mayor liderazgo internacional y, al mismo tiempo, fortalecer su posición en el comercio global. El tratado de libre comercio recientemente firmado con Japón le dará una clara ventaja sobre Estados Unidos en agricultura, y el fortalecimiento de los lazos comerciales con México podría tener un impacto similar, a medida que Estados Unidos renegocie los términos del Tratado de Libre Comercio de América del Norte.
Algunos plantean que Europa debería aliarse con China para fortalecer todavía más su posición. A pesar de su reticencia en la conferencia de la OMC, últimamente la potencia asiática ha intentado posicionarse como un defensor del multilateralismo. Una asociación sino-europea podría constituir una poderosa fuerza que contrarrestaría el impacto negativo de Estados Unidos en el comercio internacional y la cooperación.
Sin embargo, no hay seguridades de algo así vaya a concretarse. Es cierto que Europa y China convergen en una visión general positiva de la globalización y el multilateralismo. Pero mientras Europa apoya una especie de "multilateralismo ofensivo" que busca reforzar las reglas de las instituciones existentes y sus mecanismos de cumplimiento, China se resiste a cambiar las normas existentes, especialmente si fortalecen la aplicación de reglas que pudieran limitar su capacidad de maximizar sus propias ventajas.
El deseo de Europa de obligar a China a adherir a reglas comunes alinea sus intereses más estrechamente con Estados Unidos, país con el que comparte varios reclamos, desde el constante subsidio de China a las empresas privadas hasta la persistencia de barreras de acceso a su mercado. Según un estudio reciente, las barreras de acceso al mercado establecidas por China han tenido un elevado coste para el crecimiento de las exportaciones de la UE.
No obstante, Estados Unidos y la UE no comparten la misma visión sobre cómo abordar estas quejas. Con el fin de limitar el abuso de las normas de la OMC por parte de China, los líderes europeos quieren poder negociar reglas nuevas y más claras, ya sea en el marco de un acuerdo bilateral de inversiones o mediante un acuerdo plurilateral sobre licitaciones públicas.
Trump no quiere reformar el sistema; quiere hundirlo. De hecho, dado que Trump está buscando utilizar los acuerdos bilaterales para conseguir reducciones en el déficit comercial de Estados Unidos, no se puede excluir la posibilidad de que abandone por completo la OMC: un escenario de pesadilla para la UE, que promueve las normas en común por sobre la fuerza.
El predecesor de Trump, Barack Obama, tenía su propia solución. Nuevos marcos multilaterales –el Acuerdo de Asociación Transpacífica (TPP) con Asia y la Asociación Transatlántica de Comercio e Inversión (TTIP) con la UE– limitarían el espacio de maniobra de China. Como tales marcos implicaban una convergencia normativa, Estados Unidos y la UE podrían hubieran podido definir los estándares de la nueva economía emergente global, obligando a China a aceptarlos o quedarse atrás.
Sin embargo, este proyecto ha sido herido de muerte. Si bien comprensible, el esfuerzo de Obama por concluir ambos acuerdos antes del final de su presidencia ocasionó serias preocupaciones sobre sus prisas. Los europeos reconocían que la convergencia normativa total entre Estados Unidos y la UE en la práctica tomaría al menos una década. En consecuencia, bajo la presión de sus ciudadanos los líderes europeos comenzaron a expresar su preocupación sobre las deficiencias del TTIP, por ejemplo, en términos de regulaciones ambientales y sanitarias y de transparencia.
Dado su interés en común por la convergencia normativa, en especial para fortalecer su posición frente a China, finalmente Estados Unidos y la UE tendrán que volver a cooperar. Pero es improbable que esto ocurra mientras Trump sea Presidente y defienda la reciprocidad bilateral por sobre el multilateralismo.
Por el contrario, es muy probable que los Estados Unidos de Trump sigan aprovechando su inmensa influencia comercial para asegurarse beneficios estratégicos o políticos. Europa se encuentra en una desventaja significativa en este frente. Después de todo, la UE no es un estado, y no habla con una sola voz en los asuntos internacionales. No está fuera de discusión que los chinos, que hablan el lenguaje de la realpolitik con fluidez, prefieran las demandas ad hoc de los estadounidenses a las condiciones multilaterales de los europeos.
En este contexto, la máxima prioridad de la UE debería ser unificar las posiciones de sus
estados miembros con el objetivo de superar las barreras erigidas por Estados Unidos y crear sistemas en común para limitar a China. Pero esto es más fácil de decir que de hacer. En la situación actual, muchos países de la UE se resisten a la introducción de cualquier restricción comercial, ya sea debido a un excesivo compromiso con los ideales económicos liberales o bien por temor a poner en peligro sus propios intereses en China, por ejemplo, estableciendo un mecanismo único de la UE para gestionar la inversión extranjera.
El surgimiento de gobiernos "antiliberales" en Europa Central y del Este complica aún más las cosas para la UE. Habiendo adoptado una visión estrecha de sus intereses, estos gobiernos no tienen interés en ninguna forma de multilateralismo. A menudo parecen fascinados por la lógica de la realpolitik propugnada por Trump, el presidente chino Xi Jinping y el presidente ruso Vladimir Putin.
Por otra parte, la búsqueda de sus intereses comerciales que hagan estos países podría violar las normas de licitación de la UE. Y no están solos dentro de ella. Por ejemplo, Grecia ha aceptado grandes niveles de inversión china. Y entonces la UE se negó a mencionar explícitamente a China en una resolución sobre el conflicto en el mar del Sur de China.
Sin duda, los países europeos no se equivocan al dar la bienvenida a la inversión china. Pero China debería actuar con reciprocidad y ofrecer una mejor acogida a las inversiones europeas. Es por esto que la UE y China deberían trabajar para culminar el tratado de inversión bilateral que han estado negociando durante años, con un progreso limitado. Este tratado debería basarse en reglas recíprocas, incluido el desmantelamiento de las barreras al mercado del país asiático.
El presidente francés Emmanuel Macron está intentando avanzar en el multilateralismo ofensivo. Pero a menos que la UE en su conjunto abrace la causa, Europa –atrapada entre China, que tiene una interpretación muy conservadora pero obsoleta del multilateralismo, y Trump, que quiere acabar con él– corre el riesgo de convertirse en víctima.
Traducido del inglés por David Meléndez Tormen