Europa zwischen Trump und Xi
PARIS – Die jüngste Ministerkonferenz der Welthandelsorganisation (WTO) im Dezember in Buenos Aires geriet zum Fiasko. Trotz eingeschränkter Agenda schafften es die Teilnehmer nicht, sich auf eine gemeinsame Erklärung zu einigen. Darüber waren allerdings nicht alle enttäuscht: China hüllte sich in diplomatisches Schweigen, während die Vereinigten Staaten das Scheitern der Konferenz offenbar begrüßten. Das sind schlechte Nachrichten für Europa, das seiner Unzufriedenheit praktisch allein Ausdruck verlieh.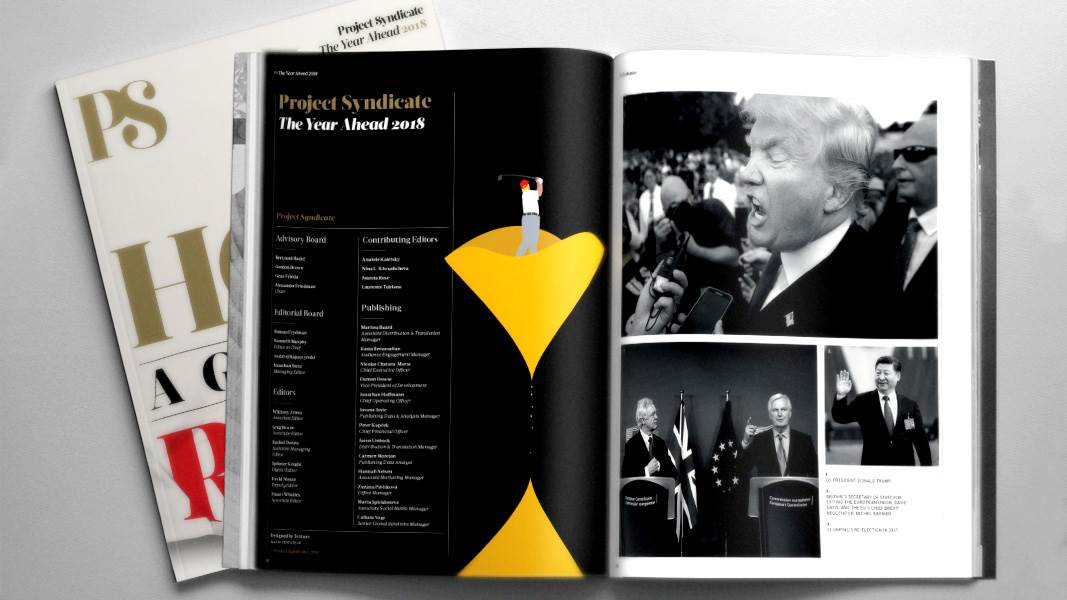 The Year Ahead 2018
The world's leading thinkers and policymakers examine what's come apart in the past year, and anticipate what will define the year ahead.
Es wird häufig darauf hingewiesen, dass die Europäische Union angesichts des bornierten Protektionismus von US-Präsident Donald Trump die Gelegenheit hätte, eine umfassendere internationale Führungsrolle zu spielen und gleichzeitig ihre eigene Position im Welthandel zu stärken. Das jüngst unterzeichnete Freihandelsabkommen mit Japan verleiht der EU im Bereich Landwirtschaft einen klaren Vorteil gegenüber den USA und die Stärkung der Handelsbeziehungen mit Mexiko könnte ähnliche Auswirkungen haben, da die Vereinigten Staaten das Nordamerikanische Freihandelsabkommen neu verhandeln.
Von mancher Seite kommt auch der Vorschlag, Europa solle sich zur weiteren Stärkung seiner Position mit China zusammenschließen, das trotz seiner Zurückhaltung bei der WTO-Konferenz in letzter Zeit versuchte, sich als Vorreiter des Multilateralismus zu positionieren. Eine chinesisch-europäische Partnerschaft könnte eine überaus starke Kraft darstellen und den negativen Einfluss Amerikas auf den Welthandel und die internationale Zusammenarbeit ausgleichen.  
Allerdings ist eine derartige Partnerschaft keineswegs ausgemachte Sache. Ja, Europa und China nähern sich hinsichtlich einer positiven allgemeinen Sicht der Globalisierung und des Multilateralismus an. Während Europa jedoch eine Art "offensiven Multilateralismus" unterstützt, im Rahmen dessen die Regeln und Durchsetzungsmechanismen bestehender Institutionen gestärkt werden sollen, verweigert sich China einer Änderung bestehender Standards, insbesondere wenn diese die Durchsetzung von Regeln ermöglichen, die möglicherweise seine Fähigkeit beschränken, die eigenen Vorteile zu maximieren.
Europas Wunsch, China zur Einhaltung gemeinsamer Regeln zu zwingen, steht auch im Einklang mit den Interessen der USA, die ebenso wie Europa über Missstände klagen - angefangen von Chinas fortgesetzter Subventionierung privater Unternehmen bis hin zu fortbestehenden Hemmnissen hinsichtlich des Marktzugangs. Laut Angaben einer jüngst durchgeführten Studie haben die von China errichteten Marktzugangsbarrieren das Wachstum der EU-Exporte stark belastet.
Allerdings herrscht zwischen den USA und der EU keine Einigkeit darüber, wie diese Missstände zu beheben sind. Um den Missbrauch der WTO-Regeln durch China zu begrenzen, möchten die europäischen Spitzenvertreter in der Lage sein, neue, klarere Regeln auszuhandeln. Dies entweder durch das Rahmenwerk eines bilateralen Investitionsabkommens oder durch ein plurilaterales Abkommen über öffentliche Vergabevorschriften.
Trump möchte das System nicht reformieren; er will es versenken. Da Trump versucht, bilaterale Abkommen zu nutzen, um Amerikas Handelsdefizit zu senken, kann nicht ausgeschlossen werden, dass die USA die Welthandelsorganisation ganz verlassen – ein Albtraum-Szenario für die EU, die sich für gemeinsame Normen und gegen Zwang ausspricht.  
Trumps Vorgänger, Barack Obama, wartete mit seiner eigenen Lösung auf. Neue multilaterale Rahmenwerke - die Transpazifische Partnerschaft (TPP) mit Asien und die Transatlantische Handels- und Investitionspartnerschaft (TTIP) mit der EU - hätten Chinas Handlungsspielraum eingrenzen sollen. Da derartige Rahmenwerke regulatorische Konvergenz herbeigeführt hätten, wären die USA und die EU in der Lage gewesen, die Standards der entstehenden neuen Weltwirtschaft zu bestimmen, womit man China gezwungen hätte, diese Standards entweder zu akzeptieren oder außen vor gelassen zu werden.
Doch dieses Projekt wurde mittlerweile in fataler Weise untergraben. Obamas verständliche Bestrebungen, beide Abkommen noch vor dem Ende seiner Amtszeit fertigzustellen, gaben Anlass zu ernster Sorge hinsichtlich der Eile. Die Europäer erkannten, dass es in Wirklichkeit mindestens zehn Jahre gedauert hätte, bis vollständige regulatorische Konvergenz zwischen den USA und der EU erreicht worden wäre. Unter dem Druck ihrer Bürger begannen die europäischen Spitzenvertreter deshalb ihre Besorgnis darüber zum Ausdruck zu bringen, was TTIP beispielsweise im Hinblick auf Umwelt- und Gesundheitsbestimmungen sowie Transparenz vermissen ließ.
Angesichts ihres gemeinsamen Interesses an regulatorischer Konvergenz, insbesondere zur Stärkung ihrer Position gegenüber China, werden die USA und die EU ihre Zusammenarbeit letztlich wiederaufnehmen müssen. Doch solange Trump im Amt ist und bilaterale Abkommen gegenüber dem Multilateralismus vorzieht, werden derartige Bemühungen wohl unmöglich sein. 
Stattdessen wird Trumps Amerika höchstwahrscheinlich weiterhin seinen weitreichenden handelspolitischen Einfluss nutzen, um sich strategische oder politische Vorteile zu sichern. An dieser Front ist Europa erheblich im Nachteil. Schließlich ist die EU kein Staat und sie spricht auf internationaler Ebene auch nicht mit einer Stimme. Es ist nicht auszuschließen, dass die Chinesen, die die Sprache der Realpolitik fließend beherrschen, es vorziehen würden, eher die Ad-hoc-Forderungen der Amerikaner zu erfüllen als die multilateralen Bedingungen der Europäer.
In diesem Zusammenhang sollte es die oberste Priorität der EU sein, die Positionen ihrer Mitgliedsstaaten zu vereinheitlichen, um die von den USA errichteten Barrieren zu überwinden und gemeinsame Systeme zur Eindämmung Chinas zu schaffen. Das ist allerdings leichter gesagt als getan. Derzeit widersetzen sich viele EU-Länder der Einführung jeglicher Handelsbeschränkungen, sei es aufgrund eines übermäßigen Bekenntnisses zu liberalen Wirtschaftsidealen oder aus Angst, damit ihre eigenen Interessen in China zu gefährden, indem man etwa einen EU-Mechanismus zur Kontrolle von ausländischen Investitionen einführt.
Die Entstehung "illiberaler" Regierungen in Zentral- und Osteuropa erschwert die Situation für die EU weiter. Diese Regierungen haben kein Interesse an irgendeiner Form des Multilateralismus, da sie dem engen Blick ihrer eigenen Interessen folgen. Oftmals scheinen sie fasziniert von der Logik der Realpolitik, wie sie Trump, der chinesische Präsident Xi Jinping und der russische Präsident Wladimir Putin verfolgen.
Außerdem könnte die Verfolgung der Handelsinteressen durch diese Länder zu Lasten der  EU-Vergaberichtlinien gehen. Und damit stehen diese Länder in der EU nicht allein da. Griechenland beispielsweise hat umfangreiche chinesische Investitionen im Land zugelassen. Anschließend weigerte sich die EU, China in einer Resolution über den Konflikt im südchinesischen Meer ausdrücklich zu erwähnen. 
Freilich ist es nicht falsch, wenn europäische Länder chinesischen Investitionen die Tür öffnen. Aber China sollte ebenso agieren und europäische Investitionen in China nachdrücklicher begrüßen. Aus diesem Grund empfiehlt es sich für die EU und China daran zu arbeiten, das bilaterale Investitionsabkommen, über das man jahrelang mit mäßigem Fortschritt verhandelte, zum Abschluss zu bringen. Ein derartiger Vertrag müsste auf wechselseitig gültigen Regeln aufgebaut sein und auch die Demontage von Zugangshemmnissen zum chinesischen Markt vorsehen.  
Der französische Präsident Emmanuel Macron versucht, den offensiven Multilateralismus voranzutreiben. Aber solange sich die EU dafür nicht als Ganzes einsetzt – weil sie gefangen ist zwischen China mit seiner überaus konservativen, aber überholten Interpretation von Multilateralismus und Trump, der ihn über Bord werfen will  – läuft sie Gefahr, zum Opfer zu werden.