Ein wirtschaftlich durchwachsenes Jahr 2019
NEW YORK – Auf das synchronisierte globale Wirtschaftswachstum von 2017 folgte das asynchrone Wachstum des Jahres 2018, in dem, von den USA abgesehen, in den meisten Ländern Konjunkturabschwünge einsetzten. Sorgen über die US-Inflation, den geldpolitischen Kurs der US Federal Reserve, anhaltende Handelskriege, Italiens Haushalts- und Schuldenprobleme, den Konjunkturabschwung in China und die Anfälligkeiten der Schwellenmärkte führten am Jahresende zu steilen Kursrückgängen an den weltweiten Aktienmärkten.
Die gute Nachricht zu Beginn des Jahres 2019 ist, dass das Risiko einer unmittelbaren globalen Rezession niedrig ist. Die schlechte Nachricht ist, dass wir auf ein Jahr des synchronisierten globalen Abschwungs zusteuern; das Wirtschaftswachstum wird in den meisten Regionen in Richtung seines Potentials fallen und dieses in einigen Fällen noch unterschreiten.
Das Jahr begann – nach dem Blutbad des letzten Quartals 2018, als Sorgen über Zinserhöhungen der Fed und über das Wachstum in China und den USA viele Märkte zum Absturz brachten – mit einer Erholung bei den riskanten Anlagen (US-amerikanischen und globalen Aktien). Seitdem hat die Fed sich erneut einer akkommodierenden Geldpolitik zugeneigt, die USA haben ein solides Wachstum aufrechterhalten, und einiges spricht dafür, dass Chinas makroökonomische Lockerung den Abschwung im Lande in Grenzen halten wird.
Ob diese relativ positive Lage Bestand hat, hängt von vielen Faktoren ab. Dabei ist zunächst einmal ist die Fed zu betrachten. Die Märkte preisen derzeit eine geldpolitische Pause für das Gesamtjahr ein. Der US-Arbeitsmarkt jedoch bleibt robust. Sollten die Löhne steigen und die Inflation auch nur mäßig über 2% drücken, würden die Befürchtungen über mindestens zwei weitere Zinserhöhungen in diesem Jahr zurückkehren. Dies könnte die Märkte erschüttern und zu einer Straffung der Finanzbedingungen führen, was wiederum die Sorgen über das US-Wachstum wieder aufleben lassen würde.
Zweitens könnte sich, wenn der Abschwung in China andauert, die aktuelle Mischung bescheidener geldpolitischer, Kredit- und Steuerimpulse der Regierung angesichts des Mangels an Vertrauen im privaten Sektor und des hohen Niveaus an Überkapazitäten und Schulden als unzureichend erweisen. Falls erneut Sorgen über einen chinesischen Konjunkturabschwung aufkommen, könnten die Märkte ernsthaft in Mitleidenschaft gezogen werden. Andererseits würde eine Stabilisierung des Wachstums das Marktvertrauen entsprechend erneuern.
Ein verbundener Faktor ist der Handel. Während eine Eskalation des chinesisch-amerikanischen Konflikts das globale Wachstum behindern würde, würde eine Fortsetzung des aktuellen Waffenstillstands mittels einer Handelsvereinbarung die Märkte beruhigen, auch wenn die geopolitische und technologische Rivalität zwischen beiden Ländern im Laufe der Zeit weiter zunehmen wird.
Subscribe now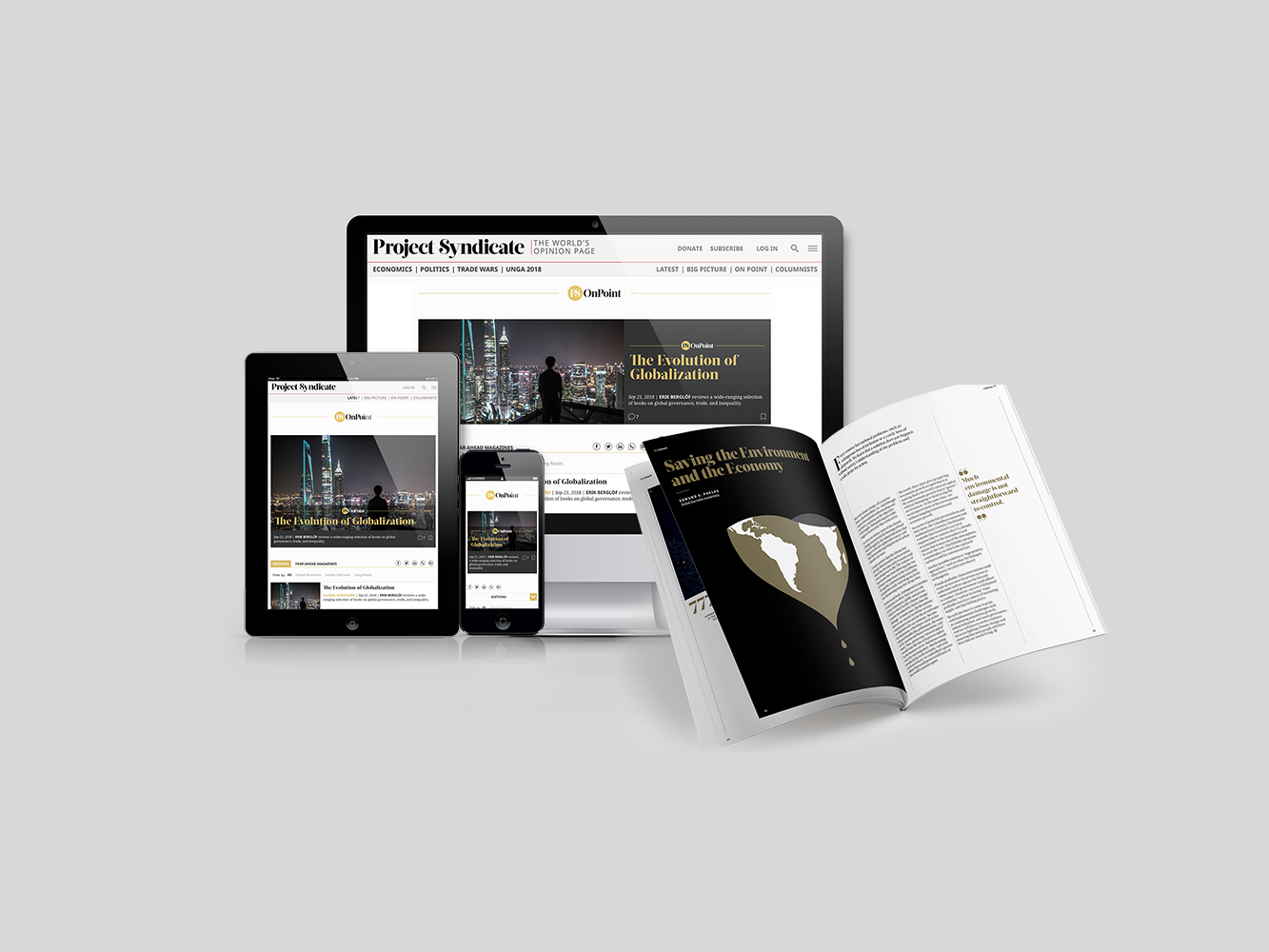 Subscribe now
Get unlimited access to OnPoint, the Big Picture, and the entire PS archive of more than 14,000 commentaries, plus our annual magazine, for less than $2 a week.
Viertens erlebt die Eurozone derzeit einen Abschwung, und es bleibt abzuwarten, ob sie auf ein niedrigeres potenzielles Wachstum oder etwas Schlimmeres zusteuert. Das Ergebnis wird sowohl durch Variablen auf nationaler Ebene – wie etwa politische Entwicklungen in Frankreich, Italien und Deutschland – als auch durch breiter angelegte regionale und globale Faktoren bestimmt werden.
Offensichtlich würde ein "harter" Brexit das Vertrauen von Unternehmen und Anlegern sowohl im Vereinigten Königreich als auch in der Europäischen Union beeinflussen. Sollte US-Präsident Donald Trump seinen Handelskrieg auf die europäische Automobilindustrie ausdehnen, würde das das Wachstum in der gesamten EU – und nicht bloß in Deutschland – in schwerwiegender Weise untergraben. Außerdem wird viel davon abhängen, wie die euroskeptischen Parteien bei den Wahlen zum Europaparlament im Mai abschneiden. Und das wiederum wird zu den Unsicherheiten beitragen, die die Nachfolge von EZB-Präsident Mario Draghi und die Zukunft der Geldpolitik der Eurozone umgeben.
Fünftens könnte Amerikas dysfunktionale Innenpolitik die Unsicherheiten weltweit steigern. Der jüngste Regierungsstillstand legt nahe, dass jede der anstehenden Verhandlungen über den Haushalt und die Schuldengrenze in einen Zermürbungskrieg zwischen den Parteien münden wird. Der erwartete Bericht von Sonderermittler Robert Mueller könnte, aber muss nicht zur Einleitung eines Amtsenthebungsverfahrens gegen Trump führen. Und Ende des Jahres werden die von den Republikanischen Steuersenkungen ausgehenden Steuerimpulse eine fiskalische Bremswirkung entfalten, die das Wachstum abschwächen könnte.
Sechstens sind die Aktienmärkte in den USA und anderswo selbst nach der jüngsten Korrektur immer noch überbewertet. Angesichts steigender Lohnkosten könnten schwächere Erträge und Gewinnmargen in den USA in den kommenden Monaten für eine unliebsame Überraschung sorgen. Die hochverschuldeten Unternehmen sehen sich der Möglichkeit steigender kurz- und langfristiger Kreditkosten gegenüber, und bei vielen Technologiewerten besteht weiterer Korrekturbedarf. Daher lassen sich die Gefahr einer weiteren Episode der Risikoscheu sowie eine neuerliche Marktkorrektur nicht ausschließen.
Siebtens könnten die Ölpreise durch ein kommendes Überangebot – bedingt durch die Schieferproduktion in den USA, einen potenziellen Regimewechsel in Venezuela (der zu Erwartungen an einen im Laufe der Zeit erfolgenden Produktionsanstieg führen dürfte) und Versäumnisse der OPEC-Länder, zur Beschränkung der Produktion miteinander zusammenzuarbeiten – nach unten gedrückt werden. Während niedrige Ölpreise gut für die Verbraucher sind, neigen sie dazu, die US-Aktienkurse und die Märkte in den Öl exportierenden Ländern zu schwächen, was Sorgen über Unternehmensausfälle im Energiesektor und in verbundenen Sektoren (wie Anfang 2016) aufwirft.
Und schließlich sind die Aussichten vieler Schwellenmarktvolkswirtschaften von den vorgenannten globalen Unsicherheiten abhängig. Die wichtigsten Risiken sind dabei Abschwünge in den USA oder China, eine höhere Inflation in den USA mit anschließender Straffung der Geldpolitik durch die Fed, Handelskriege, ein stärkerer Dollar und fallende Öl- und Rohstoffpreise.
Trotz der über der Weltwirtschaft hängenden Wolke gibt es auch einen Silberstreifen am Horizont: Diese Wolke hat dazu geführt, dass die wichtigen Notenbanken eine lockere geldpolitische Haltung eingenommen haben. Dies begann mit der Fed und der Chinesischen Volksbank, denen sich in kurzer Folge die Europäische Zentralbank, die Bank von England, die Bank von Japan und andere anschlossen. Allerdings bedeutet die hochgradig akkommodierende Haltung der meisten Notenbanken, dass kaum Spielraum für eine weitere Lockerung der Geldpolitik besteht. Und selbst wenn die Fiskalpolitik in den meisten Weltregionen keinen Beschränkungen ausgesetzt wäre: Zu fiskalischen Impulsen kommt es tendenziell erst, wenn sich das Wachstum bereits verlangsamt hat, und gewöhnlich mit erheblicher Verzögerung.
Möglicherweise liegen ausreichend viele positive Faktoren vor, um dieses Jahr zu einem relativ anständigen, wenn auch mittelprächtigen Jahr für die Weltwirtschaft zu machen. Doch falls sich einige der oben skizzierten negativen Szenarien verwirklichen, könnte der synchronisierte Abschwung von 2019 zu einem weltweiten Wachstumseinbruch und steilen Marktabsturz in 2020 führen.
Aus dem Englischen von Jan Doolan