В чем опасность сегодняшних хороших экономических новостей
,
ВАШИНГТОН, округ Колумбия – С началом 2018 года, глобальная экономика улучшается. За последние шесть месяцев, ожидания роста со стороны официальных институтов, таких как Международный валютный фонд, соответствующие или даже превышенные частными прогнозами, были скорректированы в сторону увеличения. Но не все новости являются хорошими.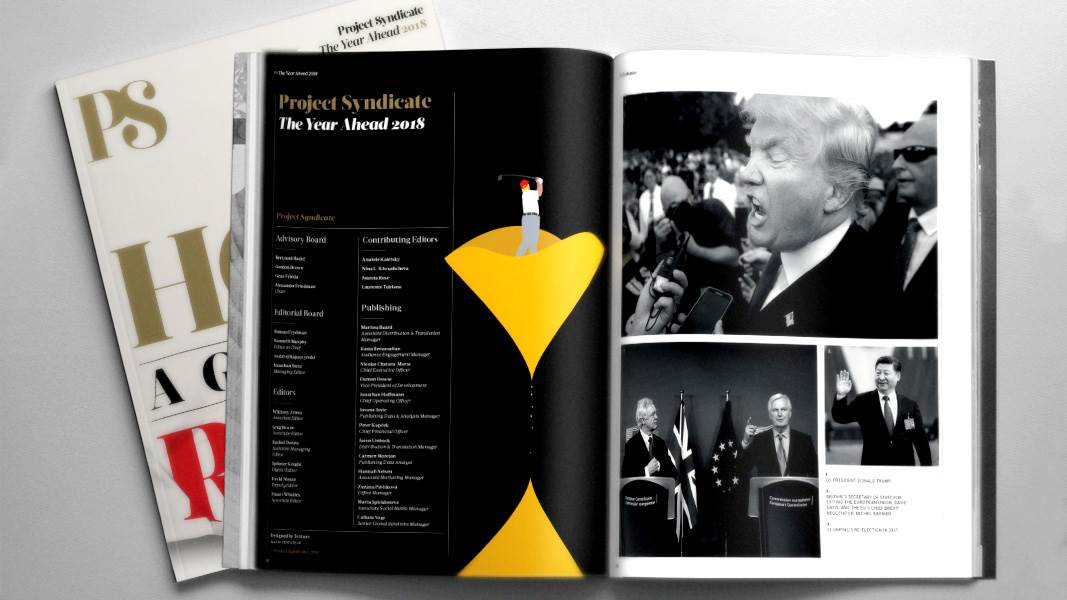 The Year Ahead 2018
The world's leading thinkers and policymakers examine what's come apart in the past year, and anticipate what will define the year ahead.
Безусловно, есть множество позитивных индикаторов, внушающих оптимизм. Индекс Деловой Активности (PMI) по росту производства в еврозоне, в прошлом месяце достиг рекордного уровня, и даже экономика Греции, наконец-то, начала расти. В Соединенных Штатах, рост в настоящее время, вероятно, превысит прогнозируемый октябрьский прогноз МВФ в 2,3% на 2018 год.
В развивающихся странах, Китай, похоже, преодолел риск резкого замедления: несмотря на то, что рост его экономики больше не измеряется двузначной цифрой, увеличение её масштабов предполагает, что в абсолютном выражении, сегодняшние 7% годового роста превышают 10% рост в прошлом. Турция, в свою очередь, зарегистрировала в третьем квартале 2017 года 11% рост. Даже Бразилия, которая в 2016 году пережила отрицательный рост, может превысить прогноз МВФ в 1,58% в 2018 году.
По мере того как реальная экономика укрепляется, стоимость собственного капитала, которая какое-то время, казалось, была оторвана от фундаментальных принципов, получает все большее подтверждение. Мировой индекс FTSE All-World Index в 2017 году вырос почти на 22%, что является его наилучшим показателем после посткризисного подъема 2009 года.
Поскольку пессимизм роста в последние годы ослабевает, некоторые из предостережений последних лет, явно устарели. Например, Роберт Гордон из Северо- западного университета утверждал, что экономика США должна была замедлиться, так как сегодняшние технологические инновации не будут стимулировать рост в том объеме, как это было в прошлом. Лоренс Х. Саммерс из Гарварда уделял особое внимание своему аргументу, что мир рискует скатиться к "секулярному застою", так как процентная ставка, необходимая для привлечения желаемых инвестиций в соответствие с желаемой экономией, была ниже нуля.
Вместе с тем, несмотря на то, что нулевой нижний предел больше не является обязательным ограничением, существуют потенциальные причины для беспокойства, одна из которых связана с уровнями задолженности. Теперь, когда странам с развитой экономикой, больше нет необходимости поддерживать чрезвычайную денежно-кредитную политику, номинальные процентные ставки устанавливаются с учетом их текущих исторических минимумов. Как только это произойдет, высокий уровень задолженности может оказаться проблематичным, препятствуя росту, посредством беспорядочного сокращения доли заемных средств. При этом, учитывая низкую инфляцию, вряд ли следует ожидать резкого повышения процентных ставок, а постепенная нормализация денежно-кредитной политики не обязательно будет иметь негативные последствия на рост или инфляцию.
Но на пути устойчивого восстановления есть еще одно потенциальное препятствие: до сих пор не удалось преодолеть долгосрочного снижения роста производительности. Напротив, нынешний бум, похоже определяется спросом, при этом частное потребление является основной движущей силой, даже частные инвестиции, наконец-то, также начали расти. Эти тенденции сопровождались устойчивым ростом занятости, что является хорошей новостью, но это не может длиться вечно.
В долгосрочной перспективе, экономические показатели и потенциальный рост будут зависеть от стороны предложения и, в частности, от возрождения роста производительности. Техно-оптимисты утверждают, что технология приведет к росту необходимой прибыли, поскольку разрыв между цифровыми возможностями и их применением в экономике сокращается. Но еще слишком рано говорить, с какой-либо уверенностью, правы они или техно-пессимисты, такие как Гордон. Несмотря на то, что мы считаем себя осторожными техно-оптимистами, у каждой из обеих сторон есть свои убедительные аргументы.
Что действительно не подлежит обсуждению, так это то, что неравенство внутри стран стремительно растет. В то время как отдельные страны демонстрируют различный уровень неравенства, его рост проявился практически повсеместно, причем уровень дохода и богатства в большей степени концентрируется на самом верху. Эта тенденция будет ускоряться по мере того, как новые технологии, независимо от того, какой рост производительности они генерируют, продолжат повышать "надбавки за знания", направлять доходы передовым фирмам и позволять новым типам квазимонополий, действующих по принципу "победитель получает все" развиваться в глобальном масштабе.
В этом заключается самая большая опасность сегодняшних восторженных заголовков о росте. Многие считают, что быстрый рост может стать виртуальной панацеей для политических и социальных проблем стран, включая рост популизма и национализма. Но если выгоды быстрого роста превысят 5% или 1%, социальная напряженность неизбежно будет расти. И факт в том, что будет сложно разработать политику, которая сможет обратить вспять разрушительные политические тенденции и способствовать более широкому общему росту.
Это не значит, что ничего нельзя сделать. Напротив, разработка решений должна стать приоритетной задачей, с политическими дебатами, сосредоточенными на мерах, которые способствовали бы созданию действительно инклюзивных экономик.
Одной из таких мер был бы широкий доступ к недорогому и качественному образованию, включая повышение квалификации и переподготовку. Развитие нормативной базы, способствующей конкуренции, также способствовало бы ограничению сужения налоговой базы. Общественные исследования должны финансироваться таким образом, который позволил бы налогоплательщикам стать частью прибыльных результатов. Аналогичным образом, инвестиции в инфраструктуру должны иметь четкие цели, связанные с собственным капиталом. Цель должна заключаться в том, чтобы нанести удар по неравенству на двух фронтах: обеспечить рост доходов до вычета налогов более инклюзивным способом и усилить уравнивающую роль налогов и трансфертов.
Учитывая глобальный характер рынков, многие политики потребуют эффективного международного сотрудничества. Поскольку вопросы, связанные с международной торговлей, инвестициями, конкуренцией и правом интеллектуальной собственности, стали более взаимосвязаны, глобальные стратегии, которые могут решить их целостным образом, приобрели насущное значение.
Неспособность достичь всеобщей инклюзивности – трудная, но достижимая цель – отразила бы социальную напряженность и подпитала бы уже возрождающийся национализм, создавая разрывы, которые в конечном итоге привели бы к всеобщим потерям. Тем не менее, сегодняшние хорошие новости о росте рискуют отвлечь внимание от этого риска, поскольку угрожают ослабить волю к внесению необходимых изменений, в результате чего экономика окажется во власти эффекта просачивания благ сверху вниз.