Vuelos de fantasía no tripulados
BOSTON – Pocos equipos modernos han inspirado tanto entusiasmo como el dron. Si bien inicialmente los vehículos aéreos no tripulados para uso no militar (UAV, por sus siglas en inglés) se promovieron como aparatos puramente recreacionales, no ha tomado mucho tiempo antes de que los empresarios y los gigantes industriales aprovechen las infinitas posibilidades que ofrecen. Se espera que en los Estados Unidos las ventas anuales alcancen los siete millones de unidades para 2020, y muchos ya predicen un futuro en que los drones den nueva forma a nuestras ciudades a través de la entrega remota de productos, la vigilancia aérea o aplicaciones todavía no previstas.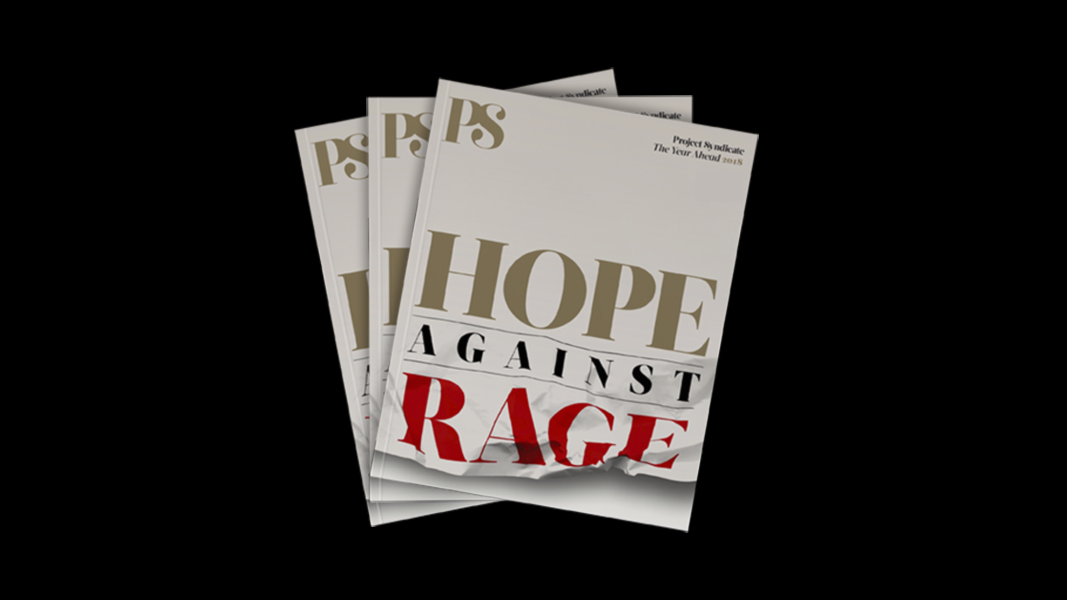 The Year Ahead 2018
The world's leading thinkers and policymakers examine what's come apart in the past year, and anticipate what will define the year ahead.
Sin embargo, una posibilidad que nos tiene fascinados como colectivo es la idea de que los drones puedan desplazar masivamente a las personas por las ciudades. ¿Podrían existir un día taxis aéreos que nos recojan de nuestros jardines y nos dejen delicadamente fuera del cine o nuestro restaurante favorito?
Antes de que llamemos mentalmente a nuestro próximo aerotaxi, pensemos en lo que realmente significaría el que el cielo se llenara de helicópteros en miniatura, transportando a gente a su próximo destino. Aunque los drones cumplirán muchos usos importantes en el futuro, no creo que transportar gente por las ciudades sea, o deba ser, uno de ellos.
El sueño del transporte aéreo no tripulado no es nuevo. Cuando Fritz Lang creó el espacio urbano futurista para su innovadora película de 1927, Metrópolis, llenó sus cielos de vertiginosas torres y vehículos voladores compactos. Luego, a principios de los 60, el estudio de animación Hannah-Barbera produjo Los Supersónicos, serie de dibujos animados que trata de las escapadas de una típica familia estadounidense en el futuro. En los créditos de inicio la familia pasa zumbando por Ciudad Orbital en un aerocoche que se pliega hasta alcanzar el tamaño de un maletín, que Súper Sónico, el jefe de familia, se lleva a la oficina. En 1982, el éxito de taquilla de ciencia ficción Blade Runner tenía coches policiales voladores, llamados "spinners".
Hoy en día, una versión de estos futuros de fantasía podría parecer tentadoramente posible. Uber está invirtiendo en tecnología de coches voladores. Este año, Airbus lanzó Pop Up, un vehículo conceptual de despegue y aterrizaje vertical para la movilidad personal. Y en un emprendimiento que promete "vuelos para todos", la empresa emergente alemana Volocopter ha diseñado el 2X, un minihelicóptero con 18 rotores que más entrado este año comenzará a realizar vuelos de prueba en Dubái.
Todo esto sugiere que los urbanitas pronto estarán surcando el espacio aéreo de las ciudades como Súper Sónico, ¿correcto? Pues no. A pesar de las grandes inversiones y mayores promesas, hay razones físicas y prácticas para que sea altamente improbable que nuestras ciudades se llenen de transeúntes aéreos.
Consideremos primero las razones físicas. Cualquiera que haya estado cerca del despegue de un helicóptero sabrá que es necesaria muchísima energía para levantar un objeto pesado verticalmente. Los rotores de un dron son en esencia grandes ventiladores que empujan aire hacia abajo para generar propulsión hacia arriba. No hay modo de lograr un ascenso sin causar grandes niveles de ruido y movimiento de aire.
Los residentes de la Ciudad de Nueva York lo saben bien. Las quejas sobre el ruido de uno de los grandes helipuertos sobre el Río Hudson llevaron a una mayor regulación de los operadores turísticos. Pero incluso antes de estas normas había menos de 5000 vuelos turísticos por mes. Imaginad si cada uno los 8 millones de residentes de la ciudad tomara al menos un vuelo cada tantas semanas: la ciudad se volvería inhabitable.
Otros factores que deberían enfriar nuestro entusiasmo son más tecnológicos. Incluso si la duración de las baterías mejora mucho, ampliando el alcance de los drones, la multitud de vehículos necesarios para transportar grandes cantidades de personas sobre nuestras cabezas sería un enorme riesgo para la seguridad. Puede que los autos modernos sean peligrosos, pero si se acaba una batería o falla un rotor de un aerotaxi, vehículos pesados podrían caer en áreas densamente pobladas. Y todavía no sabemos si estos drones podrían estar protegidos de piratas, terroristas u otros criminales, y cómo los sistemas de control de tráfico aéreo podrían guiar con seguridad a la gente.
Los drones serán un factor de gran transformación en la manera de vivir, hacer negocios e interactuar de la gente. Los UAV pequeños ya han demostrado su potencial en diversos campos, desde entrega de ayuda humanitaria a la seguridad. Pueden trascender las barreras geográficas sin necesidad de una gran infraestructura física y hacer que comunidades aisladas estén en estrecho contacto con el resto del mundo. Por ejemplo, el gobierno de Brasil está haciendo que drones equipados con cámaras inspeccionen a productores agrícolas remotos de los que se sospecha incumplen las leyes laborales. Y ya hay drones que monitorean la calidad del aire y dan soporte durante emergencias sanitarias.
Pero la movilidad urbana no es una aplicación adecuada para la tecnología de UAV. Los problemas del transporte de masas se pueden solucionar con nuestros pies firmemente en la tierra, y mucho antes de que los taxis aéreos sean una alternativa viable. Con mejoras a las redes digitales y datos en tiempo real, los coches, camiones y barcos autónomos (como el Roboat que con algunos colegas estamos diseñando en Ámsterdam) pueden volverse lo suficientemente rápidos y eficaces como para satisfacer todas nuestras necesidades. Y mantenernos en la superficie evitará la necesidad de redes de nuevas infraestructuras, como los costosos "vertipuertos".
El constante anhelo de la sociedad de cruzar una ciudad en aerocoches privados ha fascinado por largo tiempo a los directores de películas, y ahora incluso a algunos inversionistas. Sin embargo, por razones prácticas grandes y pequeñas, es una visión que se mantendrá en el reino de la fantasía.
Traducido del inglés por David Meléndez Tormen