Europas Selbsthilfemoment
BERLIN – Als COVID-19 über Europa hereinbrach und Millionen von Menschen ins innere Exil zwang, überkam viele ein tiefes Gefühl der Einsamkeit. Dabei ging es nicht nur um den Wunsch, Freunde und Familie wiederzusehen, sondern auch um ein allgemeineres Gefühl, dass das ganze Land angesichts der globalen Pandemie hilflos und verlassen war. Dieses Gefühl der Ablehnung wirkt sich zutiefst auf die individuelle Psyche und Weltanschauung der Bürger Europas aus.
Das ist das wichtigste Ergebnis einer kürzlich vom Europäischen Rat für Außenbeziehungen (ECFR) durchgeführten Befragung unter 11.000 Menschen in neun europäischen Ländern - Bulgarien, Dänemark, Frankreich, Deutschland, Italien, Polen, Portugal, Spanien und Schweden - die zusammen zwei Drittel der EU-Bevölkerung ausmachen. Paradoxerweise zeigt die ECFR-Umfrage, dass die fehlende Hilfe der Europäischen Union für die Mitgliedstaaten in der ersten Phase der Krise zu einer überwältigenden Befürwortung konzertierter EU-Maßnahmen geführt hat - sowohl um den Ländern bei der Erholung von der Krise zu helfen als auch um sie für das Überleben in der Welt nach der Pandemie zu rüsten.
Die Umfrage des ECFR zeigt, dass sich die Europäer während der Krise von den EU-Institutionen, multilateralen Organisationen und den engsten Partnern Europas völlig im Stich gelassen gefühlt haben. Etwa 63 Prozent der Befragten in Italien und 61 Prozent in Frankreich sagten, dass die EU der Herausforderung der Pandemie nicht gewachsen sei.
Darüber hinaus war der Prozentsatz der Befragten, die der Meinung waren, dass die Vereinigten Staaten in dieser Krise ein wichtiger Verbündeter ihres Landes gewesen seien, verschwindend gering, wobei Italien mit nur 6 Prozent noch den größten Anteil hatte. In drei Ländern - Dänemark, Portugal und Deutschland - gab eine Mehrheit der Bürger an, dass sich ihre Meinung über die USA während der Krise verschlechtert habe, eine Ansicht, die von einer großen Minderheit in Italien, Polen und Bulgarien vertreten wird.
[Chart]
Diese Verschlechterung der Wahrnehmung der USA ist nicht nur auf die Ablehnung von Präsident Donald Trump zurückzuführen. Viele Europäer betrachten zweifellos die chaotische Reaktion Amerikas auf COVID-19 und fragen sich, wie ein Land, das kaum sich selbst helfen kann, den Westen zuverlässig schützen soll.
Subscribe to Project Syndicate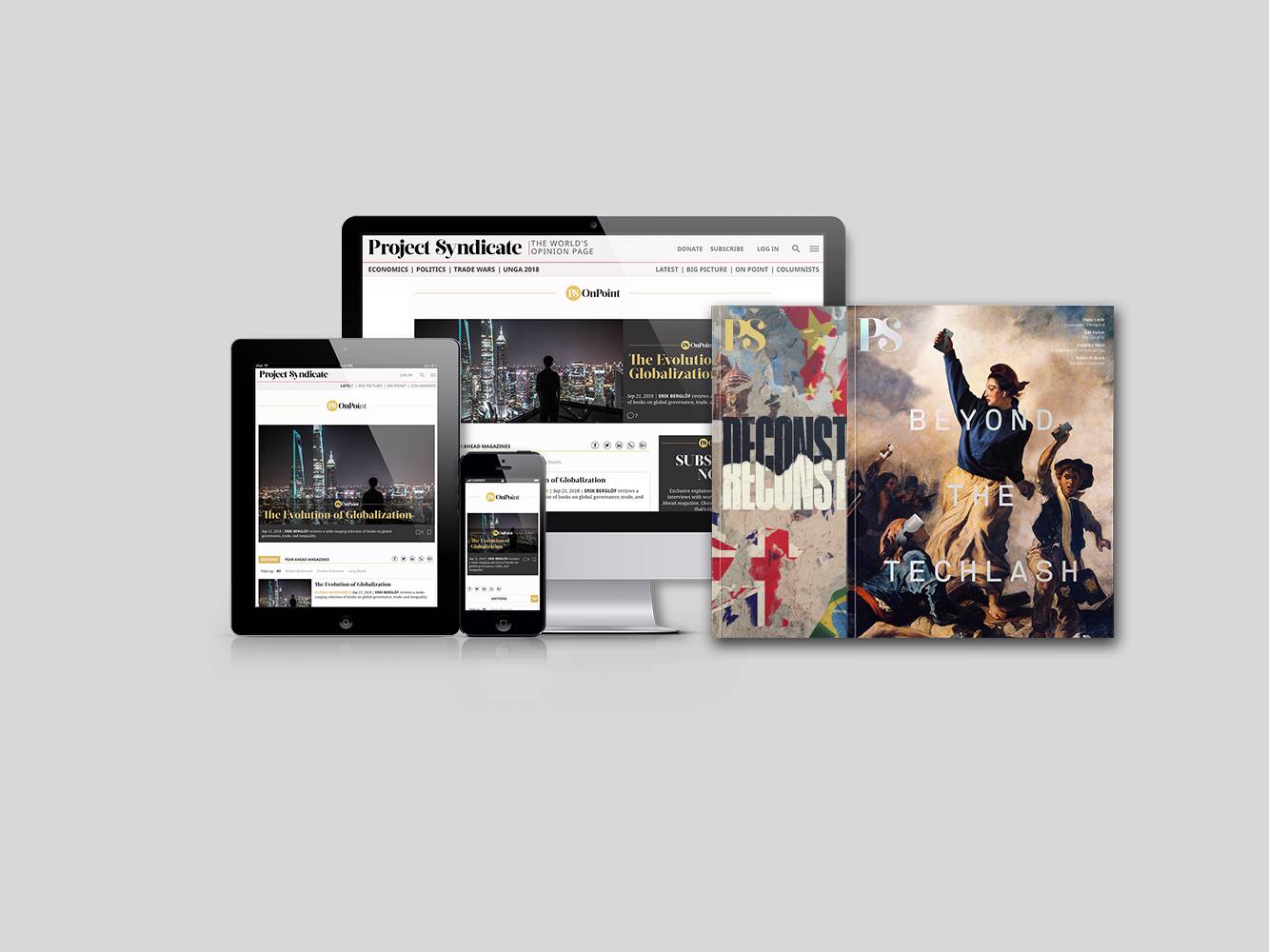 Subscribe to Project Syndicate
Enjoy unlimited access to the ideas and opinions of the world's leading thinkers, including weekly long reads, book reviews, and interviews; The Year Ahead annual print magazine; the complete PS archive; and more – all for less than $2 a week.
Gleichzeitig geben über 60 Prozent der französischen und dänischen Befragten und fast die Hälfte der Befragten in Deutschland an, gegenüber China auf mehr Distanz gegangen zu sein. Mit Ausnahme von Spanien und Bulgarien macht in der Tat eine Vielzahl der Befragten in jedem Land China für den Ausbruch der Coronavirus-Krise in Europa verantwortlich.
Aber die gegenwärtige Angst der Europäer, allein gelassen zu werden, hat den neuen Wunsch nach gemeinsamem Handeln entstehen lassen. Etwa 63 Prozent aller Befragten (und eine Mehrheit in jedem der neun befragten Länder) sind der Meinung, dass die aktuelle Krise gezeigt hat, dass mehr Zusammenarbeit auf EU-Ebene notwendig ist.
Vor der Pandemie schien die europäische Politik ganz von den gegensätzlichen Lagern der Nationalisten einerseits und der Globalisten andererseits bestimmt zu sein. Unsere Umfragen deuten jedoch darauf hin, dass die COVID-19-Krise die klaren Grenzen zwischen den beiden Lagern verwischt hat. Viele Nationalisten haben erkannt, dass ein Nationalstaat sich nicht retten kann, wenn er allein dasteht, während Globalisten zunehmend erkennen, dass es niemals eine perfekte internationale Ordnung geben wird, solange Trump, der russische Präsident Wladimir Putin und der chinesische Präsident Xi Jinping an der Macht sind.
Infolgedessen erkunden beide Gruppen zunehmend die Möglichkeit, in Europa eine regelbasierte kantische Utopie aufzubauen. Da weder nationalistischer Rückzug noch globale Zusammenarbeit helfen werden, die nächste Krise abzuwenden, eröffnet sich ein neuer Raum für europäische Lösungen.
Tatsächlich wünschen sich 52 Prozent der Befragten in der ECFR-Umfrage eine einheitlichere Antwort der EU auf globale Bedrohungen und Herausforderungen, 46 Prozent befürworten verstärkte Kontrollen an den Außengrenzen des Blocks und 41 Prozent sind dafür, die Unternehmen dazu zu drängen, mehr medizinisches Material innerhalb der EU zu produzieren, auch wenn dies höhere Preise zur Folge hat. Und in allen neun Ländern ist der Anteil der Befragten, die mehr Maßnahmen gegen den Klimawandel als Folge der Pandemie befürworten, höher als der Anteil der Befragten, die weniger befürworten.
In ganz Europa erkennen die Menschen, dass, wenn ein chinesisch-amerikanischer Handels- und Technologiekrieg die Globalisierung gefährden sollte, eine größere europäische Einheit - auch in Form des von der EU vorgeschlagenen Konjunkturprogramms - die beste Hoffnung auf die Sicherung ihrer Wirtschaft und ihrer Werte bietet. Anstatt nur die Vorzüge einer grüneren Wirtschaft zu predigen, kann Europa einen Preis für Kohlenstoff festlegen und Grenzausgleichssteuern verwenden, um andere davon zu überzeugen, seine Standards zu erfüllen oder die Kosten zu übernehmen. Ebenso könnten die digitale Agenda der EU und die Pläne der EU für eine Steuer auf digitale Dienstleistungen globale Technologieriesen dazu zwingen, sich an die europäischen Regeln zu halten.
Die nationalen Regierungen und die in Brüssel ansässigen EU-Institutionen erkennen, dass die COVID-19-Krise eine Öffnung für ein stärkeres kollektives europäisches Handeln geschaffen hat. Aber die politischen Entscheidungsträger müssen verstehen, dass die Forderungen der Wähler auf dem ganzen Kontinent nach einer stärkeren Zusammenarbeit nicht etwa einem Appetit auf den Aufbau von Institutionen entsprechen, sondern vielmehr der tiefen Sorge entstammen, in einer gefährlichen Welt die Kontrolle zu verlieren.
Europa ist heute eher eine Zweck- als eine Wahlgemeinschaft. Und die Wähler sehen die EU zunehmend als ein Instrument zur Stärkung und nicht zur Schwächung der nationalen Souveränität.
Das im Mai vorgestellte deutsch-französische Konjunkturprogramm könnte den Beginn eines entscheidenden neuen Kapitels in der europäischen Geschichte markieren. Aber der Aufbau eines mächtigeren und geeinteren Europas erfordert von den führenden Politikern der EU, dass sie ihre Argumente so zuschneiden, dass sie mit den europäischen Wählern in Verbindung stehen - und sie nicht abstoßen.