Lo que de verdad quiere Xi Jinping
BEIJING – La mayor parte de la prensa occidental presentó el reciente 19.º Congreso Nacional del Partido Comunista de China (PCC) como un mero ejercicio de poder en el que el presidente Xi Jinping fortaleció su posición. Pero en este caso, la acumulación de capital político es un medio para un fin. El fin que busca Xi es una transición fluida hacia la modernidad, que cimiente la autoridad del PCC a largo plazo, y preserve su propio legado como líder más importante de la China moderna.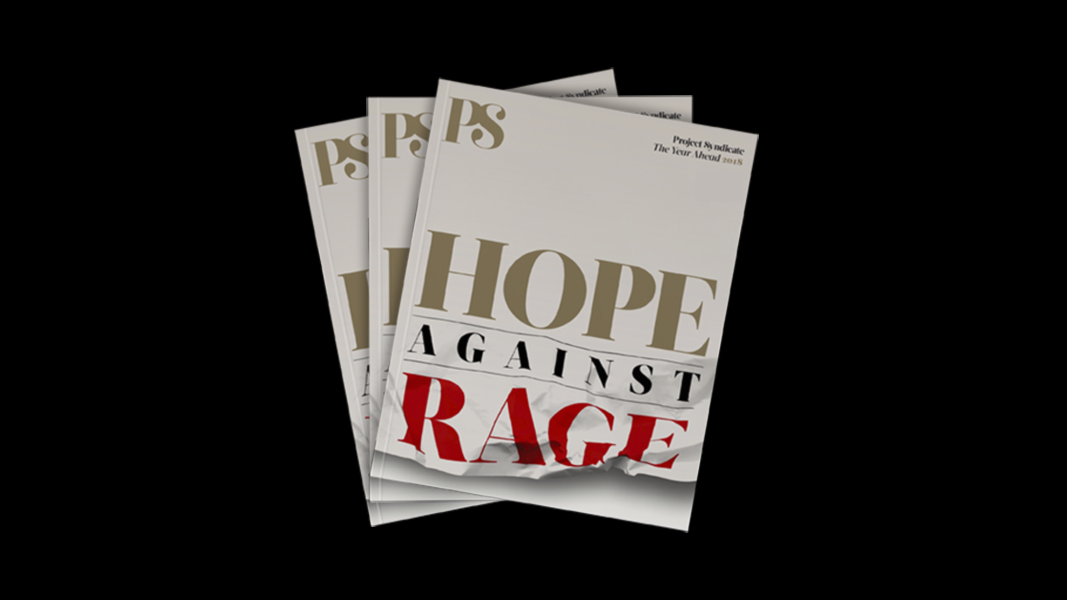 The Year Ahead 2018
The world's leading thinkers and policymakers examine what's come apart in the past year, and anticipate what will define the year ahead.
Xi sabe que la prosperidad futura de China en un mundo que cambia a pasos acelerados lo obliga a guiar con destreza una gran transformación social y económica, mejorando al mismo tiempo (y sobre todo) la gobernanza pública. Y para garantizar la supervivencia a largo plazo del sistema unipartidista de China, debe reformar las instituciones del Estado y del Partido; de hecho, la reforma política es, para Xi, prerrequisito de la reforma económica. (Pero al mismo tiempo, se cuidará de repetir los errores que le achaca al último presidente soviético, Mikhail Gorbachev.)
El motivo de Xi para la modernización no es (como muchos en Occidente dedujeron erradamente) convertir a China en una superpotencia a la par de Estados Unidos; por el contrario, considera que el desafío que enfrenta y la misión que debe cumplir son ante todo en el plano interno. Su motivador es saber que si triunfa en este campo, tendrá asegurado un lugar en la historia. Eso, no cuánta autoridad ejerce, es su inquietud principal. Suponer otra cosa es subestimar a Xi (y a su ingenio político).
Ya firmemente establecido como el líder más poderoso de China desde Deng Xiaoping, Xi puede dar forma a su legado según su propia visión. Su predecesor Hu Jintao careció de capital político suficiente para hacer lo mismo, lo que llevó a China a seguir por espacio de una década una ruta básicamente pasiva, con una diplomacia conciliadora (que enfureció a sus ciudadanos) y estrategias económicas conservadoras (que incluyeron la suspensión de reformas necesarias).
Pero que nadie confunda la consolidación del poder de Xi con una dictadura personal. Su elección de miembros para el Comité Permanente del Politburó, máxima autoridad de China, implica una aceptación de la realidad de que su poder tiene límites: sólo la mitad de los designados son realmente personas de su confianza.
El legado que Xi quiere dejar abarca tres grandes componentes. El primero es el alivio de las crecientes tensiones sociales. Además de mejorar la provisión de bienes públicos, el "Sueño Chino" de rejuvenecimiento nacional que promueve Xi apunta, en parte, a alentar a la gente a buscar realización más allá de la riqueza material.
En segundo lugar, Xi quiere fortalecer al PCC, no por la fuerza, sino mediante la reforma. En los últimos cinco años, Xi lideró una inédita campaña anticorrupción que alcanzó a un millón de funcionarios del Partido, desde burócratas de poco rango (las "moscas") hasta funcionarios de primer nivel ("tigres"), en todo el país.
Semejante campaña masiva, como algunos observadores la describieron, no fue una purga política disfrazada. Más bien, Xi sabía que la corrupción generalizada estaba deteriorando la legitimidad del PCC a ojos de la población. El único modo de restablecer la credibilidad del Partido era corregir su conducta.
Ahora, Xi está listo para el segundo acto de su revitalización del PCC: mejorar la gobernanza pública. Sabe muy bien que no se puede extirpar de raíz la corrupción generalizada actuando caso por caso, sino que se necesita una reforma integral del sistema. En sus propias palabras, es necesario que el Partido sea capaz de gobernarse a sí mismo.
El primer paso es mejorar el marco legislativo. Las reformas llevan mucho tiempo trabadas por falta de transparencia y de rendición de cuentas, y de procesos claros de toma de decisiones. China necesita mecanismos institucionalizados que sometan a los funcionarios del PCC al imperio de la ley, un aspecto de los sistemas políticos occidentales que Xi admira (aunque la idea de independencia judicial respecto del Partido todavía parece muy lejana).
Pero ni el sistema mejor diseñado puede funcionar con escasez de personal competente para dirigirlo, limitación puesta de manifiesto por la campaña de reforma económica impulsada en el primer período presidencial de Xi. Por eso considera fundamental forjar una nueva generación de dirigentes del Partido, sumamente capacitados, leales y, sobre todo, incorruptibles. En esto resulta imperioso cortar la migración de las personas más talentosas de China al sector privado.
El tercer componente del legado de Xi es el más importante, y ya está asegurado. Los delegados del PCC al 19.º Congreso Nacional añadieron el "Pensamiento de Xi Jinping" a los estatutos del Partido, junto con el "Pensamiento de Mao Zedong" y la "Teoría de Deng Xiaoping".
Ahora que la ideología política que lleva su nombre, y que propone una alternativa a la democracia liberal, se integró a la escuela de pensamiento fundamental del PCC, cuestionar a Xi equivale a cuestionar el sistema de creencias del Partido. En síntesis, ha vuelto su autoridad prácticamente indisputable, elevándose, con su particular destreza política, a la condición de una deidad secular.
Lo cierto es que como líder Xi tiene mucho a favor. Es una persona formada y con experiencia en asuntos internacionales. Salió airoso de importantes desafíos y sabe por experiencia propia lo que sucede cuando las medidas políticas y económicas se salen de curso. Tiene una vasta red política, debida no sólo a su habilidad, sino también al parentesco: es hijo de un camarada de Mao. Y ahora está al lado de Mao, y de Deng, en el panteón político de la China moderna.
Pero Xi no es Mao, y no gobernará a China como lo hizo aquel, sino aprendiendo de sus errores, para poder guiarla hacia la próxima etapa de su historia y garantizarse el legado que tanto valora.
Traducción: Esteban Flamini