Сможет ли Китай обойти в Запад в инновациях?
НЬЮ-ЙОРК – С начала XIX до начала XX веков западные страны объясняли свой экономический рост открытиями «учёных и мореплавателей». Любая страна нуждалась лишь в «усердии», чтобы создавать «очевидные» коммерческие продукты, а также оборудование для удовлетворения спроса на новые товары.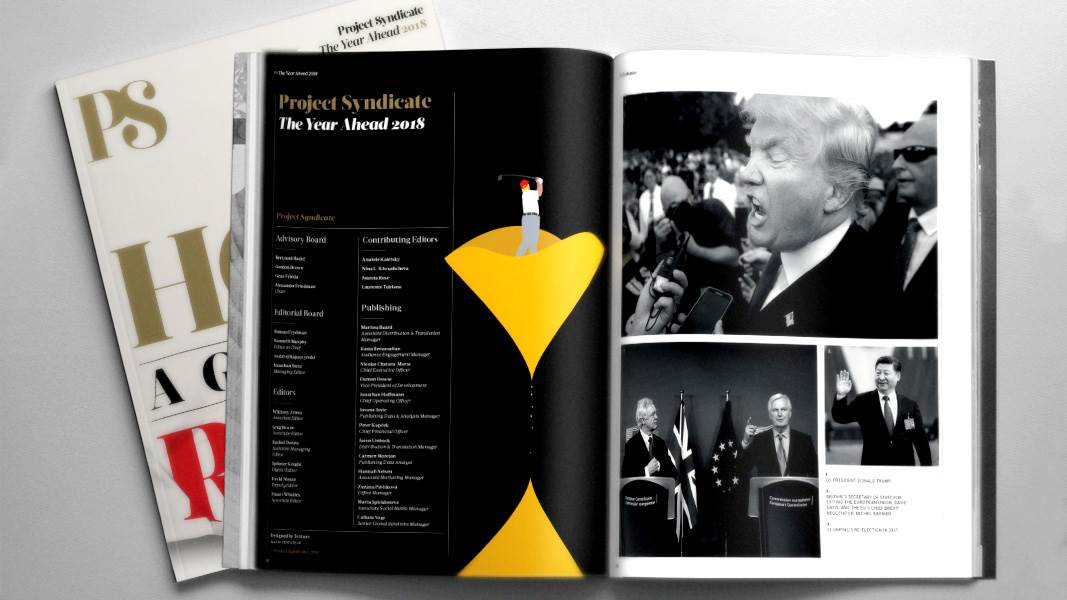 The Year Ahead 2018
The world's leading thinkers and policymakers examine what's come apart in the past year, and anticipate what will define the year ahead.
Вплоть до недавнего времени китайцы верили в то же самое. Но сейчас китайские бизнесмены и предприниматели всё чаще демонстрируют не только предпринимательский драйв, хватаясь за новые возможности, но также желание и способности заниматься инновациями самостоятельно, а не просто копируя то, что уже есть в мире.
Более того, всё больше китайских компаний начинают понимать, что они просто обязаны заниматься инновациями для того, чтобы двигаться вперёд – и оставаться впереди – в глобальной экономике. Некоторые компаний, в первую очередь Alibaba, Baidu и Tencent,  совершили реальные прорывы, предложив инфраструктуру цифровой эпохи, которая помогает инновационной деятельности. А промышленные компании в последнее время активно занялись темой роботов и искусственного интеллекта.
Китайское правительство, со своей стороны, явно заинтересовано в поддержке китайского бизнеса, который создаёт потенциал для разработки отечественных инноваций. Правительство, конечно, понимает, что подобные инновации приобретают особую ценность в условиях, когда на Западе инновационная деятельность слаба. В западных странах темпы роста общей факторной производительности (сокращённо ОФП) уже очень давно замедляются.
За последние годы правительство Китая предприняло ряд инициатив, направленных на расширение как предпринимательства, так и инноваций. Власти радикально ускорили процесс создания новых компаний. Они построили огромное количество школ, где китайских дети больше узнают о мире, с которым им придётся иметь дело. Кроме того, недавно был облегчён въезд иностранных экспертов для работы над новыми проектами в бизнес-секторе.
Власти также понимают важность содействия росту конкуренции в экономике. У частных лиц должна быть возможность свободно начинать новый бизнес и создавать компании, а у уже существующих компаний должна быть возможность свободного входа в новые отрасли. Конкуренция решает массу проблем. И об этом на Западе всё чаще забывают.
В январе на ежегодном Всемирном экономическом форуме в швейцарском Давосе китайские официальные лица рассказывали о базовых реформах, начатых правительством Китая два года назад с целью повышения конкуренции. В соответствии с новой политикой, избыток мощностей является сигналом о необходимости сокращения предложения, а это значит, что лишние компании можно подталкивать к уходу с рынка. Наоборот, избыточный спрос сигнализирует о необходимости повышать предложение, позволяя выходить на рынок новым компаниям.
Главный вывод таков: когда существующие предприятия защищаются от появления на рынке новых игроков с новыми идеями, результатом становится снижение количества инноваций и ухудшение «адаптации» к меняющемуся миру (если пользоваться терминологией Фридриха Хайека).
Есть и ещё один аргумент. В современной экономике любой страны фактически все отрасли работают в условиях непредсказуемого будущего. И чем больше компаний в отрасли задумываются об этой проблеме, тем больше вероятность, что в итоге будет найдено решение. Компания, которую не пускают в отрасль, может знать нечто, чего все остальные компании в этой отрасли не знают. Или же некий уникальный опыт может помочь частному лицу обрести «личные знания», которые невозможно передать другим лицам, у которых не было такого опыта. Так или иначе, общество выигрывает (благодаря снижению цен, увеличению рабочих мест, улучшению качества товаров и услуг), когда внешние игроки, которым есть что добавить, могут свободно это сделать.
Всё это было известно великим теоретикам 1920-х и 1930-х годов – Хайеку, Фрэнку Найту и Джону Мейнарду Кейнсу. А теперь это известно и китайцам, которые понимают, что страна выигрывает, когда её компании – каждая с собственным менталитетом и знаниями – могут свободно конкурировать.
Похоже, что на Западе об этом забыли. Начиная с 1930-х годов, правительства большинства западных стран считали своей обязанностью защиту существующих предприятий от конкуренции, даже если оно исходила от новых компаний, которые предлагали инновации и новые формы адаптации. Подобная защита, имеющая множество форм, почти несомненно мешает многим предпринимателям выступать с новыми, лучшими идеями.
История изобилует доказательствами пользы конкуренции. В 1970-х годах в послевоенной Британии все отрасли контролировали эксклюзивные клубы, входившие в Конфедерацию британской промышленности; они не пускали новых игроков. К тому времени, когда Маргарет Тэтчер стала премьер-министром в 1979 году, показатель ОФП в Британии стагнировал. Но Тэтчер положила конец этой антиконкурентной политике Конфедерации, и к середине 1980-х ОФП Британии снова начал расти.
Сейчас мы видим нечто схожее в Китае. К 2016 году темпы роста ОФП в Китае замедлялись уже несколько лет подряд. Но после реформы, проведённой в 2016 году, они стали повышаться.
Запад должен заняться проблемой великого замедления ОФП, которое продолжается с конца 1960-х годов. Хорошим началом стало бы прекращение защиты существующих компаний от новых игроков, у которых есть идеи для инноваций и новых адаптаций.