¿Superará China el nivel de innovación de Occidente?
NUEVA YORK – Desde principios del siglo XIX hasta principios del siglo XX, los países occidentales atribuyeron su crecimiento económico a los descubrimientos de "científicos y navegantes". Un país necesita solamente el "empeño" para desarrollar aplicaciones comerciales "obvias" y construir las instalaciones para satisfacer la demanda de nuevos productos.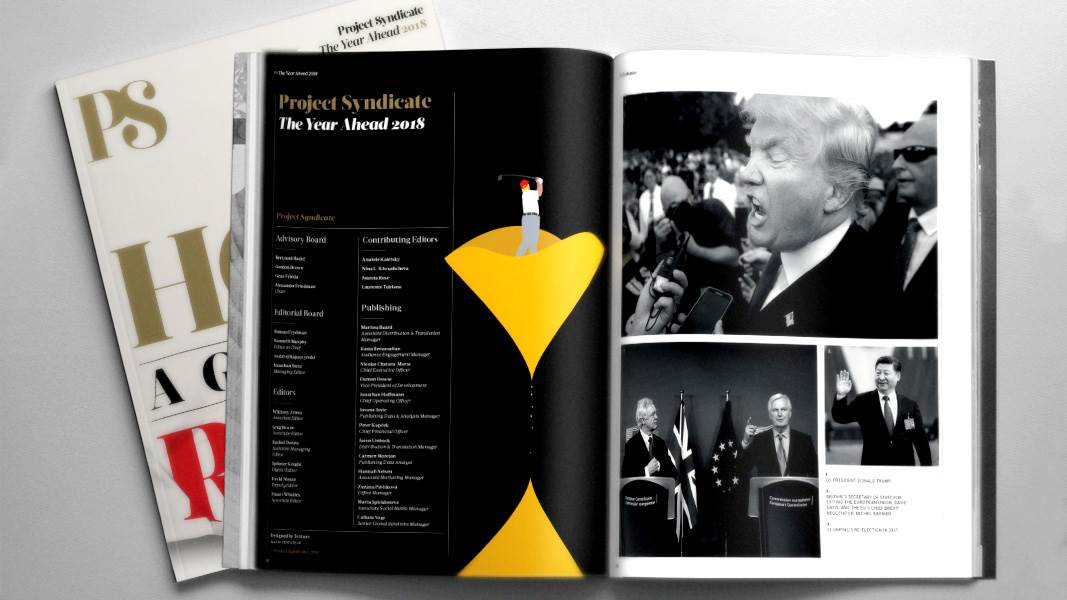 The Year Ahead 2018
The world's leading thinkers and policymakers examine what's come apart in the past year, and anticipate what will define the year ahead.
Hasta hace poco, los chinos creían lo mismo. Pero ahora, los empresarios y emprendedores chinos muestran cada vez más que no se trata tan solo de empeño empresarial para adaptarse a las nuevas oportunidades, sino también del deseo y la capacidad de innovar por cuenta propia, en lugar de simplemente copiar lo que ya existe.
De hecho, cada vez más empresas chinas están tomando conciencia sobre que deben innovar para llegar a – y permanecer en – la vanguardia de la economía mundial. Varias empresas – especialmente Alibaba, Baidu y Tencent – lograron grandes avances al ofrecer infraestructura de la era digital que facilita la actividad innovadora. Y, las empresas industriales se han desplazado recientemente hacia el uso de robots e inteligencia artificial.
Por su parte, el gobierno de China respalda de manera evidente a las empresas chinas que desarrollan una capacidad para producir innovaciones autóctonas. Sin duda, reconoce que tales innovaciones son aún más valiosas cuando el nivel de innovación se mantiene débil en Occidente, lugar donde el crecimiento en la productividad total de los factores (PTF) ha continuado con su larga desaceleración.
En los últimos años, el gobierno de China introdujo iniciativas destinadas a aumentar el espíritu de emprendimiento e innovación. Acortó drásticamente el proceso para formar una nueva empresa. Construyó una gran cantidad de escuelas, donde los niños chinos aprenden más sobre el mundo que enfrentarán. Y, recientemente, facilitó el ingreso de expertos extranjeros para que trabajen en nuevos proyectos en el sector empresarial.
Las autoridades también han reconocido la importancia de permitir una mayor competencia en la economía. Las personas individuales deberían tener la libertad de iniciar nuevas empresas, y se debería otorgar a las empresas existentes las libertades pertinentes para que ingresen a nuevas industrias. La competencia resuelve muchos problemas – este es un punto que se desvanece cada vez más en Occidente.
En la reunión anual del Foro Económico Mundial en Davos, Suiza, celebrada el pasado mes de enero, los funcionarios chinos explicaron las reformas básicas que su gobierno introdujo hace dos años con el fin de aumentar la competencia. Bajo la nueva política, el exceso de capacidad ahora indica que se debe permitir que la oferta se contraiga y que se inste a las firmas redundantes a salir del mercado. Por supuesto, el exceso de demanda indica que se debe permitir que la oferta aumente, lo que lleva al ingreso de nuevas empresas.
La idea clave es que cuando las empresas existentes están protegidas frente a nuevos participantes que ingresan en el mercado trayendo consigo nuevas ideas, el resultado será menos innovación y menos "adaptación" a un mundo cambiante, expresando este concepto en palabras de Friedrich Hayek.
Se puede presentar otro justificativo. En cualquier economía moderna, prácticamente todas las industrias operan frente a un futuro que en gran parte es desconocido. Cuantas más empresas de una industria estén pensando sobre un determinado problema, es más probable es que encuentre una solución. Una empresa que se ha mantenido fuera de una industria puede saber algo que todas las empresas dentro de la industria ignoran. O, alguna experiencia única puede haber proporcionado a una persona individual "conocimiento personal" que es imposible de transmitir a otros que no tuvieron la misma experiencia. Sea cual sea el caso, la sociedad se beneficia – a través de precios más bajos, más empleos, mejores productos y servicios, etc. – cuando los de afuera que tienen algo que agregar están en la libertad de hacerlo.
Todo esto fue de conocimiento de los grandes teóricos de los años veinte y treinta: Hayek, Frank Knight, y John Maynard Keynes. Y, ahora es de conocimiento de los chinos, quienes entienden que un país se beneficia cuando las empresas – cada una con su propio pensamiento y conocimiento – están en libertad para competir.
Occidente parece haber olvidado esto. Desde la década del año 1930, la mayoría de los gobiernos occidentales han considerado que su deber es proteger a las empresas establecidas de la competencia, incluso cuando dicha competencia proviene de nuevas empresas que ofrecen nuevas adaptaciones o innovaciones. Casi con seguridad se puede afirmar que estas protecciones que se presentan en innumerables formas, han desincentivado a que muchos empresarios salgan a la palestra para presentar nuevas y mejores ideas.
La historia está plagada de evidencia sobre el valor que tiene la competencia. En la Gran Bretaña de la posguerra, durante la década de los años setenta, las industrias estaban controladas por clubes exclusivos dentro de la Confederación de la Industria Británica, institución que prohibía el ingreso de nuevos participantes. Para el momento en el que Margaret Thatcher se convirtió en primera ministra en el año 1979, la productividad total de los factores se había estancado. Pero, Thatcher puso fin a las prácticas anticompetitivas de la Confederación, y la PTF de Gran Bretaña volvió a crecer a mediados de los años ochenta.
Ahora estamos viendo algo similar en China. Hasta el año 2016, la tasa de crecimiento de la PTF de China se había ralentizado durante varios años. Pero, desde las reformas de ese año, la PTF ha ido en aumento.
Occidente debe abordar su gran desaceleración de la productividad total de los factores, misma que se prolonga desde finales de la década de 1960. Poner fin a la protección que se brinda a quienes están establecidos en el mercado de nuevos participantes que poseen ideas para nuevas adaptaciones e innovaciones, es un buen lugar para empezar.
Traducción del inglés al español: Rocío L. Barrientos.