A China está comprometida com o multilateralismo
PEQUIM – Nos últimos anos, o papel principal da China no estabelecimento de novas instituições multilaterais – incluindo a Organização de Cooperação de Xangai, o Banco Asiático de Investimento em Infraestrutura (AIIB) e o Novo Banco de Desenvolvimento – suscitou receios de que o governo pretende derrubar a ordem mundial existente. Esta interpretação falha um ponto crucial: a China beneficiou de forma gigantesca e continua a participar ativamente - e até mesmo a defender fervorosamente - essa mesma ordem.
A China não teve voz na formulação das regras e estruturas multilaterais que predominam nos nossos dias, mas aderiu a elas de forma geral. Para entrar na Organização Mundial do Comércio em dezembro de 2001, por exemplo, a China aderiu a uma série de regras e atenuou ou eliminou mais de sete mil tarifas, quotas e outras barreiras comerciais.
O sacrifício valeu a pena. Ser membro da OMC não protegeu apenas os interesses da China nas relações comerciais internacionais; também criou oportunidades comerciais e novos mercados, e ajudou a elevar significativamente o padrão de vida de centenas de milhões de pessoas. Sem o sistema de comércio global baseado em regras, a China não se teria tornado a superpotência que é hoje.
O governo está bem ciente disso. É por isso que participou em negociações para proteger o Órgão de Recurso da OMC, após a insistência do governo do presidente dos EUA, Donald Trump, de impedir a nomeação de juízes de recursos. (Trump alega que o mecanismo de solução de controvérsias do órgão coloca os Estados Unidos em desvantagem, embora o seu historial seja melhor do que a maioria dos outros países que usaram o mecanismo).
A ascensão económica da China suscitou a necessidade de cooperação em muitas outras áreas, incluindo a da energia. O setor da energia não estava preparado para o boom que se seguiu à adesão à OMC, no início dos anos 2000, por isso havia poucas centrais elétricas para fazer face ao aumento da procura de novas fábricas. Muitas empresas foram forçadas a operar os seus próprios geradores alimentados a diesel importado, o que contribuiu para o aumento dos preços globais do petróleo.
A nova influência da China nos mercados energéticos globais atraiu a atenção da Agência Internacional de Energia, que surgiu após a crise do petróleo de 1973 para evitar interrupções no fornecimento. A AIE, criada pelos países industrializados sob os auspícios da OCDE, na verdade não teve influência sobre a China, que não é membro da OCDE. Porém, reconhecendo a importância de mercados energéticos globais estáveis, a China começou a comunicar regularmente com a organização sediada em Paris.
Subscribe now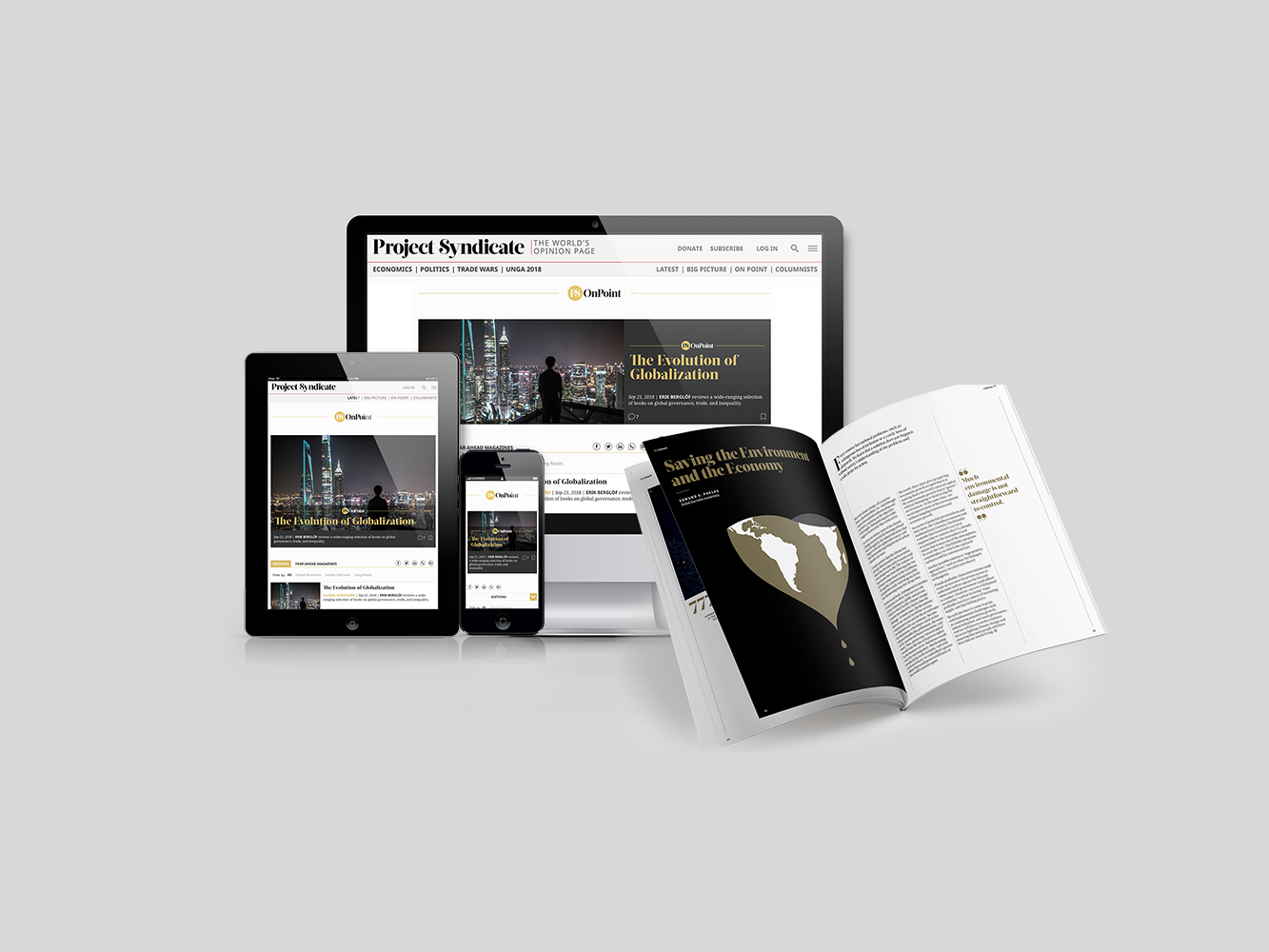 Subscribe now
Subscribe today and get unlimited access to OnPoint, the Big Picture, the PS archive of more than 14,000 commentaries, and our annual magazine, for less than $2 a week.
Em 2015, apenas alguns meses após o diretor executivo da AIE, Fatih Birol, ter visitado a China na sua primeira viagem oficial, o país tornou-se um dos primeiros a ativar o estatuto de "associação" com a Agência, a fim de facilitar uma cooperação mais profunda. No ano seguinte, a AIE nomeou um funcionário chinês da área da energia como conselheiro especial da Birol.
À medida que o consumo de energia da China se expandia, aumentava também a sua pegada de carbono - e o seu papel na governação climática global. A China já tinha assinado as Convenções do Rio, de 1992, sobre biodiversidade, desertificação e alterações climáticas, e o Protocolo de Quioto, de 1997, que estabeleceu metas vinculativas de redução de emissões. Mas intensificou a sua liderança climática em 2014, ao colaborar com o governo do presidente dos EUA, Barack Obama, para elaborarem uma declaração conjunta sobre as alterações climáticas.
Essa declaração elaborada pelas duas maiores economias do mundo deu um impulso muito necessário às negociações que culminaram no Acordo climático de Paris de 2015. Quando Trump anunciou a sua intenção de retirar os EUA do acordo, o presidente chinês, Xi Jinping prometeu protegê-lo. Hoje, a China é uma das poucas grandes economias que está no caminho certo para cumprir as suas metas de redução de emissões.
No entanto, mesmo quando a China se estabeleceu como uma potência global crescente e defensora entusiástica do multilateralismo, as instituições existentes muitas vezes não reconheceram o seu valor. No Fundo Monetário Internacional, por exemplo, as reformas destinadas a garantir que as quotas e o poder de voto refletissem melhor a crescente influência das economias emergentes como a China foram aprovadas em 2010, mas apenas entraram em vigor em 2016. E ainda não são suficientes.
Na perspetiva da China, o fracasso em se ajustar à crescente influência das economias emergentes e em desenvolvimento prejudica a legitimidade das instituições internacionais. Para criar condições equitativas, em 2014 lançou o AIIB, um credor multilateral onde a China tem muito mais poder do que tem no FMI ou no Banco Mundial.
Mas mesmo essa manobra não foi sobre abandonar, muito menos inverter, a ordem global. Os sistemas de gestão e governação do AIIB refletem de perto os das instituições existentes, assim como as suas políticas de investimento. Isso não surpreende, dado que muitos dos seus funcionários dos quadros superiores ocuparam altos cargos noutros bancos de desenvolvimento, incluindo o Banco Mundial. Nalgumas áreas, como a do carvão, as regras do AIIB são ainda mais rigorosas.
Além disso, longe de antagonizar as instituições multilaterais existentes, o AIIB cooperou com elas. Em 2016, o Banco Mundial e o AIIB assinaram um acordo-quadro de cofinanciamento para projetos de investimento; um ano depois, assinaram um memorando de entendimento para fortalecer a cooperação e a partilha de conhecimentos. O FMI também manifestou a sua vontade de colaborar com o AIIB.
Isto não quer dizer que a China nunca irá desafiar as regras ou estruturas multilaterais. Pelo contrário, quando se trata de "interesses essenciais" da China - por outras palavras, a integridade territorial - os seus líderes têm-se mostrado inflexíveis. Em nenhum lado isso foi mais evidente do que na rejeição por parte da China de uma decisão de 2016 do Tribunal Permanente de Arbitragem em Haia, que negou a base jurídica do país para reivindicar direitos históricos sobre o Mar da China Meridional.
Mas esses exemplos são a exceção, não a regra. Afinal de contas, até os EUA ignoraram um veredito de um tribunal internacional. Em 1986, o Tribunal Internacional de Justiça, com sede em Haia, decidiu que os EUA infringiram o direito internacional e violaram a soberania da Nicarágua, ao ajudarem os rebeldes antigovernamentais dos grupos Contras. Os EUA rejeitaram o veredito, declarando que desconsiderariam quaisquer outros processos.
Tal como o embaixador He Yafei, ex-ministro-adjunto dos Negócios Estrangeiros da China, escreveu em 2017, a China "não deseja nem tem interesse em 'virar as mesas' no sistema de governação global existente". Em última análise, participar nesse sistema é do interesse da China - e os seus líderes sabem disso.
Este artigo faz parte de uma iniciativa conjunta do projeto Körber-Stiftung e da Conferência de Segurança de Munique sobre o futuro do multilateralismo, melhores práticas multilaterais e perspetivas regionais sobre a cooperação multilateral. A partir de 19 de setembro, o projeto completo estará disponível para ser transferido em www.munich-young-leaders.org.