Amerikas Krieg gegen chinesische Technologie
NEW YORK – Die schlechteste außenpolitische Entscheidung, die die USA im Verlaufe der letzten Generation – und möglicherweise länger – getroffen haben, war der vorsätzliche Krieg gegen den Irak, den sie 2003 mit dem erklärten Ziel der Beseitigung in Wahrheit gar nicht vorhandener Massenvernichtungswaffen begannen. Die jener katastrophalen Entscheidung zugrundeliegende Unlogik zu begreifen ist heute wichtiger denn je, denn sie wird derzeit genutzt, um eine ähnlich fehlgeleitete US-Politik zu rechtfertigen.
Die Entscheidung für den Einmarsch im Irak folgte der Unlogik des damaligen US-Vizepräsidenten Richard Cheney, der erklärte, dass, auch wenn das Risiko, dass Massenvernichtungswaffen in terroristische Hände fallen könnten, winzig sei und vielleicht bei 1% läge, die USA trotzdem handeln sollten, als würde dieses Szenario mit Sicherheit eintreten.
Eine derartige Denkweise führt zwangsläufig zu mehr falschen als richtigen Entscheidungen. Doch nutzen die USA und einige ihrer Verbündeten die Cheney-Doktrin heute zum Angriff auf chinesische Technologie. Die US-Regierung argumentiert, dass wir, da wir nicht mit Gewissheit sagen könnten, dass chinesische Technologien sicher seien, so handeln sollten, als wären sie eindeutig gefährlich, und sie verbieten sollten.
Eine sachgerechte Entscheidungsfindung unterzieht die vorhandenen Handlungsalternativen Wahrscheinlichkeitsschätzungen. Vor einer Generation hätten die US-Politiker nicht nur das (angeblich) 1%ige Risiko, dass Massenvernichtungswaffen in die Hände von Terroristen fallen könnten, in Betracht ziehen müssen, sondern auch das 99%ige Risiko eines auf falschen Annahmen beruhenden Krieges. Indem sie sich ausschließlich auf das 1%ige Risiko konzentrierten, lenkten Cheney (und viele andere) die Aufmerksamkeit der Öffentlichkeit von der viel größeren Wahrscheinlichkeit ab, dass es dem Irakkrieg an einer Rechtfertigung fehlte und dass er den Mittleren Osten und die Weltpolitik in gravierender Weise destabilisieren würde.
Das Problem der Cheney-Doktrin besteht nicht allein darin, dass sie ein auf sehr geringe Risiken gründendes Tätigwerden vorschreibt, ohne die potenziell sehr hohen Kosten zu berücksichtigen. Die Politiker werden dadurch auch in Versuchung geführt, aus verborgenen Motiven Ängste zu schüren.
Genau dies tut die US-Regierung diesmal wieder: Sie schürt Panik über chinesische Technologieunternehmen, indem sie winzige Risiken aufgreift und übertreibt. Der klarste (aber nicht der einzige) Fall ist der Angriff der US-Regierung auf das Breitbandfunk-Unternehmen Huawei. Die USA versperren dem Unternehmen den Zugang zu ihren Märkten und geben sich große Mühe, sein Geschäft weltweit zum Erliegen zu bringen. Wie im Falle des Iraks könnten die USA letztlich grundlos eine geopolitische Katastrophe hervorrufen.
Subscribe now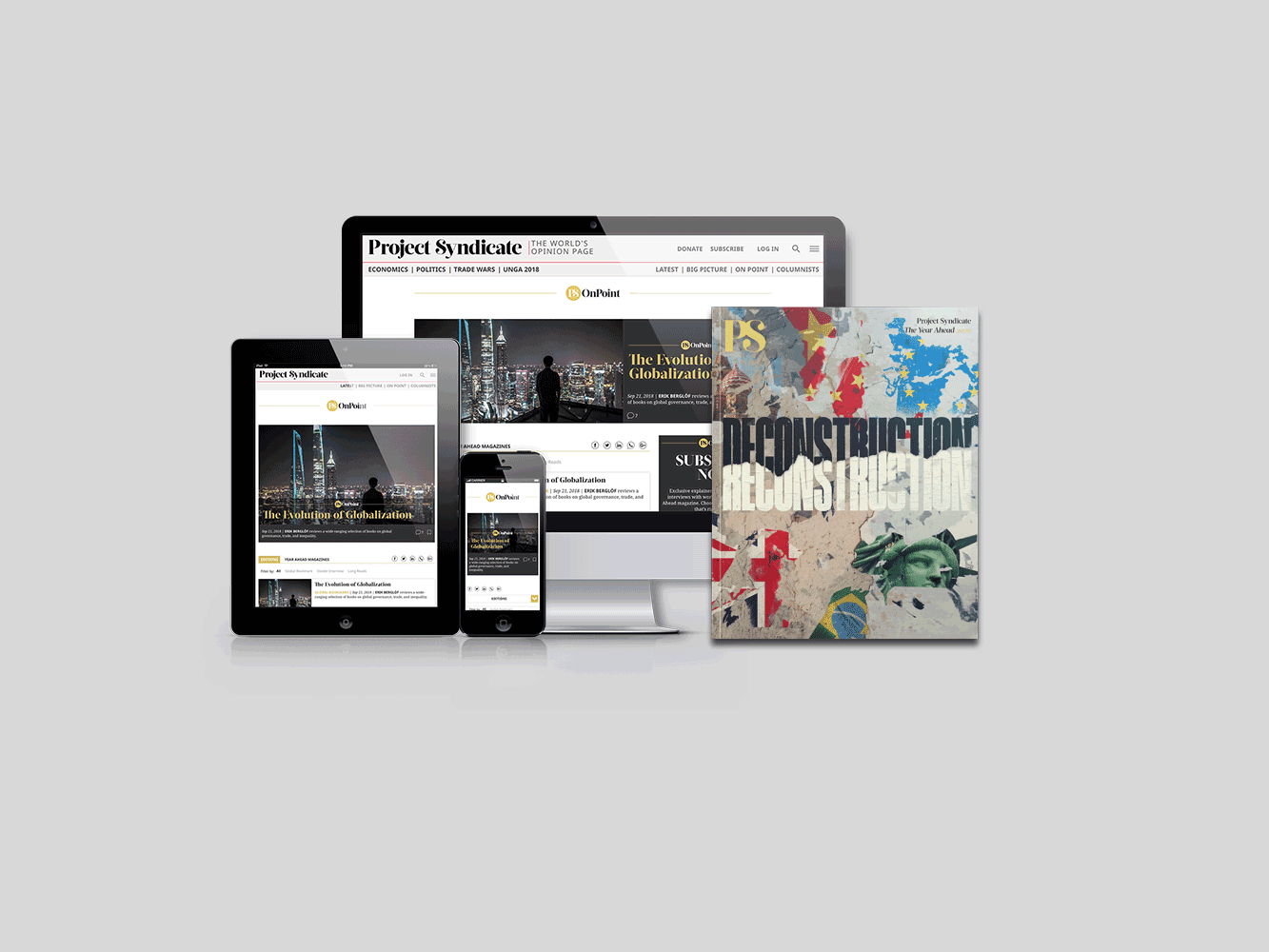 Subscribe now
Subscribe today and get unlimited access to OnPoint, the Big Picture, the PS archive of more than 14,000 commentaries, and our annual magazine, for less than $2 a week.
Ich habe Huaweis technologische Fortschritte und seine Arbeit in den Entwicklungsländern im Auge behalten, da ich glaube, dass 5G und andere digitale Technologien der Armutsbekämpfung und anderen Zielen für eine nachhaltige Entwicklung (SDGs) einen enormen Schub verleihen könnten. Ich pflege zudem Kontakte zu anderen Telekommunikationsunternehmen und habe die Branche ermutigt, ihre Maßnahmen in Bezug auf die SDGs auszuweiten. Als ich (ohne dafür eine Vergütung zu erhalten) ein kurzes Vorwort für einen Huawei-Bericht zu diesem Thema schrieb und dafür von Feinden Chinas kritisiert wurde, habe ich führende Branchen- und Regierungsvertreter um Belege für ein Fehlverhalten durch Huawei gebeten. Ich bekam wiederholt zu hören, dass Huawei sich nicht anders verhalte als vertrauenswürdige Branchenführer.
Trotzdem argumentiert die US-Regierung, dass Huaweis 5G-Ausrüstung die globale Sicherheit untergraben könnte. Eine "Hintertür" in Huaweis Software oder Hardware könnte, so US-Regierungsvertreter, die chinesische Regierung zu weltweiten Überwachungsaktivitäten in die Lage versetzen. Schließlich zwinge, so die US-Vertreter, chinesisches Recht chinesische Unternehmen, mit der Regierung zu Zwecken der nationalen Sicherheit zusammenzuarbeiten.
Tatsache ist: Huaweis 5G-Ausrüstung ist preiswert und qualitativ hochwertig, derzeit vielen Konkurrenzprodukten überlegen und bereits am Markt erhältlich. Ihre Leistungsstärke beruht auf jahrelangen hohen Investitionen in Forschung und Entwicklung, Skaleneffekten und auf dem chinesischen Digitalmarkt gesammelten Erfahrungen. Angesichts der Bedeutung der Technologie für die nachhaltige Entwicklung wären einkommensschwache Volkswirtschaften weltweit schlecht beraten, eine frühzeitige 5G-Einführung abzulehnen.
 Die USA jedoch fordern die übrige Welt auf, die Finger von Huawei zu lassen, ohne irgendwelche Belege für Hintertüren vorzulegen. Die US-Behauptungen sind allgemeiner Natur. Ein Mitglied der US Federal Communications Commission erklärte hierzu: "Dem Land, das 5G gehört, werden Innovationen gehören, und es wird die Standards für die übrige Welt festlegen. Und es ist derzeit unwahrscheinlich, dass die USA dieses Land sein werden." Andere Länder, insbesondere Großbritannien, haben keine Hintertüren in Huaweis Hardware und Software gefunden, und selbst wenn zu einem späteren Zeitpunkt welche gefunden werden sollten, würden sich diese fast mit Sicherheit dann schließen lassen.
Eine heftige Debatte über Huawei gibt es derzeit in Deutschland, dem die US-Regierung mit einer Einschränkung der nachrichtendienstlichen Zusammenarbeit gedroht hat, sofern die Behörden Huaweis 5G-Technologie nicht ausschließen. Womöglich aufgrund von US-Druck sprach der Chef des Bundesnachrichtendienstes eine auf die Cheney-Doktrin hinauslaufende Warnung aus: Seine Behörde sei "zu dem Schluss gekommen, dass die Infrastruktur kein tauglicher Gegenstand ist für einen Konzern, dem man nicht voll vertrauen kann." Konkrete Beweise für ein Fehlverhalten Huaweis legte er nicht vor. Bundeskanzlerin Angela Merkel ihrerseits kämpft hinter den Kulissen darum, den Markt für Huawei offen zu halten.
Obwohl vorhersehbar, ist es ironisch, dass die US-Beschwerden teilweise Amerikas eigene Überwachungsmaßnahmen zu Hause und im Ausland widerspiegeln. Der Einsatz chinesischer Ausrüstung könnte eine heimliche Überwachung durch die US-Regierung erschweren. Doch sollte eine unbegründete Überwachung durch jede Regierung beendet werden. Eine unabhängige Überwachung durch die Vereinten Nationen zur Eindämmung derartiger Aktivitäten sollte Bestandteil des globalen Telekommunikationssystems werden. Verkürzt gesagt: Wir sollten auf die Diplomatie und institutionelle Schutzmechanismen setzen statt auf einen Technologiekrieg.
Die US-Forderungen nach einer Blockade Huaweis bedrohen mehr als nur die frühzeitige Einführung des 5G-Netzes. Die Risiken für das regelgestützte Handelssystem sind enorm. Nun, da die USA nicht länger der unstrittige Vorreiter im Bereich der Technologie sind, wollen US-Präsident Donald Trump und seine Berater sich nicht mehr dem Wettbewerb im Rahmen eines regelgestützten Systems stellen. Ihr Ziel ist es, Chinas technologischem Aufstieg Grenzen zu setzen. Ihr gleichzeitiger Versuch, die Welthandelsorganisation durch Ausschaltung ihres Systems zur Beilegung von Streitfällen zu neutralisieren, lässt dieselbe Missachtung für weltweite Regeln erkennen.
Falls die Trump-Regierung mit Ihrem Bemühen "Erfolg" hat, die Welt in separate technologische Lager zu spalten, wird das die Gefahr künftiger Konflikte vervielfachen. Die USA traten nach dem Zweiten Weltkrieg nicht nur deshalb als Befürworter eines offenen Handels auf, um die Welt effizienter zu machen und die Märkte für amerikanische Technologie auszuweiten, sondern auch, um den Zusammenbruch des Welthandels während der 1930er Jahre umzukehren. Dieser Zusammenbruch rührte teilweise aus protektionistischen Zöllen her, die die USA im Rahmen des Smoot-Hawley Act von 1930 verhängt hatten – einem Gesetz, dass die Große Depression verschärfte und damit zum Aufstieg Hitlers und letztlich zum Ausbruch des Zweiten Weltkriegs beitrug.
Ängste zu befeuern und dann auf dieser Basis – und nicht auf der Grundlage nachweislicher Fakten – zu handeln, ist in internationalen Angelegenheiten genau wie in anderen Bereichen der Weg in den Ruin. Wir sollten uns an der Vernunft, Fakten und Regeln orientieren; das ist die sicherste Vorgehensweise. Und wir sollten unabhängige Aufsichtsstellen einrichten, um die Bedrohung zu begrenzen, dass irgendein Land die globalen Netze zur Überwachung anderer Länder oder zur Cyberkriegsführung nutzt. Auf diese Weise kann die Welt sich weiter der dringenden Aufgabe widmen, bahnbrechende digitale Technologien zum weltweiten Nutzen einzusetzen.
Aus dem Englischen von Jan Doolan